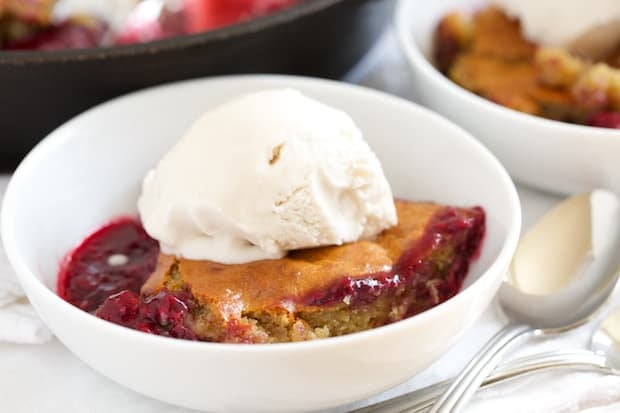 This recipe is inspired by a raspberry cake that my mom used to make when we were growing up. It was moist, with dots of fresh raspberries, and vanilla frosting. Since fresh raspberries only have a short season, I remade the recipe using frozen raspberries. The raspberries are made into a tart sauce, with a vanilla scented cake, and topped with ice cream (because I always choose ice cream over frosting)!
I used a cast iron pan on my first trial run of this cake – which was not the smartest move because it will darken the edges of the cake where the raspberry sauce touches the pan! Cast iron reacts with anything acidic, so be sure to use a glass baking pan or pie plate when you make yours. It's too bad because the cake looks great against the dark pan and I love skillet recipes!
For the raspberry sauce, mix the cornstarch and water together until the mixture is smooth with no lumps.
Whisk the cornstarch mixture into the thawed raspberries and add the honey (and again with the cast iron – don't follow my footsteps)! Cook the sauce of medium high heat until it comes to a boil and thickens. You'll need to stir constantly to prevent any lumps from forming. Next, pour your raspberry sauce into a baking dish.
For the cake batter, mix together all the ingredients into a smooth batter.
Drizzle the cake batter over the raspberry sauce, covering it up as you pour. Don't worry if there's a small amount of sauce showing on the edges, it bubbles up nicely while it's baking and makes your cake look pretty.
This cake is good served hot out of the oven, or at room temperature the next day.
I've been craving all things berry and fruit related! I think I've moved right past spring fever, and I'm ready for summer!
Print
Grain Free Raspberry Cake
---
Description
A sweet tart raspberry sauce is topped with a flourless cake batter that bakes into a summer time dessert everyone will love, especially topped with a scoop of ice cream.
---
Raspberry Sauce:
2 cups thawed raspberries with their juice
2 Tablespoons organic cornstarch or tapioca starch for grain free
2 Tablespoons water
2 Tablespoons honey, (more to taste if it's really sour)
Cake Batter:
1 cup cashew butter, room temperature
1/2 cup honey
2 eggs
3/4 Teaspoon baking powder
2 Teaspoon vanilla extract
Serve With:
---
Instructions
Preheat the oven to 325ºF.
Mix the cornstarch and water together until there's no lumps. Add the mixture to the raspberries and honey.
Cook over medium high heat, stirring constantly until it comes to a boil and thickens.
Taste the raspberry sauce, you want it to be tart to offset the cake and ice cream, but not really sour. Mix in more honey to taste if you need to.
Pour the sauce into a 9″ baking pan – a deep dish pie plate works really well.
For the cake batter, mix together all the ingredients until smooth.
Drizzle the cake batter over the raspberry sauce, covering it as you go.
Bake the cake for 25-35 minutes. The timing will depend a lot on the thickness of your pan. Start checking the cake early, you want to pull it out when it's puffed in the middle and golden brown.
Serve the cake immediately or warm with ice cream if desired. This cake keeps for up to 3 days if it lasts that long!
Notes
If you decide to use tapioca, start with 1 Tablespoon and add more if needed. It seems to thicken more than cornstarch.
This cake is adapted from my Apple Pie Skillet Cake and I've made the cake batter with a number of different nut butters now. My favorite brand so far is, Once Again Nut Butters.
Prep Time:

25 mins

Cook Time:

25 mins

Category:

Dessert

Method:

Baking

Cuisine:

American
Keywords: Gluten Free Raspberry Cake, Paleo Raspberry Cake, Healthy Raspberry Cake, Flourless Raspberry Cake