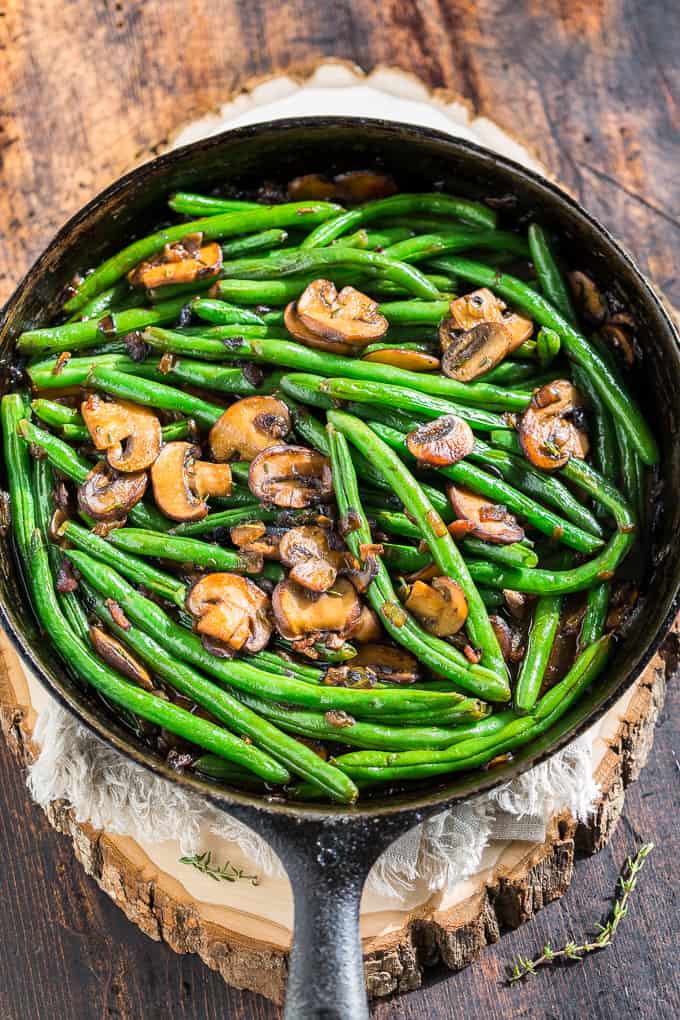 This recipe is loosely based off a homemade green bean casserole I used to make that had several cups of heavy cream in it. But somewhere along the line, I decided that for me heavy cream was wasted on green beans, and that I'd rather have it over pasta thank you very much!
So instead, these green beans are surrounded by a most savory sauce flavored by bacon bits, pan seared mushrooms, and fresh thyme. And I'll have to say I enjoy this side dish much more that the old heavy cream version. It pairs much better with any main dish you might want to make, and there's no lack of flavor by ditching the heavy cream.
(As a side note, if you're a pasta with cream sauce fan too, check out my Tuscan Sundried Tomato Italian Sausage Pasta or this Creamy One Pot Caprese Pasta).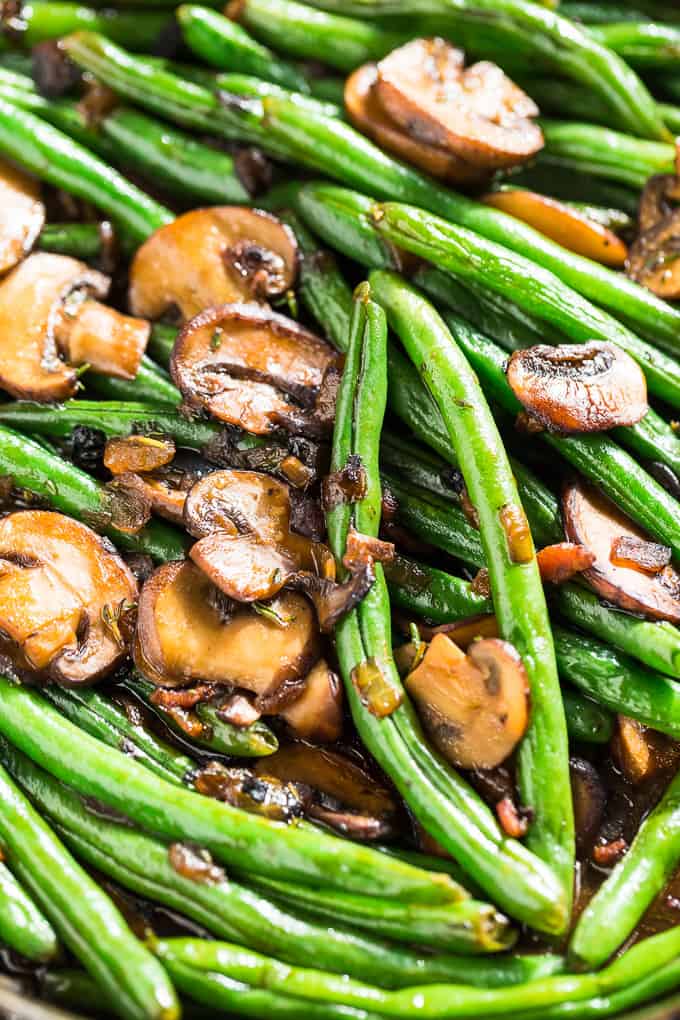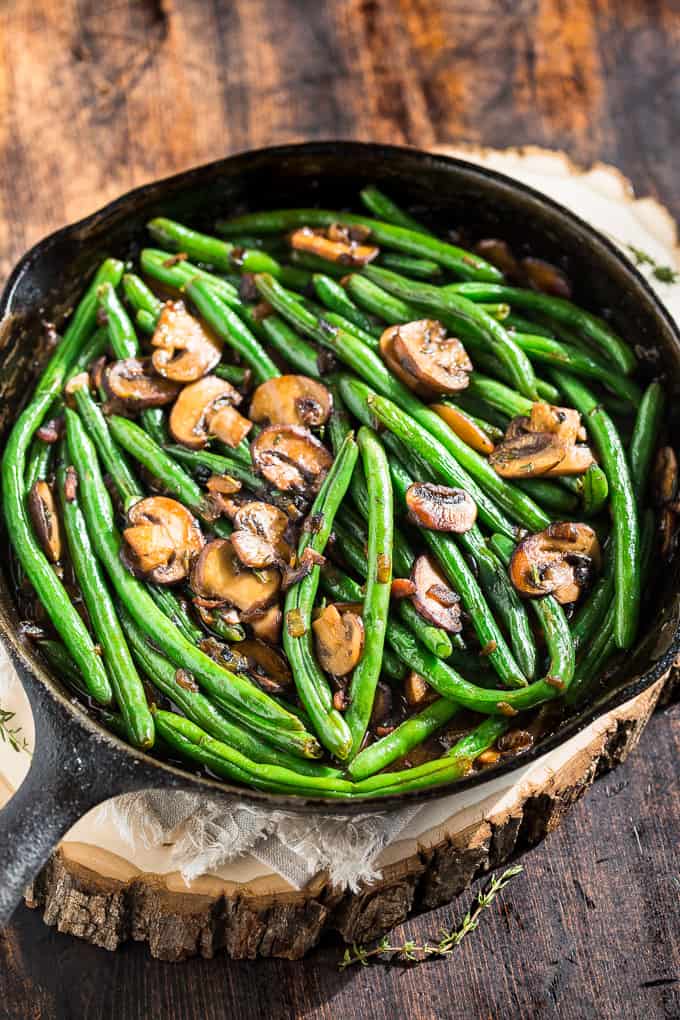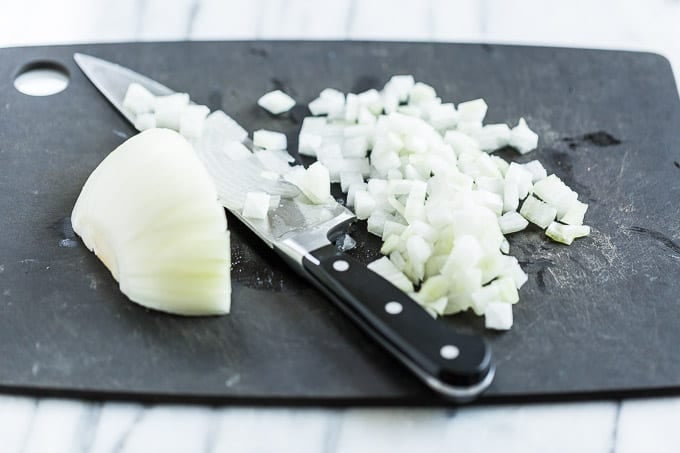 For this recipe, I like to dice the onion fairly small at about 1/4″. That way it adds some texture without being too overwhelming.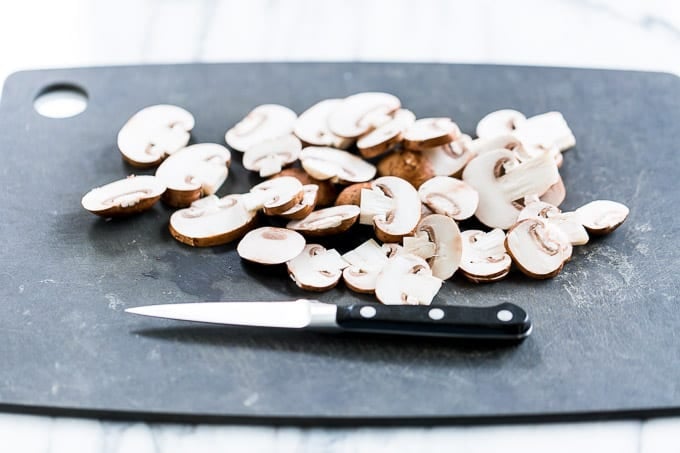 I had small crimini mushrooms, so it worked well to thinly slice them. But if you have larger mushrooms, you might want to cut them in half again so that they're bite sized.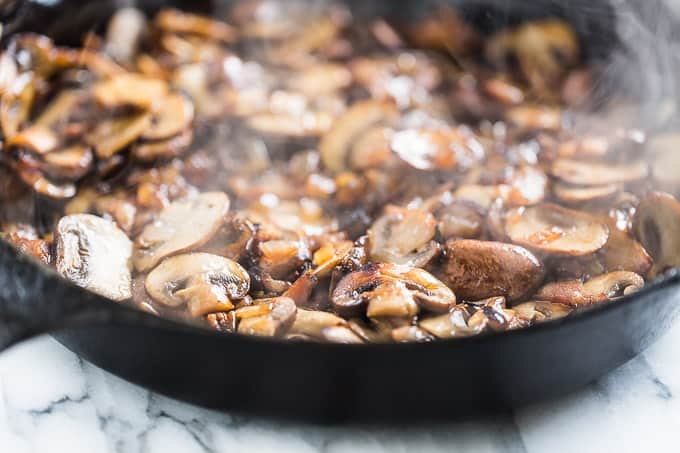 First the bacon bits get seared of medium high heat, and then you're going to want to crank up the heat to high, (which is where all the flavor comes from in this recipe, so don't be afraid high heat, it just requires a little more attention). Then the onions are added, and finally the mushrooms. The high heat in a cast iron pan perfectly sears each ingredient, which add so much flavor once the chicken stock is added to the pan, and it all just melds together with a touch of thyme.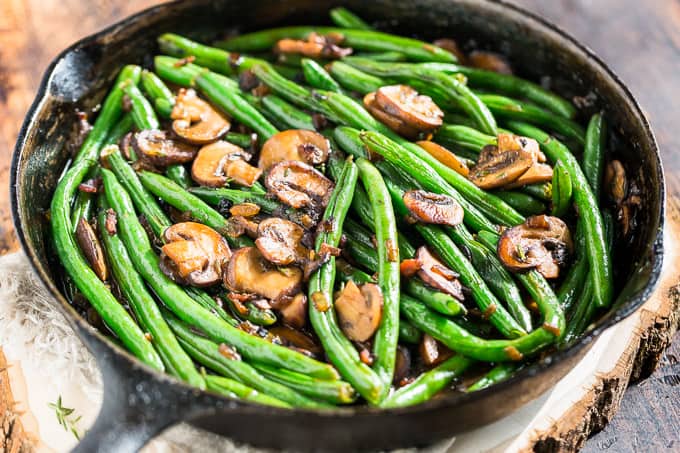 These green beans are also a great side dish to add to any holiday or dinner party because the sauce can be made ahead of time. Then when you're ready to serve them, just simmer the sauce together with the green beans for a few minutes until they're tender. And since these are made on the stove top, they don't take up valuable real estate in the oven, which obviously is reserved for turkey and stuffing!
Print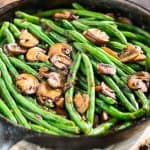 Green Beans with Bacon Mushroom Sauce
---
10

crimini mushrooms, 1/2 pound, cleaned and thinly sliced

1 Tablespoon

chopped fresh thyme

1

pound green beans, ends trimmed

1/2 Teaspoon

sea salt, or to taste
freshly ground black pepper

2 Teaspoons

of tapioca starch mixed with 2 Tablespoons of water
---
Instructions
Preheat a cast iron skillet (8″ or 9″) over medium high heat. When the pan is hot, add the bacon bits, and cook until the bacon is browned and has released some of it's bacon grease.
Turn the heat up to high and add the diced onion. Sauté the onion, stirring often for 3-4 minutes, or until the onion has begun to soften and has browned edges.
Then add the sliced mushrooms, and continue to cook stirring frequently until the mushrooms have soften and browned along the edges, 3-4 minutes.
When the mushrooms are done, reduce the heat to medium and add the thyme and chicken stock. Stir while scraping up the browned bits on the bottom of the pan which flavors the sauce. Then add the green beans to the pan, cover and simmer for 5-7 minutes stirring a couple of times throughout the cooking process, until the green beans are crisp tender.
Remove the lid and season to taste with sea salt and freshly ground black pepper.
Finally slowly add some of the tapioca mixture stirring vigorously as you add it. Add only enough tapioca mixture to thicken the sauce, you may not need it all depending on how much liquid is still in the pan.
When the sauce is thickened to your liking, serve immediately.
Notes
If you want to make this ahead of time, make the recipe up until the step where you add the green beans, but don't add them to the pan. Refrigerate the sauce, and when you're ready to serve the green beans, reheat the sauce, add the green beans to simmer until tender, and finally thicken the sauce.
Prep Time:

15 mins

Cook Time:

15 mins