This super easy Grilled Tortilla Pizza Margherita is extra perfect for pizza cravings when you don't want to turn on the oven. They can be made year round on the grill or in the oven, and you can have all the goodness of pizza with just a few minutes of prep work. This recipe is super popular with kids and can be customized to include your favorite pizza ingredients. It's also naturally lower in carbs since the crust is a tortilla, and you can lower it even more by using an almond flour tortilla.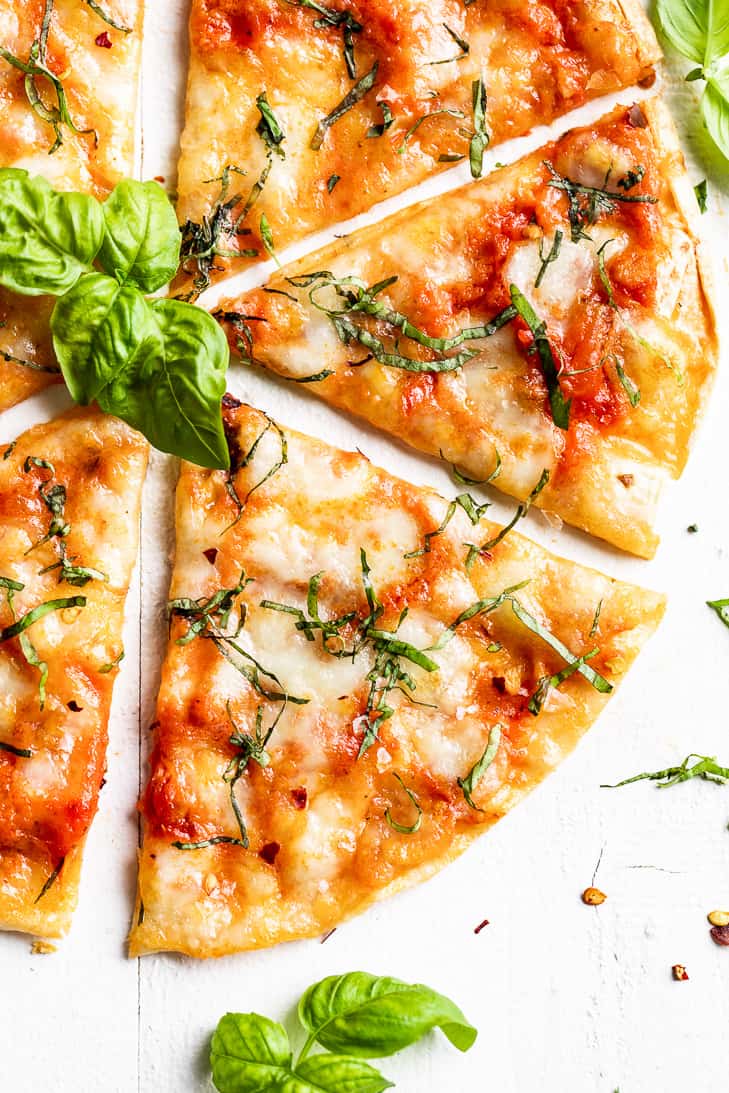 Pizza… it's a tradition around out house. Crispy, with just a slick of tomato sauce and melty cheese. Aww yes, this is what weekends are made of!
For years we had pizza every Saturday night after we came home from hiking in the mountains. But since we've changed our eating habits, pizza has been the hardest thing to let go of. I mean nothing quite replaces it.
These days, you'll find us eating a Grilled Chicken Caesar Salad instead. But there's still the urge to celebrate with our favorite pizza – Pizza Margherita.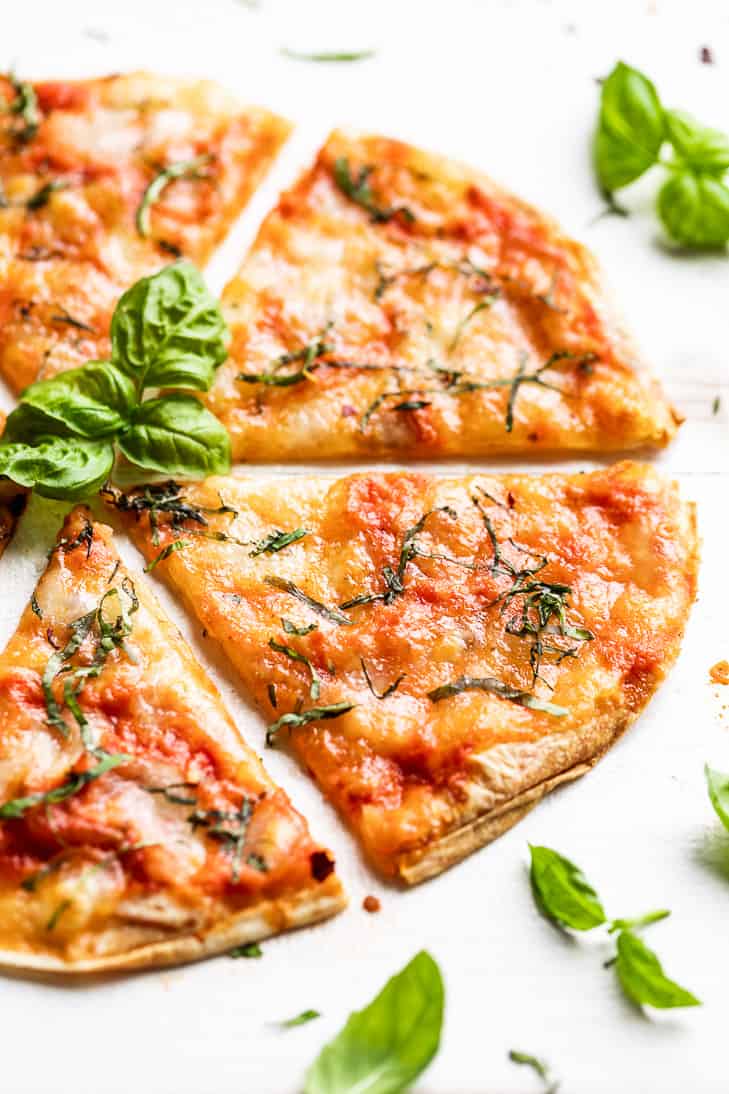 So… today pizza is getting a 'quick and easy' makeover (husband approved of course). Not only is it grilled but there's no traditional yeast raised dough for the crust.
We've tried a number of gluten free and paleo pizza crusts. And I'm not going to lie, some of them have been bad enough that I actually threw them away (and mourned the loss of good mozzarella).
Every once in a while, I make an old-fashioned (not gluten free) all out kind of pizza. But… I've been looking for a way to get pizza back into my life more often, and this is it! It's quick and easy, made on the grill (so no mess), and you can use whichever kind of tortilla fits your diet.
I've personally tried this recipe using regular flour tortillas, almond flour tortillas (from Siete), rice flour tortillas, and sprouted spelt tortillas – all of which turned out great!
Now let's jump in and make this Grilled Tortilla Pizza Margherita step by step!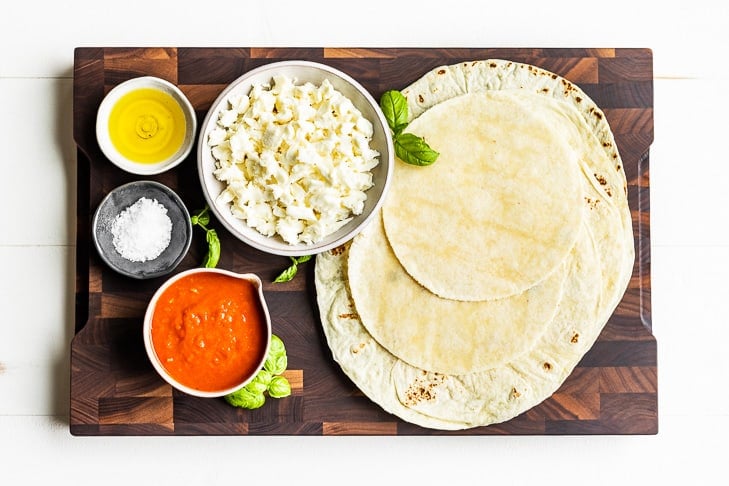 Step 1:
Start by assembling all of your ingredients. I like using a tomato basil pasta sauce for my pizza sauce or if I have time, I make my Simple Marinara Sauce. I like to steer clear of regular pizza sauce for this recipe because it's often too heavy in oregano. But really any tomato based sauce you love will work here.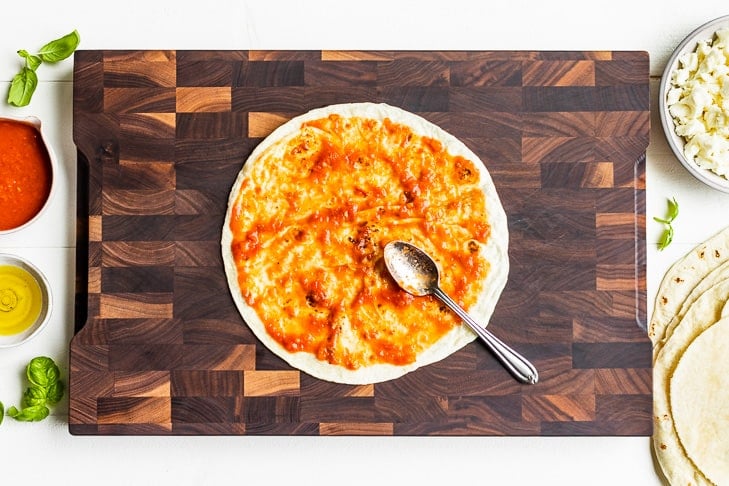 Step 2:
Spread your choice of sauce thinly over the tortilla. You want to be careful not to overload the tortilla with sauce so it doesn't become soggy.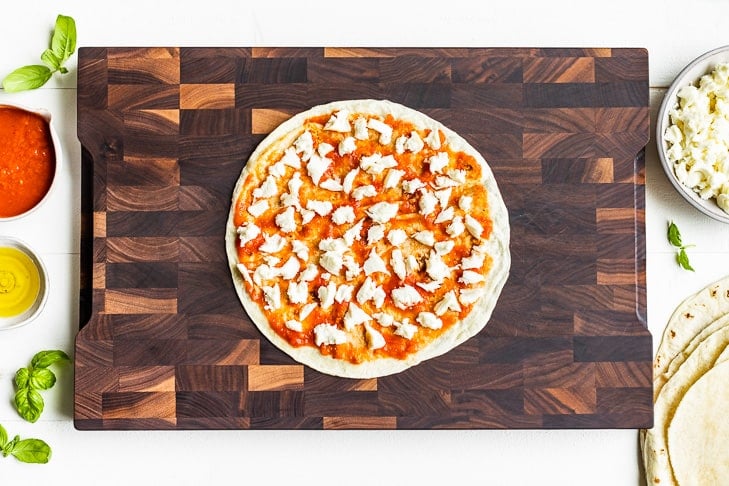 Step 3:
Top the sauced tortilla evenly with torn fresh mozzarella. Or sprinkle with grated mozzarella if you don't have/can't find fresh mozzarella.
Tip: Use a cutting board to transfer your pizza to and from the grill. Carefully slide it on and off the grill – you don't want to loose any of that precious cheese!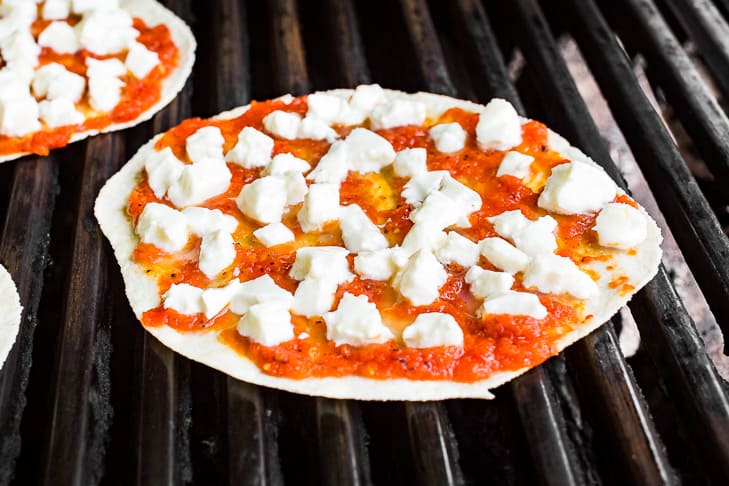 Step 4:
Carefully transfer the loaded up tortilla to a preheated grill.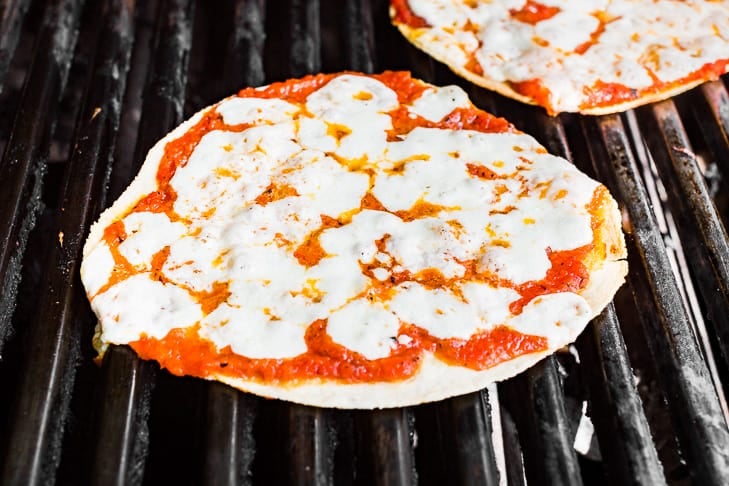 Step 5:
Grill over medium heat just until the cheese melts.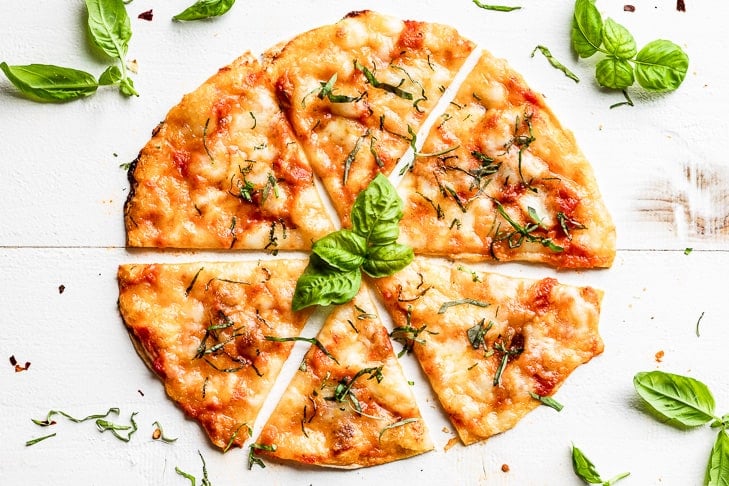 Step 6:
Sprinkle with sliced fresh basil and slice it up!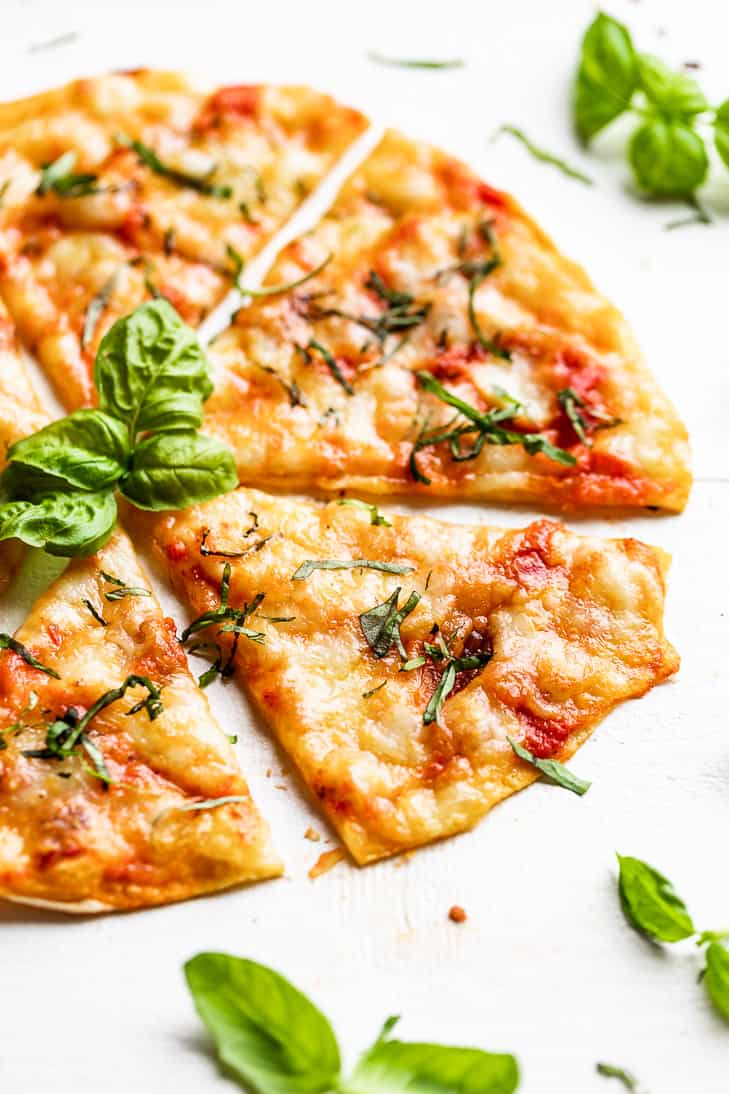 I really hope you enjoy this Grilled Tortilla Pizza Margherita! And if you do get a chance to make this, I hope you'll leave me a comment/rating below. I always love hearing from you here! Also for more pizza inspired recipes, head over to the recipe index.
So… here's to the easiest pizza you've ever made in your life!
Print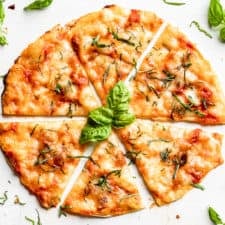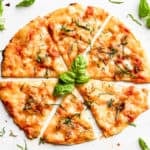 Grilled Tortilla Pizza Margherita
---
Description
This easier version of pizza is ready in a flash for impromptu pizza cravings! It's lower in carbs than a full crust pizza and super popular with kids. Make these easily on the grill and you don't even need to heat up the house.
---
1 – 8" tortilla of choice, see notes
1 teaspoon olive oil for brushing the tortillas edges
2 tablespoons Homemade Marinara, or tomato sauce of choice
2 ounces fresh mozzarella, torn into small pieces, 1/3 cup, or grated mozzarella
2–3 basil leaves cut into thin slivers (chiffonade)
Flaked sea salt for topping if desired
---
Instructions
Preheat the grill over high heat, then lower the heat to maintain a temperature between 350º-400ºF.
These tortilla pizzas can also be cooked in the oven at 425ºF for 10-12 minutes, or until the cheese melts and the tortilla is crispy.
Lightly brush the edges of each side of the tortilla with olive oil and place it on a cutting board.
Spread the marinara evenly over the tortilla, using more or less depending on the size of your tortilla.
Break the mozzarella up into small pieces, and place them evenly across the top.
Carefully slide the tortilla (using a spatula to help) onto the grill.
Cook until the cheese is melty – about 3-5 minutes.
Sprinkle with your thinly sliced basil and optional sea salt, and enjoy!
Notes
This recipe is great for anything from a snack to pizza parties where everyone makes their own customized pizza with every topping imaginable!
Siete makes great paleo tortillas if you can't have any grains. I use the almond flour ones for these pizzas.
Prep Time:

5 mins

Cook Time:

10 mins

Category:

Dinner

Method:

Grilling

Cuisine:

American
Keywords: Tortilla Pizza, Grilled Tortilla Pizza, Tortilla Pizza Recipe, Healthy Tortilla Pizza
This post was originally published in 2014, but has been updated in 2021 to include more information, tips, new photos, and nutritional info.