Pure summer in every bite, this Strawberry Spinach Salad is a classic we make constantly during the summer months. It's perfect paired with simple proteins like grilled chicken or pork chops, and the Strawberry Vinaigrette gives you a double strawberry hit. It's naturally gluten-free and can be dairy-free as well. Whether it's for a simple weeknight dinner, entertaining, or for BBQs, potlucks, and picnics this salad is guaranteed to be a hit!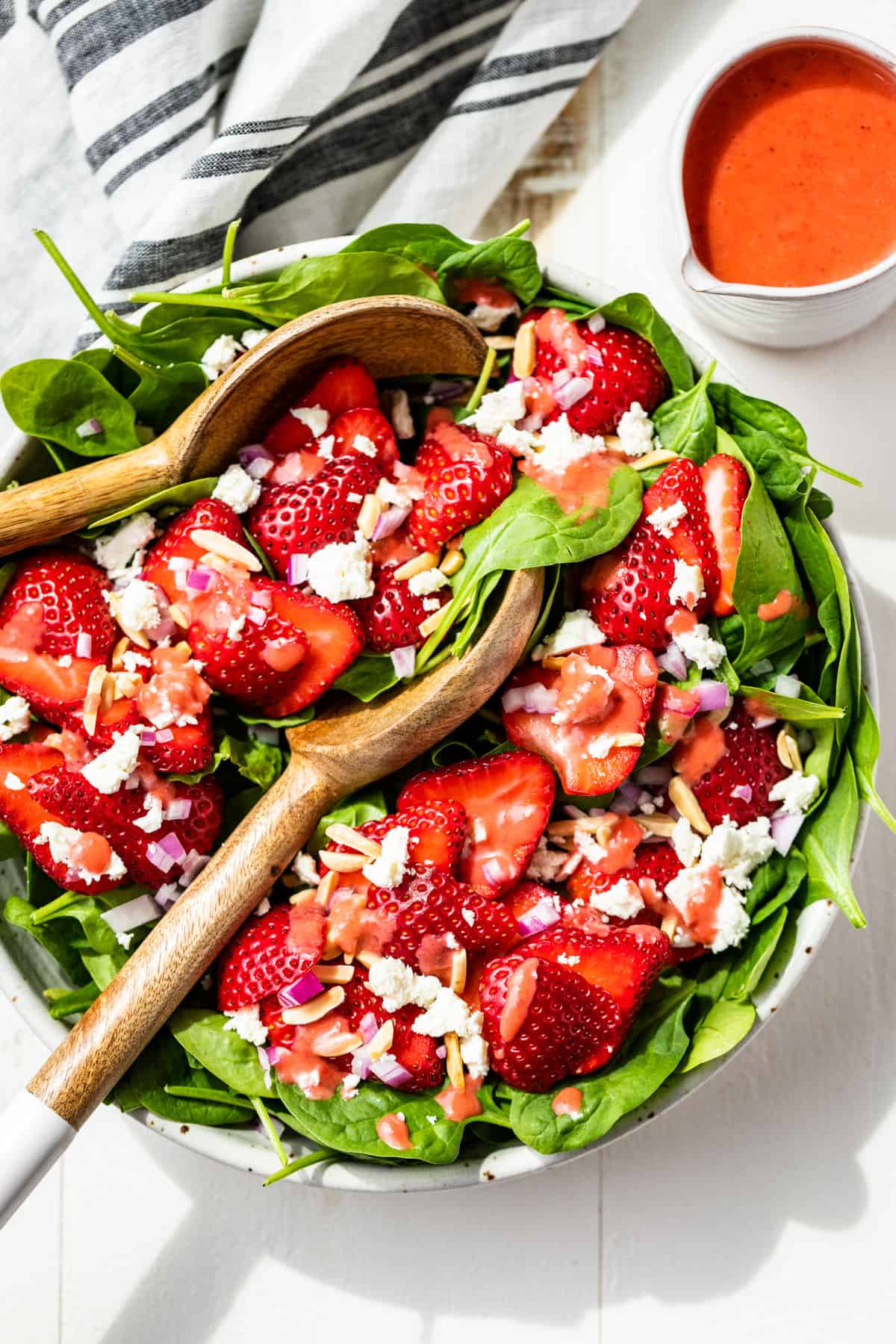 A giant bowl full of summer goodness! This salad is all flavor and you'll find yourself wanting to make it on the regular. It's a simple salad you've probably seen some sort of variation of before, but it's a classic that never gets old. Today's recipe is just how I make mine along with a super tasty Strawberry Vinaigrette that takes it right over the top.
It makes a stunning side salad and is perfect for all sorts of BBQs and potlucks as well. However, we also love it for dinner with a simple protein added. Grilled chicken is the obvious choice and it's very tasty. But shrimp is also great or you can throw a steak or pork chops on the grill as well. You really can't go wrong because it's all about that fresh flavor and juicy berries.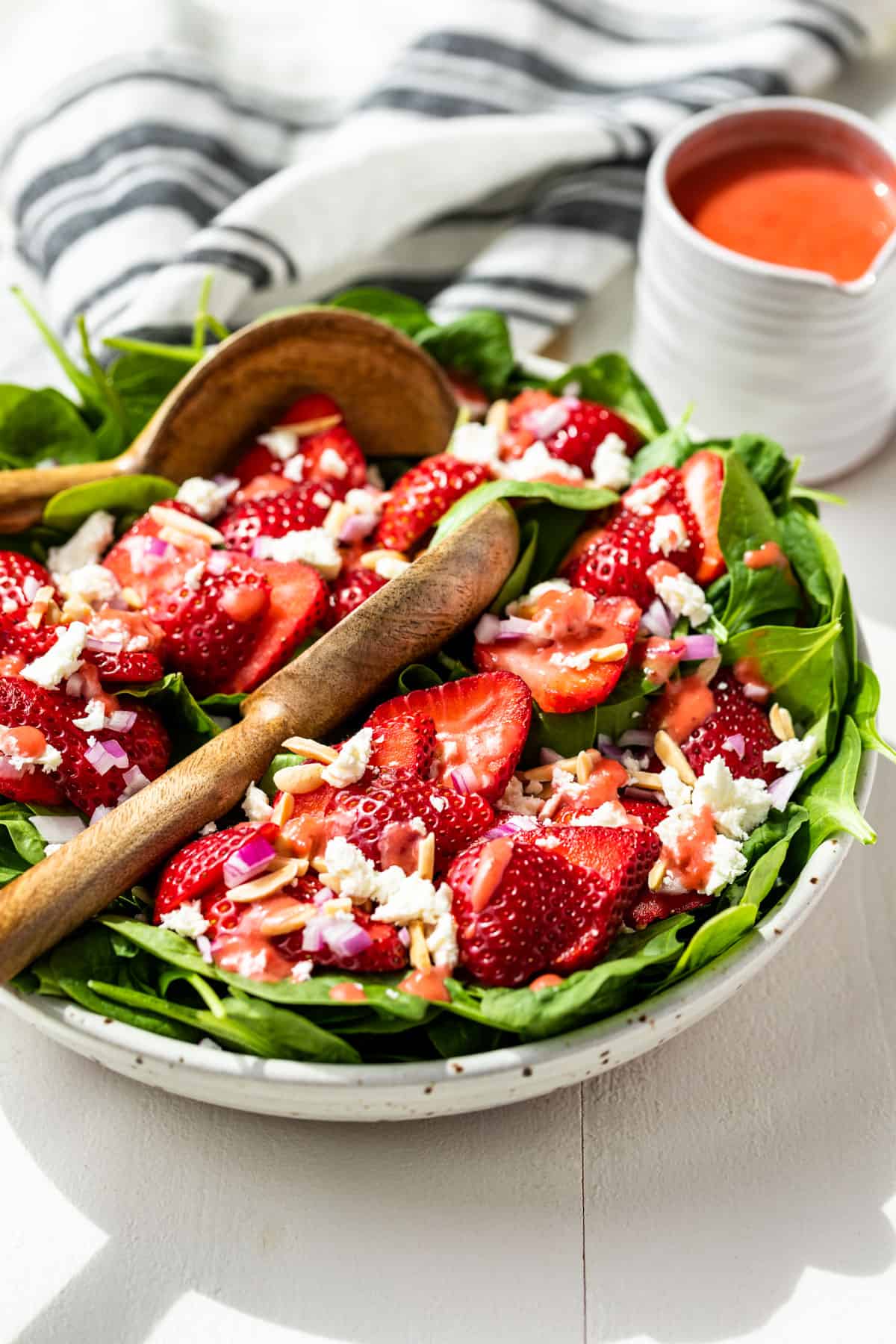 Ingredients & Substitutions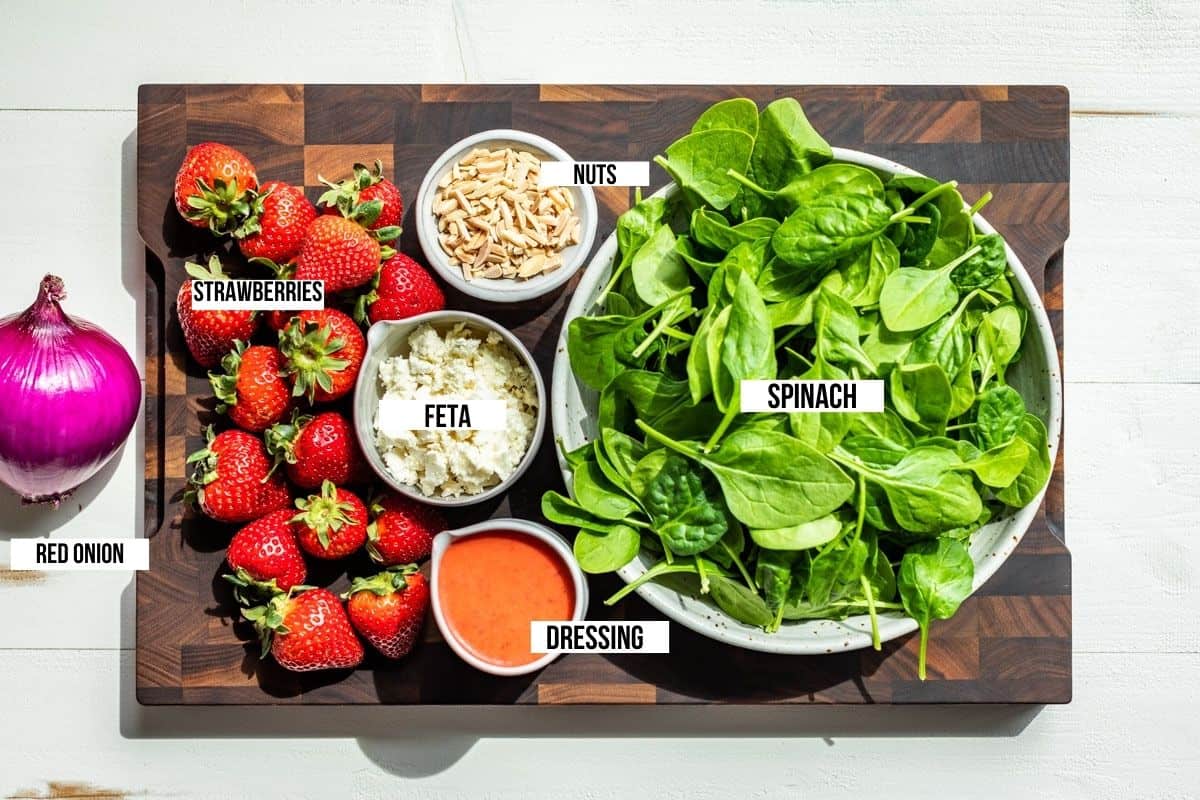 Spinach – or spring mix, chopped leaf lettuces like red/green leaf, romaine, and butter lettuce would all work here if you don't want to use spinach. I had baby spinach, but you can use those giant leaves from the garden as well, just chop them up into bite-sized pieces.
Strawberries – the ripest juiciest berries you can find for the tastiest salad. Raspberries, blueberries, and blackberries would all work here as well in place of the strawberries. We've tried every single berry I mentioned in this salad over the years and we love them all. Fresh diced peaches or nectarines would also work as well if berries aren't available. And for the winter months, you can use finely diced apples or pears and my 2-Ingredients Balsamic Vinaigrette.
Red onion – finely diced adds a lot of savory flavor here, but you can also use thinly sliced green onions, chives, or finely diced shallots as well.
Feta cheese – or crumbled goat cheese are my favorites in this salad, and blue cheese or gorgonzola works as well. You can also omit the cheese or use a dairy-free feta if needed.
Nuts – I used toasted slivered almonds, but I've also used chopped pecans, walnuts, and sliced almonds as well. You can also leave the nuts out if needed, or sub in toasted pumpkin seeds instead.
Dressing – my favorite dressing here is my Strawberry Vinaigrette, but you can also use any poppyseed dressing you'd like. My Basil Vinaigrette, Lemon Vinaigrette, or 2-ingredient Balsamic Vinaigrette also all work with this salad.
How to make this recipe step by step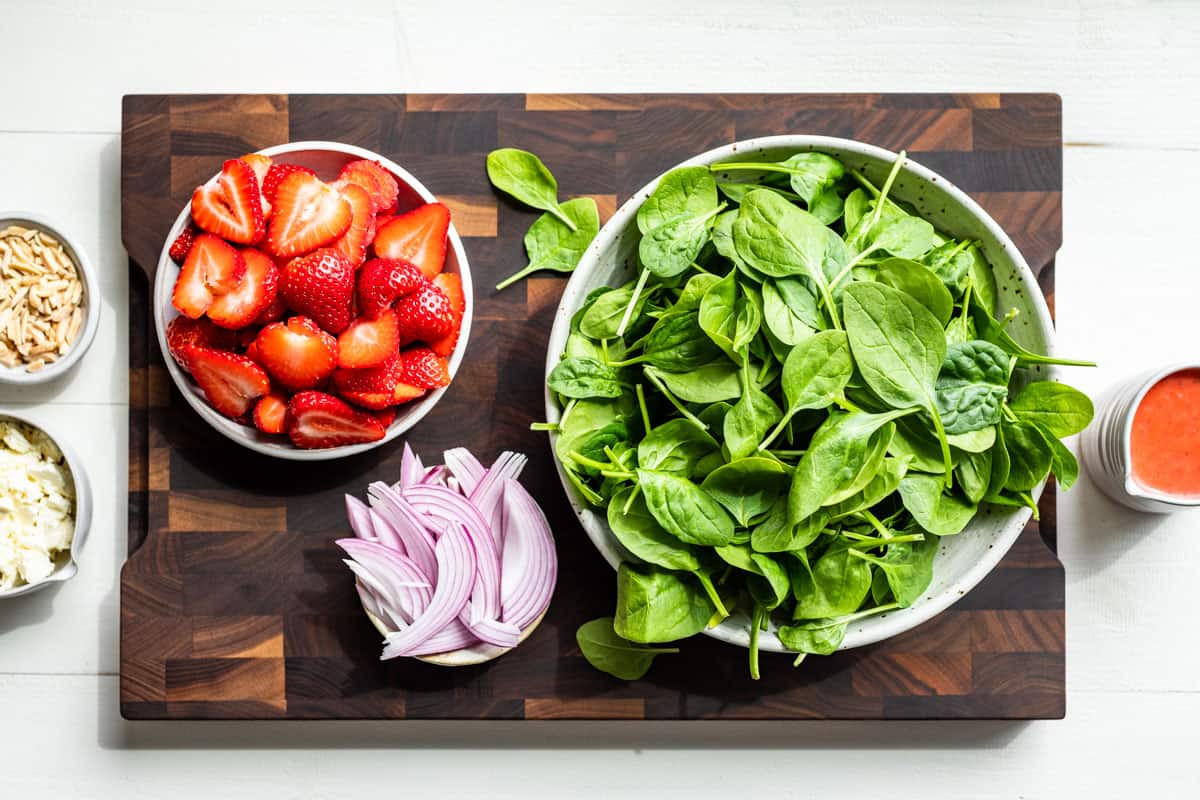 Step 1: This recipe is just a few minutes of prep work. Start by washing/drying your spinach if needed. Next hull and thinly slice the strawberries, crumble the feta, and thinly dice the onion. You can also go with sliced onion as pictured, but most of the time I go for very small bits of onion so it's not overwhelming.
Make the dressing of your choice and you're ready to go!
If you need to toast the nuts, I like to place mine on a sheet pan and bake at 250ºF for about 15 minutes or until light golden brown. By baking them at a lower than normal temperature they toast evenly and you run less risk of burning them.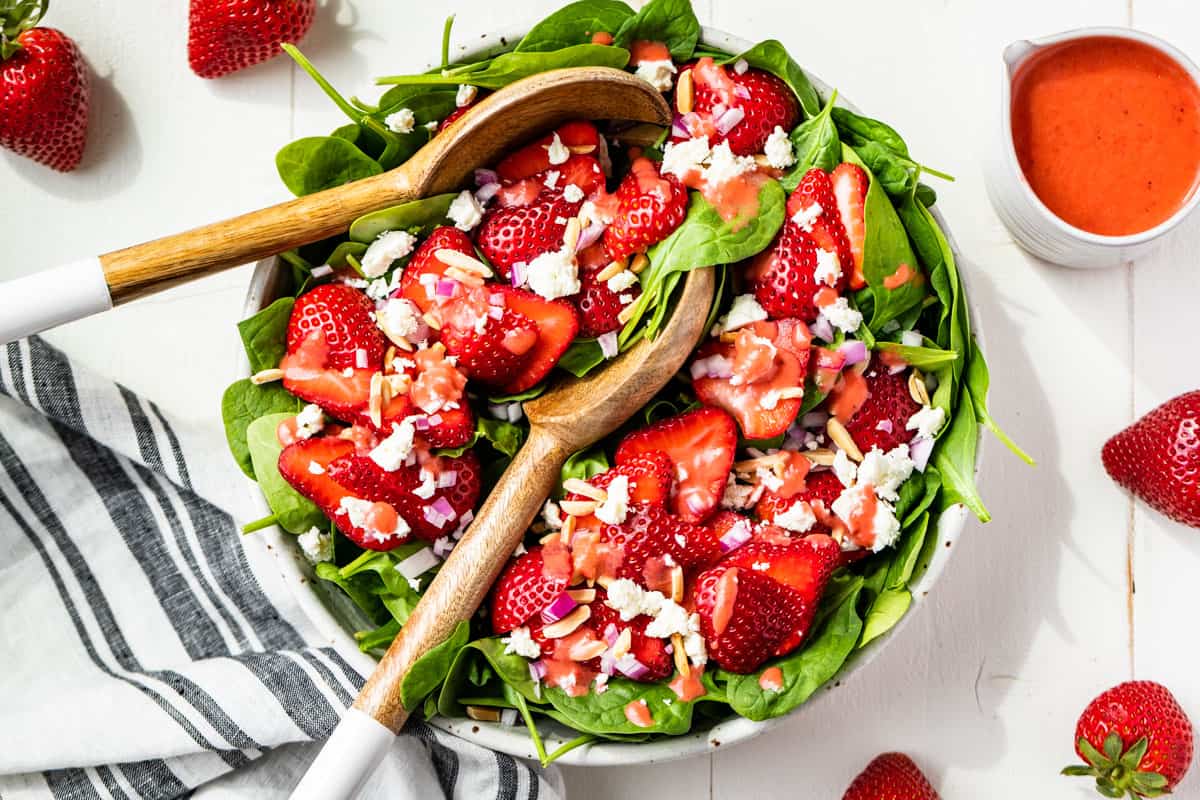 Step 2: Serve everything separately if you feel you might have leftovers. Otherwise, my preferred way to serve this is to place the spinach in the bowl topped with sliced strawberries, red onion, crumbled feta, and toasted nuts.
Serve the dressing on the side, or drizzle a bit over the top for presentation, and serve the rest at the table. You can toss the salad if you're at a picnic or potluck, but it does look better without the dressing for a dinner party.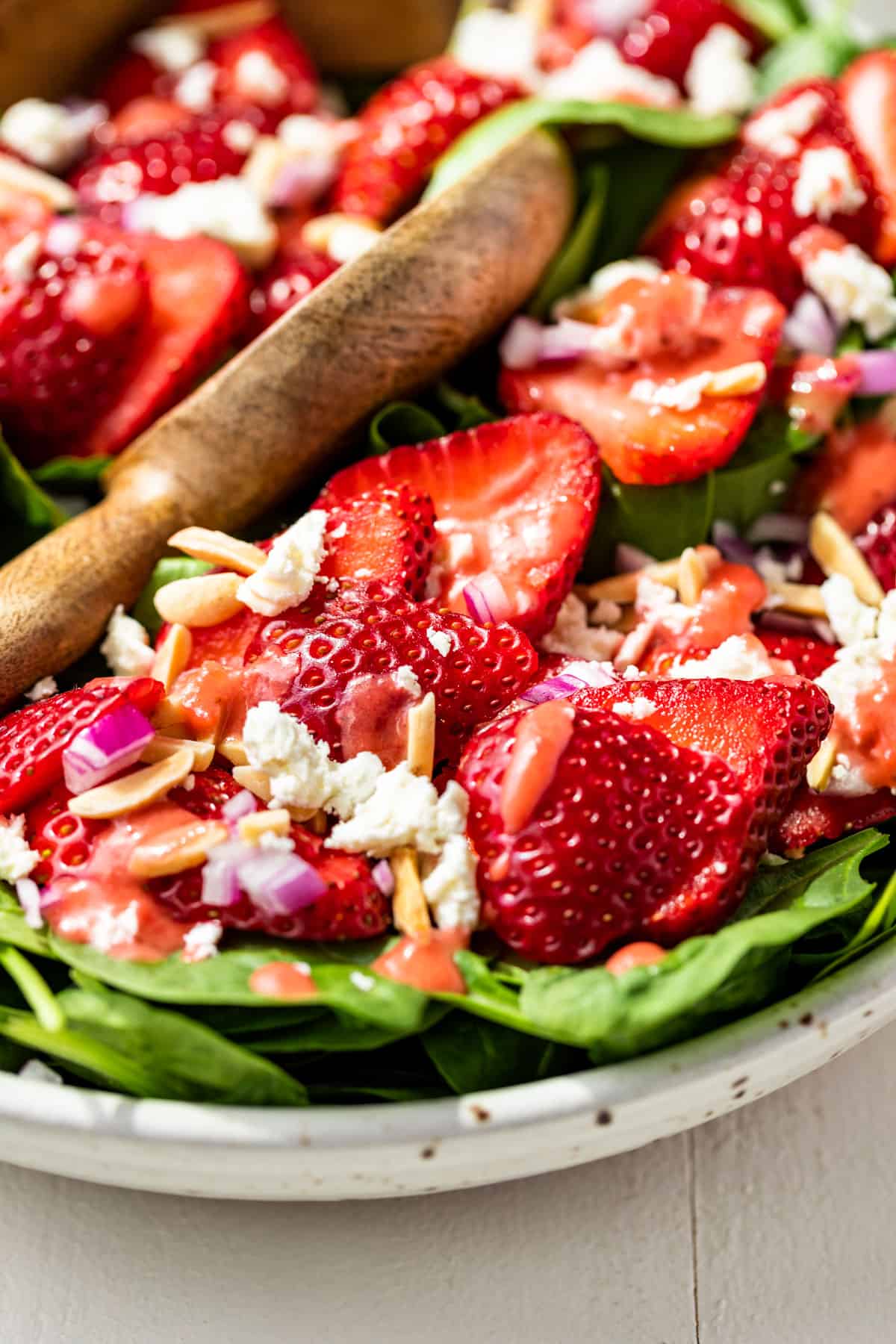 Ways to serve this
This makes a great side dish salad with lots of dinners including my Lemon Chicken and Asparagus, or with my Tuscan Steak, or Garlic Butter Shrimp Pasta for extra special options.
Or keep things simple and grill up your choice of meat to serve with this salad. Grilled chicken is the perfect partner with this Strawberry Spinach Salad. But grilled steak, pork chops, or even shrimp are all great too.
Try this salad with different dressings. My 2-Ingredient Balsamic Vinaigrette, Lemon Vinaigrette, or Basil Vinaigrette all work perfectly here. My 2 ingredient balsamic can be made with a different vinegar as well, try it with white wine, red wine, or champagne vinegar. For a basic vinaigrette you can shake together 1/4 cup vinegar or lemon juice to 3/4 cup olive oil with sea salt and pepper to taste in a jar, then add a touch of maple syrup to take the edge off.
FAQ's
Do I need to use the Strawberry Vinaigrette with this Strawberry Spinach Salad?
Definitely not, use whatever dressing you'd like. We also love poppyseed dressing and balsamic with this salad, as well as the others I mentioned above.
What can I use instead of strawberries in this Strawberry Spinach Salad?
Fresh blueberries, raspberries, blackberries, peaches, and nectarines all work with this flavor combination in this salad.
Storing leftovers
To store – if the salad has been tossed together with the dressing, any leftovers are tolerable the next day but a little soggy. If you think you might have leftovers, I'd recommend keeping everything separate at the table. Then any leftovers can be stored separately in the refrigerator for 3 – 4 days. This will vary depending on the ripeness of your strawberries, the riper they are the quicker they spoil.
Tips & Tricks
Use the best quality strawberries you can find, ripe berries make all the difference! If the strawberries you have available aren't looking great, try peaches, raspberries, or blueberries instead.
Omit the cheese for dairy-free and use avocado, or switch up the feta for crumbled goat cheese which is fantastic too!
You can also use mixed greens or any leaf lettuce like green/red, romaine, or butter lettuce here as well.
More summer salad recipe inspiration
I really hope you enjoy this Strawberry Spinach Salad! If you do get a chance to make this recipe, I'd love to hear from you in the comments.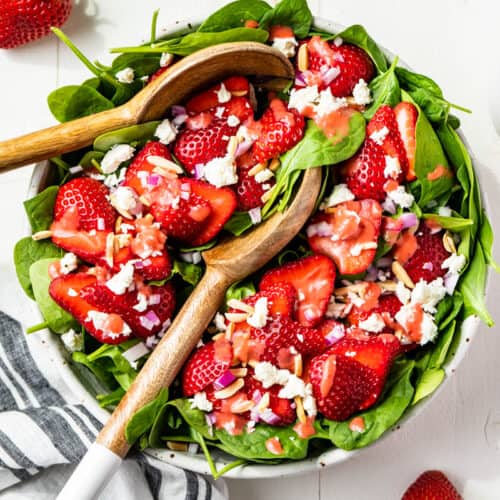 INGREDIENTS
6

cups

baby spinach

-

6 ounces

12

ounces

strawberries

-

2 cups thinly sliced

1/2

cup

toasted slivered almonds

-

or pecans, walnuts, or pumpkin seeds

1/4

cup

finely diced red onion

1/2

cup

crumbled feta cheese

1

recipe

Strawberry Vinaigrette -

or dressing of your choice
INSTRUCTIONS
Wash and dry the spinach if it's not pre-washed and place it in a large serving bowl.

Top the spinach with the thinly sliced strawberries, slivered almonds, diced onion, and feta cheese.

Serve with your choice of dressing. We love my Strawberry Vinaigrette and 2-Ingredients Balsamic Vinaigrette the most with this salad.
Bonus Step
If you made this recipe, please leave a rating/comment. Ratings really help us continue to bring you high-quality free recipes. Rate This Recipe!
NOTES
The nutrition facts are calculated without your choice of dressing. If you use my Strawberry Vinaigrette it will add 137 calories for 1/4 cup of dressing.
For dairy free you can omit the cheese, use a dairy free cheese, or try cubed ripe avocado.
nutrition facts
Calories:
169
kcal
|
Carbohydrates:
13
g
|
Protein:
7
g
|
Fat:
11
g
|
Saturated Fat:
3
g
|
Polyunsaturated Fat:
2
g
|
Monounsaturated Fat:
5
g
|
Trans Fat:
0.003
g
|
Cholesterol:
17
mg
|
Sodium:
251
mg
|
Potassium:
506
mg
|
Fiber:
5
g
|
Sugar:
5
g
|
Vitamin A:
4309
IU
|
Vitamin C:
63
mg
|
Calcium:
189
mg
|
Iron:
2
mg