When you have a bounty of apples, they start appearing in all sorts of things! I've been overrun this fall with McIntosh and Sweet Sixteens from my mom's apple trees. And I have to say, it's been a great problem to have. First up I redid my Crockpot Applesauce. Then I developed this super easy skillet dinner, and still to come is a Slow Cooker Apple Pie Filling.
I'm a huge fan of all sorts of one pot/pan/skillet kinds of dinners because they're quick and easy to make. Another awesome thing about skillet dinners in particular is they're beautiful. So they can easily double as weeknight dinners and for entertaining.
The vibrant colors of this skillet dinner is due to the Sweet Sixteen apples I mentioned above along with some red onions. Sweet Sixteens seem to retain the gorgeous color of their skins when cooked.
And as you can see, their color is almost neon. I actually considered de-saturating the photos when I edited them, but they really do look this vibrant in person, so I kept the photos as is.
I like to cut the onions into half moon slices so they mimic the shape of the apples. This helps them both cook evenly together.
For the sauce, I used fresh thyme, but dried thyme works as well. I have a little herb garden just outside the back door of our house, and I've been know to dig right through the snow to fish out any sprigs of thyme or sage leaves that haven't turned brown with winter yet!
First up for this skillet dinner, you sear the skins on the chicken thighs to a deep golden brown. Then the apples and onions are added to the skillet, the chicken thighs placed in amongst them, and the honey mustard thyme sauce is poured over top. And for the final step, the whole thing finishes itself in the oven.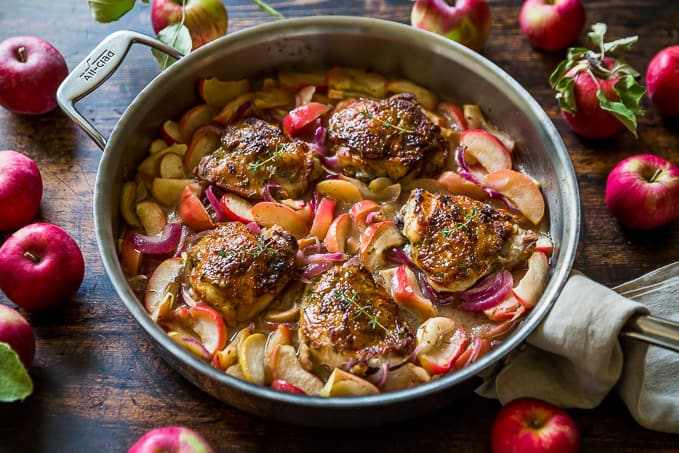 There are lots of pan juices in the finished dish, which in my mind is what carbohydrates were invented for. So take your pick of whatever you'd like to sop up those super savory juices. I personally really love a rice pilaf with a little wild rice added in. But then we tried this out with a side of mashed potatoes, and it's definitely my favorite combination to date!
Print
Honey Mustard Chicken Apple Skillet Dinner
---
4

–

5

chicken thighs, bone in and skin on, 1 1/2 pounds

1 Tablespoon

olive oil

3

–

4

baking apples, 1 1/2 pounds, see notes

1

red onion, 10 ounces

1 cup

chicken stock
Honey Mustard Sauce:
3 Tablespoons

Dijon mustard

2 Tablespoons

honey

1 Teaspoon

sea salt, or to taste

1/2 Teaspoon

ground black pepper

1 Tablespoon

chopped fresh thyme, or

1 Teaspoon

dried
---
Instructions
Preheat the oven to 400ºF.
Core and cut the apples into 1/2″ slices. Remove both ends off the onion, and cut it in half from the top to the bottom. Peel away the tough outer layer, and lay both halves flat side down. Then cut across the rounded tops to create 1/4″ thick half moon slices.
Preheat a large 15-18″ oven proof skillet over medium high heat until the pan is hot but not smoking. Add the oil to the pan and swirl to evenly coat the bottom. Then add the chicken thighs, skin side down, and lower the heat to medium. Cook until the skin is golden brown, then turn them over and brown the other side, 8 minutes total.
Remove the chicken thighs from the pan, and turn off the heat. Add the sliced apples and onions to the pan, and place the chicken thighs evenly around skin side up, nestling them down into the apples and onions. Pour the chicken stock into the pan.
Then pour the honey mustard sauce over the top, paying special attention to coating the skin on the chicken thighs.
Place the skillet into the oven and bake until the chicken thighs are completely done, about 25-30 minutes.
Serve the finished skillet dinner with your choice of sides.
Notes
Any apple that's suitable for baking like Sweet Sixteen, McIntosh, and Granny Smith are perfect for this dish. You want and apple that will hold it's shape.
Prep Time:

15 mins

Cook Time:

40 mins