This Instant Pot Avocado Egg Salad is so easy to make and perfect for healthy lunches!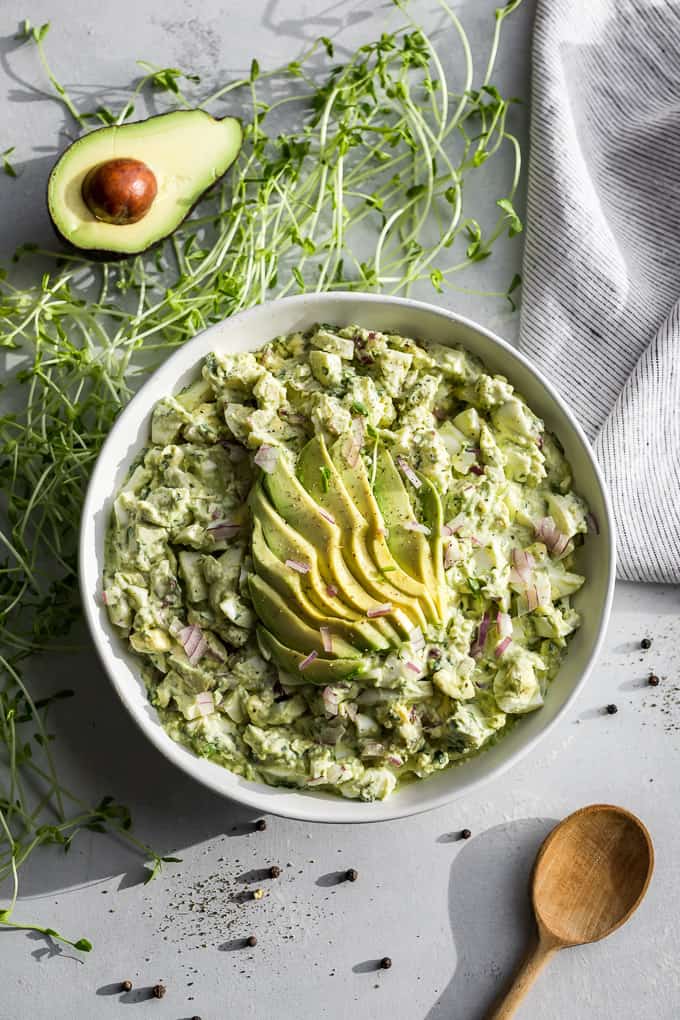 Lunch has always been my weakest link when it comes to healthy habits. I find it all too easy to breeze straight through lunch, and just work until the end of the day. In fact that particular habit started so far back, that's it's more deeply ingrained than I'd like.
However when Tyler and I got married, it gave me a sense of responsibility and I kicked it into gear in the lunch department. You'd think that while making lunches for him, I'd include myself in that process. But for the longest time, I still just ate sporadically whenever I actually remembered to feed myself.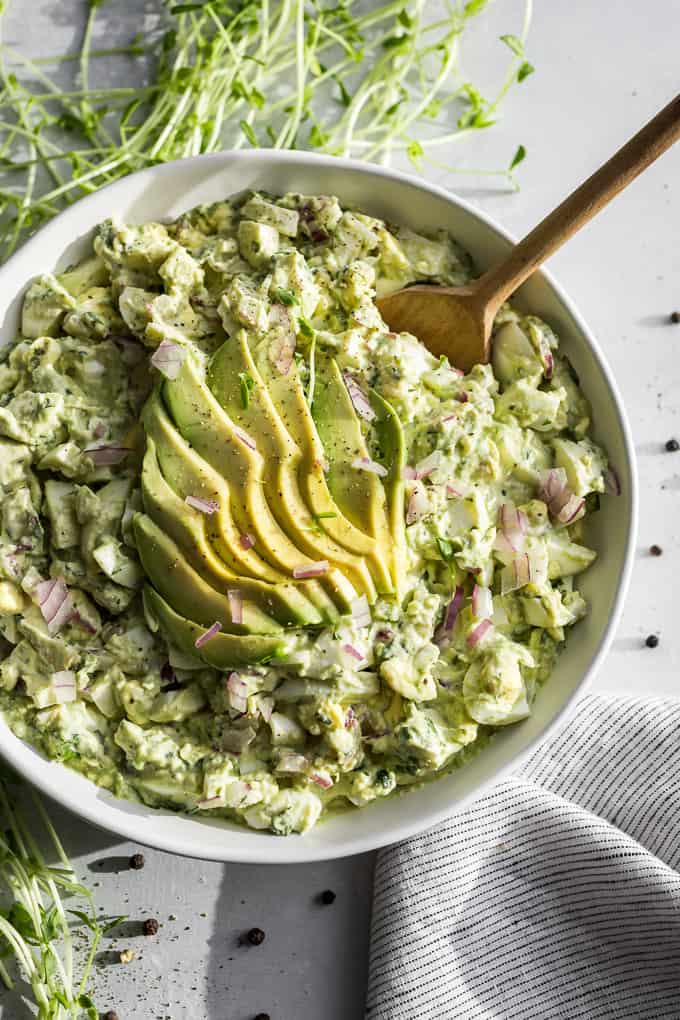 And while there's way too many reasons to get into here about why I'm not that great at eating during the day. The main reason that foils my attempts to eat more regularly is the complete lack of a normal schedule.
Some days are just packed with recipe testing, and I definitely don't need lunch on those days. But other days I end up getting so involved at what I'm doing at my desk, that the entire day goes by without a single thought regarding lunch.
Now maybe that wouldn't be such a big deal since most mornings I have a giant green smoothie. But it really is a big deal for me personally, since I deal with an afternoon slump most days. When I'm actually structured and 'on it' I have a nice healthy lunch which keeps me powering on with steady energy until dinner.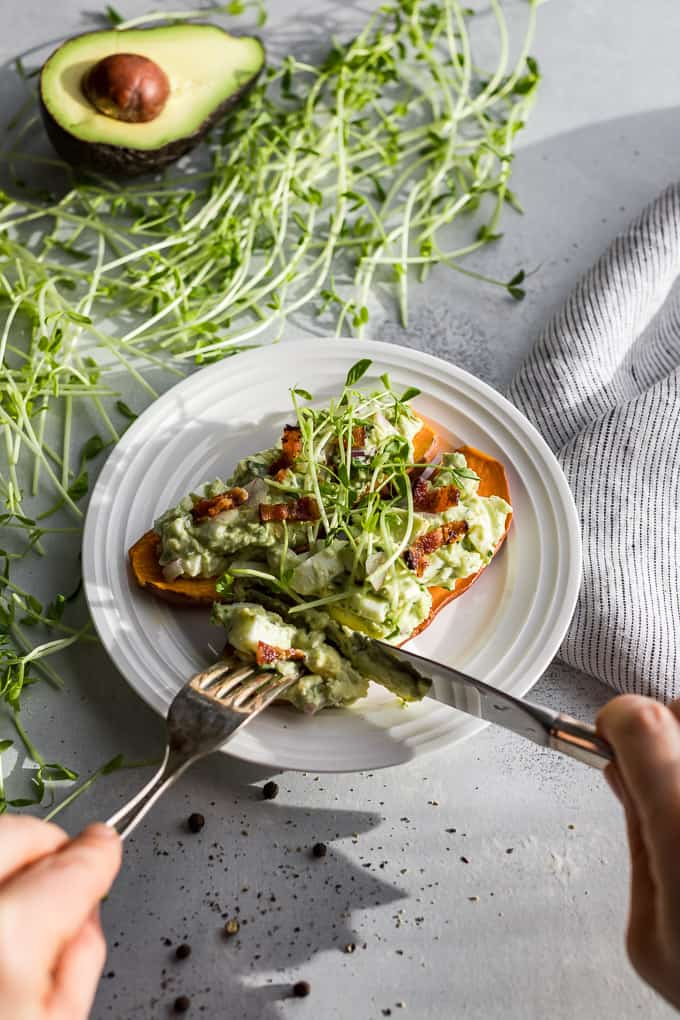 So it's only natural that my first recipe this year would be a great one for healthy lunches! This avocado egg salad is packed with protein and healthy fats.
I like to add some veggies in the form of sweet potato toast and sprouts on top. Then I top all of that with a few bacon bits, and you've got yourself a wonderful healthy lunch.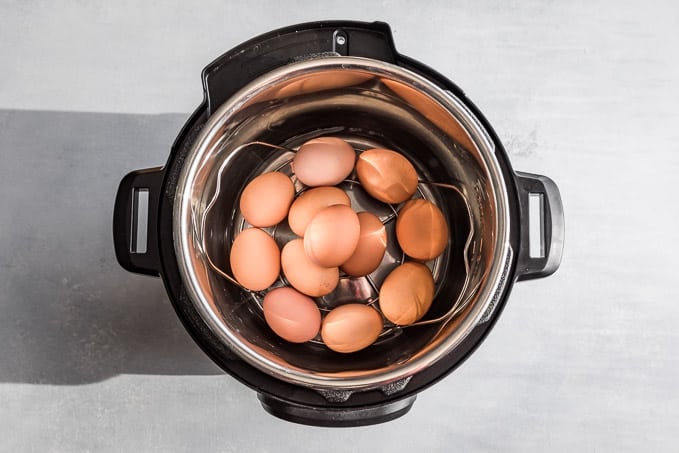 All about hard boiled eggs
As you know from my other Instant Pot recipes, I'm not head over heals for it. I find it really useful for a few things, but there's no need to run out and buy one if you don't want to.
But you should know, hard boiled eggs are the single most awesome thing I've tried in the Instant Pot. I've always struggled with peeling hard boiled eggs because I never have anything but fresh eggs around. Which of course means half of the egg white sticks to the shell and it's just a mess trying to peel them.
But with the Instant Pot, you can put fresh eggs in and you won't have any problem peeling them at all. In fact the Instant Pot is incredible at producing the easiest hard boiled eggs I've ever made – no exaggeration.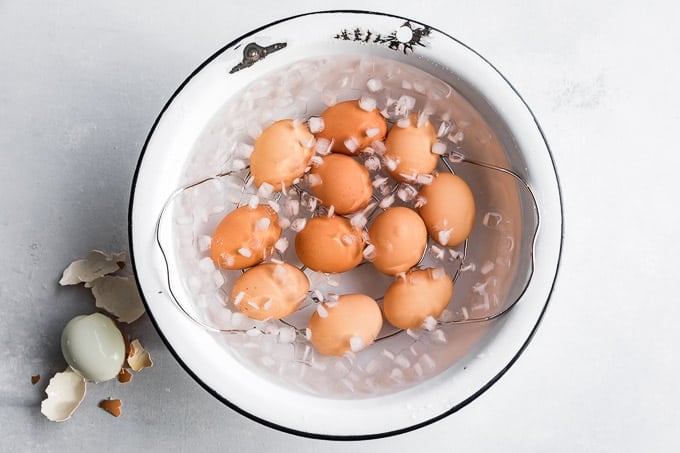 How to make this Avocado Egg Salad
After the eggs spend a few minutes in the Instant Pot, you give them an ice bath to cool down. Then peel each on and be prepared to be amazed at how easy it is!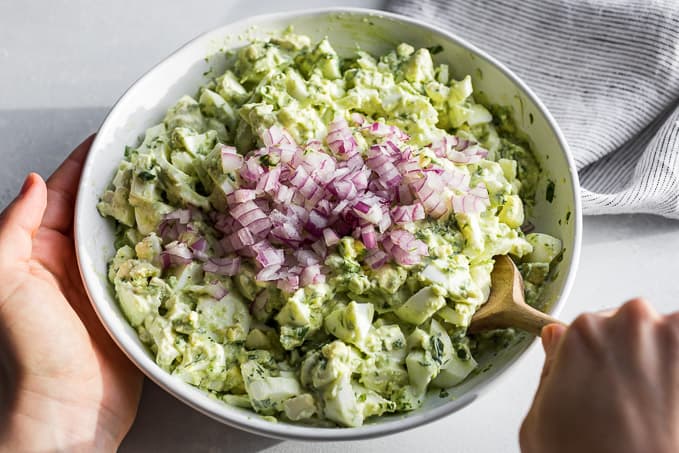 From there the avocado and herbs are mashed into a bowl, and finally you'll fold in the diced hard boiled eggs.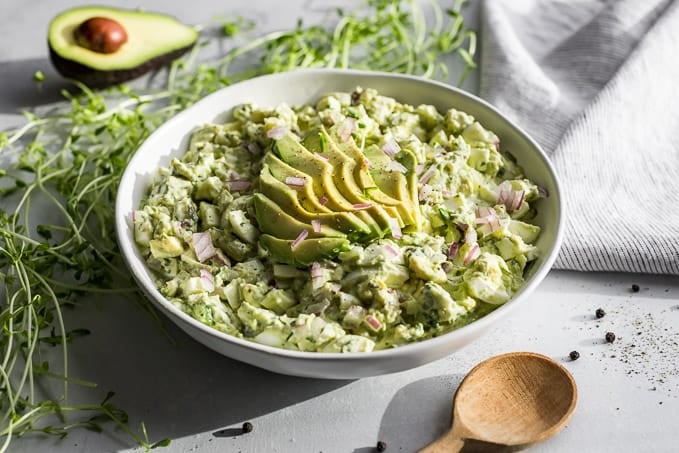 I found this egg salad keeps well for 2 days. After that, the avocado in the top layer began to turn brown. So when it comes to making this for meal prep, you can make as much as you can use within the first couple days. But you can make more hard boiled eggs and refrigerate them in their shells to use in a 2nd batch after you've eaten the first.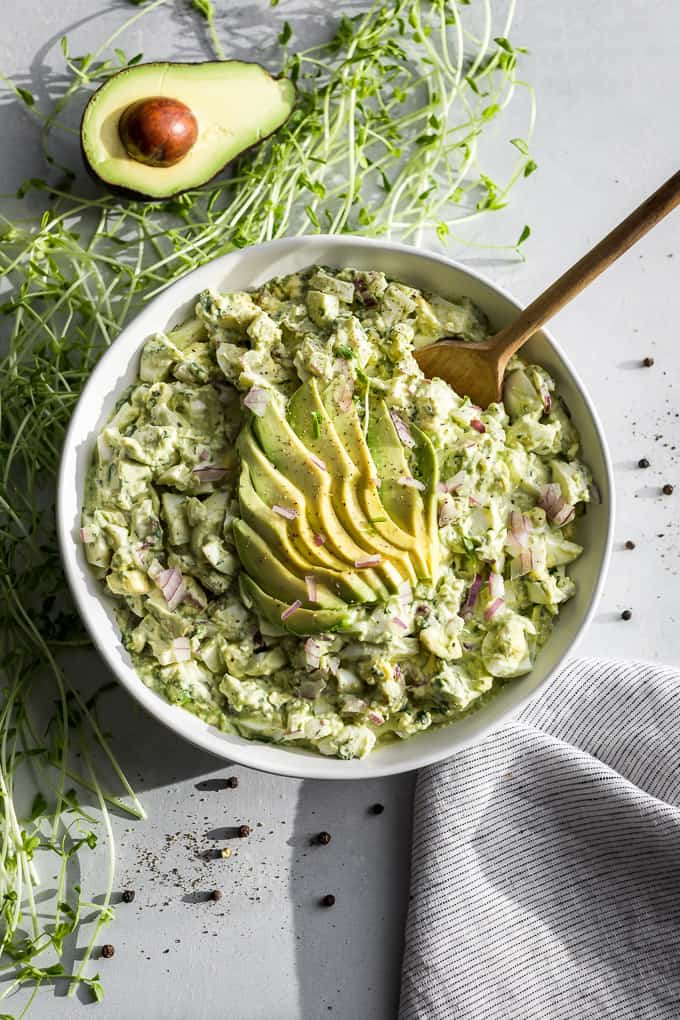 This egg salad is equally good as a lettuce wrap…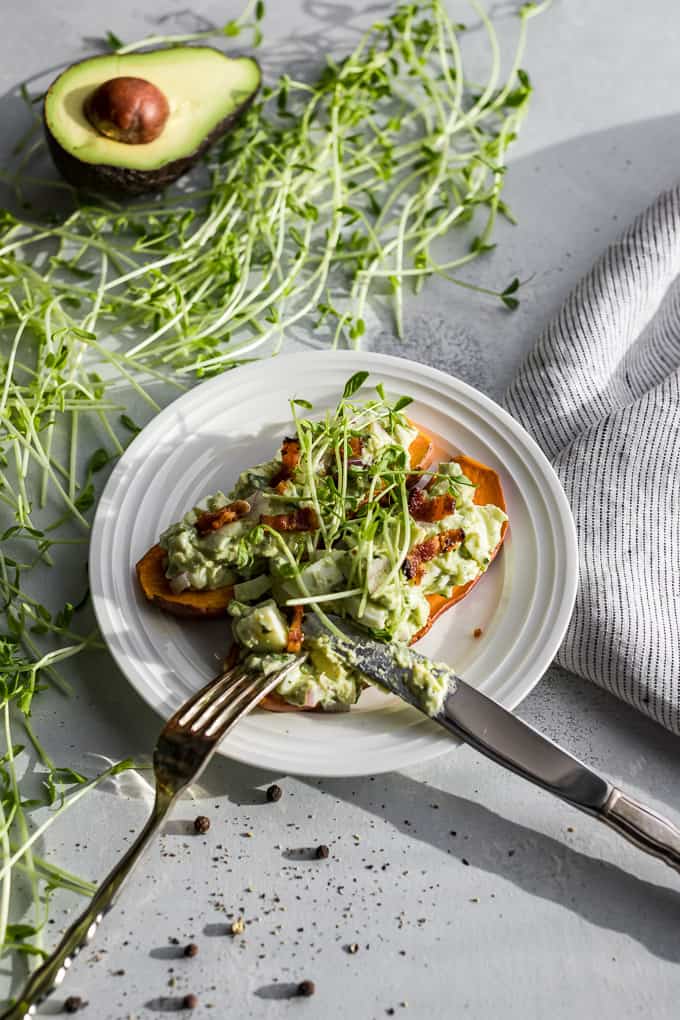 … or over sweet potato toast with toppings as I mentioned above!
And finally a quick note about how to make sweet potato toast. I use a sharp knife to cut a sweet potato into 1/2″ strips lengthwise. Next place those pieces of sweet potato onto a parchment lined baking sheet. Then brush lightly with olive oil, and bake at 400ºF until tender. These can be stored for several days in the refrigerator and are great with all sorts of toppings!
P.S. for more lunch inspiration, check out my 5 Ways to Make Simple Healthy Lunches.
Print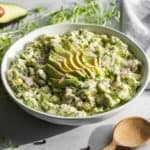 Avocado Egg Salad
---
Author:

Kari Peters

Total Time:

25 minutes

Yield:

2

–

3

servings

1

x

Diet:

Gluten Free
Description
The perfect healthy lunch packed with protein and healthy fats!
---
6 eggs, see notes
Dressing:
1 ripe avocado
1 Tablespoon freshly squeezed lemon juice
1/2 Teaspoon sea salt, or to taste
1/4 Teaspoon black pepper
2 Tablespoons chopped fresh herbs, dill, cilantro, or basil are my favorites
1 Tablespoon minced red onion, or shallot
2 Tablespoons avocado oil mayonnaise, or Greek Yogurt, see notes
1 Teaspoon Dijon mustard, see notes
---
Instructions
Place the trivet into the Instant Pot, I use the 6 quart model. Evenly space the eggs on the trivet, and pour 1 cup of water into the Instant Pot. Set to pressure cook for 5 minutes. When the cooking time is done, carefully release the pressure through the valve.
When the Instant Pot is safe to open, remove the eggs and place them into an ice bath to cool for 10 minutes. Next peel the eggs by gently cracking the shell all the way around and peeling it away. 
Then in a medium sized bowl, mash the avocado with the lemon juice, salt, pepper, fresh herb of choice, onion, mayonnaise, and Dijon mustard.
Cut the peeled eggs up into bite sized pieces and lightly stir them into the avocado mixture until combined.
Serve immediately, or keep in an airtight container for up to 2 days. Make sure the egg salad takes up most of the space in the container to keep it from browning.
Notes
You can also hard boil 12 eggs, and refrigerate half the eggs to make a second batch 2 days later.
Check your labels carefully to make sure your mayonnaise is Whole30 compliant, or consider making your own. Also check the labels for mustard as most of them have sugar in them. I use the Annies' brand which is Whole30.
Prep Time:

20

Cook Time:

5

Category:

Salad

Method:

Instant Pot

Cuisine:

American
Keywords: Instant Pot Avocado Egg Salad, Egg Salad with avocados, Egg Salad no mayo, Egg Salad without mayonnainse