I think lunches are the most difficult part of eating healthy, and I know I'm not alone in this struggle. If I don't plan ahead, I'm more than likely to be found eating a handful of crackers to tide me over until dinner. So over the last few years I've worked on getting serious about eating healthier lunches.
My problem is I got into a bad habit of rarely eating lunch. It was just too inconvenient between having to put something together, and the fact that I could barely keep down whatever I put into my stomach. Since giving up wheat, all of those stomach problems have disappeared, and I'm hungry at lunchtime. I've also noticed I'm not nearly as productive if I don't eat lunch because my energy tends to dip around 3pm.
So what's a person to do for lunch when they're perpetually strapped for time? Well today I have my top 5 things we pack for lunches. Best of all these are what I like to call 'realistic lunches'. I mean… how many times do you look at a menu plan only to see that you need to make a specific recipe for breakfast, lunch, and dinner?
Who on earth has time for that? I'm guessing the answer to that is no one, so what I have written down today are guidelines along with some links to recipes. These 5 ways to make healthy lunches are all about using what you already have with no need to make something extra.
1. Meal Prep – When I'm home on the weekend, some amount of meal prepping is a lifesaver for healthy lunches during the week. I usually prep something for breakfast, some Mason Salad Jars, and fruit for green smoothies. When you have a few things prepared like this, you can just pull a couple items from the fridge, and that makes a healthy lunch.
Example: I normally make a frittata or egg bake for breakfast along with some muffins like these Flourless Chocolate Peanut Butter Muffins. We also almost always have on hand this Maple Cinnamon Granola and energy bars like these Snickerdoodle Energy Bars. While these all make great breakfasts, they can be mixed and matched together to make lunches as well to break up having a Mason Salad Jar everyday. The granola can also be made into homemade Fruit and Yogurt Cups which are the perfect bring along light lunch.
2. Pack some of what you make for dinner into small containers to take for lunch – this is my #1 strategy when I haven't done any meal prep because we've had a crazy weekend.
Example: Say you've made my Easiest Roasted Veggie Thai Curry for dinner – to pack it for lunch simply place some rice into a glass container with a lid, and top with as much curry as desired. The next day pack it along to work to either eat it cold, or reheat if you have facilities available. My husband works on construction sites, so whatever I pack for him needs to taste good cold because there's no heating anything up at lunchtime. During the winter months when it's freezing out, I like to try and pack him something warm. So I heat up whatever we had for dinner the night before, (soup works particularly well) and place it into a Hydroflask food container for lunchtime.
Bonus Dessert Tip: In the summertime, I make any kind of nice cream (like this Chunky Monkey version) and freeze it in a Hydroflask overnight. Then the next day I pack it in his cooler, and he has healthy ice cream at lunch when it's 95ºF out!
3. Take part of your dinner and make it into a salad jar, (see photo below) or lettuce wrap, (see the 1st photo). We do this often and it works great because it's slightly different than what you had for dinner without any extra work.
Example: Say you're having tacos for dinner, consider saving out some of the fillings and using them as toppings for a salad. To make a salad jar, add some salsa to the bottom for a dressing, topped by the taco toppings, then fill the jar with greens. You can also just lay out a couple lettuce leaves, place some of the taco toppings on top and place it into a container for a lettuce wrap lunch the next day.
Or maybe you're making something like the Easiest Roasted Veggie Thai Curry mentioned above. Simply make more roasted veggies than you need for the recipe, and use them for a salad jar. Start assembling the jar by adding about 1/4 cup of my 2-Ingredient Balsamic Vinaigrette, then add about 3/4 cup roasted veggies, and top with spinach for an easy salad jar that's nothing like the Thai Curry you're having for dinner.
Another thing I do a lot, is whenever I'm spiralizing like these Kung Pao Zucchini Noodles for dinner, I also spiralized some extra zucchini. I place the raw zucchini noodles into a quart mason jar and pack it with about 1/4 cup cup of dressing of choice (this Homemade Italian Dressing is a favorite and we always have big batches in the fridge) for a really easy lunch salad. I like to pack it along with some already done protein like a hard boiled egg, some type of protein leftover from dinner, or grilled chicken I pre-cooked and froze.
4. A large Green Smoothie made with some avocado added in, (Mango Lime Green Smoothie in the above photo). This one doesn't work too well if you have a very active job that burns tons of calories, but I rely on this one all the time. The purpose of adding in a small amount of avocado is that healthy fats help you absorb nutrients, stay fuller longer, and it preserves the green smoothie until lunchtime.
I fall back on a large (32 ounce) green smoothie often during the workweek because they're quick and easy to make. They're also a way to boost the amount of fruits and veggies you're eating in a day. Be sure and check out my post about Superfood Smoothie Boosters to add to your green smoothie. You can also Make Your Own Freezer Smoothie Packs as part of meal prepping to save you some time as well.
Example: If you're just not into drinking your lunch, try making less green smoothie and make it thick for a smoothie bowl. Come lunchtime pull out a container with your green smoothie in it, and top with some homemade granola and sliced fruit/berries. Think a green version of acai bowls for lunch!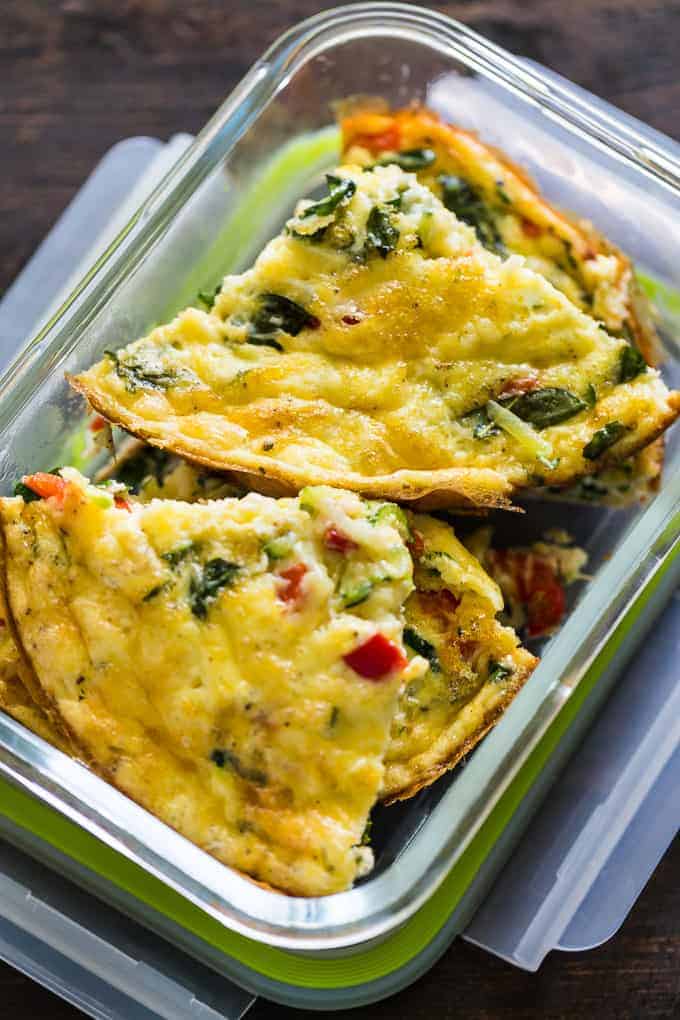 5. Frittata/Egg Bake/Egg Muffins are an absolute lifesaver! As I mentioned in meal prep, I prep these almost every week for breakfasts. But they double as an easy portable lunch when I'm really in the weeds so to speak.
Today is actually just such a day, I finished up shooting photos of some Zucchini Egg Muffins which ended up being my lunch. They're also going to be dinner tonight, breakfast in the morning, and lunch tomorrow (along with a green smoothie as a snack), for both of us because this week has been crazy. Sometimes you just have to hold on until the next weekend comes, and any type of baked egg dish always saves my bacon!