Is there anything better than the summer grilling season? Since our summer is so short, we grill year round, but obviously it's always better when you don't have to put on a down coat first before stepping outside! Add to that the gorgeous fresh produce just bursting out of every stand at the Farmer's Market, and what usually happens is I rarely turn my stove on from May right through September.
Several nights a week we do what I like to call a 'grill platter' for dinner, and the formula goes like this: protein or sliced sweet potatoes (sometimes both) + 2-3 veggies + a sauce = dinner all summer long! Really… it's that simple and the bonus is: these platters always look so great with the bright colors, that they're perfect for the easiest of entertaining.
This particular version I'm telling you about was so good we made it 3 nights in a row, and by night 3 Tyler was like, 'you should probably write this down'. I thought having a blog would keep me accountable for writing down recipes, but not so much, I still make a lot of things that never happen to get written down, (I'm promise I'm really working on it)!
Back in our first year of marriage, he'd almost always ask what it was that we were having for dinner. I never had a name for stuff I just threw together on the spur of the moment, but he persisted because he wanted to know what to ask for when he wanted to eat it again. I would always laugh and call it a '1 time dinner special', but eventually I took him seriously and started putting my recipes on this blog for everyone else as well.
I guess I come by it naturally because all the great cooks in my family cook from scratch without recipes, adding a little of this and a little of that. The only real recipes we pass down in my family are baking recipes because that's one case where winging it isn't a good idea.
But the moral of the story is that you don't really need a recipe to cook food like this. Of course I'm going to give a recipe with specific measurements, but I hope you'll take my grill platter formula and run with it because dinnertime has never been easier!
We're coming right to the end of asparagus season, but I like to drag it out for as long as possible. Zucchini is a great choice for the summer, and you can grill all sorts of smaller veggies like beans and snap peas if you have a grill basket. Whole mini sweet peppers are another favorite of ours, but you can also grill regular bell peppers cut in half. Sliced onions are nice sometimes too because they add a savory element that's nice with whatever meat you choose.
I also mentioned sweet potatoes in my grilling formula because they're a great way to bulk up a meal and add lots of nutrition as well as carbs! They're not listed in this recipe, but I thought they deserved a mention if you wanted to make this meal a little more substantial.
The basil dressing comes together the quickest in a mason jar. You can use a blender, but I find it so much easier for small batches of dressing to put the ingredients into a 2 cup/1 pint jar…
… then secure the lid, and shake until emulsified.
For an added touch, it's nice to grill a lemon to serve with the finished dish to add a little brightness of flavor.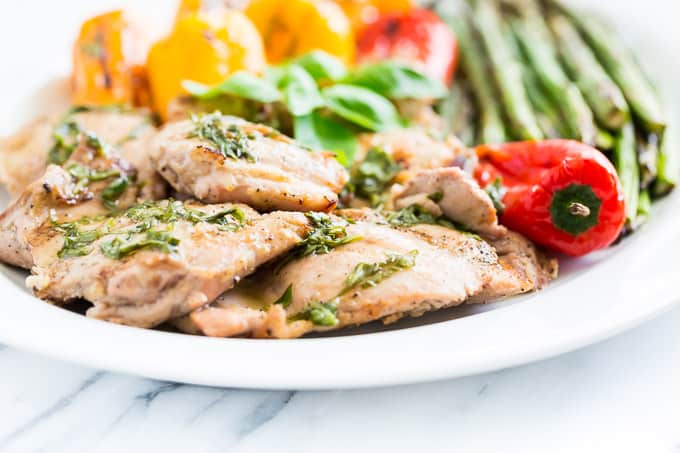 The real beauty of serving a sauce with all your grilled goodies, is it really intensifies the flavor! By marinading with a few simple ingredients you start building with 1 layer of flavor, grilling adds a second layer, and then pouring a sauce over the top adds the 3rd. It's a simple concept that will take you so far in the kitchen.
And just in case you missed it earlier, here's my grill platter formula:
Pick a protein/and or carb like sliced sweet potatoes + 2-3 veggies + sauce of your choice = delicious eating, easy enough for a weeknight, and elegant enough for entertaining!
Print
Lemon Basil Grilled Chicken and Veggie Platter
---
Lemon Garlic Chicken:
4

boneless, skinless chicken thighs, 1 1/2 pounds

1/2 Teaspoon

sea salt

1 Tablespoon

olive oil

2 Tablespoons

freshly squeezed lemon juice

1/4 Teaspoon

black pepper

1 Tablespoon

maple syrup

2

cloves garlic, minced
Lemon Basil Dressing:
2 Tablespoons

olive oil

2 Tablespoon

freshly squeezed olive oil

1 Tablespoon

maple syrup

1/2 Teaspoon

sea salt

1/4 Teaspoon

freshly ground black pepper

1/4 cup

chopped fresh basil
Veggies:
2

pounds of veggies lightly tossed in 1-2 teaspoons olive oil and a sprinkling of sea salt
I used

1 1/2

pounds asparagus and 1/2 pound mini sweet peppers which is usually about

1

large bunch of asparagus and 8 mini peppers on average.

1

lemon cut in half, optional
---
Instructions
Mix together all the ingredients for the chicken marinade in a stainless steel or glass bowl, thoroughly coating the chicken thighs. Place the chicken in the refrigerator for at least 30 minutes and up to 2 hours to marinade.
While the chicken is marinading, make the dressing by adding all the ingredients into a 2 cup/1 pint mason jar. Secure the lid and shake vigorously until the dressing is emulsified. Set the dressing aside until you're ready to serve. If it separates, simply shake it back together again.
Prep the veggies by washing and trimming if needed, and tossing with a small amount of olive oil and sea salt before setting them aside.
When the chicken is done marinading, preheat the grill over high heat until it reaches to 400ºF. Place the chicken, optional lemon, and veggies on the grill, and immediately lower the heat to medium/medium high maintaining a temperature between 350º and 400ºF.
Grill for 3-4 minutes before checking on the veggies and turning them if needed. Turn the chicken when it loosens up from the grill and is easy to turn, 8-10 minutes. Continue to turn the veggies as needed every 3-4 minutes, and cook the chicken thighs another 6-8 minutes or until they're no longer pink. This will vary each time depending on the size and thickness of your chicken thighs.
Remove the chicken and veggies from the grill and arrange them on a serving platter. Pour the lemon basil dressing over the top, and serve immediately.
Notes
The marinade for the chicken and the lemon basil dressing are almost identical, so it's the easiest and fastest to prepare both of them at the same time while you have everything out, and ready to go.
Prep Time:

30 mins

Cook Time:

18 mins