This Mango Blackberry Kombucha Mocktail recipe has been a constant in our house lately with the summer heat. It's refreshing and easy to mix up, as well as being completely made from real food ingredients. There's no natural flavors or refined sugars here, and they can even be made Whole30!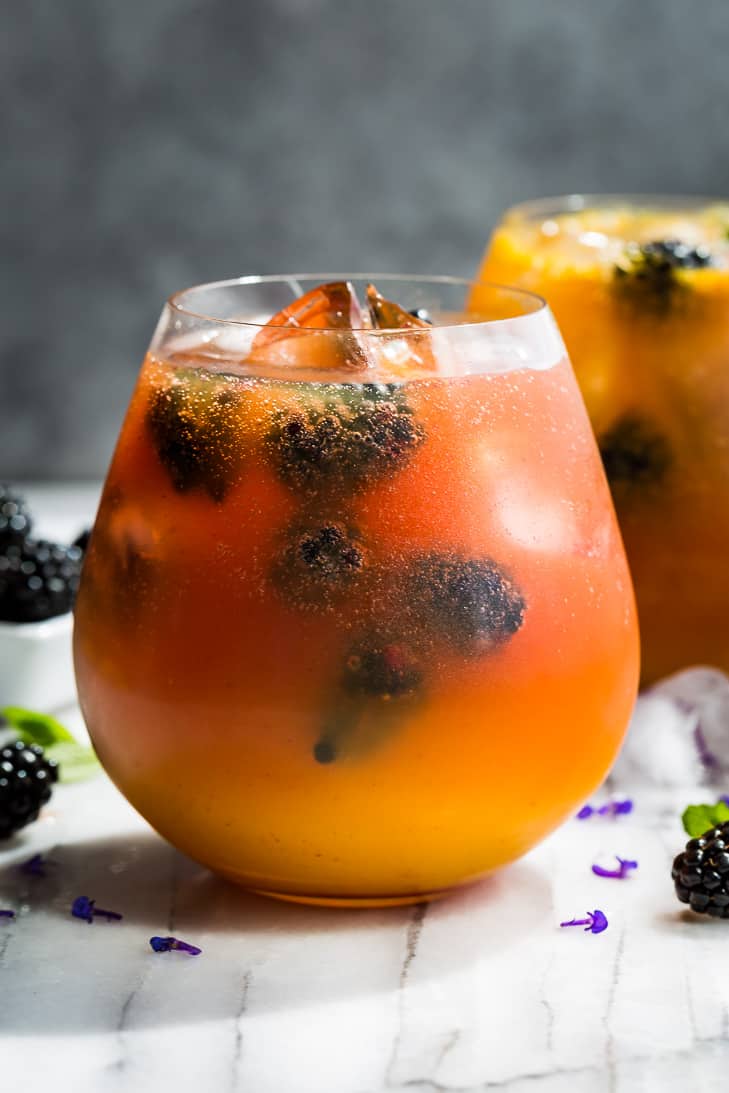 You all really loved my Summer Strawberry Mocktail, so today I'm back with this Blackberry Mango version! I've been having lots of fun this summer combining different flavors of kombucha with Spindrift. You can use any flavored sparkling water you'd like, we just love Spindrift because they're completely natural, (with no natural flavors added).
Once you start flavor combining, it's hard to stop for sure! Mostly we've been mixing like with like. So if you have mango komubucha, than you mix it with mango sparkling water. That's definitely the safest route because it brings you the most flavor. However sometimes flavor combining works out really great, as in this case.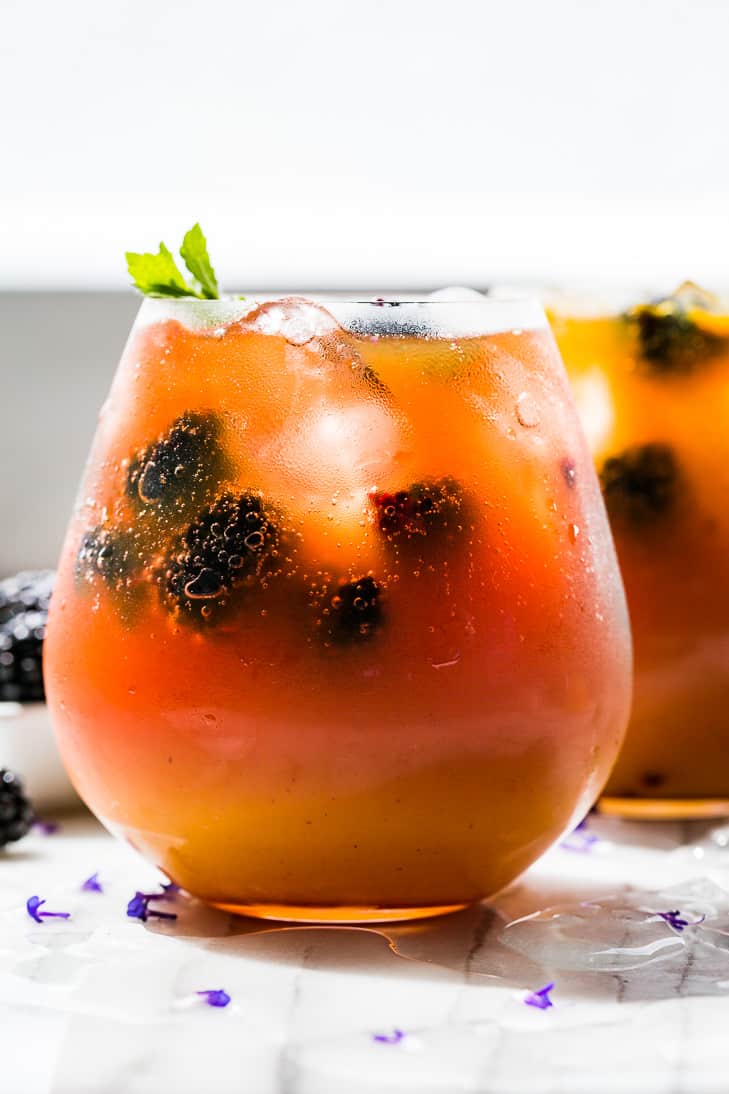 Mango and blackberry are a great combination, and when you add some muddled blackberries, well… I think you're going to love this one too! We've also been having fun adding different herbs to the mix from our herb garden. Pictured here is lemon balm which adds a subtle flavor when muddled with the blackberries.
We've also really been loving mint and basil as well. Just be judicious with those 2 because they have a much more intense flavor than lemon balm. And just to keep things simple, don't worry about adding any herbs at all. The fresh fruit flavors shine perfectly by themselves!
So if you're trying to make the most of eating outdoors right now, definitely mix up a few of these next time you're headed out. We've been trying to eat outside on our patio as many days as possible and really soak up the summer!
Speaking of which… here's some of our other favorites:
Tips for making this Mango Blackberry Kombucha Mocktail:
The touch of sweetener called for in the recipe is optional, but we both really love just a touch in this particular combination.
If you pour the kombucha 1st, then slowly pour the sparkling water over the top, you'll get a layered look. It's important to pour slowly though to keep the 2 liquids from combining instantly.
The fresh fruit isn't a 'must' for this recipe. It does add some blackberry flavor and looks great. But don't let that stop you from making this if you don't have fresh berries around.
Also just one last thing I haven't tried yet, but I'm really wanting to give this a go with strawberry sparkling water and fresh berries. So let me know if you get to it first!
Whole30 Tip: To make sure these are truly Whole30, check the label on your kombucha to make sure there's no added sugar. That's just another reason we love GT's kombucha!
I hope you get a chance to make these soon, and if you do, I hope you'll leave me a comment/rating below. I always love hearing from you here in the comments. And also over on Instagram where you can tag me at #getinspiredeveryday with your photos of what you make.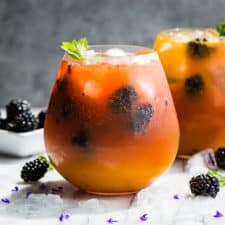 Mango Blackberry Kombucha Mocktail
---
INGREDIENTS
4

blackberries

2

small sprigs of lemon balm

-

optional

Optional: 2 Teaspoons maple syrup

-

see notes

1 - 16

oz

bottle Mango Kombucha

-

we use GT's

1 - 12

ounce

can Blackberry Spindrift

-

or sparkling water of your choice

Ice cubes
INSTRUCTIONS
Muddle or lightly mash together the blackberries with the lemon balm, and pour the syrup over the top if using.

Transfer this mixture to the bottom of 2 glasses.

Next pour the mango kombucha evenly over the blackberry mixture.

Slowly pour the blackberry sparkling water over the top of the kombucha. The slower you pour, the better the layers will look.

Top with 3-4 ice cubes each and serve immediately.
Bonus Step
If you made this recipe, please leave a rating/comment. Ratings really help us continue to bring you high-quality free recipes. Rate This Recipe!
NOTES
We normally don't sweeten our mocktails, but this recipe really does taste better with just a touch of sweetener in our opinion!
The nutrition information was calculated with the optional maple syrup.