The idea for this Meat Lover's Pizza Burger formed in my head while standing in line at Costco. A couple of us started talking about what we were going to make with the gigantic packages of 6 portabello mushrooms we were buying. One woman said that she likes to use them instead of buns for her hamburger and the other woman said that she likes to make mini pizzas. On my way out the door, the light bulb finally popped on, and I thought "why not have both?" So… here we are with a Pizza Burger, you never know what kind of yumminess will evolve at the grocery store.
First start by removing the stems and cleaning out the gills of the mushroom, I do this by scraping them out with a spoon. I give them a quick rinse to remove dirt. You don't have to worry about water-logging your mushrooms when you're going to be grilling them.
Place the tomatoes and sea salt in a blender and blend until chunky. This is my favorite quick tomato sauce, it even works thinly spread for a pizza sauce. If you don't have fresh tomatoes you can use tomato sauce seasoned with sea salt as well.
I place the mushrooms cap side down and fill with a little bit of tomato sauce while they cook.
After you turn the sausage burgers over, layer with pepperoni or salami and mozzarella cheese.
Since these are Pizza Burgers and Pizza is cheesy, I like two slices of fresh mozzarella on mine.
The final results turned out kind of fancy looking but it couldn't be easier to make. When the burgers and mushrooms are cooked through, remove the mushrooms to a serving plate and top with sausage burgers. Then, spoon a little tomato sauce over the top and garnish with fresh basil. This recipe takes only minutes to prepare, and you don't even have to turn on the stove!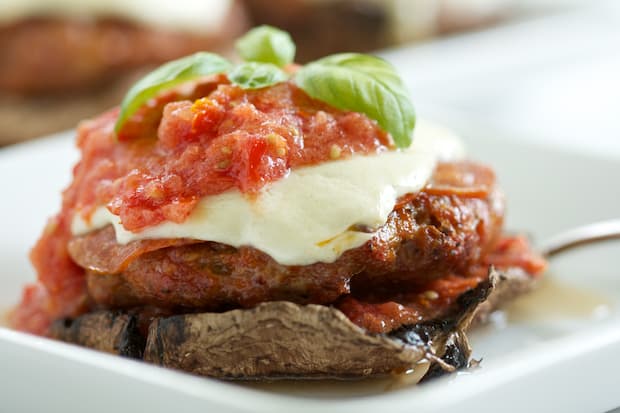 Enjoy the cheesy wonder!
Print
Meat Lover's Pizza Burgers
---
4

large portabello mushrooms

1

pound Italian Sausage (hot or mild)

8

slices fresh mozzarella cheese (

1/2

pound)

20

slices pepperoni or salami
Sauce:

3 cups

cherry tomatoes

1 Teaspoon

sea salt
Fresh basil for garnish
---
Instructions
Preheat the grill on high. Remove the dirt, stems and gills from the mushrooms and set aside.
Form the Italian sausage into four patties. Place the pepperoni and mozzarella on a small plate.
Place the cherry tomatoes and sea salt into the blender and blend until chunky.
Lower the heat to medium and place the mushrooms cap side down. Spoon about 1/4 cup of sauce into each mushroom. Place the sausage patties on the grill and cook both sausage and mushrooms for about 8 minutes.
Turn the sausage patties over and layer five pieces of pepperoni and two slices mozzarella on each patty. Cook for 5-8 minutes until burgers are cooked through and cheese is melty.
Remove the mushrooms from the grill onto a serving plate. Stack the burgers on top of the mushrooms and garnish with fresh basil. Serve immediately with additional sauce.
Notes
My pepperoni slices were really small so I used 5 slices per burger, but sometimes we get salami and I only need 2-3 slices each.
Prep Time:

15 mins

Cook Time:

15 mins