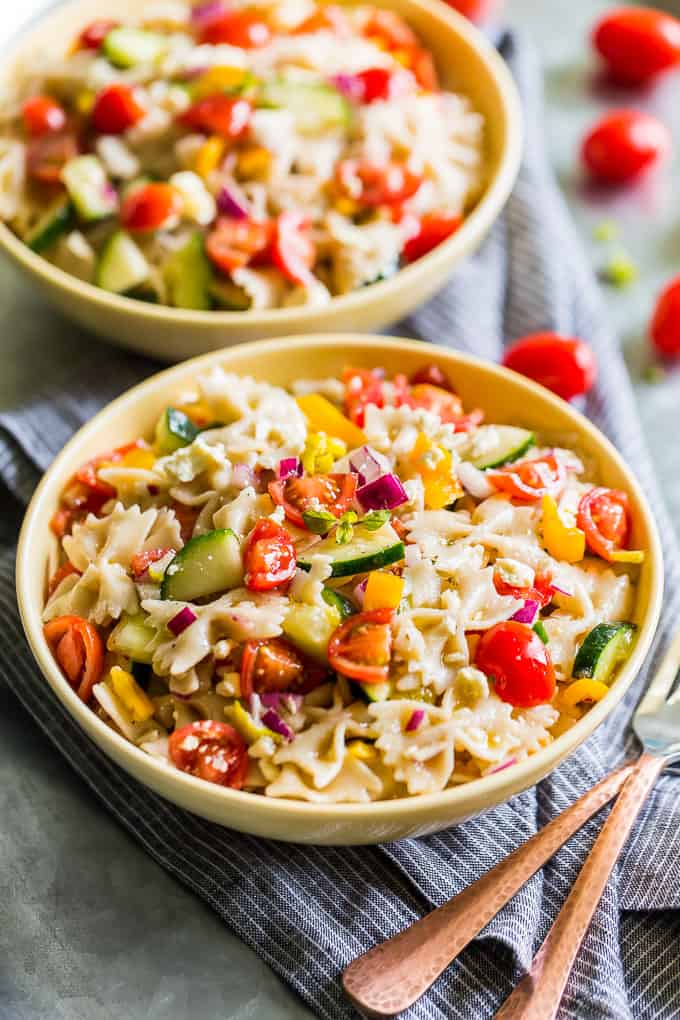 While we love to make Our Favorite Pasta Salad all the time during the summer, I've been feeling the need to branch out a bit. Sometimes you're just in the need for something different, and this Mediterranean Pasta Salad really hits the spot.
It's jam packed with juicy tomatoes, cucumbers, crumbed feta cheese, and it's all doused in an herbed vinaigrette. There's also some bell pepper and red onion in there to add depth of flavor, which really makes this hard to stop eating.
We love packing it along for picnics as well as packing it up a mountain to have a first rate lunch at the top. You can check out a picture of my other pasta salad at the top of a mountain in Glacier National Park, it's about halfway down the page of my Piegan Mountain Scramble post.
Last summer I started making a version of today's pasta salad, but I didn't ever make it the same way twice. With another hiking/picnic season approaching, I knew I wanted to get serious about writing it down to share.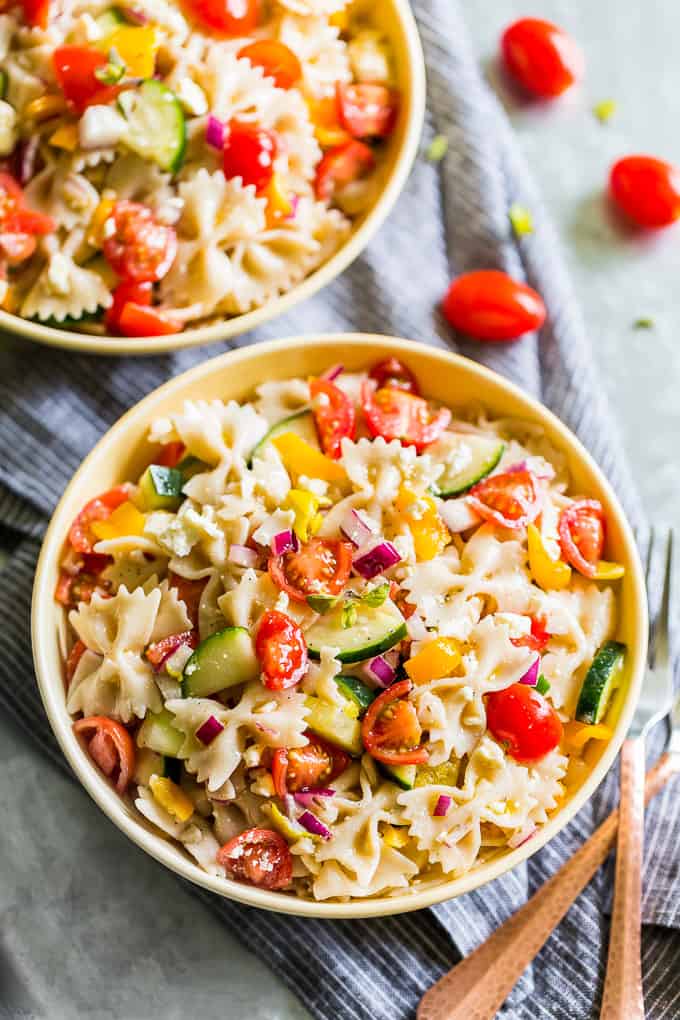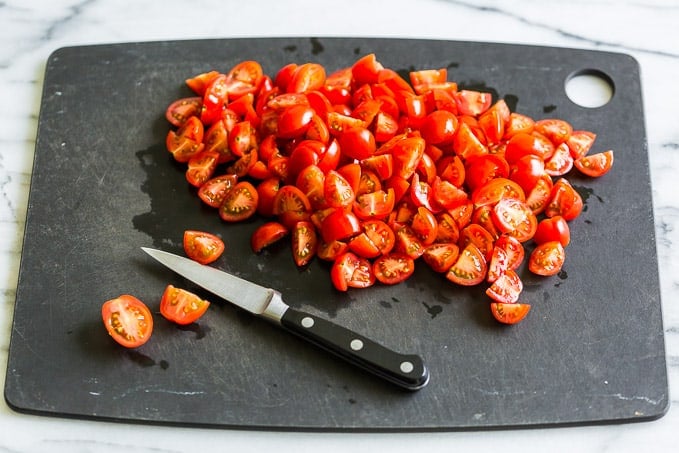 For the veggies in this salad, the main idea is to keep them bite sized. I had rather large cherry tomatoes this time, so I ended up quartering them.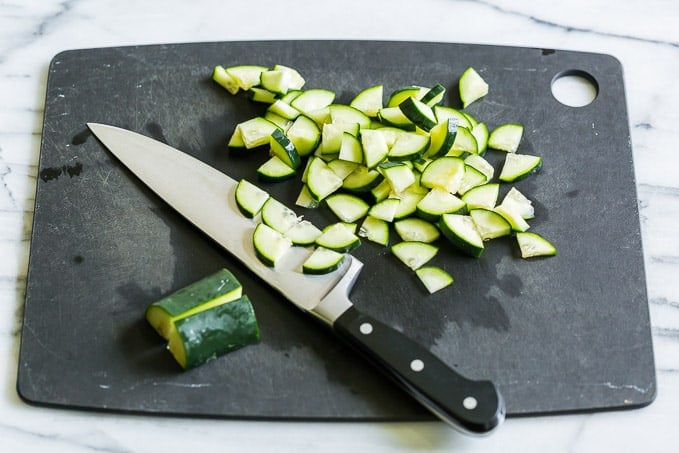 For the cucumber, I always slice off both ends and cut it into quarters lengthwise. Then you lay the quarters flat side down on the cutting board and thinly slice them into triangles. This is my favorite method to cut cucumbers into bite sized pieces.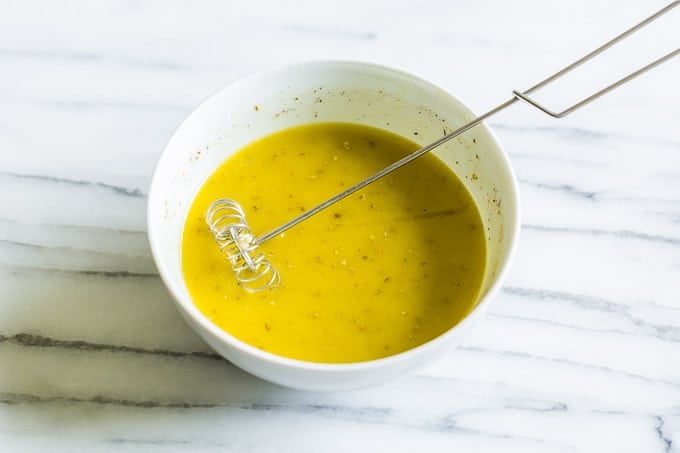 For the vinaigrette, you want to whisk in the olive oil slowly until it's completely emulsified.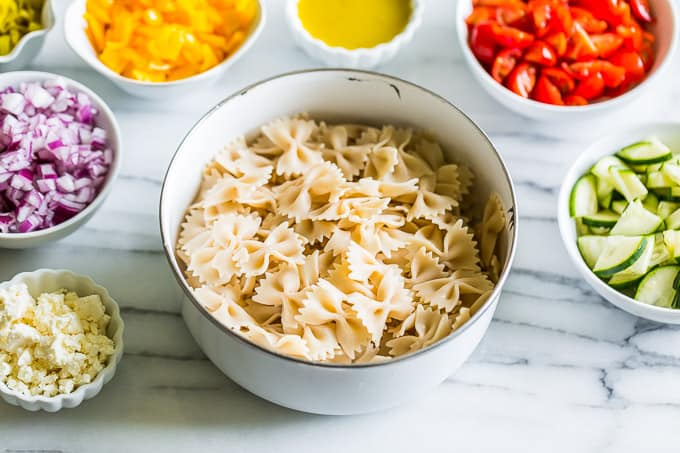 And finally it's time to combine it all together…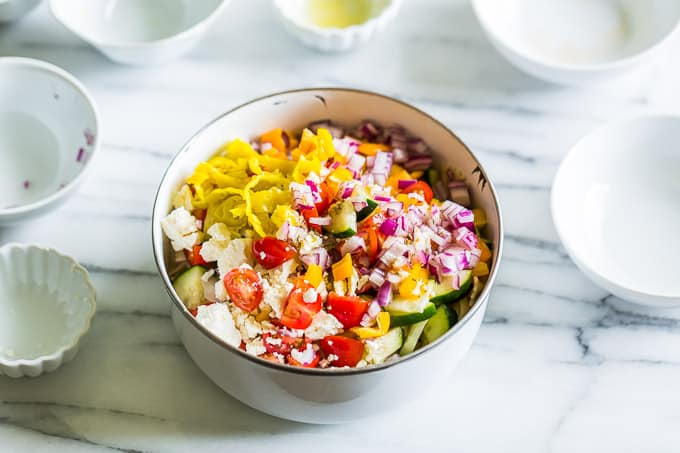 … with all the prepped veggies, feta cheese, and the vinaigrette.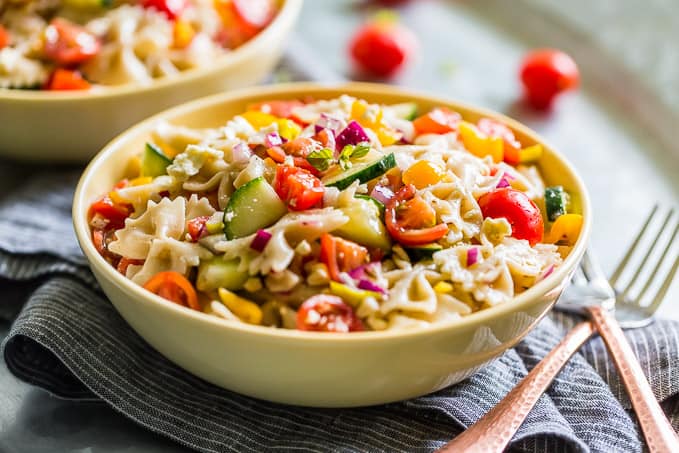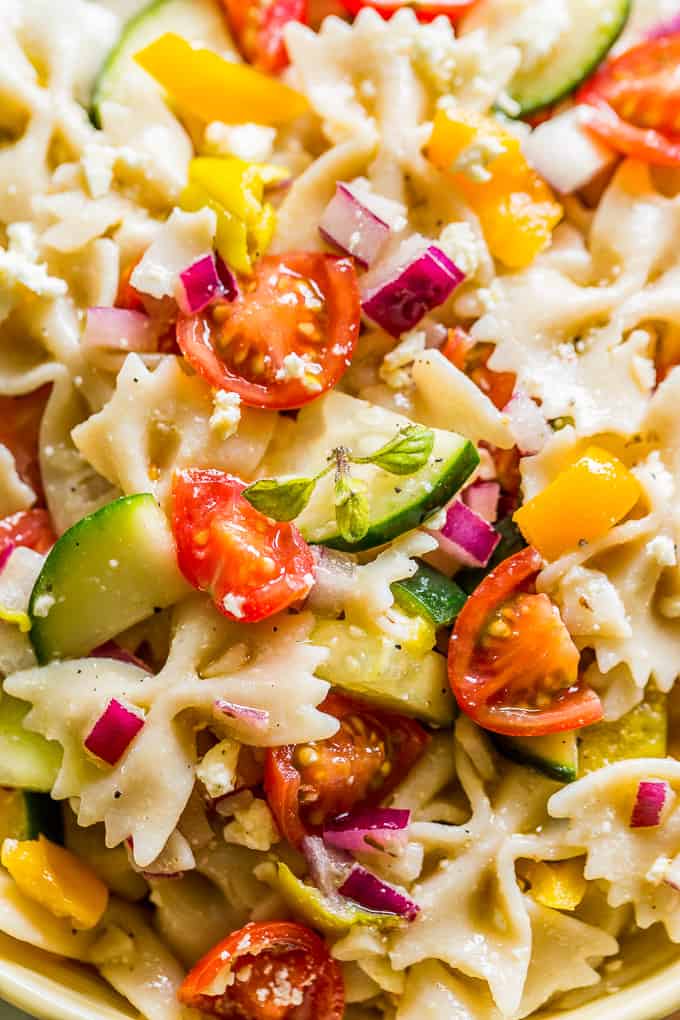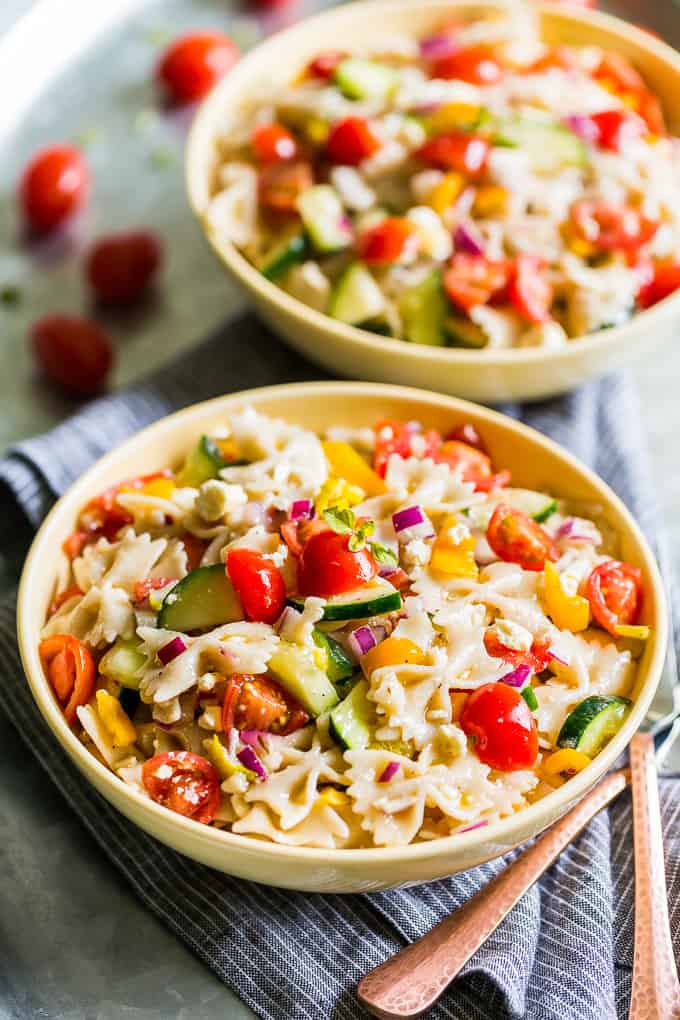 From there you can eat it right away or refrigerate and enjoy within a day or so. If you're using gluten free 100% brown rice pasta, then it's always best on the same day it's made. It's pretty decent the second day, but as time goes on, gluten free pasta starts to get an unpleasant granular texture.
If you're using normal wheat pasta, you can eat this pasta salad anytime over 3-4 days. Although it will get soggier with time as it absorbs the dressing.
Print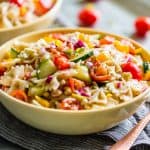 Mediterranean Pasta Salad
---
1

–

12

ounce box 100% brown rice pasta, see notes

1

large cucumber, 12 ounces

3 cups

, halved or quartered cherry tomatoes, 1 pound

1 cup

red onion, diced, 5 ounces

1 cup

diced yellow bell pepper, 1 small pepper

1/2 cup

thinly sliced jarred pepperoncini peppers, 4-5

1 cup

feta cheese, crumbled
Vinaigrette:
1/4 cup

white wine vinegar, or lemon juice

2 Teaspoons

Dijon mustard

1

clove garlic, minced

1 Teaspoon

Italian seasoning, see notes

1 Teaspoon

sea salt, or to taste

1/2 Teaspoon

freshly ground black pepper

1/2 cup

olive oil
---
Instructions
Cook the pasta according to the package instructions, and when it's done rinse it thoroughly with cold water to stop the cooking process. I like to cook gluten free pasta a little past al dente for pasta salads so that it's a bit softer.
While the pasta is cooking, prep the veggies. Start but slicing off both ends of the cucumber and cutting it into quarters lengthwise. Lay the quarters flat side down on the cutting board, and thinly slice them into triangular pieces. Continue to prep the rest of the veggies, adding them into a large mixing bowl as you go.
For the dressing, whisk together the white wine vinegar, Dijon mustard, garlic, Italian seasoning or fresh herbs, sea salt, and black pepper until completely combined. Next whisk in the olive oil in a slow steady stream until the dressing is completely emulsified.
Add the cooked, rinsed, and drained pasta to the mixing bowl with the veggies along with the dressing, and toss to combine.
Serve immediately or refrigerate for a few hours before serving to let the flavors of the dressing sink in.
Notes
All the gluten free brands we have here come in 12 ounce packages which is the perfect amount for letting some of the dressing soak in if you refrigerate the pasta salad a few hours. If you're using wheat pasta, it always comes in 1 pound boxes which also works for this recipe. There is enough dressing for 1 pound of pasta if you're serving it right away.
For the dressing, I love to use fresh herbs when I have an abundance from my herb garden. Instead of the 1 teaspoon Italian seasoning, I also like to use 1 tablespoon of dill, basil, or oregano – any of these herbs are fantastic in this pasta salad.
Prep Time:

20 mins

Cook Time:

10 mins