This pasta salad has been a go-to dish for me for over 10 years now! It's always a favorite with everyone I've served it to, and even though I've had many requests for the recipe, I've never written it down with exact measurements until now.
We don't eat a lot of pasta during the week, but this pasta salad goes with us in our cooler for almost every weekend away during the summer. It makes a spectacular lunch on a mountaintop, (see picture towards the end) but I also make it year round for my husband's lunches. It packs along great for a beachside picnic, and it's equally delicious for lunch on a snowshoeing endeavor with a thermos of hot chocolate.
I really can't oversell this enough, (the pictures really don't do it justice at all) because I use this pasta salad as my all around crowd pleaser. I even made a gigantic batch one time, (with 5 pounds of pasta) for one of my dad's friends who took it with him to hunting camp – so seriously, I can't think of a time when this wouldn't be appropriate! Well… ok maybe it wouldn't be the best if you were on a diet, but even then you could just eat a bit less because this is so good!
I like to use cherry or grape tomatoes for this recipe, and depending on their size I cut them into halves or quarters to make them bite sized.
I like to use link sausage because I prefer the texture in this recipe. After they're cooked and cooled for a bit, cut them into quarters lengthwise, and thinly slice them crosswise into little triangles.
For the pasta, I use either Jovial or Dellalo 100% brown rice pasta. Regular wheat pasta keeps better in the refrigerator for up to 3 days while the gluten free version really is at it's best on the first day.
One thing you want to be careful with for gluten free pasta salads, is not to undercook the pasta. The usual al dente makes for a chewy pasta salad that's crumbly the next day. If you're not sure about the doneness of the pasta, check a piece by running it under cold water. If it's unpleasantly chewy, you'll want to cook it for a few minutes longer.
My original dressing for this recipe contains a raw egg for the creamiest dressing you've ever tasted. However, if this is of concern I developed a variation that uses hemp seeds that has been a great success too.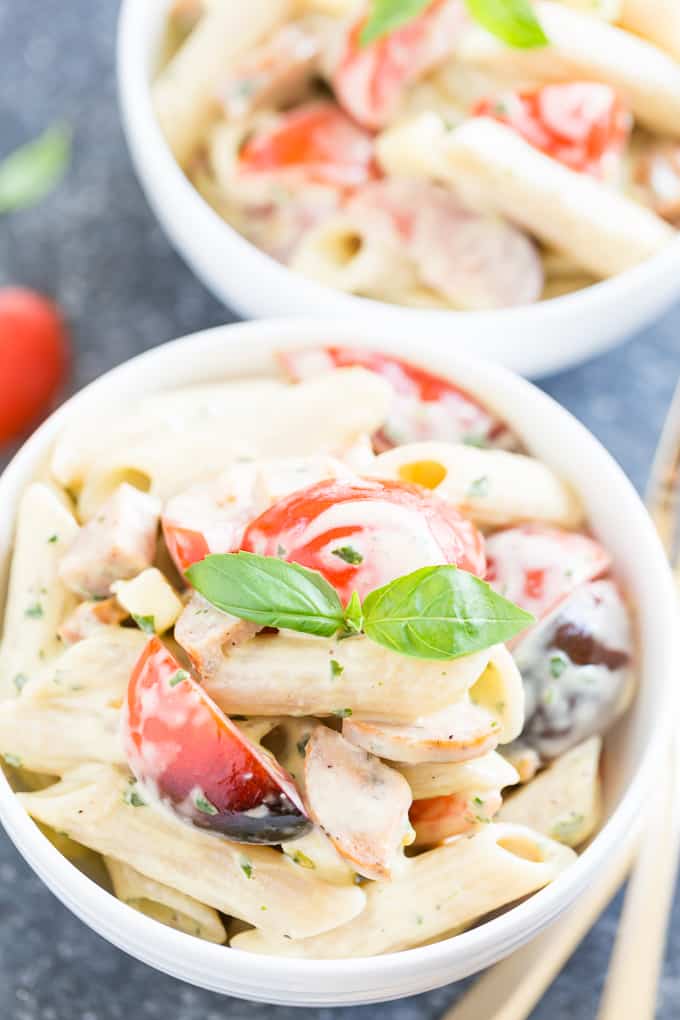 Here's the aforementioned mountain-top pasta salad experience, I don't think I've come up with a better hiking lunch yet! We pack the pasta salad the night before into ziplock bags, and then on the day of the hike we put a couple bags in our packs with 2 frozen waters to keep it cold – this is especially nice for super hot days when a cold lunch really hits the spot.
And like I said before the gluten free version of this salad does fall apart slightly by the 2nd day, but we've never minded because it always tastes so good on our weekend adventures. For a few more scenes from that day, you can check out Scrambling Piegan Mountain for pictures of waterfalls, big horn sheep, and lots of mountain views!
I've done all sorts of variations over the years with different meats and cheeses, but I always come back to my original version as it's written below. If you'd like to change it up a bit, I've used Italian sausage, grilled chicken, 3-cheese Italian sausage, and andouille. The organic chicken Italian sausages that are being carried at our Costco right now are also really good in this recipe.
Any kind of smoky sausage with a bit of spice has always been mine and everyone else's favorite with grilled chicken coming in a close second. In the summertime I make this with handfuls of basil, so feel free to double or triple the amount of basil called for if you're a fellow basil fan! And… finally, I like to add thinly sliced cucumbers and/or fresh corn for a variation sometimes.
Print
Our Favorite Pasta Salad
---
1

–

12

ounce package of pasta, I used Jovial 100% brown rice penne

12 ounces

of smoked sausage or Italian sausage links

1 1/2 cups

cubed aged sharp cheddar cheese, 5 ounces

2 cups

cherry or grape tomatoes, cut into bite sized pieces, 12 ounces
Creamy Basil Dressing:
1

farm fresh egg, or substitute 4-6 Tablespoons hemp hearts

1/3 cup

white wine vinegar

1/2 cup

basil leaves, packed, 1 ounce

1 Tablespoon

Dijon mustard

1 cup

avocado or olive oil
sea salt and pepper to taste
---
Instructions
If you're using gluten free pasta, cook it just a tiny bit past al dente, (it's important to use salted water for flavor in the pasta). You can test the pasta's doneness by taking a piece out and running it under cold water, when it's no longer unpleasantly chewy, it's ready. When the pasta is cooked, drain it, and run the pasta under cold water until it's cooled.
Preheat a grill over high heat, (you can also pan fry or oven roast the sausages if you'd like). When the grill has reached 400ºF, place the sausages on the grill and turn the heat down to medium. Cook until the sausages are completely done, mine come pre-cooked so it only takes 5 minutes.
When the sausage is done, let it sit until it's cool enough to handle. Cut the links into quarters lengthwise, and then slice them crosswise to make thin triangular pieces.
Place the cooked pasta, sausage, cheddar cheese, and cherry tomatoes into a large serving bowl.
For the dressing, place everything but the oil into a blender and blend until it's mostly smooth with small pieces of green basil floating around. With the blender running on low, slowly add the oil in, increasing the speed as you go until all the oil has been added and the dressing is creamy.
Toss the pasta salad mixture with the dressing. This salad is best if it's allowed to sit for an hour or so in the refrigerator so that the flavors can sink in, but it's also good served right away.
Notes
Gluten free pasta always comes in 12 ounce packages where we live, but if you're using regular pasta it will come in a 1 pound package. To adapt the recipe for 1 pound of pasta, increase the amount of sausage to 1 pound, add just a bit more cheese and tomatoes. For the dressing use 1/2 cup white wine vinegar to 1 1/2 cups olive oil. I also increase the basil to 3/4 cup packed leaves, but the rest of the dressing stays the same.
Prep Time:

20 mins

Cook Time:

5 mins