I'm broadening my horizons with this salad, and I'm loving the different flavors! I'll be the first to admit that I'm addicted to cheese, and I find it really difficult not to include it in every recipe. But for this salad I decided to challenge myself, and make it completely dairy free.
There's so much delicious flavor going on here, you definitely don't need cheese. But if you're not dairy free, and you're a fellow cheese addict, go ahead and add in some crumbled feta – you won't be sorry!
First you have the oregano marinated grilled chicken, then there's the abundance of farm fresh vegetables, and it's all topped with a hummus dressing! There isn't any actual hummus in the dressing because the beans make the dressing grainy/gritty. Instead there's all the flavors of hummus including: tahini, lemon juice, cumin, and olive oil. It makes the most addicting dressing, and it's perfect for anyone who can't have legumes.
On the other hand, if you don't eat meat, sub out the chicken for cooked chickpeas. Then add some chopped fresh oregano, and you have a flavor packed meatless meal. I like to keep my recipes as adaptable as possible so you can adjust it to suit your diet. But that also makes it really hard to settle on a final version to actually put on the blog. Either way you go, you'll love this incredible salad!
I try to use cherry tomatoes as often as possible in my recipes because they're the most reliable in flavor. You can also use whichever tomato you prefer cut up into small bite sized pieces.
Thinly sliced red onion really adds a lot to a salad. I know several people who really hate the punchiness of raw onion, so if that's case just use thinly sliced green onions in place of the red onions. You can also grill the red onions along with the chicken to take the edge off.
This oregano chicken really deserves a recipe all to itself because I've found it to be so versatile. So I hope you'll think of it outside the context of this recipe as well!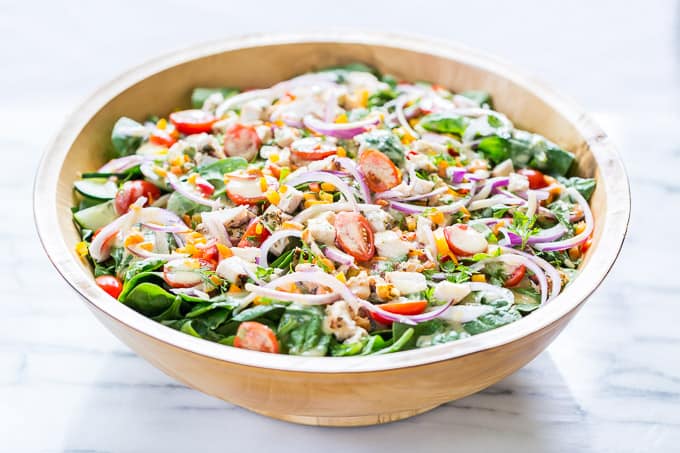 If you have an herb garden, please feel free to add as much chopped fresh herbs as you'd like! I always try to add way more during the summer months when I have more than I can use. Loads of fresh herbs make for the best salads. In the winter months, I always par back and try to go for the herbs with the most impact, (like rosemary, thyme, or cilantro which is cheap).
You can substitute dried oregano for the fresh in this recipe. The rule of thumb for subbing fresh herbs for dried is a 3:1 ratio. For example, this recipe calls for 1 Tablespoon chopped fresh oregano. So to substitute dried oregano, you'd only use 1 Teaspoon instead.
I used lots of chopped fresh cilantro the first time I made this, which I'm not very sure on how Mediterranean that is. But I've also made this with a mixture of parsley and dill, which is also fantastic!
Print
Mediterranean Salad with Hummus Dressing
---
Oregano Grilled Chicken:
1

package boneless, skinless chicken breasts, 2 chicken breasts weighing 1 1/2 pounds

1 Tablespoon

olive oil

1 Tablespoon

chopped fresh oregano, or

1 Teaspoon

dried

1 Tablespoon

lemon zest, from 1 lemon

1/2 Teaspoon

sea salt

2

cloves garlic, minced
Salad:
10 cups

washed mixed greens, 10 ounces

12

mini sweet peppers, or

1

large red bell pepper, 8 ounces

1

large cucumber, 14 ounces

1

red onion, 10 ounces

3 cups

cherry tomatoes, 12 ounces

1/2 cup

chopped fresh cilantro, or a mixture of parsley and cilantro
Hummus Dressing:
1/4 cup

tahini, from roasted sesame seeds, not raw

1/4 cup

freshly squeezed lemon juice

1

clove garlic, minced

1 Teaspoon

ground cumin

1/2

–

1

Teaspoon sea salt, to taste

1/2 cup

olive oil
---
Instructions
Whisk together the olive oil, oregano, lemon zest, sea salt, and garlic in a bowl. Add the chicken breasts, and turn them in the marinade to coat. Cover and set the bowl in the refrigerator for 1 hour or overnight.
When you're ready to make the salad, preheat a grill over high heat.
While the grill is heating start preparing the salad. Place the washed greens into a large serving bowl.
Cut off the stems and remove the seeds from the pepper(s). Cut the pepper(s) into thin strips, and then slice them crosswise into bite sized cubes.
Cut both ends off the cucumber and cut into quarters lengthwise. Slice the quarters crosswise to create thin triangular slices.
Slice both ends off the onion, and peel away the tough outer layer. Cut the onion in half from the top to the bottom. Lay each half flat side down and cut across the rounded top into thin half moon slices.
Slice the cherry tomatoes in half, and place all the prepped veggies over the top of the salad greens.
When the grill reaches at steady 400º-450ºF place the chicken breasts on the grill, and immediately lower the heat to medium, maintaining a temperature of 350º-400ºF. Cook for 10-12 minutes, or until the chicken loosens from the grill and is easy to turn over. Turn the chicken breasts, and grill for another 8 minutes or so, or until they're no long pink in the center. When the chicken is done, remove it from the grill and set it aside to cool. When it's no longer too hot to touch, cut the chicken into bite sized pieces, and add it to the salad as well.
Make the dressing by adding all the ingredients except the olive oil to a blender. Blend on low, and add the olive oil in a slow steady drizzle, increasing the speed towards the end to help emulsify the dressing.
Toss the salad with the dressing, or serve the dressing along side the salad.
Prep Time:

20 mins

Cook Time:

20 mins