These Mexican Inspired Sweet Potato Breakfast Bowls are a great healthy breakfast that's easy to make, and can be meal prepped as well!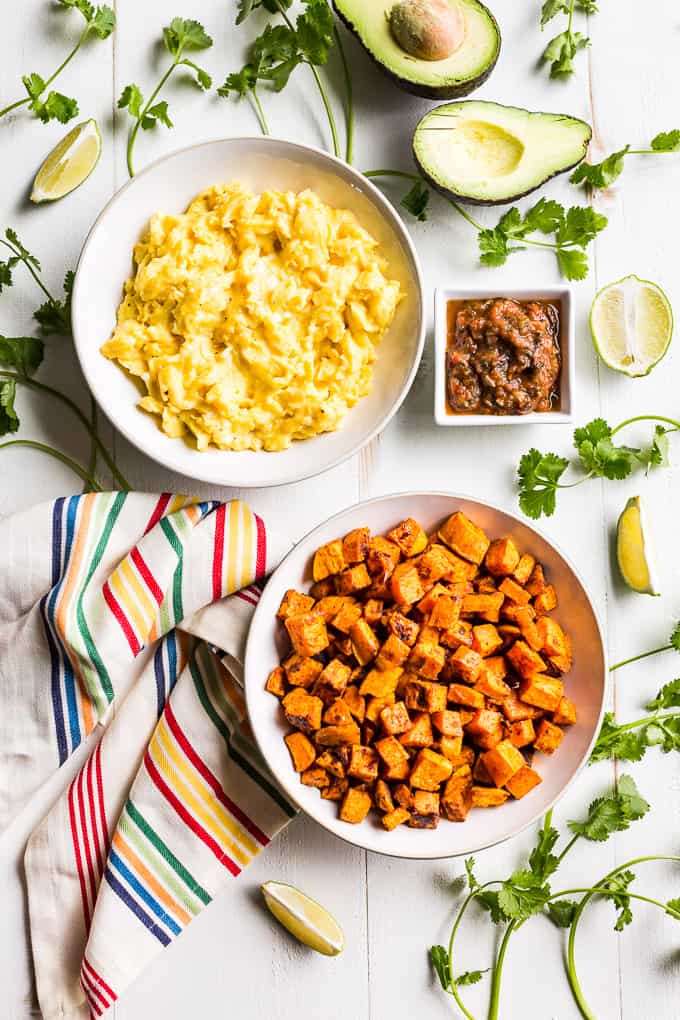 I love a good savory breakfast, but during the work week there's not a lot of time for such things. Enter meal prepping, with something prepped ahead, a healthy breakfast is so much easier.
Without meal prepping, I'm not too proud to tell you I'm not all that good at feeding myself. In fact just yesterday without thinking about things much, I found myself not feeling all that great around noon.
At first I was wondering why I felt so 'off'. But after thinking about it, I remembered all I had eaten so far that day was leftover pecan pie bars and coffee! Once I remembered that, it was almost laughable that I had been wondering why I felt so bad.
What was I thinking anyways? Well the answer is always the same, I wasn't thinking, I just let the day get the best of me. So if you ever find yourself in similar situations, today's breakfast bowl is just the thing!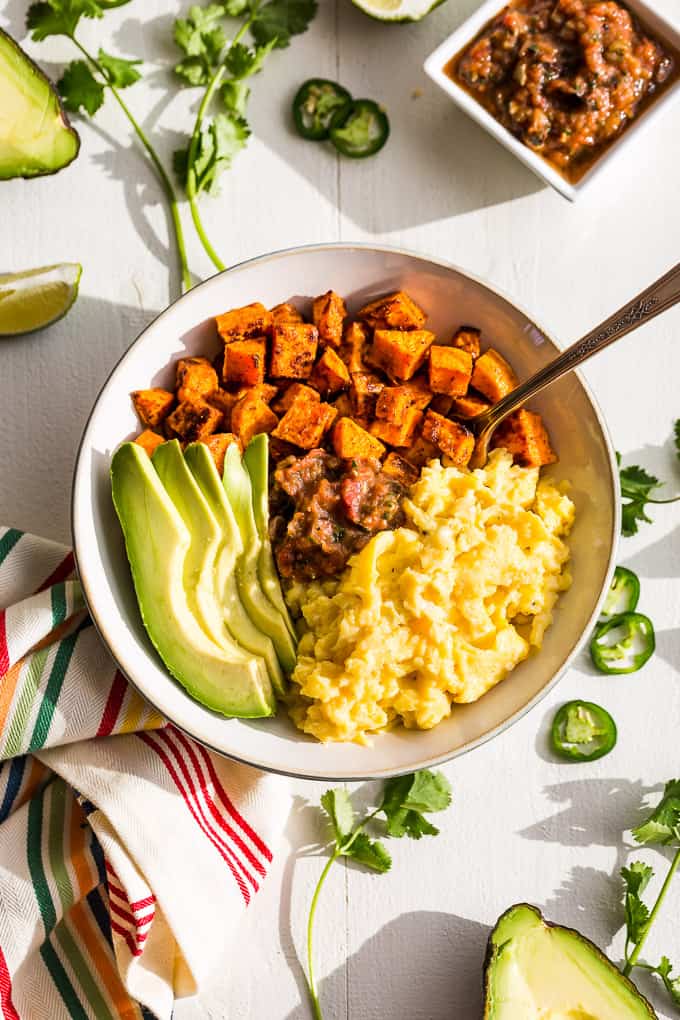 How to meal prep this for a healthy breakfast:
Roast the sweet potatoes ahead of time and transfer them to a container to store in the refrigerator.
Make the Fire Roasted Blender Salsa ahead as well. Depending on how many bowls you'll be making, you may have extra salsa to freeze for another meal.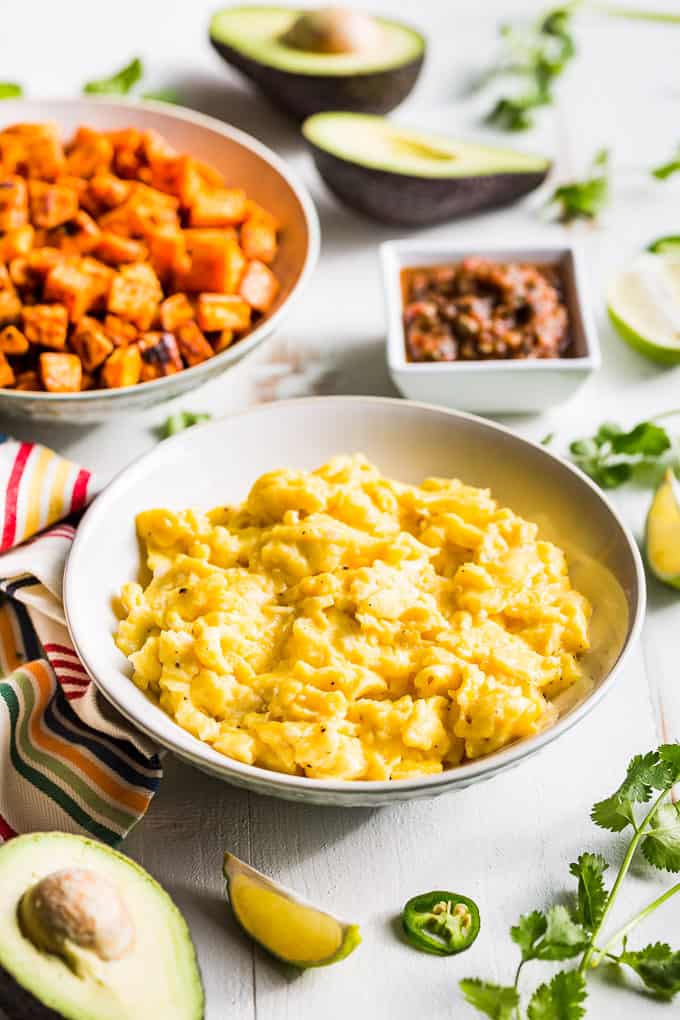 Then with those 2 things already meal prepped, you're just minutes from putting together a bowl each morning. You could prep the eggs too if you're really tight on time. But I really think eggs are best made fresh if you can.
What I do is warm up the potatoes over low heat in a covered skillet. Then I scramble some eggs, or cook them over easy in the same skillet. Next up, transfer them to a bowl and top with the pre-made salsa and freshly cut up avocado.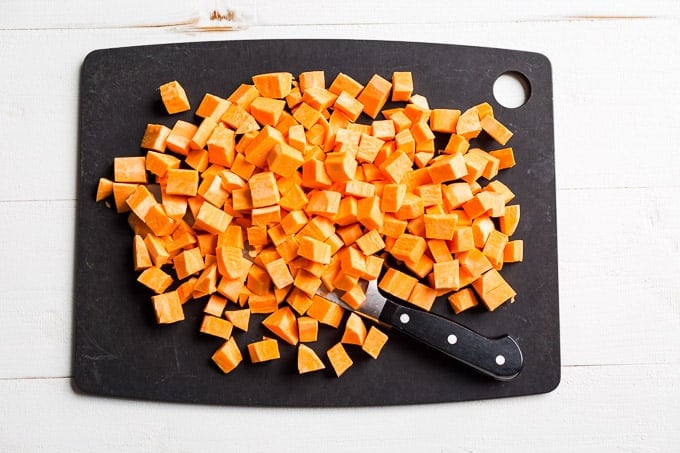 How to make these Mexican Inspired Sweet Potato Breakfast Bowls:
If you have salsa on hand, start right in with the sweet potatoes. Otherwise make a batch of my Easy Fire Roasted Blender Salsa first.
Next up cube the sweet potatoes. You can peel them or not, it's up to you, I personally go back and forth.
Then place them on a lined baking sheet and toss with the spices and oil, (see photo below.)
Roast the sweet potatoes until tender and golden brown.
While they're roasting prep to cook your eggs, slice the avocado, and chop some cilantro if desired.
When the potatoes are done, cook the eggs over easy or scrambled and pile everything into a bowl to serve.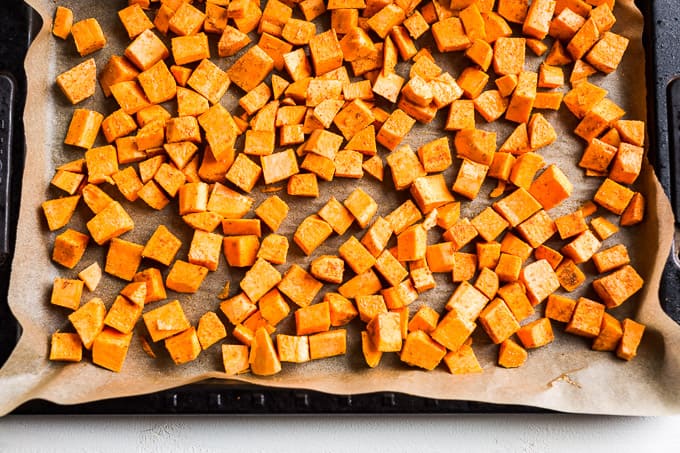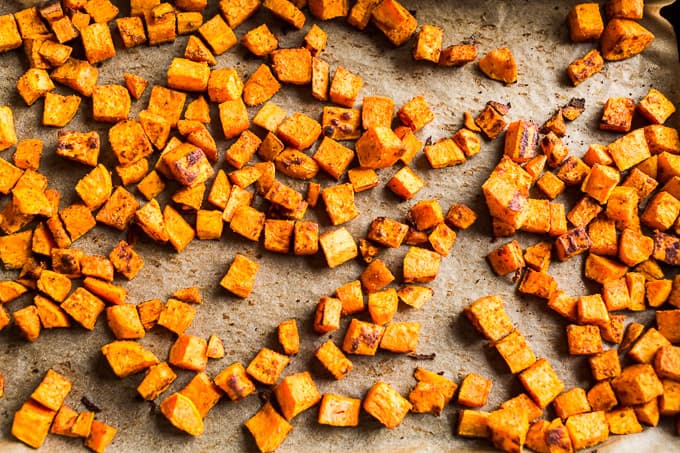 Tip for keeping your avocado perfectly ripe through the week! You know how your avocados always seem to go from rock hard to brown and overripe in what feels like a day? Here's what I do that works like a charm: when your avocado(s) are just barely getting ripe, place them in the refrigerator.

This usually buys me a full week of perfectly ripe avocados. There is the odd exception, but this is how I keep avocados on hand all the time when I only shop once a week!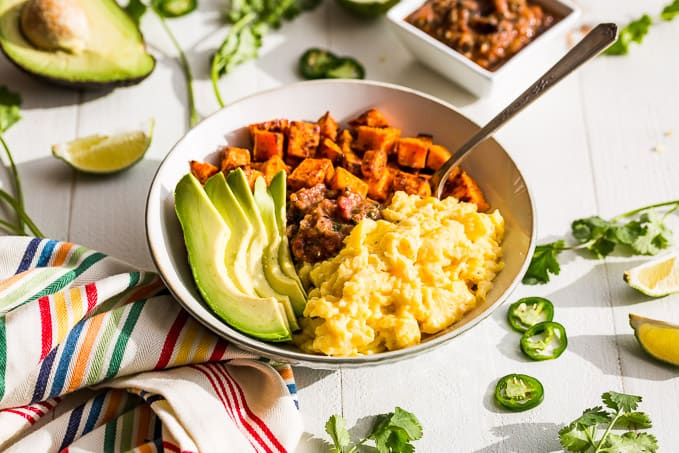 Another meal prepping tip: make a batch of my fire roasted salsa and freeze what you don't need for this recipe. Then it's ready to go the next time you want to add this recipe to your meal prepping. I often make a double batch of this salsa just because it's so handy to have already done!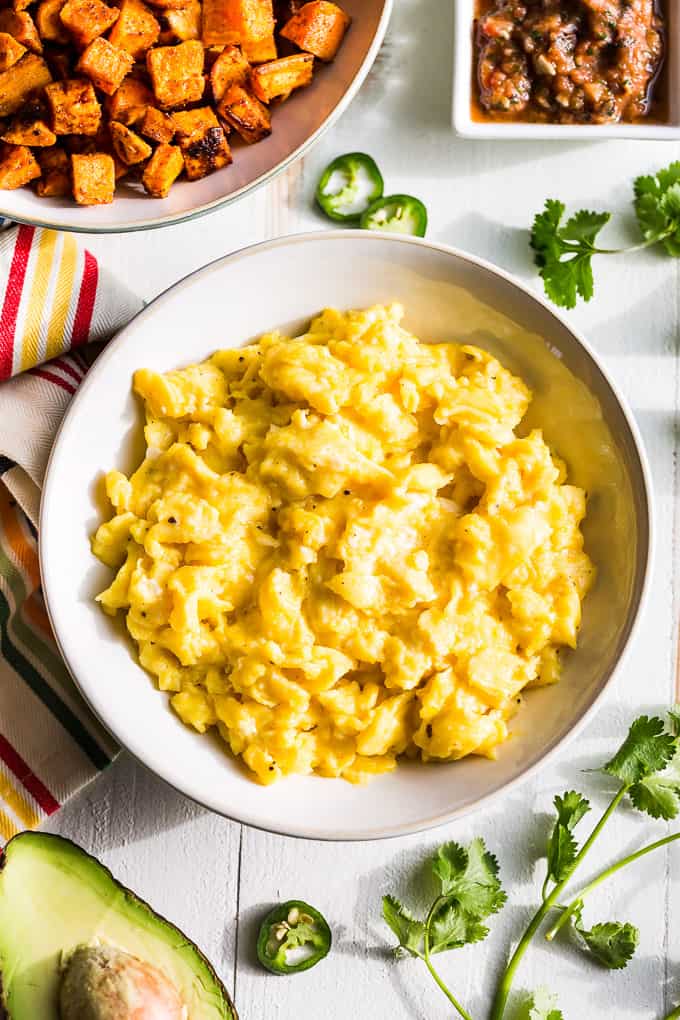 I sure hope you enjoy these breakfast bowls as much as we have! If you do make them, I hope you'll leave me a comment/rating below. And I always love hearing from you here, and over on Instagram where you can tag me at #getinspiredeveryday with your photos.
Print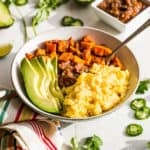 Mexican Inspired Sweet Potato Breakfast Bowls
---
Author:

Kari

Total Time:

50 minutes

Yield:

6

servings

1

x

Diet:

Gluten Free
Description
These breakfast bowls are so satisfying and keep you energized right through until lunch!
---
1 recipe of my Easy Fire Roasted Blender Salsa
Or around 1 1/2 cups salsa of your choice, about 2 Tablespoons per person/serving
1 1/2 pounds sweet potatoes, 2-3, cubed into 1/2" cubes
1 Tablespoon avocado oil
1/2 Teaspoon dried garlic granules
1/2 Teaspoon dried onion granules
1 Teaspoon ground cumin
1/4 Teaspoon chipotle powder, for mild spice, increase if desired
1/2 Teaspoon sea salt
1–2 eggs per person/serving
1/4–1/2 ripe avocado sliced per person/serving
Freshly chopped cilantro if desired, nice addition when you have company
---
Instructions
Start by making a batch of salsa.
Then preheat the oven to 450ºF and line a baking sheet with parchment paper.
Toss the cubed sweet potato with the avocado oil, spices, and sea salt to evenly coat the cubes.
Roast the sweet potatoes until tender and golden brown, about 25-30 minutes.
To serve, either scramble or cook the eggs over easy, as many as you'll need. I usually make this just for myself or for my husband and I, so I cook 4 over easy or 5 for scrambled. But you can also make enough eggs for up to 6 for the sweet potatoes if you're serving this all at once rather than meal prepping.
Serve the roasted sweet potatoes with the eggs, salsa, and sliced/diced avocado and optional chopped cilantro. 
Notes
The recipe nutrition is calculated for 1/2 avocado and 2 eggs per serving.
Prep Time:

20

Cook Time:

30

Category:

Meal Prep

Method:

Roasting

Cuisine:

Mexican
Keywords: Recipe for Breakfast Bowls, Mexican Breakfast Bowl, Mexican Breakfast Bowl Recipe