I teased you a while back with a picture of these right around Christmas time, and I fully intended to get you the recipe right away. But… I got distracted with these Flourless Chocolate Peanut Butter Muffins and then there was some Chocolate Fudge Skillet Cake. And somehow 10 weeks flew by, so you'll have to accept my full apologies for making you wait so long!
These brownies are definitely different than the usual, and for normal brownies be sure and check out my flourless Brownie recipe. But for anyone who loves brownies, I figure you can never have too many options. So this one is for when you don't want to turn on the stove, or you need a really quick chocolate fix because they're no-bake!
Both the brownie base and the fudge frosting come together quickly in a food processor. And once you swirl that glossy fudgy frosting over your brownies, you're going to take it over the top with a sprinkling of sea salt!
Another bonus with these no-bake brownies, are the base is made from dates which adds vitamins, minerals, and fiber to the mix while all you taste is a subtle caramel flavor lingering in the background.
You can process the brownie base/batter to be as chunky or smooth as you'd like. We both prefer a smoother brownie base with just small flecks of nuts as opposed to bigger crunchy pieces.
I was missing my usually 8″x8″ baking pan when I was photographing these, so I just spread the brownie base onto parchment paper, filling up about 1/3 of a cookie sheet.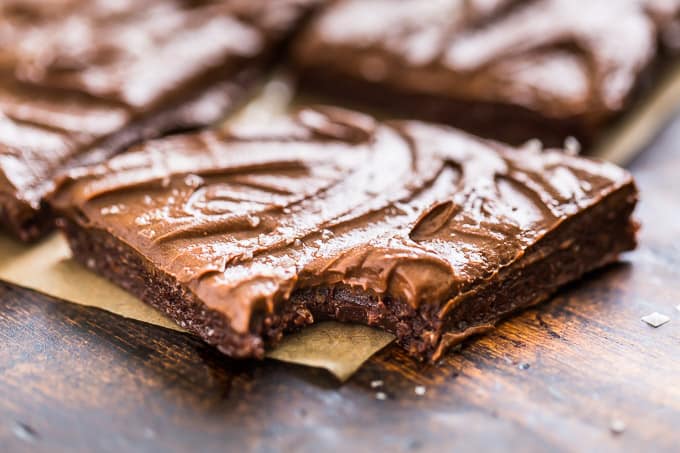 I hope you'll be enjoying these decadent healthier brownies soon, they're too good not to share! They make the perfect laid back weekend baking project because they're super easy, and there's no actual baking involved!
Print
No Bake Fudge Frosted Brownies
---
Brownie Base:
1 cup

pecans

1 cup

almonds

1/4 cup

cocoa powder

10

medjool dates, 8 ounces, pitted

1 Tablespoon

vanilla extract
Pinch of sea salt
Fudge Frosting:
1

just ripe avocado, peeled and pitted, see notes

1/4 cup

cocoa powder

1/4 cup

maple syrup, I used Grade A amber

2 Teaspoons

vanilla extract

1 Tablespoon

cacao butter, melted
Flaked sea salt to sprinkle on top
---
Instructions
Place the pecans, almonds, cocoa powder, and dates into a food processor, and process until your desired texture is reached. We both like a fairly smooth brownie base with little bits of crunch. When you have the texture you're looking for, add the vanilla extract and sea salt, and process again until a very stiff brownie dough forms.
Line an 8″x8″ baking pan with plastic wrap or parchment paper, you can also use a cookie sheet (just spread the brownie base on 1/4-1/3 of the pan). Pat the brownie dough into the pan, smoothing it with a spatula until it's a fairly even 1/2″ thickness. The thickness is completely up to you, if you like a thicker brownie, just use a loaf pan.
For the frosting, add all the frosting ingredients into a food processor and process until completely smooth, scraping down the sides as needed.
Smooth the frosting over the brownie base in a swirl pattern, and sprinkle with flaked sea salt just before serving.
Notes
I used raw un-toasted nuts for this recipe to let the chocolate flavors really shine through.
For the avocado, it's always best if the avocado is just barely ripe for dessert recipes. The riper the avocado, the stronger it's flavor becomes.