No-bake fruit crisps are so underrated! I didn't even know about them until recently, I mean you always bake a crisp right? Apparently not if you're innovative – I first found this concept in a raw food cookbook (Ani's Raw Food Kitchen) where she layers a nut topping with sweet mango chunks. It was so good, I've been making all sorts of combinations ever since!
There are so many great things about this recipe, I don't even know where to start!
You should know that:
it's super quick and easy
tastes amazing – really… no exaggerating
you get even more health benefits because all these powerhouse berries are raw in their natural state
it doesn't hurt that it's red white and blue – just in time for 4th of July picnics
Start by washing all the berries so the raspberries and blueberries have time to dry a bit while you prepare the rest of the recipe. I like to use a tomato corer to hull my strawberries, (it's super handy when you're putting up berries for the freezer too)! Slice the strawberries in 1/8″ slices, or into quarters if they're smaller.
I used a mini food processor to make the topping, but you could make a bigger batch if you have a larger one. Before I had a food processor, I used to finely chop the nuts and then mix the topping together.
Drizzle the berries with maple syrup to taste if your berries aren't perfectly ripe and need a bit of extra help. You can portion your berries, topping, and whipped cream into individual bowls, or assemble the crisp in 1 bigger serving bowl (glass is nice so that you can see the layers).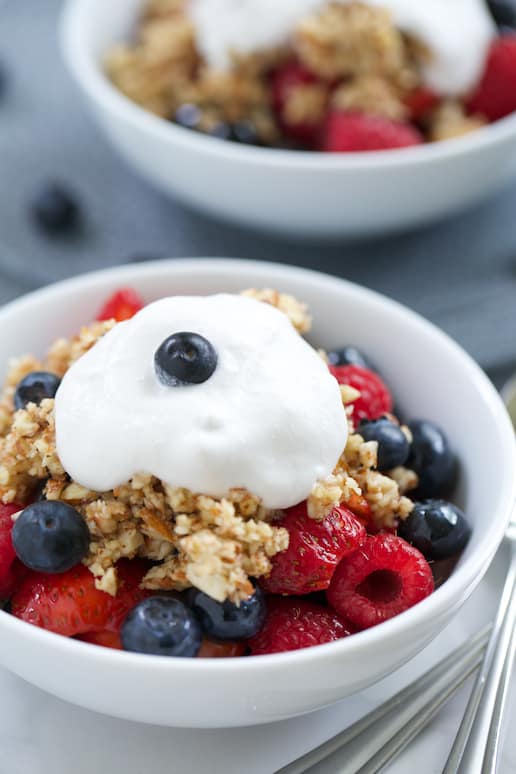 This recipe calls for cardamom in the topping and if you've never tried it, you're in for a treat. It has a special affinity with coconut, and it's key to the flavor of this recipe. I always buy cardamom pods to grind my own at home – it really is worth it because it's so much fresher than anything I've ever bought pre-ground from the store. To grind your own cardamom, remove the little black/brown 'seeds' from the pods and grind them to powder in a mortar and pestle. It takes only a couple of minutes to grind the small amount you need for this recipe, and you'll be rewarded for your efforts!
Print
No-Bake Triple Berry Crisp
---
12 ounces

strawberries, washed & hulled

6 ounces

blueberries, washed and well drained

6 ounces

raspberries, washed and well drained
maple syrup to taste if the berries are at all sour
Crisp Topping:
---
Instructions
Start by washing the berries so they have plenty of time to drain while you prepare the rest of the recipe.
Slice the hulled strawberries into 1/4″ slices, or quarter them if they're on the smaller side.
Place the almonds in a small food processor and process until only small pieces remain. You can experiment to figure out what texture you like the best.
Add the maple syrup, vanilla extract, cardamom, and sea salt and pulse until a sticky looking mixture forms. It will clump together and fall apart, it shouldn't be a paste.
Toss all the berries together and add a small amount of maple syrup if necessary. My berries were plenty sweet, so I didn't use any extra syrup.
Portion the berries into 4 individual serving bowls or 1 bigger glass bowl. Scatter the topping over the berries evenly, and top with coconut whipped cream.
Notes
Freshly ground cardamom is key in the flavor of this recipe. I buy cardamom pods and grind my own cardamom in a mortar and pestle. This is the only spice I bother doing this for because the flavor really is that much better than what I can buy in the store.
For the coconut whipped cream, the recipe makes 2 different versions for you to choose from. I prefer the looser version which is what is picture here in this recipe.