These Paleo Funfetti Ice Cream Sandwiches are super fun for summertimes treats and backyard bbq's. They're gluten free and can be made completely dairy free as well.
(Just a quick note to start, these are a paleo friendly dessert if you're not worried about the trace amount of sugar in the sprinkles.) The 5 year old in me might be a little overexcited there's finally all natural sprinkles available! I mean the kind of sprinkles where you can actually recognize the ingredients on the back of the box. And of course they're made completely without artificial dyes.
I find this so exciting that I may need to reign it in so all my future desserts don't involve sprinkles! I mean we've already done one recipe this summer with these Funfetti Cupcakes with Strawberry Buttercream. But I couldn't let the summer pass without some ice cream sandwiches!
Inspiration for Variations:
Since everything here is basically vanilla based in flavor, the sky is the limit. First up there's any kind of berry ice cream that can be subbed in for the vanilla/coconut. Strawberry would be my go-to, but it's pretty hard to beat how delicious raspberry sherbet is too. There's loads of dairy free ice cream flavors in my Inspired Ice Creams e-book if you're looking for inspiration. Also there's tons of dairy free flavors available in the grocery stores now as well.
If you check out my ice cream sandwiches from last summer, you'll see they're dipped in chocolate. So for these, dipping them in white chocolate would be my first choice so you can really see the sprinkles, but regular chocolate would also be delicious. Although it would be a totally different look.
And finally, you can change up the look of these by using different shapes/colors of sprinkles as well!
How to make ice cream sandwiches:
First up you want to start by softening the ice cream in the fridge for 30 minutes. This makes it much easier to spread without actually melting it. It doesn't work well to soften it on the counter because the outside melts into more of a liquid, and the center is still hard.
Next up you want to pat the cookie dough into a rectangle about 9″ x 10″ x 1/2″ thick, and freeze it until firm, 30 minutes.
Then cut the rectangle in half, and spread the pre-softened ice cream on 1/2 of the cookie dough, (pictured above).
Top the ice cream layer with the other half of the cookie dough.
Then press down lightly until the ice cream begins to ooze out the sides.
Next use your index finger to run around the edges to smooth and even out the ice cream around the perimeter, (see photo below).
Finally freeze until firm, about 3-4 hours before cutting them into bars. You can cut them into bars after about an hour and roll them in sprinkles on one end, but then they'll need to be frozen again for a few hours to firm up.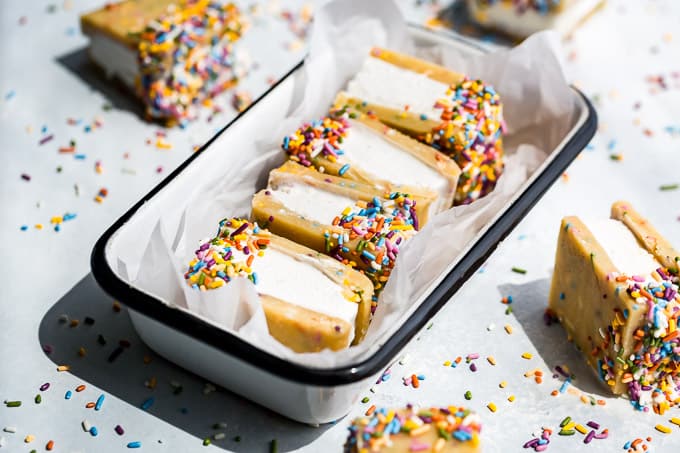 Whatever occasion you make these for, I hope you'll enjoy them as much as we have! Besides the flavor of course, one of my favorite things about these is that you can make them ahead. So that makes them perfect for any kind of birthday/celebration, and for grilling parties as well.
Print
Paleo Funfetti Ice Cream Sandwiches
---
Author:

Kari

Total Time:

30

Yield:

10

–

12

ice cream sandwiches

1

x

Diet:

Gluten Free
Description
Super fun summery ice cream sandwiches without artificial dyes!
---
Cookie Dough:
2 cups fine almond flour
1/4 cup tapioca starch
1 package – 1.25 ounces or 3 Tablespoons natural sprinkles, see notes
1/4 Teaspoon sea salt
1/4 cup Grade A amber maple syrup
1/4 cup melted ghee or butter, or coconut oil for dairy free and vegan
1 Tablespoon vanilla extract
Ice Cream Layer:
1 pint dairy free ice cream of choice, Homemade Coconut Ice Cream
Topping:
1 package – 1.25 ounce or 3 Tablespoons natural sprinkles
---
Instructions
In a medium sized mixing bowl, combine the almond flour, tapioca starch, sprinkles, and sea salt. Add the maple syrup, melted ghee/coconut oil, and vanilla, and mix just to combine.
Line half of a cookie sheet with parchment paper, and pat the cookie dough into an even rectangle about 9″x 10″ x 1/2″ thick. Freeze for 30 minutes to firm up the cookie dough. While the cookie dough is freezing, place the pint of ice cream into the refrigerator to soften it.
When the cookie dough is firm, remove it from the freezer and cut into 2 rectangles. Spread the softened ice cream as evenly as possible over the surface of one of the rectangles. Place the remaining cookie dough rectangle over the layer of ice cream.
Then gently push the cookie dough layer down over the ice cream, being careful not to squish out all the ice cream. Using a spatula or your finger, smooth the excess ice cream around the edges to fill in any gaps, and place the cookie sheet back into the freezer. Freeze until completely solid, about 3-4 hours depending on your freezer.
You can cut these into bars after 1 hour in the freezer, then roll one end of each bar in additional sprinkles and freeze again until firm, 2-3 hours. Or you can freeze them until solid and then cut and roll them. I personally find it a bit easier to cut them before they're fully frozen.
Once they're cut and rolled in sprinkles, place them in an airtight container and freeze for up to 3 weeks.
Notes
I've been using the all natural sprinkle from Color Kitchen Foods, and that's what's pictured here.
Also a note about timing, be sure and factor up to 4 hours for freezing these bars.
Prep Time:

30

Category:

Dessert

Method:

Freezing

Cuisine:

American
Keywords: Cookie Dough Ice Cream Sandwiches, Gluten Free Ice Cream Sandwiches, Paleo Ice Cream Sandwich Recipe, Ice Cream Sandwich Recipe