These Cookie Dough Ice Cream Sandwiches are a 'must make' for the summer months! They are so easy to make and so much fun as well. They're naturally gluten free and dairy free because they're paleo – making these a healthier treat.
Ice cream treats are one of the best parts of summer. Not that I restrict ice cream to warmer months or anything, after all we live in Montana where we often have what seems like 8 months of winter. So we're ice cream fanatics year round in this house, however icy treats in the summer are pretty much mandatory!
These cookie dough sandwiches are the perfect make ahead treat for all sorts of summertime fun. And that dip in chocolate makes them extra decadent. They're actually a little too good if you know what I mean. They're the kind of dessert you might want to make for a dinner party just so you won't have any leftovers.
One of the hazards of recipe testing is there's always so many leftovers. That's all fine when I'm testing out a new breakfast salad, (coming soon) but when it involves these beauties, you better believe I'm doing my best to give the extras away so I don't eat them all myself!
And let me tell you, no one is going to refuse one of these. In fact everyone that taste tested them wanted more! If you do posses incredible self control, these do keep really well in the freezer for at least one week.
I'm guessing they keep for longer than that, but I can't vouch for it because they don't last very long around here. I did manage to keep 2 of them back to see how they faired in the freezer, but even those hidden ones disappeared after a week.
Let's make these Cookie Dough Ice Cream Sandwiches step by step!
Step 1:
First up we're going to make the 2 rectangles of cookie dough for the sandwiches. Pat the dough out onto 1/2 of a cookie sheet, then cut the cookie dough into 2 rectangles.
Step 2:
Then after the cookie dough has frozen, cut it into 2 rectangles and pile on the ice cream.
Step 3:
Once the ice cream is evenly spread over 1 of the cookie dough rectangles, top with the 2nd cookie dough layer. From there you want to lightly press down across the top, and smooth out the ice cream around the edges to fill in the gaps.
Step 4:
Then you want to freeze them again until firm before cutting them into sandwich bars.
Step 5:
Finally it's time to dip them into melted chocolate! As you dunk each sandwich in chocolate, lay them back down on the parchment lined cookie sheet. Then with any leftover chocolate, drizzle it over the chocolate dipped part for a nice decorative design.
After you've dunked all the sandwiches in chocolate, they get frozen again for just long enough to firm up the chocolate. At this point, you can freeze them until you're ready to serve them. I prefer mine lightly softened out of the freezer for a few minutes, where the ice cream is starting to melt into an ooey gooey decadence.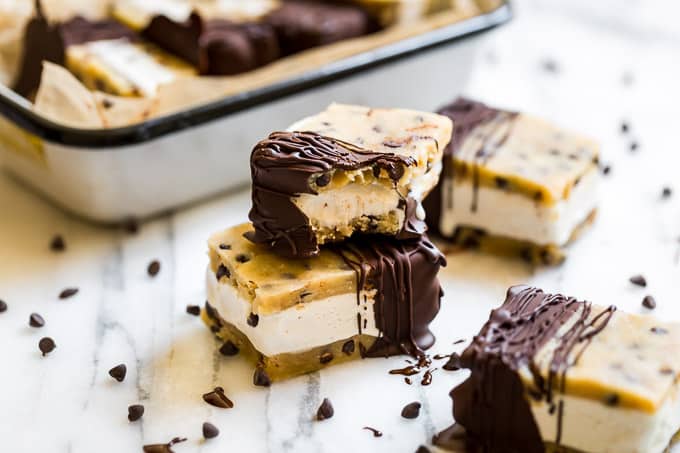 And now for some more ice cream dessert recipe inspiration:
I really hope you get to enjoy these soon! If you do make them, I hope you'll leave me a comment/rating below. And I always love hearing from you here. Or over on Instagram where you can tag me at #getinspiredeveryday with your photos.
Print
Cookie Dough Ice Cream Sandwiches
---
Author:

Kari

Total Time:

4 hours 20 minutes

Yield:

10

ice cream sandwicheses

1

x

Diet:

Gluten Free
Description
These ice cream sandwiches perfect make-ahead treat for summertime, try them at your next BBQ!
---
Cookie Dough:
2 cups fine almond flour
1/4 cup tapioca starch
1/2 cup mini chocolate chips, I use Enjoy Life
1/4 Teaspoon sea salt, or to taste
1 Tablespoon vanilla extract
1/4 cup Grade A amber maple syrup
1/4 cup melted and cooled ghee, or coconut oil for dairy free and vegan
Ice Cream Layer:
1 pint dairy free vanilla ice cream, my Homemade Coconut Ice Cream, or Coconut Bliss Vanilla
Chocolate Dipping:
3/4 cup chocolate chips, I use Enjoy Life
2 Teaspoons coconut oil
---
Instructions
In a medium sized mixing bowl, combine the almond flour, tapioca starch, mini chocolate chips, and sea salt. Add the vanilla, maple syrup, and melted ghee/coconut oil, and mix just to combine.
Line half of a cookie sheet with parchment paper, and pat the cookie dough into an even rectangle about 9″x 10″ x 1/2″ thick. Freeze for 30 minutes to firm up the cookie dough. While the cookie dough is freezing, place the pint of ice cream into the refrigerator to soften it.
When the cookie dough is firm, remove it from the freezer and cut into 2 rectangles. Spread the softened ice cream as evenly as possible over the surface of one of the rectangles. Place the remaining cookie dough rectangle over the layer of ice cream. Then gently push the cookie dough layer down over the ice cream, being careful not to squish out all the ice cream. Using a spatula, smooth the excess ice cream around the edges to fill in any gaps, and place the cookie sheet back into the freezer. Freeze until completely solid, about 2 hours depending on your freezer.
Just before you're ready to cut the ice cream sandwiches, melt the chocolate chips and coconut oil together in a double boiler over barely simmering water, stirring frequently as the chocolate melts. Remove the mixture from the burner, but leave the chocolate sitting over the simmering water to keep it fully melted.
When the ice cream is completely firm again, remove the cookie sheet from the freezer and cut into ice cream sandwiches. I cut mine into 10 rectangles, but you can make these any size you'd like.
Working quickly, dip each ice cream sandwich into the melted chocolate, and then place them on the parchment lined cookie sheet. When all the sandwiches have been dipped, use any leftover chocolate to drizzle a decorative pattern onto the sandwiches. Then return them to the freezer to firm up again, about 1 hour before serving.
At this point you can freeze the ice cream sandwiches until you're ready to use them. They keep easily in the freezer for 1 week in a sealed container.
Notes
The nutrition facts were calculated using 1/2 the recipe or 1 pint of coconut ice cream from my homemade coconut ice cream linked to in the ingredients.
Prep Time:

20 minutes

Category:

Dessert

Method:

No-Bake

Cuisine:

American
Keywords: Chocolate Chip Cookie Dough Ice Cream Sandwich, Vegan Cookie Dough Ice Cream Sandwich, Gluten Free Ice Cream Sandwich, How to make Cookie Dough Ice Cream Sandwiches