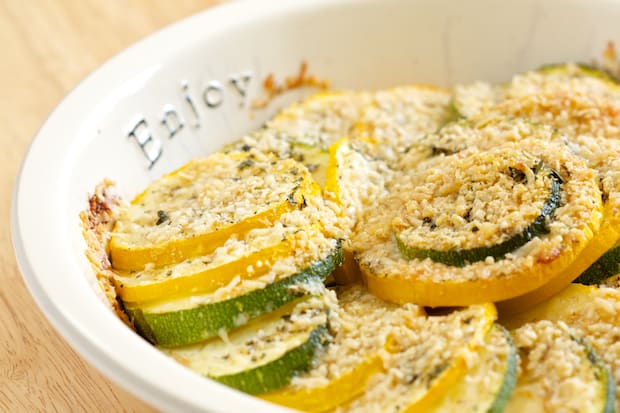 We're deep in zucchini season around here, with more than I could possible use up! This gratin makes short work of a few zucchini at a time, not to mention, it's crispy-cheesy delicious! Zucchini and summer squash are often thought of as boring vegetables, but I think it makes them the perfect vehicle for all kinds of flavor combinations.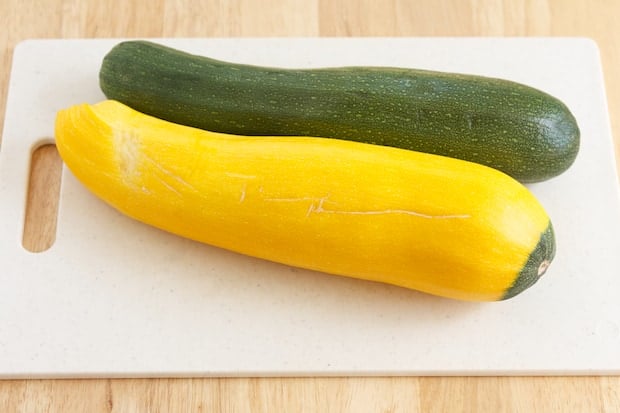 I used a zucchini and a golden summer squash for contrasting colors, but you could use any combination of summer squash.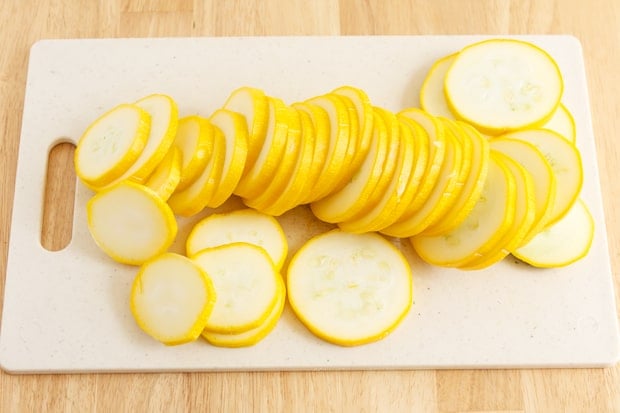 First, remove both ends of the squash, and then cut them into 1/4″ thick sliced rounds.
For the herbs, remove the leaves from the woody stems and then finely chop. You will have about 2 Teaspoon of chopped herbs total. It doesn't matter too much if the measurements for the herbs is perfectly accurate. The main idea is about a mixture of flavors from the rosemary, thyme, oregano, and sage.
Note: I have lots of fresh herbs in my garden right now and I love this combination. But…if you don't have a bunch of herbs at your disposal, just use 2 Teaspoons one of the herbs called for, (rosemary is particularly good if you're using just one).
Next, arrange the squash in a 9″ pie plate and sprinkle with the chopped herbs. I like to put the herbs under the topping to protect them from direct heat in the oven.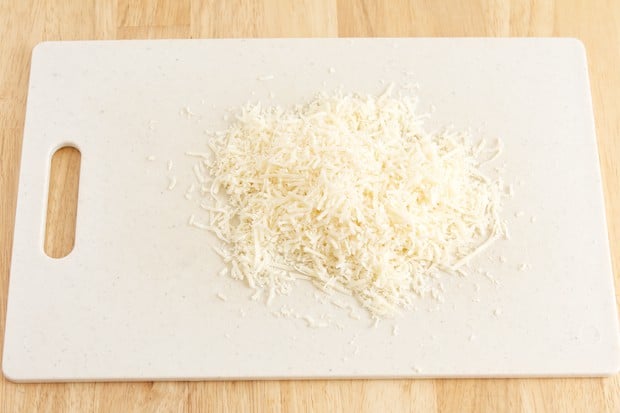 For the topping, mix the parmesan with the ground flax meal, sea salt, and pepper. Finally, sprinkle the topping over the squash and drizzle with the olive oil.
The gratin is done in about 25 minutes when it's golden, bubbly, and the squash is just tender.
Enjoy this gratin crispy-crunchy, right out of the oven as a side dish or as the main entrée with a big green salad!
Print
Parmesan Zucchini Gratin
---
1 1/2

pounds zucchini and/or summer squash

2 Teaspoons

rosemary leaves, loosely packed

1/2 Teaspoon

thyme leaves

1/2 Teaspoon

oregano leaves, loosely packed

1

small sage leaf

1/2 Teaspoon

sea salt

1/4 Teaspoon

black pepper, freshly ground

6 Tablespoons

Parmesan, grated

1 Tablespoon

ground flax meal, (I used golden flax meal)

1 Tablespoon

olive oil
---
Instructions
Preheat the oven to 450F.
Remove the ends from the squash and slice into 1/4″ thick sliced rounds.
Finely chop all of the herbs, you will have about 2 Teaspoons.
Arrange the squash in a 9″ pie plate and sprinkle the herbs over the top.
Mix together the salt, pepper, Parmesan, and flax meal. Sprinkle the topping over the zucchini and drizzle with the olive oil.
Bake for 20-25 minutes, or until the gratin is golden and the squash is just tender. Serve immediately.
Notes
This serves 2 as an entrée with a big salad, and 4 as a side dish.
Prep Time:

10 mins

Cook Time:

25 mins