Once in a while we find a favorite that we're both absolutely crazy about! It started with some store bought Peanut Butter Cookie bars for our backpacks.
I always like to keep healthy packaged food along for emergency rations when we're in the mountains. Anyways… it wasn't really an emergency but I was super hungry so I cracked into one, and it really does takes like a peanut butter cookie (and sweet/salty flavors are really addicting when you're hiking).
Even though they're super good, at $1.25 per bar (only 180 calories) that adds up pretty quick. I ran some quick calculations, and someone my size could easily need 3,000 calories for a long day in the mountains – making a bar or two literally a drop in the bucket. So, this week I decided to make them from scratch. They're really easy to make and taste better than the packaged bars, (that's kind of a no brainer, everything's better fresher)! Don't get me wrong, I'm still buying the packaged bars because they are really convenient and easy to pack, but the homemade version is really cost effective.
Start by chopping the dates into quarters (and pit them if necessary). Pulse the peanuts and dates together until small crumbs with some 'pea-sized' bites remain (top right hand photo). Add the maple syrup and vanilla extract to the food processor and process until it begins to look clumpy (bottom left hand photo). Add the water 1 tablespoon at a time until the mixture begins to freeze up in the processor and is soft (bottom right hand photo).
From here, you can shape the cookie dough however you'd like:
1. pressed into a plastic wrap lined pan to make bars
2. rolled into cookie balls
3. criss-cross hatch across the cookie balls for a traditional peanut butter cookie look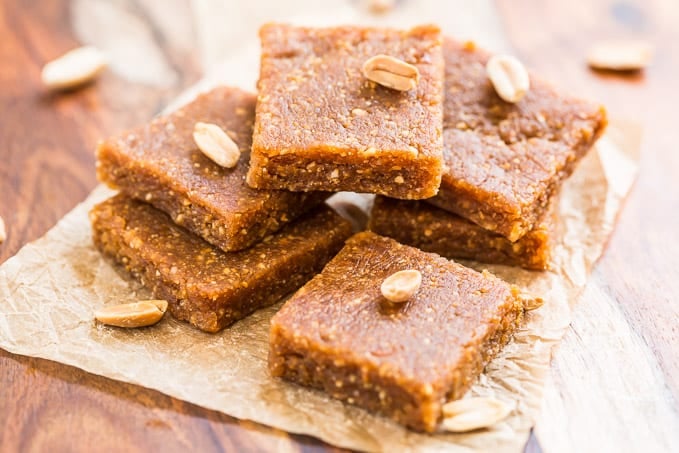 If you can't have peanuts, try one of my other energy bars instead!
Chocolate Chip Brownie Energy Bars
Lemon Meringue Pie Energy Bars
Print
Peanut Butter Cookie Energy Bars
---
1

pound dry roasted unsalted peanuts

4 ounces

pitted Deglet Noor dates, quartered

1/2 Teaspoon

sea salt

2 Tablespoons

vanilla extract

1/4 cup

maple syrup

3

–

4

Tablespoons water
---
Instructions
Place the peanuts and quartered dates into a food processor, and process until small bits with some 'pea sized' pieces remain.
Add the sea salt, vanilla extract, and maple syrup to the container. Continue to process until it starts to clump but is still a bit crumbly.
Add the water and process to make a soft dough with small bits of peanut remaining. I ended up using the full 4 Tablespoons to make a soft dough.
Shape as desired. It's quickest to roll the dough into cookie balls, but you can also pat them out in a plastic wrap lined pan to make bars.
I made 10 small cookie balls, and 1 – 8″x8″ pan of bars with 1 recipe of these energy bars.
Notes
You can also use medjool dates, but the color of your bars will be a little darker.
I used part dates and part maple syrup in this recipe because I like how the maple adds to the cookie flavor. You could use more dates if you would prefer, just add them to taste if you choose to omit the maple syrup.