A couple of months ago, we spent a long weekend in Missoula, Montana where I picked up 8 new spice mixes from a great little restaurant/shop called The Silk Road. I still have no idea what to do with most of them, and it's been really fun experimenting a bit. I started with the Garam Masala which was one of the only ones I had any experience with, and it turns out that I love Garam Masala with all things sweet, especially fruit! I know as soon as pumpkin season hits, I'll be experimenting with that combination as well.
I've been making candied nuts/seeds to add to my salads for years, but it's never before occurred to me to add a little spice into the mix. The Garam Masala leaves a hint of cinnamon that's wonderful when paired with juicy sweet raspberries and creamy avocado. I topped it all off with a white balsamic vinaigrette, because white balsamic vinegar is so underrated, and it pairs really well with subtle flavors. I almost never use white balsamic, instead always reaching for the traditional balsamic, but this salad has me really rethinking my strategy.
The catalyst that started my white balsamic revival was a birthday present from my sister of a lovely bottle of Sicilian Lemon White Balsamic Vinegar that she carefully paired with a Tarragon Olive Oil. This combination has my eyes rolling up in the back of my head every time I taste it, and all of a sudden I'm eating salad every single day! You can have this particular combination (which is fabulous on this salad) for yourself if you'd like, she purchased them from a local oil and vinegar store called Genesis Kitchen, and they have a truly tasty selection. I kept the vinaigrette simple for this recipe, but if you do have some specialty vinegars around they really elevate a simple salad to the next level.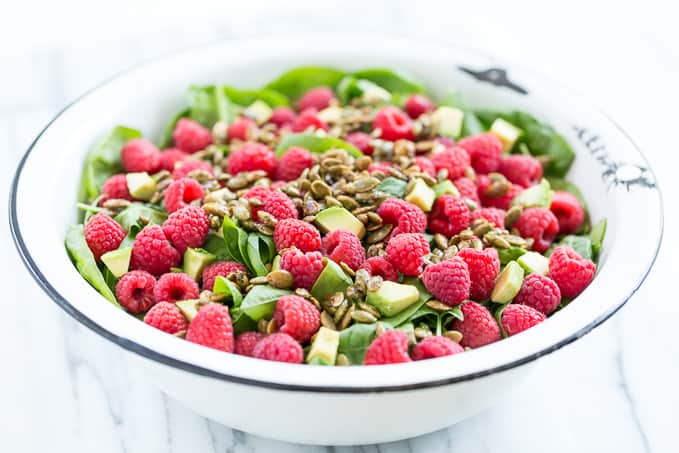 The vinaigrette for this recipe follows the same design as my 2 Ingredient Balsamic Vinaigrette. Ever since I discovered I could shake my vinaigrette together in seconds in a glass jar, it's become my favorite salad dressing for it's convenience and great flavor.
Another great thing to do with white balsamic vinegar, is make a balsamic reduction out of it like you would with normal balsamic vinegar. It has the same intense kind of flavor and syrupy texture as a the regular version, but it's better suited for subtle flavors where it won't overwhelm. You can make it by pouring an entire bottle (12 ounces) into a saucepan and simmering it until it's syrupy (about 20 minutes). Then I just pour it into a squeeze bottle and store it in the fridge. It's fun to use it on a Caprese Salad because you can fully appreciate the fresh mozzarella and garden fresh tomatoes!
Print
Raspberry Spinach Salad with Caramelized Garam Masala Pumpkin Seeds
---
Salad:
8 ounces

of washed baby spinach, 8 cups

8 ounces

raspberries, 3 cups, washed and drained

1

large ripe avocado, peeled, pitted, and cubed
White Balsamic Vinaigrette:
2 Tablespoons

white balsamic vinegar

4 Tablespoons

extra virgin olive oil
sea salt to taste
optional touch of maple syrup if your vinegar is really sour
Garam Masala Pumpkin Seeds:
1/2 cup

raw pumpkin seeds

1 Teaspoon

garam masala

1 Tablespoon

maple syrup
sea salt to taste, I used 1/4 Teaspoon
---
Instructions
Place the baby spinach, raspberries, and avocado in a large serving bowl.
Place the ingredients for the white balsamic into a glass jar, secure the lid, and shake the dressing together until it's emulsified. Season to taste with sea salt and a touch of maple syrup if needed. If the dressing separates before you're ready to use it, simply shake it together again.
Toast the pumpkin seeds in a 9″ cast iron pan over medium-low heat for 10 minutes, or until the pumpkins seeds smell fragrantly toasted, and they start to make small popping sounds.
Add the garam masala, maple syrup, and sea salt to the pan. Stir vigorously to combine, and turn the heat off after the liquid is absorbed by the pumpkin seeds.
From here you can either let the pumpkin seeds cool in the pan, (if they stick to the pan use a metal spatula and they pop right out) or you can use them right away which adds a nice warm element to the salad.
Toss the salad with the pumpkin seeds and vinaigrette.
Serve immediately.
Prep Time:

15 mins

Cook Time:

10 mins