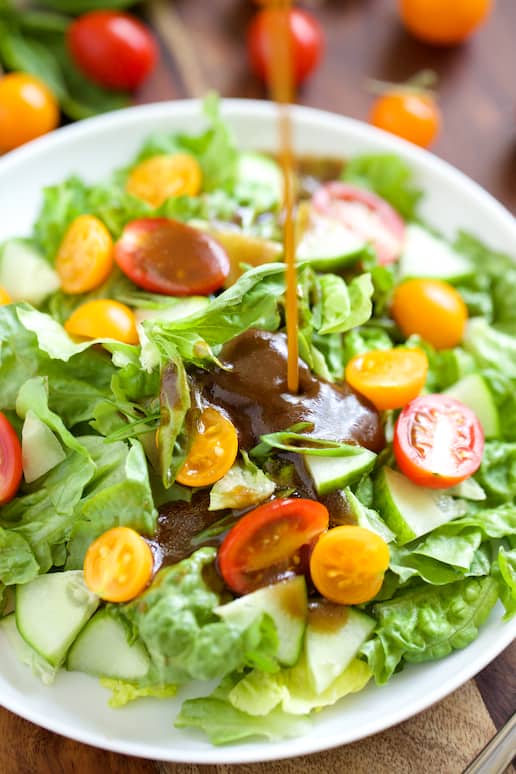 It never occurred to me to share this recipe with you before, I suppose it's because 2 ingredients hardly seems like a recipe! However, I find myself making this almost every week, and it's just too good not to share. I've had so many people tell me they don't have time to make their own salad dressing, but you can make this in 2 minutes or less, and it tastes fabulous! After all, it's not every night you have time for a full-blown Homemade Ranch or Caesar dressing!
I like to use this recipe as a basic template of sorts – you can add minced garlic or shallot, freshly chopped herbs, Dijon mustard, or a bit of freshly grated parmesan. One of my favorite variations is to add 1 clove minced garlic, 1/4 cup chopped fresh basil, and 2 Tablespoons freshly grated parmesan. I sometimes add a handful of chopped fresh herbs right to the salad and serve it with this dressing in it's simple, 2 ingredient form.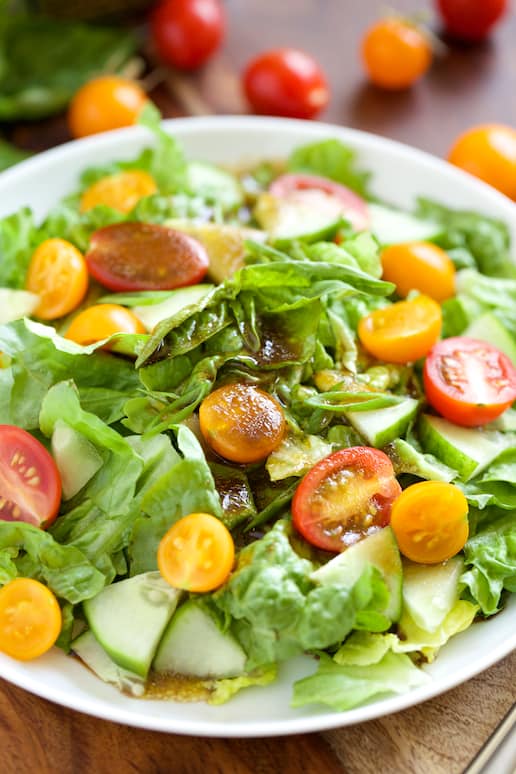 I've been making this vinaigrette for as long as I can remember, but recently I've found a way to make it even easier! The secret to easy dressing success is mason jars – somehow I never really noticed there's measurements right on the side of the jar, (I used to measure out this dressing and whisk in together in a bowl – not nearly as easy). You simply pour your vinegar in, and then the olive oil – no measuring cups required!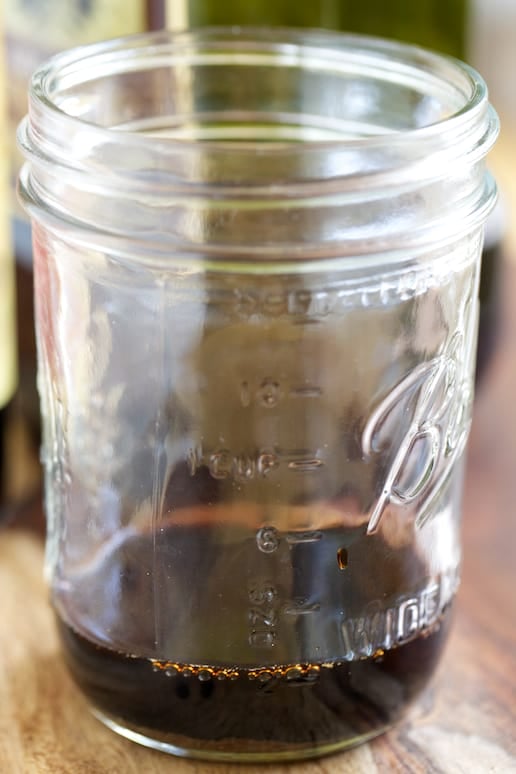 The measurements are broken up in ounces up to the 1 cup point – 2 ounces = 1/4 cup a cup, so you pour your balsamic vinegar up to the 2 ounce point.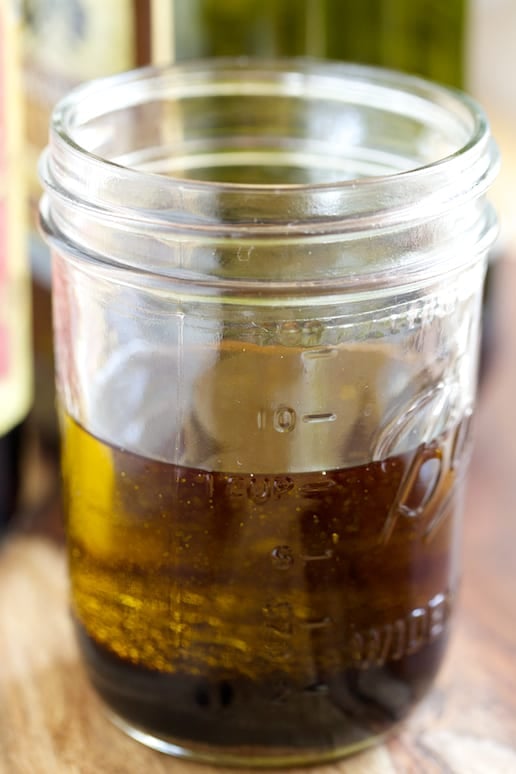 Then, I add the sea salt to the vinegar to help it dissolve, and pour olive oil over the top to the 1 cup mark.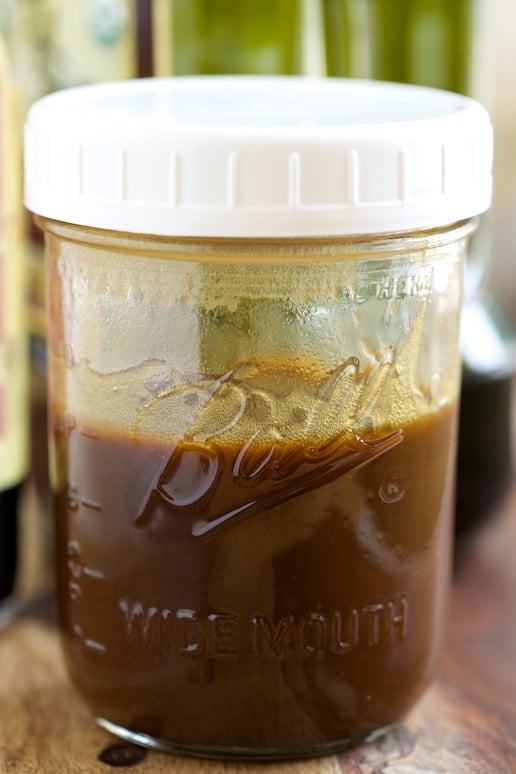 Then, secure a lid on top and shake vigorously until the dressing is emulsified. This dressing keeps at least a week in the fridge, it will start to separate a bit over time, but you just shake it back together.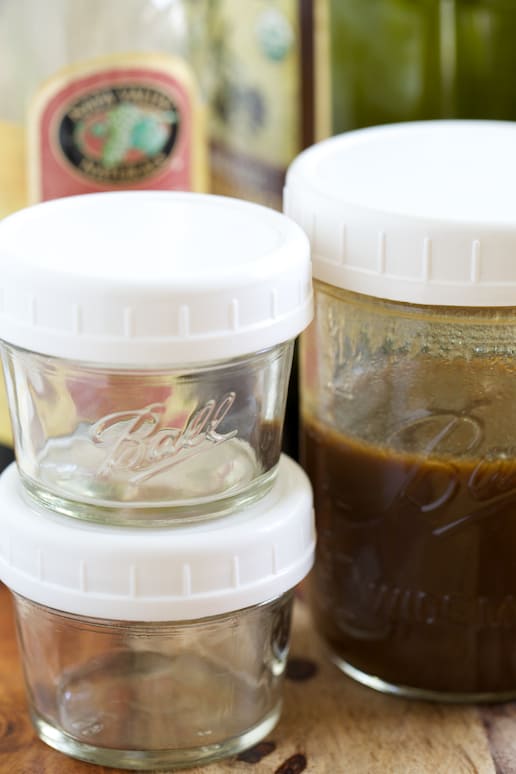 I recently picked up these really little jars to use for homemade dressings. I've found I like making salad jars without the usual layer of dressing on the bottom, (just layers of veggies) and then add the dressing over the top when I'm ready to eat them.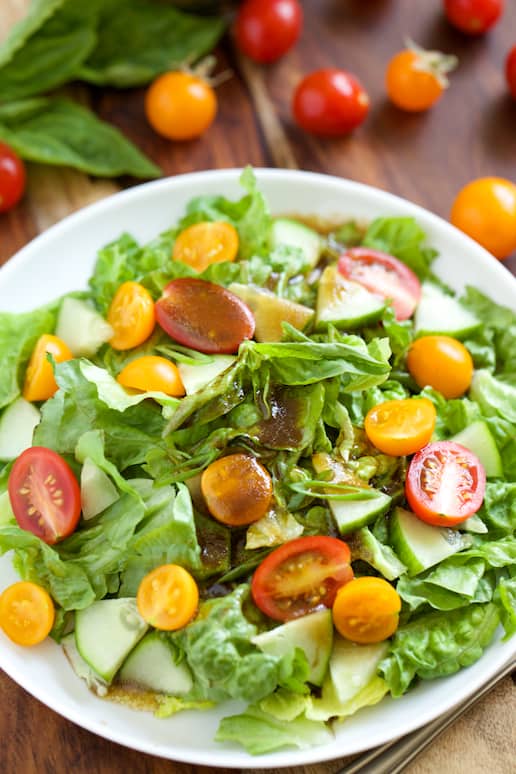 So there you have it a – 2 minute – 2 ingredient dressing, simplicity doesn't get any better than this! While I usually eat this dressing on fresh green salads, I recently discovered it's really good on grilled veggies – warm or cold either way it makes a different kind of delicious salad!
Print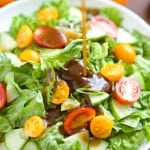 2 Ingredient Balsamic Vinaigrette
---
Description
This simplest and tastiest balsamic vinaigrette that will take your salads to the next level. Try some of the different variations as well for endless flavor options.
---
1/4 cup balsamic vinegar
1/2 Teaspoon sea salt
3/4 cup extra virgin olive oil
Optional add-ins:
Dijon mustard
freshly chopped herbs
minced garlic
minced shallot
freshly grated parmesan
freshly ground black pepper
Flavored olive oils and or vinegars also make good variations
---
Instructions
If you're using a mason jar you won't need measuring cups. Pour the vinegar to the 2 ounce mark on the side of a pint jar.
Then add the sea salt to the vinegar to help dissolve it.
Pour the olive oil over the top to reach the 1 cup mark on the side of the jar.
Place a lid securely over the top and shake the vinaigrette vigorously to emulsify it.
This dressing will keep for at least 1 week in the refrigerator. If you decide to use any add-ins, the dressing is best used right away.
I like to use the white plastic lids you can get for mason jars because the vinegar has a tendency to react with the metal lids causing an off flavor in the dressing nearest the lid.
Notes
A recipe is only as good as the sum of it's parts, so try to use the best quality vinegar and olive oil you can find!
Prep Time:

2 mins

Category:

Sauce

Method:

Mixing

Cuisine:

American
Keywords: Balsamic Vinaigrette No Sugar, Healthy Balsamic Vinaigrette Recipe, Balsamic Vinaigrette Dressing