Let me just start by saying that I've always been pretty sure I don't like dill. The only exception to this rule has been dill pickles, and then since I met my Canadian husband I've added in pickle chips as well, (which is primarily a Canadian flavor of potato chips which luckily we get in the states now).
But that all changed when I tried a salad similar to this one at a potluck, somehow I didn't notice all the chopped fresh dill in the salad, and there I was with a ton of it on my plate. To my surprise, I not only happily chowed it all down, but I went back for seconds as well.
For now, I'm not sure what to think other than maybe I'm growing up and branching out a little. But one thing I knew right away, and that was I was going to be recreating that salad at home!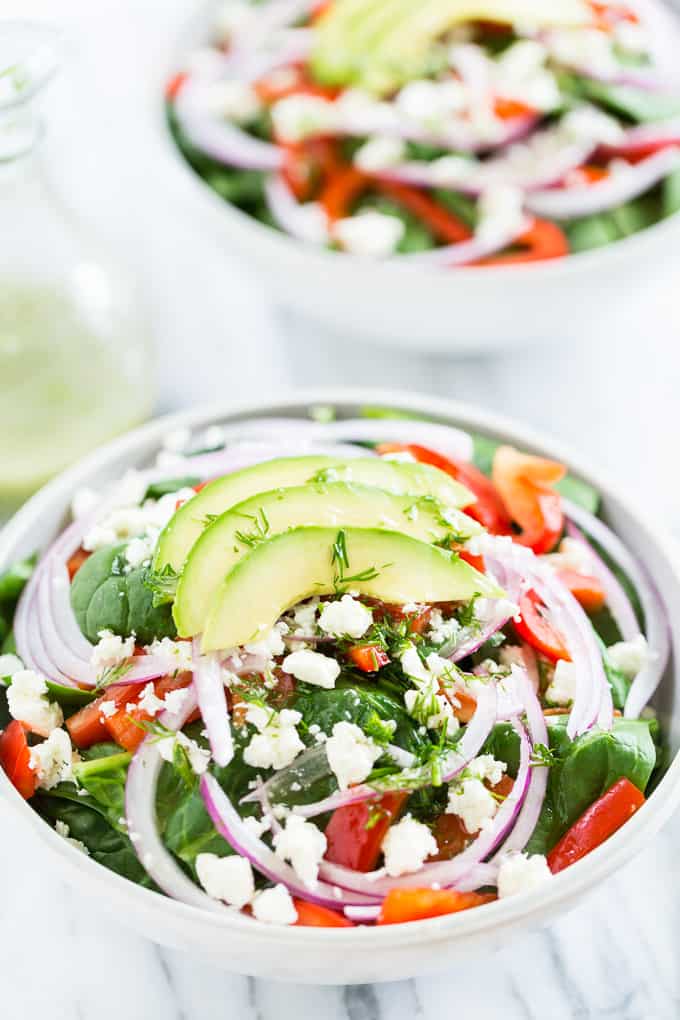 Maybe it's the addictive combination of red pepper and feta cheese that I really love, but something about dill really takes it over the top. I even went as far as to plant dill in my little herb garden next to the house, and all you gardeners out there know exactly what that means, (dill reseeds itself like crazy and grows like a weed, so… yeah I'm going to be overrun with dill now).
If after all that convincing, you're still sure you hate dill, let me assure you that you can make this salad dressing with any herb you'd like. Think basil, tarragon, or cilantro – although I would stay away from the wood-stemmed herbs like rosemary for this one.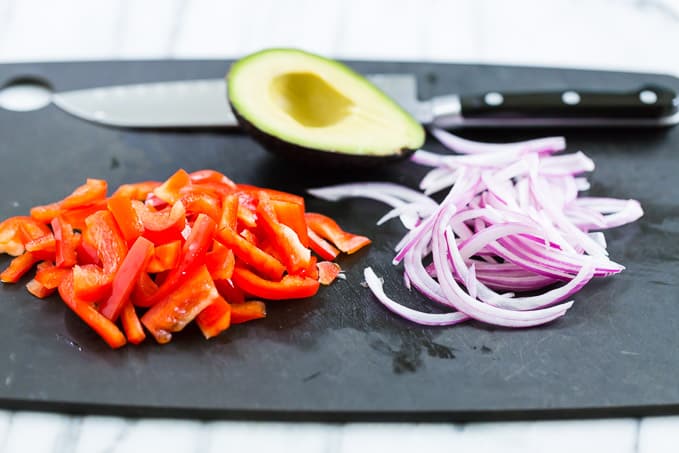 I really love slivered red onion in my salads, but if that's not your thing, just sub in some thinly sliced green onions for a milder effect. For the dressing, I just placed everything in a mason jar, secured the lid tightly, and shook it up until it was emulsified. The dressing does separate when it sits in the refrigerator, but if you have leftovers or you make it ahead of time, just shake it back together right before you dress the salad.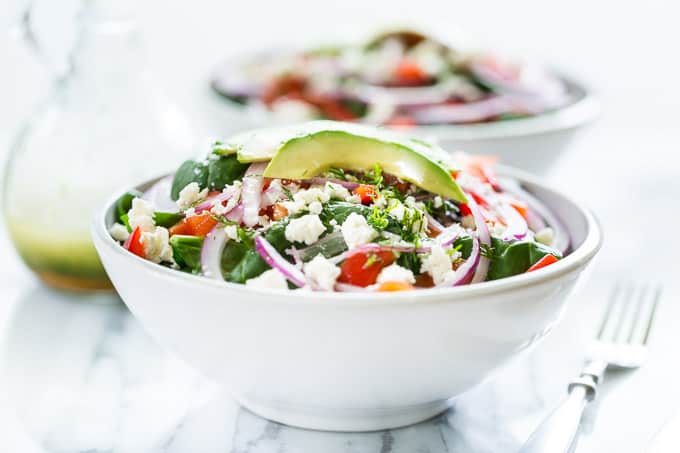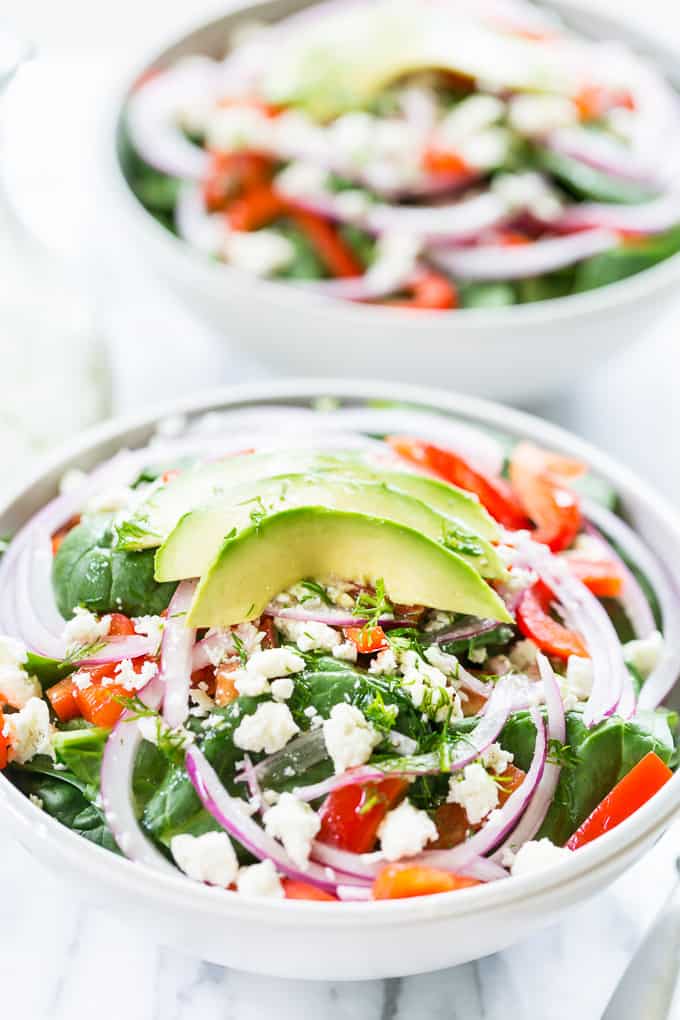 My husband doesn't care for dill either, (although weirdly he loves pickle chips too) but he ate a gigantic bowl of this for dinner, and then took another big container of it in his lunch with some grilled chicken on top. I'm not sure what's next in the dill department for us, but for now we both have a new favorite salad!
Print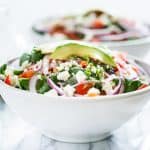 Red Pepper Feta Spinach Salad with Dill Vinaigrette
---
Salad Ingredients:
8 cups

washed baby spinach, 8 ounces

1

small red bell pepper, cored and chopped bite size, 6 ounces

1/2 cup

finely slivered or diced red onion, 2 ounces

1/2 cup

crumbled feta cheese

1/2

avocado, peeled, pitted, and thinly sliced, 2 ounces
Dill Vinaigrette:
2 Tablespoons

white wine vinegar, or fresh lemon juice

1 1/2 tablespoons

chopped fresh dill

1/2 Teaspoon

sea salt

1/4 Teaspoon

freshly ground black pepper

1/3 cup

avocado oil, or olive oil
---
Instructions
Place all the salad ingredients into a large serving bowl.
Add all the dressing ingredients to a mason jar, tightly secure the lid, and shake the dressing until it's emulsified.
Dress the salad by pouring about half the dressing on and tossing to combine, keep adding dressing until it's just how you like it. We like a lot of dressing so I used the whole batch.
Serve immediately, or keep the salad and the dressing separate and covered in the refrigerator for up to 1 day before serving.