My favorite way to eat asparagus is raw – just picked from the asparagus patch (really… give it a try sometime)! After munching on a few spears and adding it to my salads, I turn to roasting and grilling, (both cooking methods bring out the best in asparagus). This simple roasted asparagus gets doused in a zesty lemon vinaigrette, sprinkled with salty feta cheese, and topped with a poached egg – or two. It's a simple dinner, but it has it's own sense of indulgence once the egg yolks break, cascading down into the pile of asparagus and mingling with the dressing – simplicity is not to be overlooked! If you've worked up an appetite, be sure to roast some sweet potatoes and/or a roast chicken.
It may be officially spring, but we're far from local asparagus or strawberries. That's why every year I get a bit antsy with spring fever, and succumb to California produce, (you gotta do what you gotta do when you live in a place where it snows in April)! When we were living in Alberta, we always had top notch produce from B.C. in the local farmer's market, (somehow Montana tends to get overlooked when it comes to good quality produce). But… I've seen a huge shift in the last few years of what's available in our small town, it must be a sign of the times that so much healthy food is now readily available!
It's a myth that fat asparagus spears are tough – some of the toughest spears are the super thin ones! Asparagus should be snapped off by hand where the spear gives easily, and that way there's no fibrous bottoms. However asparagus from the store is cut, and the best way to tell if it's super tough is to look at the bottoms – if it's split with a hollow in the center, it will be tough and stringy for the bottom several inches.
For best luck with asparagus:
1. Buy in season (February – June) – this means asparagus might not be very optimal in December, it's the luck of the draw when your produce comes from so far away! Also, find out when your local asparagus season is for the freshest pick!
2. Asparagus in the supermarket should be stored on the shelves with the stems in water to help maintain freshness. When you get your asparagus home, store it in the refrigerator with the stems in water, and use it as soon as possible for optimal sweetness.
3. Trim the asparagus ends, sometimes you'll need to take off and inch or two to get to the tender part of the stem. You can also peel the bottom inch or so after trimming to make sure your asparagus is tender!
4. Figure out when your local asparagus season is, and shop for a few choice bundles at farmer's market! For us, asparagus is in season in June when most everyone else is picking tomatoes, so it pays to know when each season is locally, as well as the general supermarket seasons.
For the feta cheese, I like a mixture of big and little crumbles for varied saltiness in each bite!
If you're topping your roasted asparagus with poached eggs, (and I highly recommend it) be sure make the dressing and crumble the feta before putting the asparagus in to roast. It doesn't take very long for the asparagus to cook and you'll have your hands full with the egg cookery.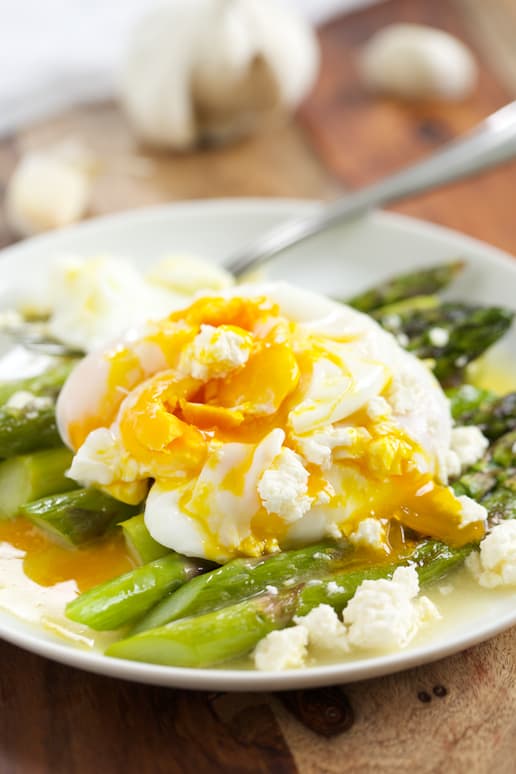 One last tip:
If you're not very comfortable poaching, (who is anyways? it's a 50/50 kind of thing, and I wrecked 2 out of 5 eggs for this photo shoot) you can cook the eggs sunnyside up in a skillet or invest in one of those handy egg poaching pans! Even though I still have trouble with poached eggs, they're worth the bother for me when it comes to a dish like this!
Print
Roasted Asparagus with Lemon Feta Vinaigrette
---
Description
This simple asparagus is perfect as a side dish, or make it a full meal by adding some eggs on top, either way the lemon and feta cheese combine to make this a recipe you'll want to make often every spring.
---
Dressing:
2 Tablespoons fresh lemon juice
1 clove garlic, minced or pressed
1/2 Teaspoon sea salt
1/2 Teaspoon Dijon mustard
1/4 cup avocado oil, or olive oil
2 Tablespoons feta cheese, crumbled
1 pound asparagus
avocado oil and sea salt
4 eggs
---
Instructions
Preheat the oven to 450ºF, and line a baking sheet with parchment.
Whisk together the lemon juice, garlic, sea salt, and Dijon mustard. Drizzle in the avocado oil slowly, whisking all the while until the dressing is emulsified. Set the dressing and crumbled feta aside.
Wash the asparagus, and trim the woody ends. Lay the asparagus in a single layer on the prepared baking sheet and lightly drizzle with avocado oil and sprinkle with sea salt (this is to taste).
Fill a deep skillet 3/4 full with water and bring it to a simmer.
When the poaching water is ready, put the asparagus in the oven. It will be done in 5-8 minutes depending on the diameter of your asparagus. If you're not sure if they're done or not, give them a poke with a paring knife and see if they're tender.
While the asparagus roasts, carefully lower 1 egg at a time into the simmering water.
Cook the eggs until the white is set, but the yolks remain runny – this usually takes 3-5 minutes.
Remove the eggs with a slotted spoon and place them over the roasted asparagus in a serving dish. Top with the dressing and feta cheese crumbles
Prep Time:

25 mins

Cook Time:

8 mins

Category:

Breakfast

Method:

Stove Top

Cuisine:

American
Keywords: Asparagus with Eggs, Asparagus with Lemon Dressing, Asparagus with Feta Cheese