I don't know what you're grilling this holiday weekend, but I sure hope it will include some of this Rosemary Grilled Chicken! It's great with the salad, but I probably should've given it a recipe unto itself because it's so versatile.
We're going to be grilling in the rain, (or so they say) and I think we'll all be celebrating about it after the terrible drought and fire season we've had the last couple of months. I don't think there will be a single person complaining about rain on their holiday weekend, we're just all so thankful that we'll be out of a state of emergency, (Alberta even sent some firefighters our way recently – so many thanks to Canada!).
I know we're almost at the end of another peach season, but this was too good to wait for next year! Envision rosemary grilled chicken, juicy peaches, and grilled onion over a bed of greens, and topped with the most addicting pecan vinaigrette.
You need this recipe in your life simply because of that dressing, it's so good I'm making triple batches of it, and putting it on all my salads. I know every dish is a sum of it's parts, with each part needing to be absolutely delicious, but all things sauce and dressing holds a special place in my heart, so it's pretty much always the focus for me! I mean, where would pasta or enchiladas be without sauce? or salads without their dressing?
The dressing for this salad was inspired by the Tupelo Honey cookbook, and so is this Cheesy Mashed Cauliflower if you haven't tried that one out yet. I almost feel bad saying it was inspired by his recipe because I've tinkered with it over the years simplifying it to suit my minimalistic approach, and I almost feel like I'm dishonoring his amazing work!
Anyways… just know that all the recipes I've made in that book have been awesome, and I never would've thought to grind up pecans right into the base of the dressing, so all the credit definitely goes to the chef!
I've been wanting to try out other combinations as well such as, toasted walnuts and basil, or almonds and tarragon with blueberries over greens – the list could go on and on because toasted nut based dressings are so good you'll be instantly addicted to the creaminess and depth of flavor!
You can use a number of different greens for this salad. I've used Butterhead lettuce, mini romaine, regular romaine, and I think spinach would be great too.
When I'm grilling onion, I like to make slices from the top to the bottom which seems to help keep the onions together better than slicing crosswise.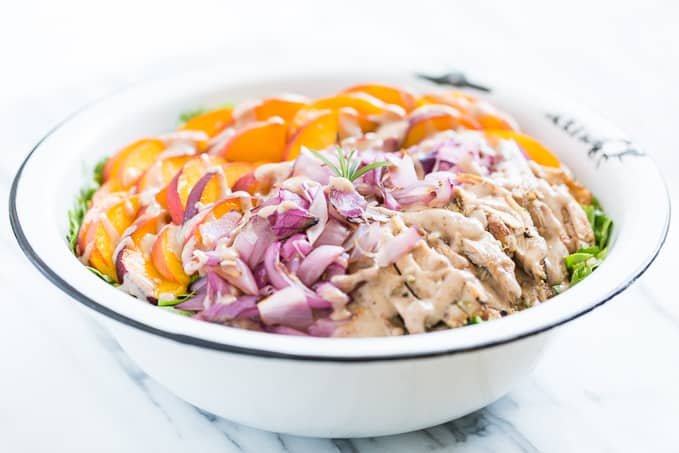 If it's too late to find great peaches in your area, (we're at the tail end of our season) you can certainly substitute vine ripe tomatoes, grapes, or any sweet ripe berry.  My next variation with this recipe is going to be with some late season raspberries because they're Tyler's favorite, and they go really well with this dressing.
Print
Rosemary Grilled Chicken and Peach Salad with Pecan Vinaigrette
---
Total Time:

45 mins

Yield:

6

servings

1

x
Rosemary Grilled Chicken:
1

pkg boneless, skinless chicken thighs, 1 1/2 pounds

2

cloves garlic minced

2 Teaspoons

fresh rosemary, stems removed and minced

1 Tablespoon

olive oil
Salad:
1

pound of washed greens, 16 cups, butterhead and romaine are my favorites

1

large red onion, 1 pound

2

ripe peaches, 1 pound
Pecan Vinaigrette:
1/2 cup

toasted pecans

1/4 cup

raw apple cider vinegar

1

clove garlic, minced

1 Tablespoon

Dijon mustard

1 Tablespoon

maple syrup

1/2 Teaspoon

sea salt, or to taste
freshly ground black pepper to taste

1 cup

avocado oil or a fruity olive oil
---
Instructions
Combine the chicken thighs with the marinade ingredients and marinade in the refrigerator for at least 1 hour, I think marinading overnight adds quite a bit more flavor.
Slice both ends off the onion and peel away the tough outer layer. Slice the onion from the top to the bottom into 1/2″ thick slices.
Preheat the grill over high heat until the temperature reaches 400ºF. Place the marinaded chicken and onion slices on the grill, and immediately lower the heat to medium.
Cook the chicken for 6-8 minutes per side, the time will depend on the thickness of your chicken thighs. You'll know they're ready to turn over when they loosen from the grill, and are easy to turn. Grill the onions for about 4 minutes per side, or until they have browned grill marks, and are starting to soften.
While everything is grilling prepare the dressing by placing everything into a blender except the avocado oil. Blend on a lower speed until smooth, and then add the oil in a slow steady drizzle while the blender is running. Blend until the dressing is completely smooth.
When the onions and chicken are done, remove them from the grill and set them aside to cool a bit while you finish the salad.
Slice both peaches into 1/4″ slices or cubes if you'd rather. Layer the peaches over the salad greens, then cut up both the chicken and onions and layer them over the salad greens as well.
Drizzle the dressing over the top or serve it alongside the salad.
I think this salad is best served with the chicken and onions still a bit warm from the grill.
Notes
This recipe makes about 1 1/2 cups of dressing, and depending on your taste you may or may not need it all. The leftovers keep well in the refrigerator for 1 week.
Prep Time:

30 mins

Cook Time:

15 mins