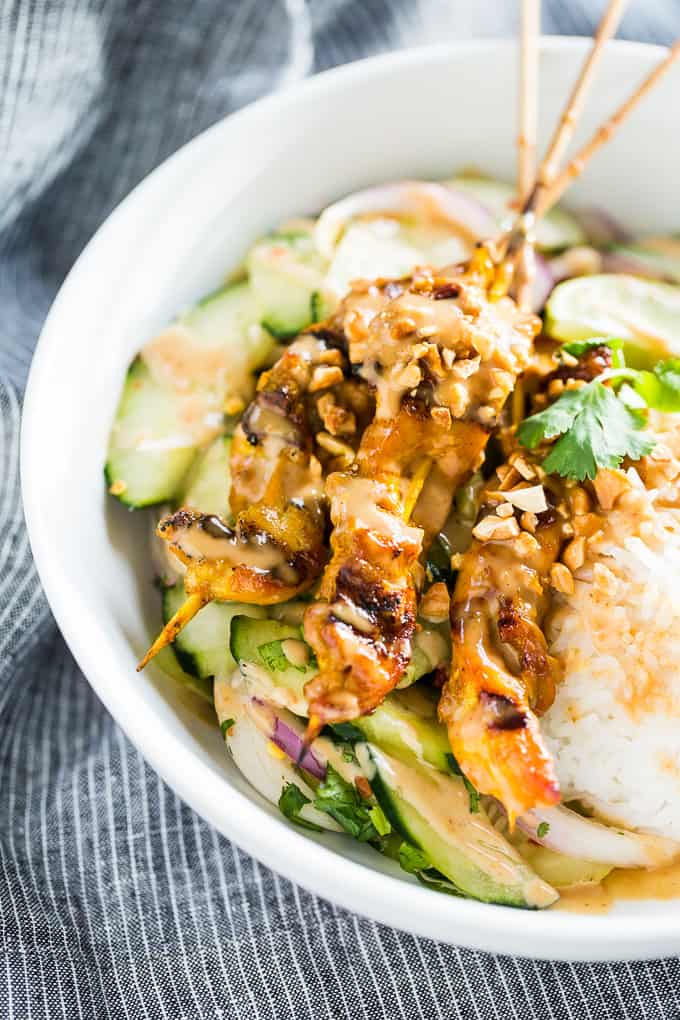 These saté chicken skewers are the partner recipe to the Asian Sweet and Sour Cucumber Salad I posted last week. The combination of flavors lights up your mouth, and the creamy 'peanut' sauce takes this dish right over the top.
In fact I almost made a recipe out of just the 'peanut' sauce because it's both easy and versatile, along with being incredibly addictive! There's a little quotation mark around 'peanut' sauce because there's no actual peanuts involved in this recipe.
I love making peanut sauces with cashew butter for anyone who can't have peanut products. But you can easily make this with peanut butter as well for a more traditional version.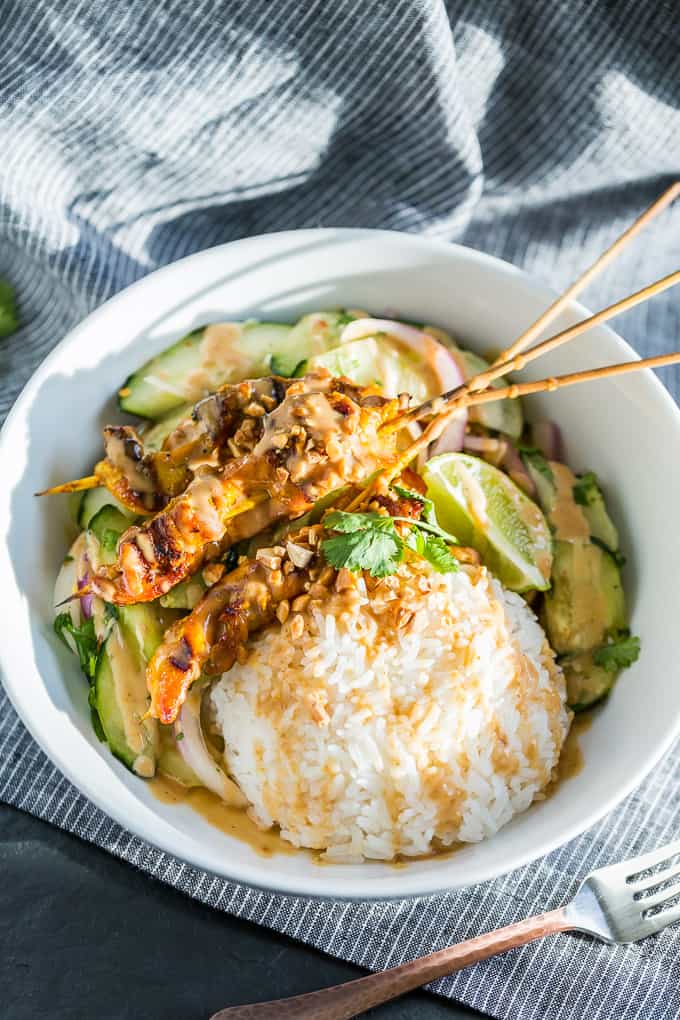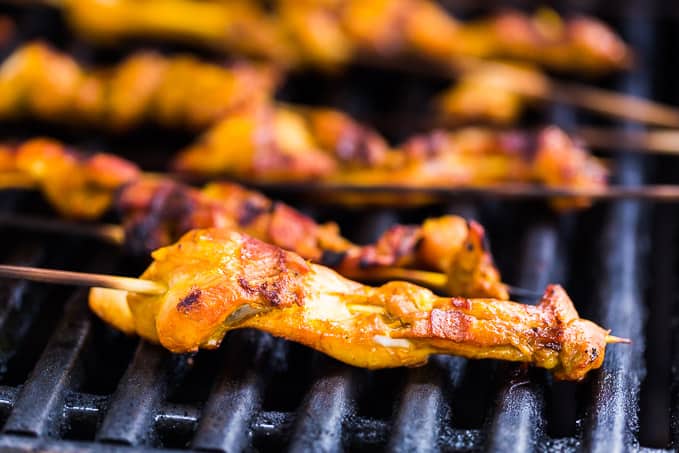 Time saving tip: marinate and grill the chicken thighs whole instead of cutting them into strips to make skewers.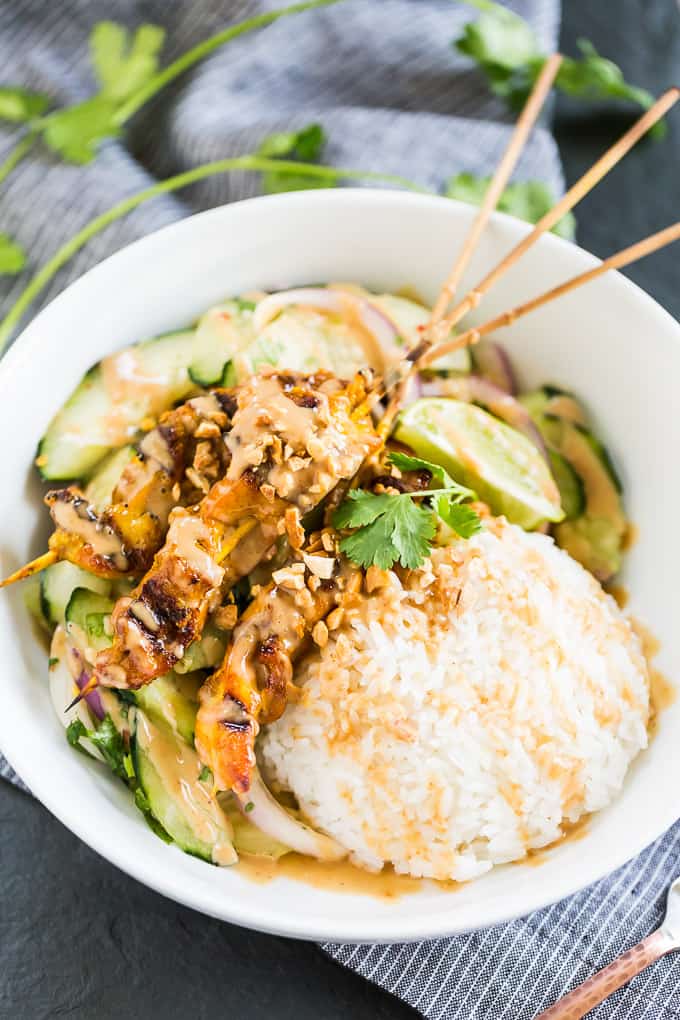 This meal is both light and refreshing while at the same time being incredibly comforting. I love dishes that combine those two concepts because while I crave fresh flavors in the depths of winter, it's so chilly out that I need that comforting aspect as well!
Print
Saté Turmeric Chicken with Creamy 'Peanut' Sauce
---
Turmeric Chicken Skewers:
1

pkg boneless skinless chicken thighs, about

4

, 1 1/2 pounds

2

cloves garlic, minced

1 Teaspoon

ground turmeric powder

2 Tablespoons

gluten free soy sauce, tamari, or coconut aminos

1 Tablespoon

minced fresh ginger
Creamy 'Peanut' Sauce:
2 Tablespoons

minced fresh ginger

2

cloves garlic, minced

1

can coconut milk, I like the Native Forest brand

1/4 cup

nut/seed butter, cashew butter or peanut butter are my favorites

1 Tablespoon

maple syrup

1/4 cup

gluten free soy sauce, tamari, or coconut aminos

2 Tablespoons

freshly squeezed lime juice

1 Teaspoon

sambal oelek chili paste, or to your taste, see notes

1/4 cup

chopped toasted cashews (or peanuts if you'd like) for garnishing
---
Instructions
Cut the chicken thighs into 1/2″-3/4″ strips, and combine the chicken strips with the rest of the chicken skewer ingredients. Marinate the chicken for at least 1 hour in the fridge or overnight. You can also leave the chicken thighs whole, and just add the marinade ingredients to speed up the prep time.
If you're using wooden skewers to grill the chicken, be sure and soak them in water overnight before using them, or they will burn on the grill.
Make the 'peanut' sauce by adding the ginger, garlic, coconut milk, nut/seed butter of choice, maple syrup, and soy sauce to a medium sized saucepan. Bring the sauce to a boil stirring occasionally, then reduce the heat to low and simmer the sauce until it begins to thicken, about 10-15 minutes. Stir the sauce every few minutes while it simmering to prevent it sticking. When the sauce has thickened, remove it from the heat and whisk in the lime juice and chili paste to taste. Keep the sauce warm until you're ready to serve the chicken.
When you're ready to cook the chicken, preheat a grill over high heat. While the grill heats, thread the marinated chicken strips onto the skewers, you will have about 16 skewers. When the temperature reaches 425º-450ºF, place the chicken skewers on the grill and immediately lower the heat to medium, maintaining a temperature of 350º-400ºF. Grill for about 6-8 minutes, or until the chicken skewers are no longer sticking to the grill. Then turn them over to finish cooking, about 6 additional minutes. The cooking time will vary depending on the thickness of the chicken skewers, and will be slightly longer if you left the chicken thighs whole.
When the chicken is done, serve it with the 'peanut sauce', and chopped nuts sprinkled over the top for a garnish. For side dishes I love serving this with my Asian Sweet and Sour Cucumber Salad and steamed rice.
Notes
You can also use red pepper flakes in place of the chili paste if you can't find it, but add them in before you simmer so they have time to add their heat to the sauce.
Prep Time:

20 mins

Cook Time:

20 mins