The idea for these burgers started with an ad I kept hearing on Pandora. You know those campaigns where they play the same ad a billion times a day for weeks on end??? Well… anyways it was an ad for Wendy's Spicy Jalapeno Chicken Sandwiches, and I thought – 'that sounds delicious, I should turn that into a burger recipe'!
So here we are with my official burger of the summer! I just can't get enough of these, and believe me I ate them 4 days in a row whilst recipe testing. As it turns out, if you're on the go, you can crumble the burger patty into a portion of slaw, and it makes for a super healthy lunch that's packed with flavor. It's a little variation that we've already used on a short road trip. The slaw keeps pretty well for 3 days, so it's perfect for packing along in a cooler.
This recipe is also part of a Summer BBQ roundup by a great group of bloggers:
First of all there's Bacon Wrapped Pineapple Skewers from Angela at Bare Root Girl. I think I'd probably end up eating so many of these that it'd be the whole meal!
Then there's a Spanakopita Potato Salad from Faith at An Edible Mosaic – how can you go wrong with Feta cheese in a potato salad!?!
Lauren from Wicked Spatula came up with these great Grilled Mojo Salmon Kebabs – I love this idea because I almost never grill seafood, and this looks like the perfect way to broaden my horizons!
And… if you have a sweet tooth like me, Becky at A Calculated Whisk made this gorgeous Grilled Pound Cake with Lemon Curd and Berries, (and it's a secretly healthy indulgence).
Finally, there's my Spicy Jalapeno Burgers with Creamy Slaw that I'm going to show you how to make below!
So let's get started with the BBQ fun:
I like to make my slaws out of Napa cabbage in the summertime, (which is when we have it available) because it has a much softer texture than regular cabbage. It's like a cross between cabbage and romaine, as well as having a milder flavor, and keeping well in the fridge for 3 days without getting super soggy. It's also faster and much easier to finely shred than regular cabbage, so it's my favorite all the way around from flavor to ease of preparation.
Whenever I'm buying it at the Farmer's Market, someone always asks me what on earth I do with it. I always tell them to use it just like regular cabbage, and to make some of this Banh Mi Slaw which is one of our all time favorites.
You can make the slaw and refrigerate it without the dressing for 1-2 days if you want a make ahead option. And as I mentioned before, it keeps really well for 3 days even after the dressing is mixed in, (it softens a little but it doesn't get soggy).
Whenever you're grilling turkey burgers, (or chicken burgers for that matter) it's best to make sure your grill is super clean, and I like to lightly oil mine before placing the meat on it. Because the meat is so lean, it has a tendency to stick which really ruins the look of your burger.
I forgot to oil my grill the first time I made these, and they stuck a little which gave them a ragged and shredded appearance – they were edible for sure, but that's not what you want when you're entertaining.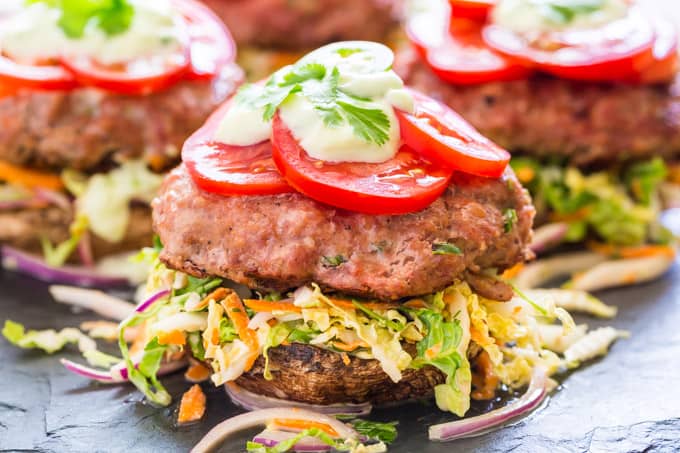 The star of the whole show is the Jalapeno Aioli which doubles as a slaw dressing, and topping for the burgers. I'm all about making things a little easier, and there can never be too much aioli! If you're worried about this being spicy, don't be because they're just pleasantly warm, not tongue searingly hot by any means. However that being said, peppers really vary in their amount of spiciness so if you're not very tolerant of spice, start with half the amount, and then taste to see if you want to add more.
I hope you enjoyed today's roundup of bbq recipes. Let me know if there's any type of summer food you'd like to see a recipe for, and I'll do my best to make it happen!
Print
Spicy Jalapeno Turkey Burgers with Creamy Slaw
---
Creamy Slaw:
4 cup

finely shredded Napa cabbage, 8 ounces

1/2

small red onion, thinly slivered, 3 ounces

1 cup

grated carrots, 4 ounces

1

red bell pepper, chopped – 1/2 cup

1/4 cup

chopped fresh cilantro

3/4 cup

jalapeno aioli, from the recipe below
Jalapeno Aioli:
1

farm fresh egg, at room temperature

1 Teaspoon

white wine vinegar, or freshly squeezed lemon juice

1/2 Teaspoon

sea salt

3/4 cup

avocado oil

2

–

3

jalapenos, stems and seeds removed, and chopped – 1/4 cup
Spicy Jalapeno Burgers:
1

pound ground turkey chub

1/2 Teaspoon

sea salt

1/4 Teaspoon

freshly ground black pepper

1 Tablespoon

coconut aminos, or gluten free soy sauce

2 Tablespoon

chopped jalapeno

4

portabello mushrooms

2

small tomatoes, thinly sliced, about

4

–

5

slices per hamburger
---
Instructions
To make the aioli place the egg, white wine vinegar, and sea salt into a blender. Secure the lid and blend on the lowest speed while slowly drizzling in the avocado oil. Increase the speed as you go adding the oil steadily until it's completely emulsified, and too thick to blend well. Add the chopped jalapeno, and blend for 5 seconds or so to combine, but not pulverize. This aioli recipe makes 1 cup so 3/4 cup goes in the slaw, with the remainder going on top of the burgers.
Toss all the ingredients for the creamy slaw together in a large bowl, and set aside.
Preheat the grill over high heat. Make sure your grill is cleaned and lightly oiled so the burgers don't stick, (poultry burgers are lean). While the grill heats, mix together the ground turkey, sea salt, pepper, coconut aminos, and chopped jalapeno. Form the mixture into 4 patties.
Rinse any dirt off the portabello mushrooms, remove the stems, and scrape the gills out with a spoon.
Lower the heat on the grill to medium high, and place the burger patties and portabello mushrooms on the grill evenly spaced for the most even cooking. Grill the mushrooms for 3-4 minutes before turning over and cooking another 3-4 minutes. Cook the burgers for about 8 minutes, or until they're easy to turn over, then cook and additional 6-8 minutes, or until they're no longer pink in the center. The mushrooms will finish before the burgers, just place them on a serving plate and set them aside until the burgers finish.
Serve the portabello mushrooms topped with lots of slaw, a burger patty, about 1 Tablespoon aioli each, and the tomatoes slices. Serve immediately.
Leftover burgers are great crumbled into the slaw, and eaten for lunch over the next couple of days.
Prep Time:

30 mins

Cook Time:

20 mins