This wasn't really meant to be a recipe at all, but it's intense combination of flavors worked it's way into our hearts, and it's not letting go anytime soon! It all started with a craving for a Banh Mi sub, and there's few things I crave more than one of those delicious sandwiches!
But… here's the thing, you can't even find one of those sandwiches here in the Flathead Valley, (Montana). That and the whole 'I'm not eating bread for the foreseeable future thing' kinda puts the kibosh on the whole Banh Mi business. Just as a side note we'll talk about the 'no wheat' thing soon as I'm coming up on a whole year without it, and I want to tell you all about my experience, and why I did it!
So instead, I was all set to make my Banh Mi Salad with Sriracha Lime Aioli only to find out I didn't have lettuce in the fridge like I thought. What I did have was a delectable napa cabbage from Farmer's Market, and so Banh Mi Slaw was born. Along the way I changed a bunch of stuff from my original salad to make the preparation even easier.
Can we talk about Napa cabbage for a minute – great… cause everyone wants to talk about cabbage right? Until recently I didn't know that I loved cabbage, but thanks to some really flavorful dressings paired with cabbage's unbeatable crunch, I'm officially hooked!
Napa cabbage in particular is so delicious, and often overlooked. It's like a cross between green cabbage and romaine lettuce, with a slight texture of baby kale thrown in there. The flavor is like a really mild sweet cabbage with a little more juiciness than you'd see in regular cabbage. As far as texture goes, it's much softer than regular cabbage but much sturdier than lettuce.
To break down a Napa cabbage into slaw, I start by cutting off the outer big leaves. If they're really dirty I give them a pre-rinse before the later washing.
Next cut each of the big leaves in half lengthwise and then thinly slice them crosswise into a shred.
When the outer leaves have been cut away, the remainder of the cabbage is much easier to manage on the cutting board. Simply slice as finely as possible crosswise across the face of the cabbage. Then wash and dry all your cabbage in a salad spinner.
For the cucumbers, I slice off both ends and cut them into quarters lengthwise.
Then, placing all the quarters flat side down on the cutting board, slice them into thin triangular slices.
Place all of your prepped veggies into a large serving bowl as you go.
The dressing comes together really quickly in the blender, which has become my favorite way to make salad dressings. This dressing does contain a raw egg which is what makes the creamy texture similar to a mayonnaise or aioli that you'd get on the traditional sandwich. If you're avoiding raw eggs in your dressings, I discovered you can use hemp hearts to make a creamy dressing that's really similar to an egg based dressing.
This salad can be eaten as is for a vegetarian meal, or you can make it my favorite way with the addition of Saté Chicken.
Saté chicken pretty much makes everything taste amazing, and I would keep the marinade recipe on hand because it goes with so many flavor combinations. I like to marinade the chicken overnight, but I've tried it with just 1 hour and it's almost as good.
Now… onto the chopped fresh herbs, I like to use lots of basil and cilantro. If you decide to omit the raw red onion, you can add thinly sliced green onions instead. Since I don't always have copious amounts of fresh herbs available (yeah for summer), my budget tip is to stick with just fresh cilantro (which is more affordable especially in the winter).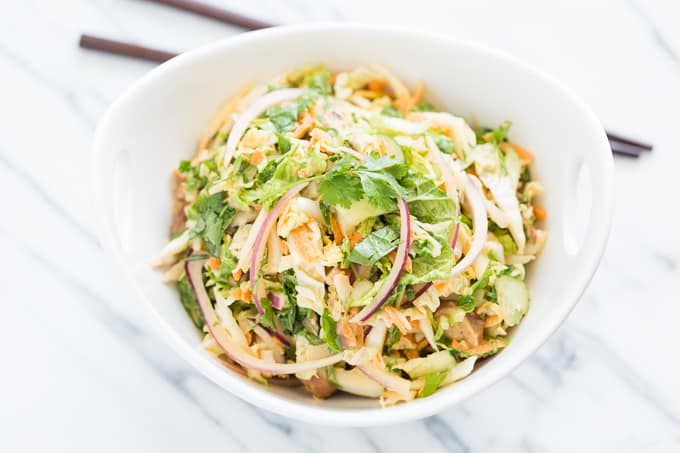 This slaw keeps really well for a couple of days (minus the basil which always turns brown). If you're going for best texture, keep the slaw and dressing refrigerated separately until you're ready to serve it. We like to take it already mixed together when we go on multiple day hiking adventures.
So far we've taken it on a weekend adventure to Many Glacier where we hiked Cracker Lake and Grinnell Glacier, and we're taking it along for the next adventure to the Two Medicine area of Glacier National Park, and Shangri La ending in Iceberg Lake.
I'm not one for cooking while I'm camping because it always seems to involve lots of time trying to wash up afterwards. My current method is to cook everything we'll need ahead of time and portion it into individual containers for the cooler, which saves us loads of time when we're out and about! This slaw does soften a bit when it's been pre-mixed, and it does make the dressing more watery, but the flavor is superb especially after a long day in the mountains!
Print
Banh Mi Slaw with Creamy Sriracha Dressing
---
Description
All the addictive flavors of a Banh Mi sandwich piled together with loads of fresh veggies in this super tasty slaw.
---
Saté Chicken:
1 pkg boneless skinless chicken thighs, 1 1/2 pounds
2 cloves garlic, minced
3 Tablespoons coconut aminos or gluten free soy sauce
2 Teaspoons Sambal Oelek chili paste
1 Tablespoon Grade A maple syrup
Slaw:
1 large Napa Cabbage, 2 1/2 pounds
1 bunch of carrots, 1 pound
1 large cucumber, 10 ounces
1 small bunch of cilantro, 1 ounce
1 small bunch of basil, 1/2 ounce
1 bunch of green onions, thinly sliced
or
1 small red onion, very thinly sliced
Creamy Sriracha Dressing:
1 farm fresh egg, or 2 Tablespoons of hemp hearts
1/4 cup brown rice vinegar
2 Tablespoons coconut aminos or gluten free soy sauce
2 Tablespoons of sriracha, or to taste
1 Tablespoon Grade A maple syrup
3/4 cup avocado oil
---
Instructions
Combine all the ingredients for the saté chicken and marinate overnight or at least one hour.
For the slaw, finely shred the Napa cabbage. Wash and spin dry in a salad spinner.
Wash, peel, and cut the ends off the carrots. Grate the carrots and add them to the cabbage.
Slice both ends off the cucumber and slice it into quarters lengthwise. Place the quarters flat side down on the cutting board and thinly slice them crosswise into triangular pieces.
Chop all the herbs and add them to the slaw with the cucumber.
Preheat the grill over medium heat until the grill reaches a steady 350º-400ºF.
While the grill is heating make the dressing by placing everything except the oil into a blender. Blend on low until combined, and with the blender running slowly drizzle in the avocado oil until the dressing becomes thick and emulsified. The slaw (minus the basil) and dressing can be stored separately for 2 days at this point until you're ready to serve it.
Place the chicken on the grill and grill for about 8 minutes or until the meat loosens from the grill and it's easy to turn over. Grill for an additional 6-8 minutes or until the chicken is no longer pink. The cooking time will always vary depending on the size of the chicken thighs.
Allow the chicken to cool a bit before cutting it up into bite sized pieces.
Toss the chicken with the slaw and the dressing.
Serve immediately.
Prep Time:

45 mins

Cook Time:

15 mins

Category:

Dinner

Method:

Grilling

Cuisine:

Asian
Keywords: Banh Mi Slaw, Banh Mi Salad, Banh Mi Cabbage