Strawberries and cream is a classic combination that I never get tired of. There's a perfect window every summer where the local strawberries are finally ripe (usually 2 months after everywhere else) and I go to town eating them plain, dipping them in The Ultimate Whipped Cream, and using them for a topping on Homemade Coconut Ice Cream.
But since that window of perfection is pretty small, the rest of the year I rely on frozen berries to limp by until the next season of bliss! I'm exaggerating a little, but nothing beats a perfectly ripe strawberry still warm from the sun. Frozen berries do offer a consistently good flavor year round and they're much more affordable than buying strawberries out of season, (although I'll be the first to admit that I succumbed to a pint of them in the grocery store today as well as buying some for these pictures).
Creamy coconut pairs with frosty strawberries in this smoothie for a smoothie that feels like an indulgent treat first thing in the morning. There may have even been a few occasions where some cocoa powder sneaked in there too for a chocolate covered strawberry version, (what can I say… I'm my mother's daughter – which is to say hopelessly addicted to chocolate)!
When making a smoothie you want to layer your ingredients in the blender with the juiciest ingredients at the bottom so that it blends easier. Since this smoothie has a fair bit of frozen fruit in it, you may need to use the tamper to keep it moving.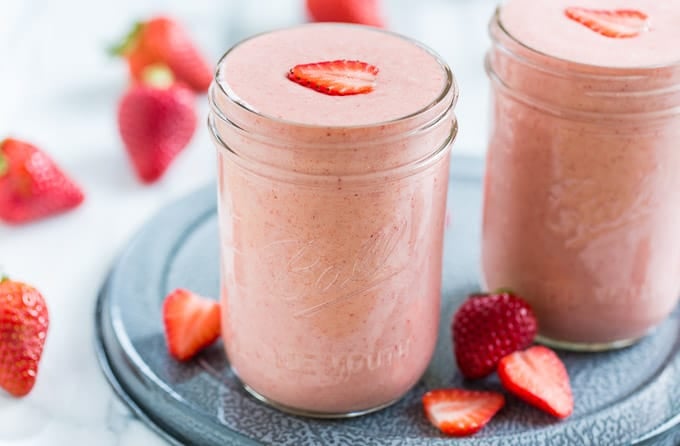 There's something about anything strawberry that conjures up visions of summer for me. Even though it's bit chilly out yet, I still love the frosty texture of this smoothie, and I can't wait to make it all summer long.
Print
Strawberries and Cream Smoothie
---
2

ripe bananas, peeled

1 cup

coconut milk, from the can for the best creamy texture

1 cup

coconut water

1 Tablespoon

vanilla extract

1

Pink Lady apple, quartered and cored

2 cups

frozen strawberries, 8 ounces
---
Instructions
Place all the ingredients in the order listed into a blender.
Blend starting on low and working up to high speed. Blend until completely smooth, using the tamper if necessary to keep the mixture moving.
Serve immediately, or refrigerate and serve within 4-6 hours.