This ultimate Homemade Whipped Cream recipe is perfect for all your favorite desserts. Whipped cream is simple to make at home in under 5 minutes. It's the perfect dessert toppings for everything from chocolate cake, to cream pies, and weekend waffles. Try it over your morning coffee, hot chocolate or chai latte. Whichever way you choose to serve this homemade whipped cream, it will add so much to any sweet treat.
Whipped cream is so easy to make, there's no need to ever buy whipped topping! It comes together in just minutes and is the perfect way to top your favorite desserts and cozy drinks.
This whipped cream has 2 ingredients that make it extra special, or the 'ultimate' whipped cream if you will. First up is just a touch of salt. This is crucial to balance out the flavor of whipped cream so don't skip it!
The second ingredient is adding a bit of creme fraiche. This adds incredible dimension to regular homemade whipped cream, so be sure to check out that variation below.
I got this idea from an article I read a while back about how Nancy Silverton, (of the famous La Brea Bakery) adds creme fraiche to her whipped cream. So I decided to try it out, and I've never looked back.
Ingredients & Substitutions
Heavy cream – also called whipping cream or even heavy whipping cream. The main thing you want to look for is at least 36% milk fat. This is crucial to making whipped cream. Whole milk and half and half don't have enough fat to whip. If you're dairy free, try my Homemade Coconut Whipped Cream.
Powdered sugar – just enough to lightly sweeten the whipped cream. It's sometimes labeled as confectioners' sugar. You don't want to use regular granulated sugar because it will be gritty in your whipped cream. If you don't want to use powdered sugar you can fold in maple syrup or agave nectar to taste. You whipped cream will be a touch looser in texture.
Vanilla extract – is also very important for the best flavor, so you want pure vanilla not imitation in this recipe.
Salt – just a pinch of salt really balances the flavor and adds depth to whipped cream, I don't recommend skipping it.
Optional creme fraiche – just a little folded in at the end adds incredible flavor to regular whipped cream. Creme fraiche has a naturally nutty flavor with a hint of sourness that really does add dimension. But it is just a matter of personal preference and you can definitely leave it out. This recipe is great either way!
How to make this recipe step by step
Step 1: Start by adding cold heavy whipping cream to an electric mixer or large bowl and whip on medium-high speed until the cream is starting to take some shape. You want to whip the cream until soft peaks form. This means if you scoop the cream up it will create a peak that will fall back down and not hold much shape.
You can use a stand mixer with the whisk attachment, electric hand mixer with beaters, or a whisk and large bowl and beat the cream by hand.
Tip: Chill your mixing bowl for the best most consistent results. Whipping cream whips into the best whipped cream when it's cold. However I usually don't bother with this extra step and just work quickly. Once you take the heavy cream out of the fridge you want to give it your full attention until it's whipped, about 3-4 minutes.
Step 2: Next sift the powdered sugar over the top, and add the vanilla as well as the sea salt. Scrape down the sides of the bowl if necessary. Whip again just until combined for a loose whipped cream or a touch longer for 'stiff peaks' where it will hold it's shape.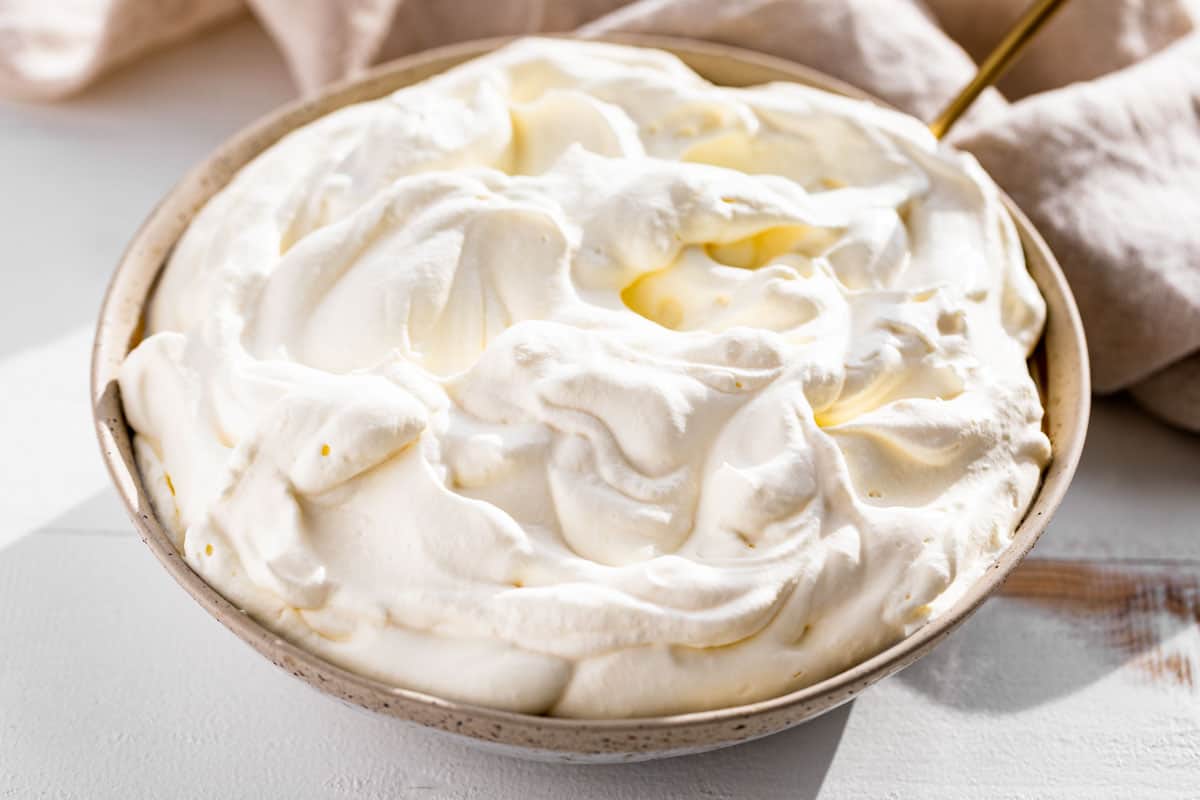 Step 3: Serve immediately with your favorite dessert, or refrigerate and use within 4-5 hours for the best texture. And that's it, so simple to make and so much better than the store-bought stuff!
FAQ's
How long does it take to whip cream?
About 3-4 minutes with an electric mixer, about 6-10 minutes whipping it by hand with a whisk.
What is the difference between heavy cream and whipping cream?
They are the same thing and there shouldn't be any difference, heavy cream and whipping cream should have at least 36% milk fat to qualify. The brand I buy is labeled as 40% milk fat and whips up beautifully into silky smooth whipped cream. If you're unsure what to buy in the store start by looking for at least 36% milk fat. Anything less than that isn't going to turn into whipped cream, or at the very least it won't work well! Milk and half and half will not whip into whipped cream because they do not contain enough fat.
What happens to cream if you over whip it?
At first it will become grainy, then it will start to clump and if you over beat it long enough it will turn into butter with the liquid left behind. Whipped cream comes together in just a few minutes, so you want to give it your full attention.
Where does heavy cream come from?
Heavy cream is naturally occurring in cows milk and will naturally rise to the top as it sits to be skimmed off. Sheep's milk and goat's milk contains very little cream and is naturally emulsified in the milk, so that's why you don't see it in the store.
Storing leftovers
To store – leftover whipped cream can be kept 4-5 days in the refrigerator in an airtight container. The texture isn't quite as good the longer it sits and sometimes a touch of liquid will separate out. Simply stir the liquid back into the whipped cream before serving. The texture of the whipped cream will continue to be looser as its refrigerated.
Make ahead – I don't recommend making whipped cream ahead more than 4-5 hours because it's best served right away. However it's still pretty good even a few days later, so if you really need to make it ahead it can be refrigerated as directed above.
To freeze – Whipped cream can be frozen in an airtight container in the freezer, and thawed again in the refrigerator. The texture isn't ideal, but it's pretty good for topping hot chocolate/coffee. Make little plops or pipe the leftovers into individual portions on a parchment lined baking sheet. Freeze until hard, then transfer to an airtight container and use within 1 month for best results.
Tips & Tricks
Don't walk away from the electric stand mixer, it's too easy to over whip heavy cream and it will become grainy. Using a hand electric mixer keeps you on your toes.
If you want to make 1/2 the recipe of whipped cream or less, I recommend whipping it by hand. Your arm will probably be on fire, but it's too hard to make good whipped cream in small amounts if you have a stand mixer. I use a flat bottomed whisk and make whipped cream in small batches as little as 1/2 cup of whipping cream. Then just add sweetener and vanilla to taste.
If you're new to making whipped cream, stop the electric mixer often to make sure you don't over whip it. After a few batches you'll get the hang of what it should look like!
Dietary Options & Substitutions
Dairy free / Paleo / Vegan & Vegetarian – try my Homemade Coconut Whipped Cream recipe, so good!
Whipped cream without powdered sugar – You can sub in maple syrup or agave to taste in place of the powdered sugar in this recipe, the whipped cream will be a little looser in texture.
More Dessert Topping Recipe Inspiration
I really hope you enjoy this ultimate Whipped Cream recipe! If you do get a chance to make this recipe, I'd love to hear from you in the comments.
INGREDIENTS
1

cup

heavy whipping cream

2

tbsp

sifted powdered sugar

-

or Grade A maple syrup

1

pinch

sea salt

1

tsp

vanilla extract

Optional: 1/2 cup creme fraiche
INSTRUCTIONS
Add the cream to a mixing bowl, you can chill the bowl to help keep the whipping cream cold as you beat it.

Use the whisk attachment or an electric hand mixer and beat the cream on medium working up to medium high to avoid splattering. Beat just until the whipped cream begins to hold soft peaks.

Stop the mixer and add the sifted powdered sugar, pinch of salt, and vanilla. Beat again just until combined or until stiff peaks form.

Once the whipped cream is your desired texture, fold the creme fraiche in by hand if you're using it in.

Serve with your favorite dessert, or refrigerate for 4-5 hours before serving.
Bonus Step
If you made this recipe, please leave a rating/comment. Ratings really help us continue to bring you high-quality free recipes. Rate This Recipe!
NOTES
Grade A maple syrup has a very light maple flavor that doesn't interfere with the flavor of the whipped cream.
The nutritional information was calculated without the optional creme fraiche.
nutrition facts
Serving:
0.5
cup
|
Calories:
110
kcal
|
Carbohydrates:
3
g
|
Protein:
1
g
|
Fat:
11
g
|
Saturated Fat:
7
g
|
Polyunsaturated Fat:
0.5
g
|
Monounsaturated Fat:
3
g
|
Cholesterol:
34
mg
|
Sodium:
13
mg
|
Potassium:
29
mg
|
Sugar:
3
g
|
Vitamin A:
437
IU
|
Vitamin C:
0.2
mg
|
Calcium:
20
mg
|
Iron:
0.03
mg
This post was originally published in 2015, but has been updated in 2022 with new photos, new information and tips.