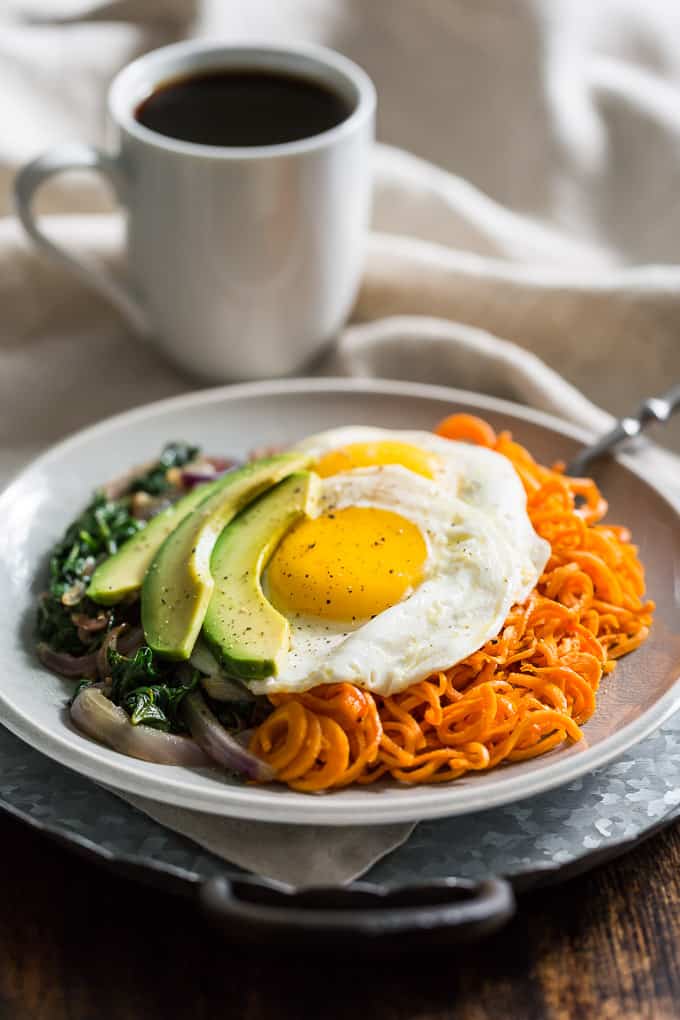 Most weeks you can find us meal-prepping some cut up fruit for green smoothies, and something to take along for healthy lunches. However, lately I've been stepping up my breakfast meal prepping as well. It started with the realization I was spending quite a bit of time putting together breakfast every morning.
I've been wanting to add more veggies to our breakfasts, but when it comes right down to it, I almost always just scramble some eggs really quick. Part of this is just the fact we get up super early, (5:00-5:30am on workdays). I'm not a morning person by nature, and there's already enough to do without chopping, cooking, and adding veggies to our eggs.
But what if the veggies were already prepped? Hmmm… I don't know what I hadn't thought about this before. So anyways, here we are with several pounds of veggies prepped and ready to go. And what's even better, is this recipe has helped us eat 4 pounds more veggies during the workweek alone! Not to mention, this is breakfast on a whole new level I usually don't experience, unless it's on the weekend.
I spiralized the sweet potatoes for this recipe simply because it's much quicker than cubing them up. It also makes a nice change of texture, but I originally did this recipe with cubed and roasted sweet potatoes. So if you don't have a spiralizer, you're still good to go.
There's enough sweet potato noodles for 2 sheet pans, so be sure and rotate them in the oven while they're cooking.
While sweet potato noodles are roasting, you make the greens. I bought a pre-washed mix of baby kale, beet greens, and spinach which speeds things up even further.
I wanted to add some flavor to my greens because I don't find them at all that palatable straight up. I might be a little spoiled having grown up with a garden, but store bought greens just don't taste that great in comparison. But it's nothing a little bit of bacon bits sautéed with onions can't fix. Just a touch of flavor, and I'm enjoying them again!
From there, once both the noodles and greens have cooled slightly, I portion them out into meal prep containers.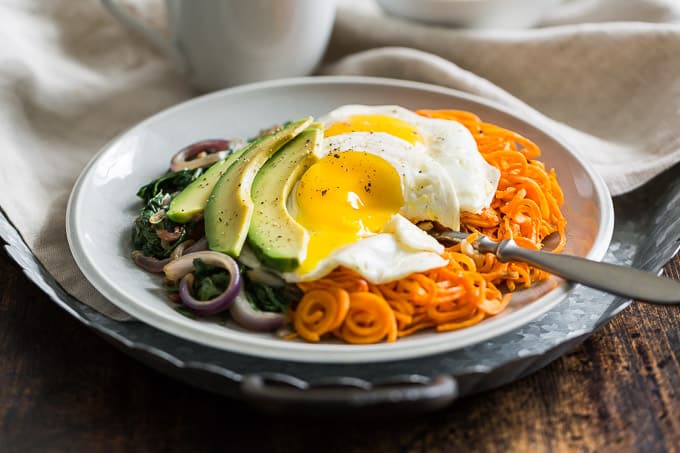 Then to serve, I warm up some of the sweet potato noodles and greens, and top with made to order over easy eggs. In theory you could cook your eggs and portion each breakfast out like traditional meal prep. But I've never been that crazy about reheated eggs, so the only way I find meal prepping sustainable, is to do some cooking fresh.
The only exception to this is my Make Ahead Sausage Egg Muffins which we make often. But let's be serious… you can only eat egg muffins so many weeks in a row before you're ready to switch things up!
Print
Sweet Potato Noodles and Greens Breakfast Meal Prep
---
Sweet Potato Noodles:
3

pounds sweet potatoes, washed and peeled

2 Tablespoons

olive oil

1/2 Teaspoon

sea salt
Greens:
4

strips bacon, cut into bits, 3 ounces, see notes

1

red onion, 12 ounces

1

pound mixed hearty baby greens, like kale and spinach, 16-18 cups

1 teaspoon

Italian seasoning

1 Teaspoon

Dijon mustard

1/2 Teaspoon

sea salt, or to taste

1/4 Teaspoon

black pepper
Serve with:
Over easy eggs or scrambled eggs (1-2 per serving)
Sliced avocado (1/4 per serving)
Freshly ground black pepper
---
Instructions
Preheat the oven to 450ºF and line 2 baking sheets with parchment paper.
For the sweet potato noodles, cut them into 4-5″ lengths, and spiralize them. I used the 3mm blade on the Paderno 3-blade spiralizer which makes thin spaghetti type noodles.
Divide the noodles between the baking sheets, and drizzle 1 tablespoon olive oil over each tray, and sprinkle with 1/4 teaspoon sea salt each.
Place the pans in the oven and roast for 10-15 minutes, or until just tender, switching the pans halfway through the cooking process so they cook more evenly. When the noodles are done, remove them from the oven to cool on a cooling rack.
While the noodles are roasting, start the greens. Cut both ends off the onion, and slice it in half from the top to the bottom. Peel away the tough outer layer, and lay each half flat side down on the cutting board. Cut across the rounded halves to form 1/4″ thick half moon slices.
In a large, 15″ skillet, sauté the bacon bits over medium heat for 5-6 minutes to render out some of the fat. Then add the onion to the pan, and cook it over medium high heat until the onions have softened, 8-10 minutes.
While the onions cook, roughly chop the mixed greens, and set them aside.
When the onions are done, add the Italian seasoning, Dijon mustard, sea salt, and pepper to the pan. Stir to combine, then add the chopped greens. The pan will be very full, but carefully stir and turn the greens, cooking just until wilted. When the greens are just wilted, but still bright green, remove them from the stove and transfer them into the container you'd like to store them in. Let them cool at room temperature while you transfer the sweet potato noodles to a container as well. Place the containers in the refrigerator, and store for 4-5 days.
To serve, heat up a portion of sweet potato noodles and greens, then top them with 1-2 eggs per serving, cooked as desired, and sliced avocado.
Notes
To make sure this recipe is Whole30 check the labels on the bacon, Dijon mustard, and Italian seasoning to make sure there's no additives or sugar.
Prep Time:

20 mins

Cook Time:

10 mins