We rely heavily on egg muffins, egg bakes, and frittatas for quick and easy breakfasts on the go. Egg muffins are great because they're already portioned for you. I like to make a muffin tin of 12 each week, and keep them in the fridge for last minute breakfasts and lunches.
They're one staple that's always part of meal prepping for us. I'll have another meal prepping post coming for you soon as well, but for now you can read more about it in How I Meal Prep For the Week. I've had lots of requests for more posts explaining how we prep food for the work week. So I've been trying to be diligent about writing down the recipes and sharing them!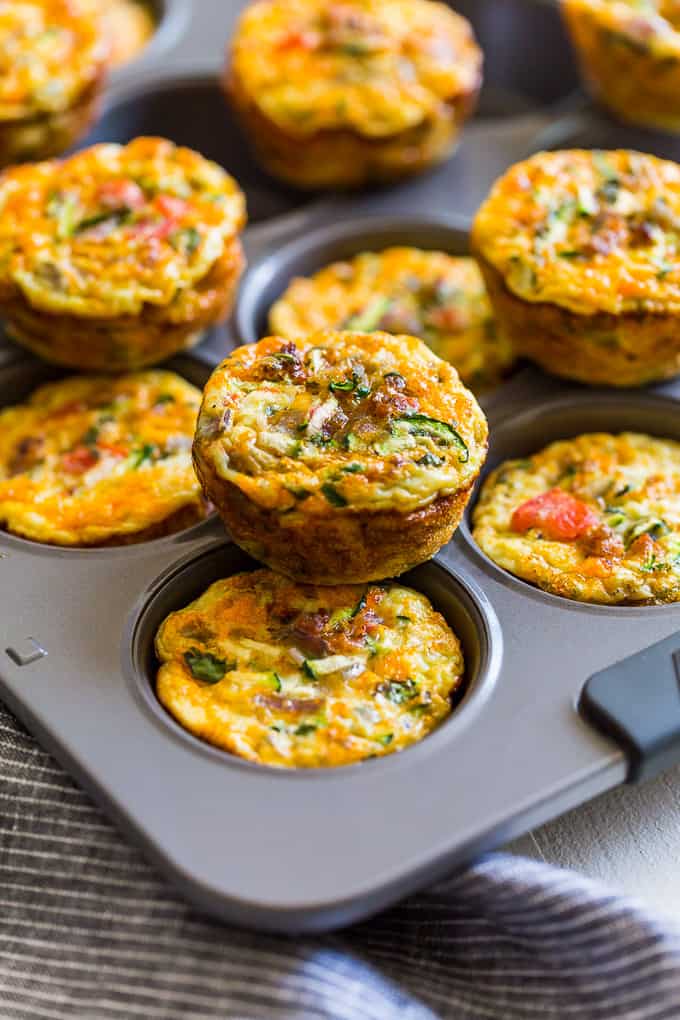 Since we've been swamped with zucchini for a few weeks now with no end in sight, (not that I'm complaining) these egg muffins feature grated zucchini. Another great thing about egg muffins is they're an easy way to sneak in a few veggies at breakfast time.
I know if I'm making eggs from scratch on a weekday morning, 9 times out of 10 it's going to be straight up scrambled eggs. I'd love to add some veggies to the scramble, but I always seem to be lacking the extra time to prep the veggies. That's where meal prep comes in – you can either prep some veggies for the work week, or you can just bake the eggs and veggies together and be 100% ready to go.
These egg muffins feature lots of summer goodness, but with fall just a blink away, I wanted to include some variation notes as well.
Onions and zucchini are easily available year round, but for the tomato you can sub in diced jarred roasted red bell peppers when tomatoes are out of season. You can leave the basil out altogether and sub in 1/2 teaspoon of Italian seasoning. Or mix it up with some chopped fresh cilantro which is much more budget friendly in the winter months.
This recipe comes together easily, starting with sautéing the chorizo, (or sausage of choice) then adding in the diced onion.
Then once you've prepped the grated zucchini and diced tomatoes, it all gets mixed together with the egg mixture.
The baking time varies slightly depending on how warm the sausage onion mixture is when it's mixed into the eggs. You'll know they're done when they've puffed up in the middle.
I love storing anything we've made for meal prep into square/rectangular containers because they fit so well together in the fridge.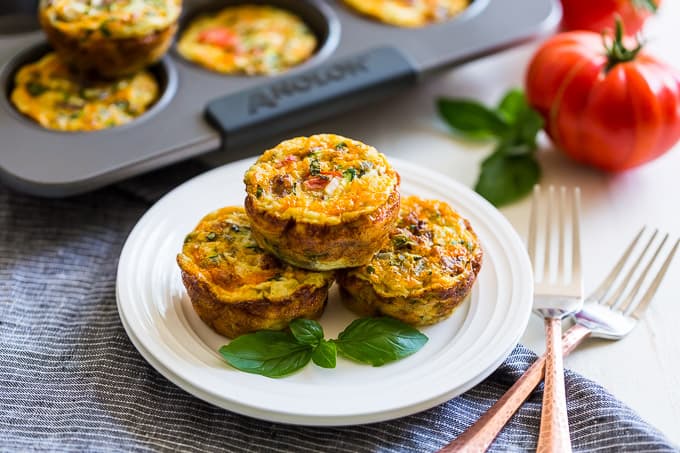 These egg muffins can also be made into an egg bake by simply baking the whole egg mixture in a glass or nonstick baking dish. From there you can portion it out as desired.
Whatever way you make these, the flavor combination is great even cold straight out of the fridge. And it doesn't hurt they look good enough to serve at a weekend brunch as well!
Print
Make Ahead Sausage Egg Muffins
---
8

ounces

bulk chorizo sausage

1/2

cup

minced red onion, about 1/2 medium onion

2

cup

grated zucchini,

12

ounces

1/2

cup

diced tomatoes

1/4

cup

chopped fresh basil

9

eggs

1/2

–

1

Teaspoon sea salt, or to taste

1/2 Teaspoon

freshly ground black pepper
---
Instructions
Preheat the oven to 350ºF and lightly grease a nonstick muffin tin.
Brown the chorizo over medium high heat in a 9″ cast iron skillet. When the sausage is done, add the onions, stir to combine, and remove the pan from the heat source to let cool slightly.
While the sausage is cooling, whisk together the eggs, salt, and pepper until completely combined. Stir in the grated zucchini, tomatoes, basil, and the sausage mixture. Divide the egg mixture evenly between the 12 prepared muffin cups, but don't fill them over 3/4 full. If you have some extra, pour it into lightly greased ramekins to bake alongside the muffin tin.
Bake the egg muffins for 20-25 minutes or until puffed in the middle and no longer runny.
Let the egg muffins cool slightly before carefully removing them from the pan to serve. Or if you're planning on refrigerating them for future breakfasts, cool until they pull away from the sides of the pan before removing them for storage.
Notes
Most of the time this recipe makes exactly 12 egg muffins, but 1 time I had a little extra because my eggs were larger for that batch. Just be sure not to fill past 3/4 full and if there happens to be extra, just bake it separately.
Prep Time:

20 mins

Cook Time:

20 mins