I don't know why I don't use chorizo more often. For some reason I forget about it for a while only to rediscover and fall in love with it all over again! The other day while I was doing the final recipe test for these noodles, I found myself incapable of staying out of the browned chorizo that was supposed to be set aside until the end of the cooking time.
I just kept stealing 'just one more bite' out of the bowl, and finally I had to take it to another room altogether until I was ready to add it back into the pan. Talk about a lack of willpower… but I prefer to blame it on the inherent tastiness of chorizo.
Anyways the point is that chorizo is sort of like bacon in that it makes everything it touches taste amazing. And sweet potatoes with their comforting sweetness are perfect with the slight spiciness of the sausage. Then you add in some savory additions like roasted red pepper, spinach, and chopped fresh thyme, and what you have is my new favorite veggie noodle recipe, (which I've been eating for breakfast, lunch, and dinner lately).
This recipe comes together in 2 easy parts: first the sweet potatoes roast away in the oven…
… and meanwhile you brown the chorizo and make the extra veggies on the stove top.
After the chorizo is cooked, you remove it from the pan and sauté the onions.
Finally you add in some roasted red peppers and spinach to cook until just barely wilted (and of course you add the sausage back to the pan to rewarm assuming you haven't eaten half of it like some people…).
When the sweet potato noodles come out of the oven, you toss the 2 mixtures together and serve.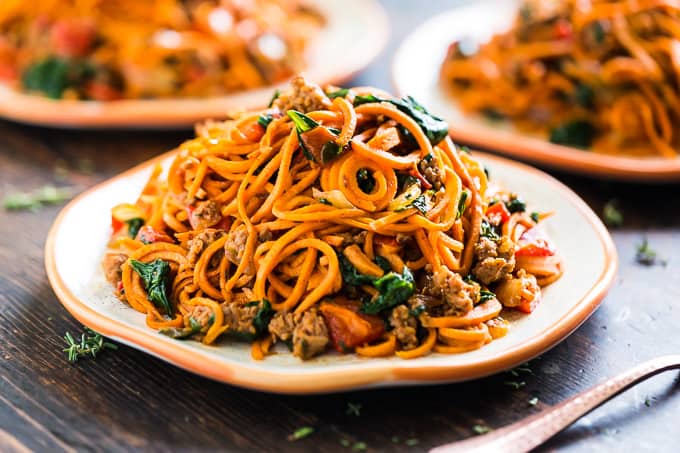 And just a note about cooking sweet potato noodles:
To get sweet potato noodles that don't fall apart too much, you have to undercook them slightly to an al dente type texture which I've found to be around 8-10 minutes.
If you prefer your noodles softer, 12-15 minutes gives you nice and soft sweet potato noodles, but they do tend to fall apart on the plate.
Either way you cook them, they're going to be great, and I hope you enjoy my new favorite recipe!
Print
Sweet Potato Noodles with Chorizo, Roasted Red Pepper, and Spinach
---
Sweet Potato Noodles:
3

sweet potatoes, 2 1/2 pounds, peeled

2 Teaspoons

smoked paprika

1 Teaspoon

sea salt

1 Tablespoon

olive oil
Chorizo Veggie Mixture:
1

pound ground chorizo sausage

1

large onion, 1 pound, diced 1/2″

1 Tablespoon

chopped fresh thyme, or

1 Teaspoon

dried

1

clove garlic, minced

2

roasted red peppers, 8 ounces, see notes

6 cups

baby spinach, 6 ounces, roughly chopped
Sea salt and freshly ground pepper to taste
---
Instructions
Preheat the oven to 450ºF and line a baking sheet with parchment paper.
Cut the sweet potatoes in half widthwise and spiralize each piece through a spiralizer with the smallest blade, (3mm on the Paderno) to make noodles. Place the noodles on the lined baking sheet, and toss them with the smoked paprika, sea salt, and olive oil. Set the noodles aside.
Next, sauté the chorizo sausage in a large 10″ cast iron skillet over high heat until browned and fully cooked through. Remove the sausage from the pan and lower the heat to medium. If there's not enough leftover oil from the sausage, add a small amount of olive oil along with the diced onions. Cook over medium heat until the onions soften and start to brown, 6-8 minutes. If at any point you notice the bottom of the pan getting too brown, add 1-2 Tablespoons of water to loosen the browned bits on the bottom so they don't burn.
While the onions are cooking, place the noodles in the oven to bake. For al dente noodles with a bit of bite, they'll take between 8-10 minutes, or for fully cooked soft noodles, 12-15 minutes.
When the onions are done, add the thyme, garlic, roasted red pepper, spinach, and the browned sausage. Cook just until the spinach softens and everything is heated through. Then remove the pan from the heat to toss with the roasted sweet potato noodles. Season to taste with sea salt and pepper.
Serve immediately.
If you have any leftovers, the noodles do fall apart when reheated, but the flavor is really good.
Notes
You can sub in a diced fresh bell pepper for the roasted red bell pepper, just add the pepper in with the onions so that it has enough time to fully cook.
Prep Time:

20 mins

Cook Time:

15 mins