I find anything with sweet chili sauce utterly addicting! However I'm not crazy about the sheer amount of sugar in the bottled sauce. So I've come up with my own hack to make a quick sauce that tastes like sweet chili sauce, but with a touch of heat.
I use sambal oelek chili paste mixed with either honey or maple syrup, and it's just as addicting as the original. And even better, you don't have to simmer it for ages like you would to make sweet chili sauce from scratch!
So anyways, this recipe was obviously inspired by my crazy love of sweet chili sauce. And from there I just added everything to these skewers that sounded like a good match. It's also worth noting, if you're not a seafood fan, you can just sub in some cubed up chicken for the shrimp. This is also a good budget tip, as shrimp can be pretty pricey.
My key to adding a little extra flavor, is to keep back part of the sweet chili sauce to brush on the finished skewers. The shrimp and veggies get tossed with most of the sauce, and the rest is kept back until the skewers are finished cooking.
Tip: You always want to make sure for any sauce/marinade you're putting on grilled meats or seafood, that it doesn't get contaminated. Never re-use marinade that's already touched raw meat of any kind!
Once all the ingredients are tossed with the sauce, it's time to thread them onto skewers. If you're using wooden skewers, be sure to soak them for at least an hour to prevent burning.
Time shortcut: Don't even bother with the skewers and simply cook everything in a grill basket, or stir fry it on the stove top.
These skewers cook relatively fast because of the shrimp, so be sure you don't cut the veggies too thick.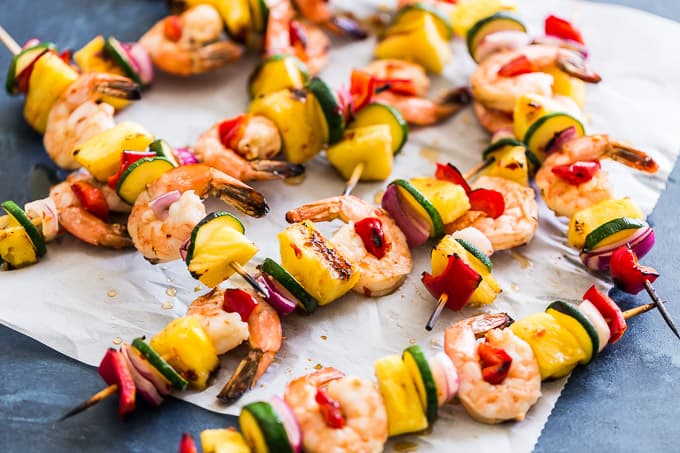 If you love some spice, feel free to double or even triple the amount of chili paste. The recipe as written is barely warm/mild heat. I love a little spice myself, especially with the sweet-smoky flavor of the grilled pineapple!
Print
Tropical Sweet Chili Shrimp Skewers
---
Sweet Chili Sauce Marinade:
1 Tablespoon sambal oelek chili paste
3 Tablespoons maple syrup, or honey
1 Tablespoon freshly squeezed lime juice
1/2 Teaspoon sea salt
Shrimp Skewers:
1/2 pound large shrimp, thawed and drained, see notes
2 cups red onion cubes, 1″ pieces, 7 ounces
1 small zucchini, slice into 1/4" circles, 2 cups, 8 ounces
2 cups red bell pepper cubes, 1″ pieces, 6 ounces
2 cups fresh pineapple chunks, 1-2″ pieces, 10 ounces
---
Instructions
If you're using wooden skewers, make sure to pre-soak them in water for at least 1 hour or overnight.
Preheat a grill over medium heat until you reach a steady temperature between 350º-400ºF.
While the grill heats, mix together all the ingredients for the sweet chili sauce marinade.
Place all the ingredients for the shrimp skewers into a large mixing bowl. Then pour about 3/4 of the sweet chili sauce marinade over the top. Reserve the rest of the sauce to brush over the skewers after they've finished cooking.
Toss the sweet chili sauce marinade with the shrimp and veggies until everything is coated. Then thread the shrimp, veggies, and pineapple onto the skewers alternating as you go. You should have around 12-15 skewers.
Place the skewers on the grill, and grill for 5-6 minutes per side, or until the shrimp is pink and cooked through.
Brush the skewers with the reserved sweet chili sauce, and serve immediately.
Notes
I used shrimp that were 21-15 per pound for these skewers.
Shrimp and veggies make a light meal, so even though there's 12-15 skewers it will usually only feed 2 depending on what you serve as sides.
Prep Time:

20 mins

Cook Time:

10 mins

Category:

Dinner

Method:

Grilling

Cuisine:

Asian
Keywords: Shrimp Skewers with Pineapple, Shrimp Skewers with Veggies, Shrimp Skewers Marinade