Summer Rolls are wildly popular for a reason, they're amazingly fresh yet ultimately satisfying at the same time. They're low in calories, but taste like something you need in your life every single day. Even with all of that being said, the last time I actually made Summer Rolls at home was probably around 4 years ago. The whole reason for this is the rolling process, it just seems like too much work most of the time.
Once you get the hang of it it's not too bad, but even after many, many times of making these little rolls of amazingness, I still struggle with the process. So… I thought, why not throw all these delicious ingredients into a bowl and skip the rolling altogether!?! I'm not saying I'm giving up actual Summer Rolls or anything, but I'm probably just going to order them when I'm out, and I'll be making this easier version at home for blissful summer months to come.
After you prep a few veggies, and whir up your peanut sauce, it's a matter of simply putting the ingredients into a bowl. This whole concept cut down the prep time by half! And… speaking of peanut sauce, if you're not into peanuts, I've discovered that roasted cashew butter makes and incredible 'peanut sauce'. Ever since making my usual peanut sauce recipe with cashew butter, I've been tied as to which one I prefer. Cashew butter can be wickedly addicting even for a peanut butter fan like myself!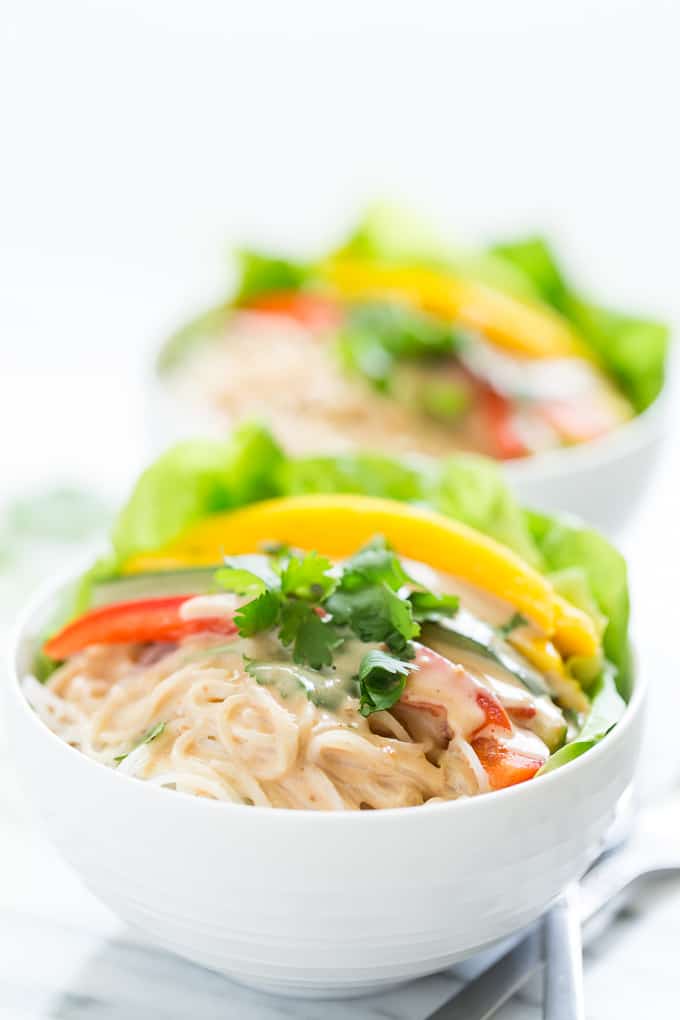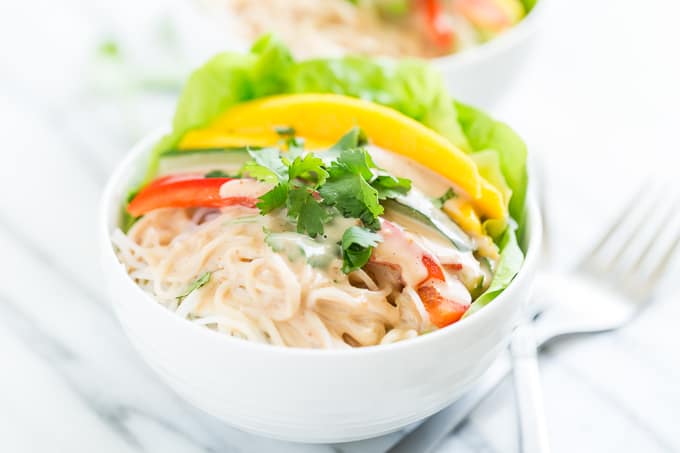 I like to start by prepping the veggies and then making the peanut sauce (or cashew sauce). The rice noodles require just a quick soak and then you can assemble your bowls!
This recipe is one of those recipes that's so simple that if you can boil water, you can make it! Even though I love spending time in the kitchen, I've been slowly moving towards uber simple recipes to make the days easier. I made this recipe vegetarian which is how I usually order my summer rolls, but every once in a while it's nice to get the summer rolls with the saté shrimp tucked inside. You can find a good saté marinade in my Saté Chicken Vietnamese Noodle Bowls that can be used on shrimp. And… if you're really not wanting to turn on the stove you can grill the shrimp, and keep the house cool!
Print
Vietnamese Summer Roll Bowls
---
Veggies:
1

small head of Butterhead lettuce, washed and dried

1

cucumber, 8 ounces

1

large mango, about

1

pound

1

red bell pepper, 8 ounces
Peanut (or cashew) Sauce:
1/2 cup

peanut butter or roasted cashew butter

1 Teaspoon

sambal oelek chili paste

2 Tablespoon

pure maple syrup

1/2 cup

canned full fat coconut milk

1/2 Teaspoon

sea salt, or to taste

1 Tablespoon

coconut aminos, or gluten free soy sauce

1

–

4

ounce package vermicelli rice noodles
---
Instructions
Start by preparing all the veggies. Cut both ends of the cucumber and cut into into thin matchsticks to imitate the summer rolls you get at restaurants. Or for a quicker preparation, cut them into quarters lengthwise and then slice them crosswise into thin triangular pieces. Prepare the mango by peeling it, and cutting the fruit away from the pit. From there you can either slice it into matchsticks or into cubes. For the bell pepper, cut it in half and remove the core and seeds. Slice each half into matchsticks (or into cubes).
Prepare the peanut/cashew sauce by placing all the ingredients into a blender and blending until smooth. You can also whisk it together by hand but it will take a bit longer.
Prepare the vermicelli rice noodles according to package directions. My package said to pour boiling water over them and let them soak for 4 minutes before draining and rinsing in cold water, which was perfect for white rice vermicelli (brown rice vermicelli will vary).
You can pass all the ingredients separately at the table so that everyone can assemble as they go. Or, you can arrange the ingredients in individual bowls before serving them with the peanut/cashew sauce on the side.
Prep Time:

20 mins

Cook Time:

5 mins