I get so many requests for more posts about what I'm meal prepping from week to week. Yet somehow I rarely get anything written down, and I think that's because I always seem to end up writing several thousand words, and spend way too much time trying to put even just one out!
So today I'm doing my best to keep it short, and give you a rundown of my latest meal prep from this past week. And if you're looking for more meal prep, be sure to let me know below in the comments. Also you can follow along on Insta Stories because I try and post my meal prepping over there most Mondays.
First up, our meal prep really varies from week to week. But overall we always come back to simple meal prepping where we prep individual ingredients to have on hand to make meals. Depending on what your schedule is, maybe you need to prep full meals ahead. And in that case, I have lots of recipes that are perfect for that under the Meal Prep category.
But today I'm just talking about the individual things I prepped, and what I made them into over the week. First up I roasted a large butternut squash in 2 different shapes. I diced up the bulb shaped part (which is the part with the seeds) and drizzled it in olive oil along with sea salt all roasted at 475ºF. With the solid part of the squash I spiralized it into fettucini shaped 'noodles' and roasted them the same way.
Those butternut noodles made 2 dinners paired with my Easy Homemade Spaghetti Sauce. (I made the sauce this time with ground beef rather than the sausage called for because it's what I had on hand.) And the diced butternut was made into a soup with Homemade Chicken Stock, as well as leftover frozen Red Coconut Curry Chicken, and chopped baby spinach.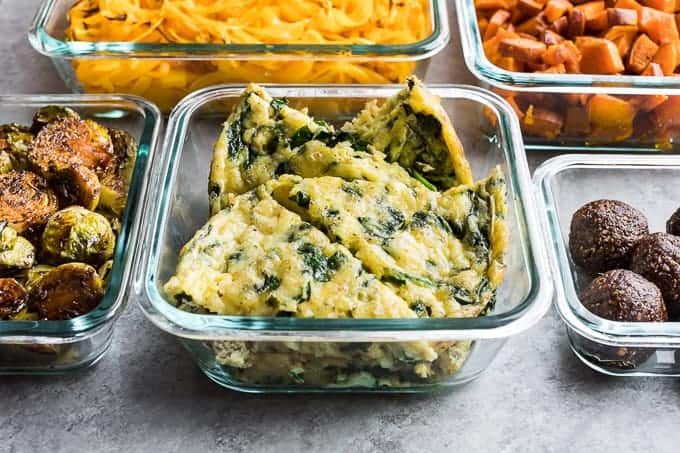 Next I diced up some sweet potatoes, tossed them in olive oil, sea salt, and freshly ground black pepper. Then I roasted them at 475ºF as well until they were soft in the center with some caramelized edges. I served most of the sweet potatoes with the frittata, (mentioned below) for breakfasts. But I also served the remainder one morning with over easy eggs and avocado.
And finally on to the Brussels sprouts pictured, they're my recipe for Caramelized Bacon Balsamic Brussels Sprouts without the bacon since I didn't have any on hand. I roasted them at the same temperature just to keep things simple. But do be careful to watch the Brussels sprouts as they go from caramelized to black in a few moment's inattention. These Brussels sprouts were served with the butternut noodles and spaghetti sauce I mentioned above.
Then for a few day's breakfasts I made a frittata based off my Asparagus Fontina Frittata. But in this case I used a few cups chopped spinach in place of the asparagus, and cheddar cheese in place of the fontina.
Lastly, I made a batch of my Molasses Cookie Energy Bites and froze most of them for on-the-go snacks. Lately, our weekends have completely been taken up with house-building stuff and non-stop meetings/appointments on Fridays. So a healthy on-the-go snack in the freezer is something I should have done weeks ago when all this craziness started! You can never go wrong with some homemade energy bites in the freezer.
If you found this helpful, I sure hope you'll let me know in the comments below so I'll know if I should write more of these. Also if there's any way I could make these posts better/more helpful to you, be sure and let me know!