Enjoy this family dinner classic with my easy Homemade Spaghetti Sauce recipe! I have 4 tips in the recipe for better flavor and they're all super easy. This sauce is naturally gluten-free and you'll find gluten-free pasta suggestions too. This recipe is pure comfort food and it's the perfect healthy family dinner too. This homemade spaghetti sauce is made with canned tomatoes and is budget-friendly as well.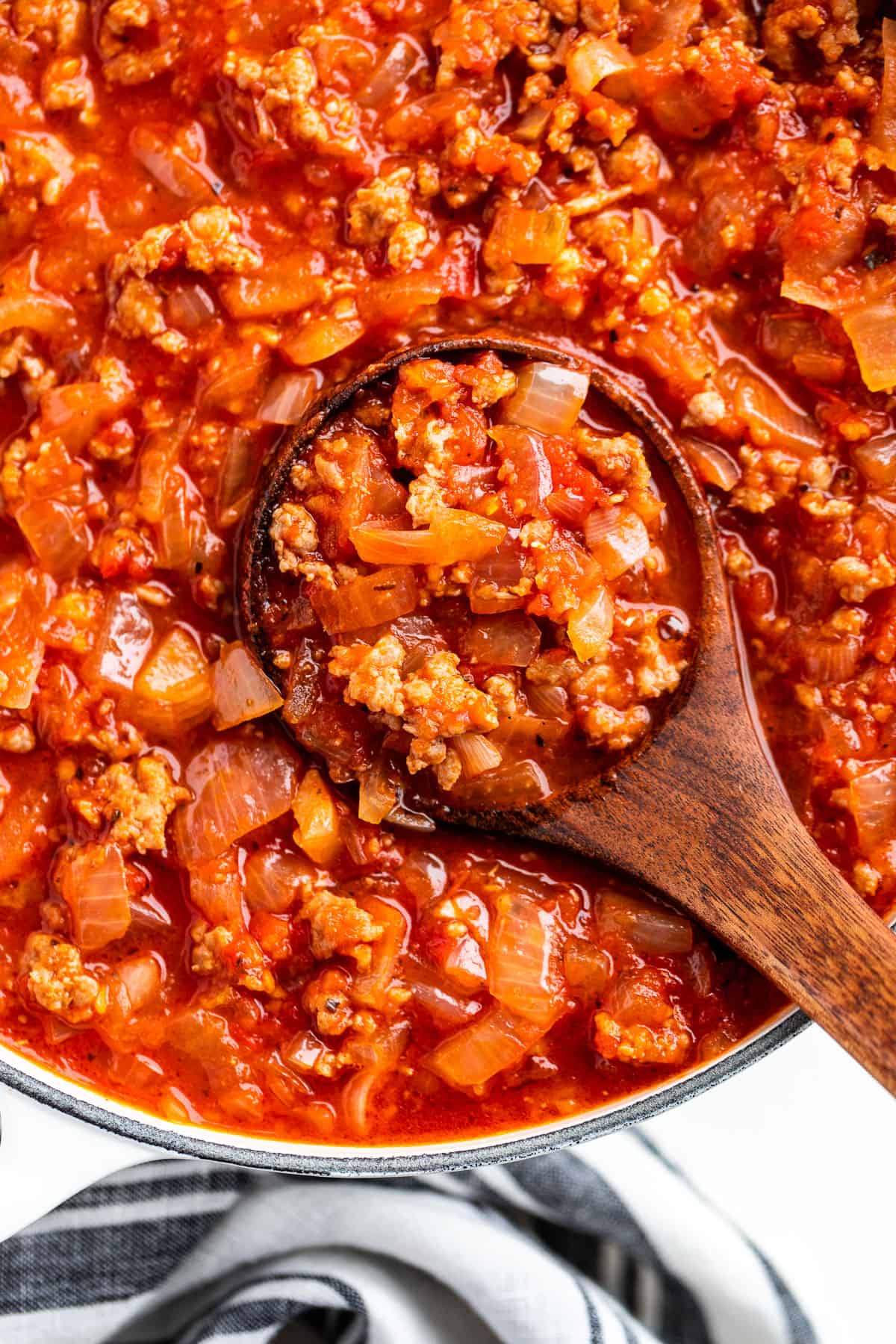 Homemade spaghetti sauce is so easy to make from scratch, and it's budget-friendly too! It's the perfect healthy family dinner, and it's great for meal prepping too.
I've used my giant stockpot to make batches with 10 pounds of meat before. (I was able to cool it down quickly outside in the winter.) Then I portioned it out and froze it for the quickest-ever meals.
Whether you have your sauce already made or not, you're in for a tasty dinner in under 30 minutes with very little hands-on time. If you do meal prep and freeze the sauce, you can have dinner on the table in 15 minutes when the pasta is done!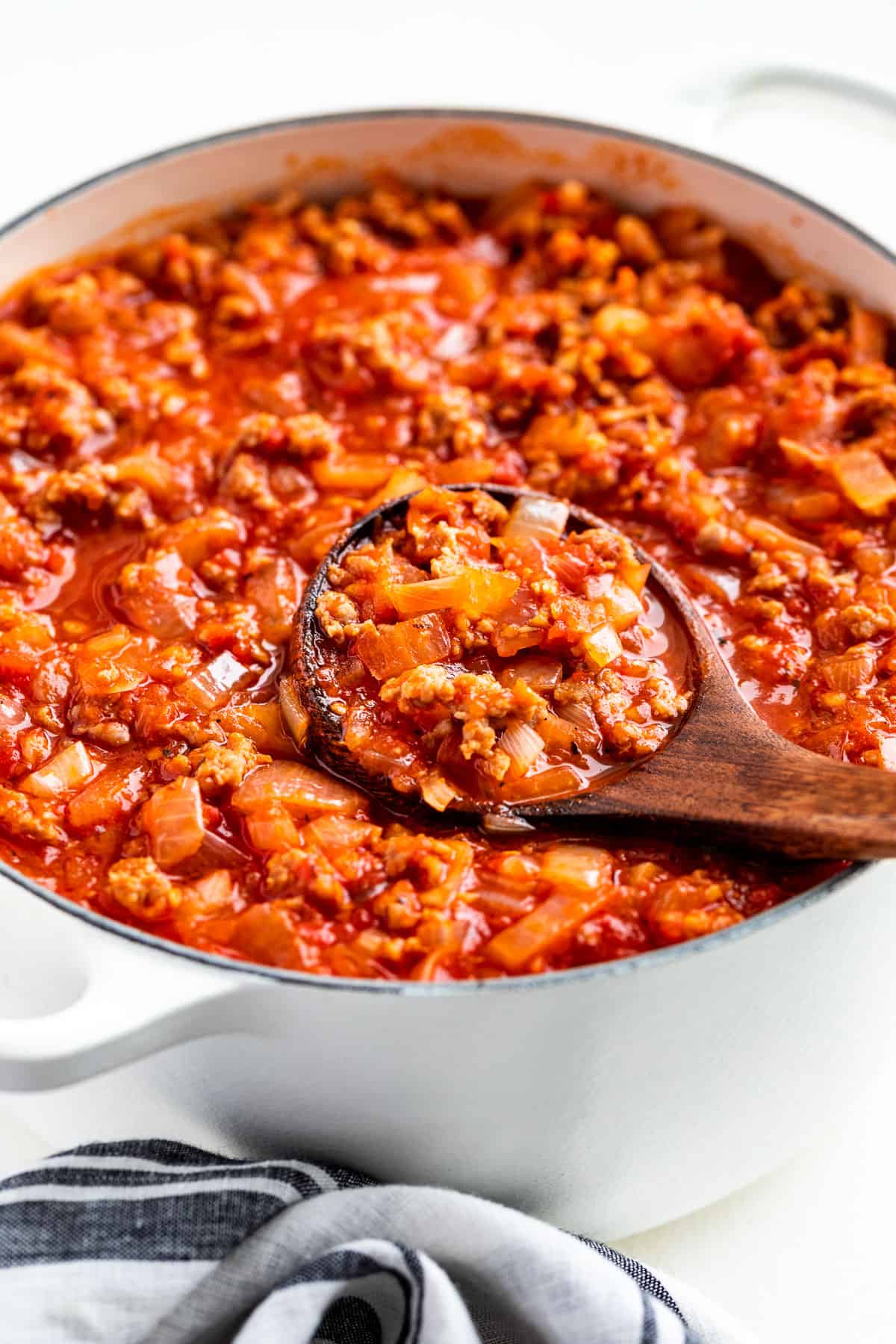 And since everyone I know grew up with a slightly different spaghetti sauce, I hope you'll customize this to your taste. My mom never put red peppers in her spaghetti, but many do, and some enjoy green bell peppers too.
If you have fresh herbs around during the summer months, it's nice to simmer a sprig or two of basil in your spaghetti sauce. This sauce is very customizable and I hope you'll enjoy it.
Ingredients & Substitutions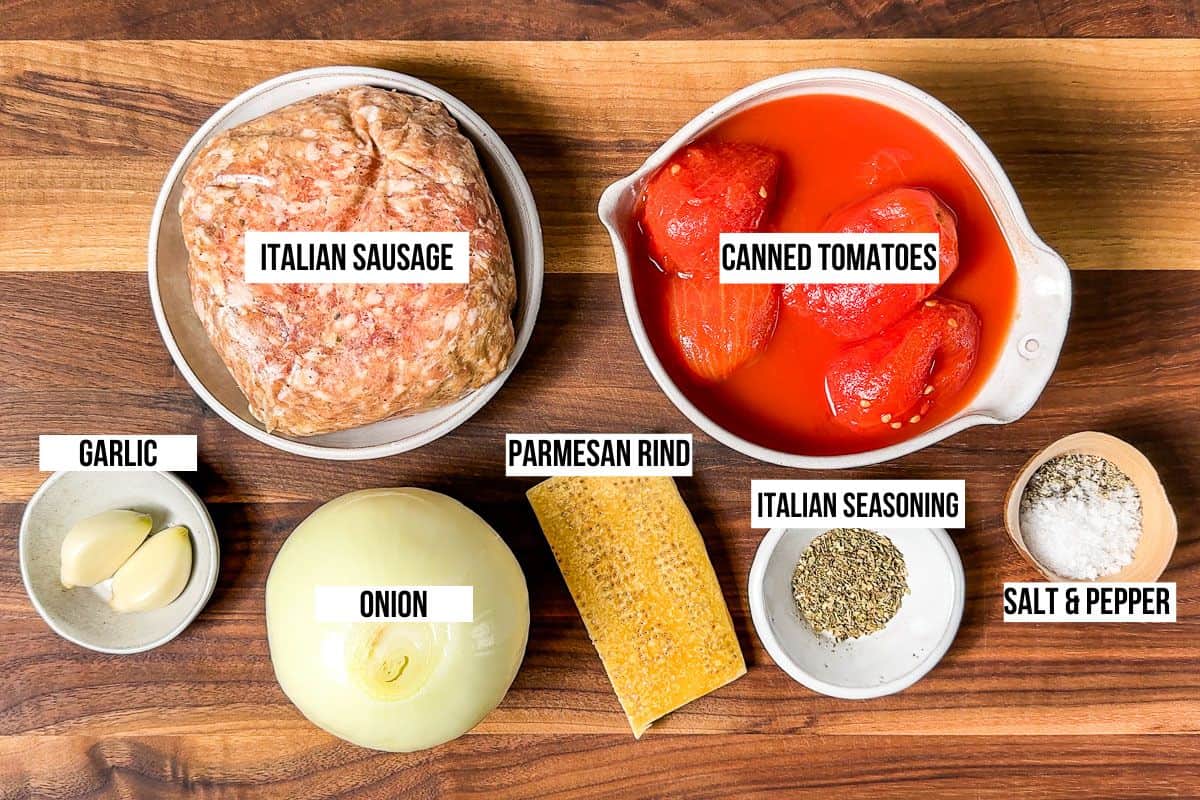 Italian sausage – I use mild, but you can use hot Italian sausage as well to change things up. You can also use ground beef here, but you may want to add a little extra Italian seasoning in that case. Using Italian sausage rather than ground beef adds so much flavor that everyone will want to know your secret. Spaghetti sauce can even be made with ground pork or ground turkey, but you'll want to add a bit more spices.
Onion & garlic – are the foundations of flavor in spaghetti sauce. You can save some prep time by adding the onion in large chunks to a food processor and processing it into small bits with the garlic.
Italian seasoning – add just the right amount of flavor to spaghetti sauce without being overwhelming. I find it gives you enough oregano flavor without needing to add any extra. However, everyone grew up with a different spaghetti sauce, so be sure to adjust this recipe to suit your tastes.
Canned tomatoes – whole or diced canned tomatoes tend to have a better flavor for spaghetti sauce rather than starting with tomato sauce. You can squish them with your hands as you add them to the pot, or give them a quick blend in a blender. I love using fire-roasted tomatoes for even more depth of flavor.
Parmesan rind – I learned this trick from an authentic Minestrone recipe. Adding a parmesan rind while your spaghetti sauce simmers is the easiest flavor booster. But you definitely don't need to add it if you're dairy-free.
How to make this recipe step by step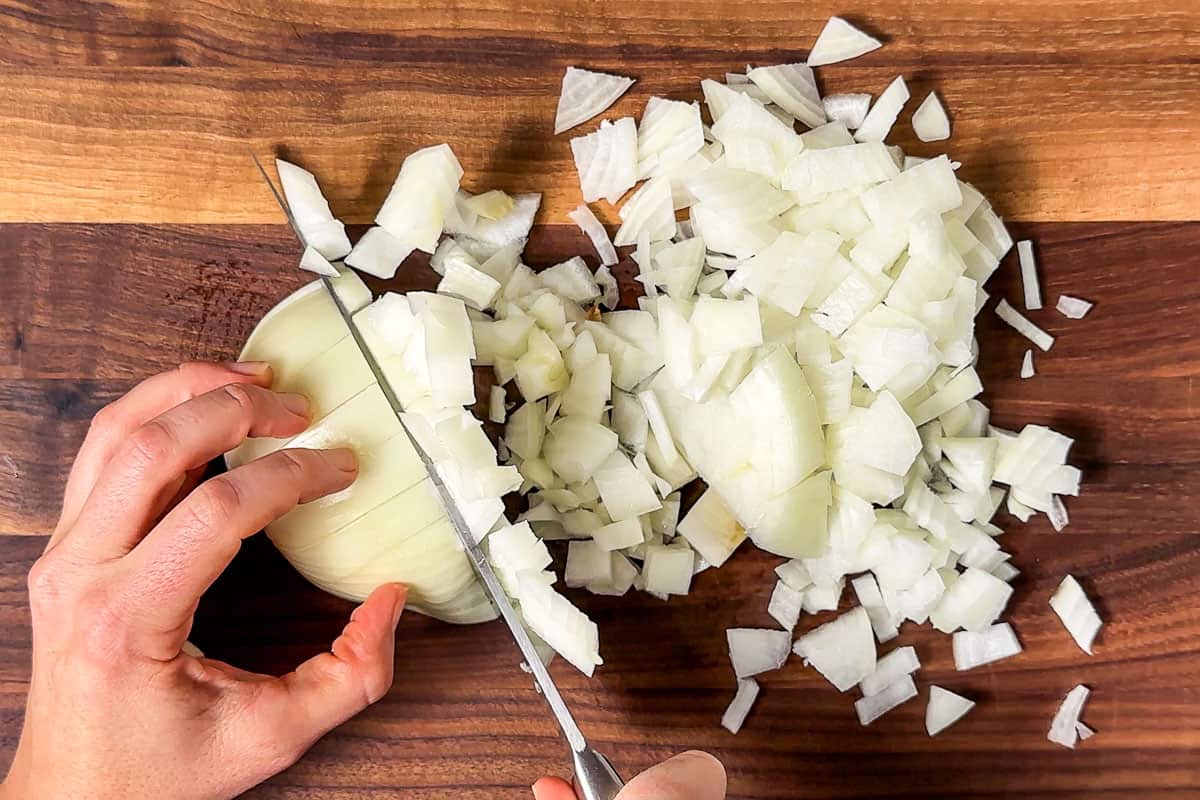 Step 1: Start by dicing up the onion. Or to save some time, quarter the onion and add it to a food processor along with the garlic and process until it's small pieces like the above picture.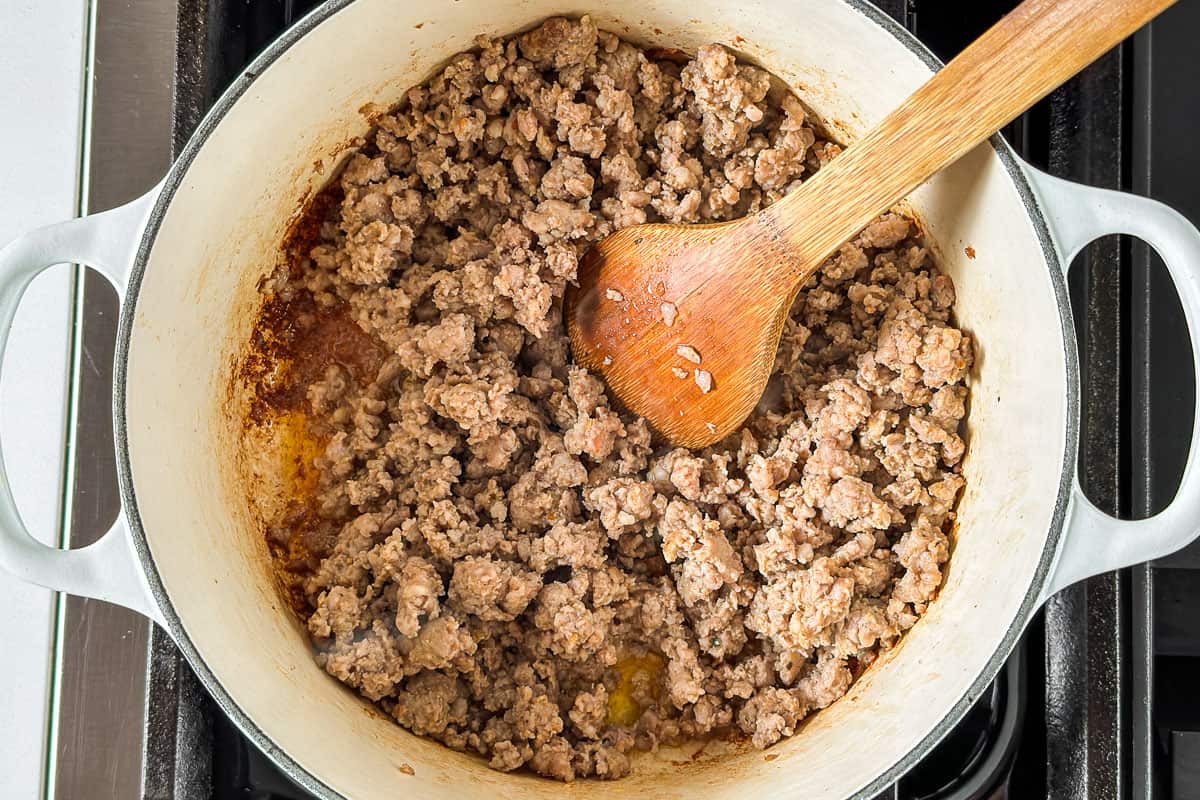 Step 2: Next sauté the Italian sausage using a wooden spoon or utensil to break it up into small pieces.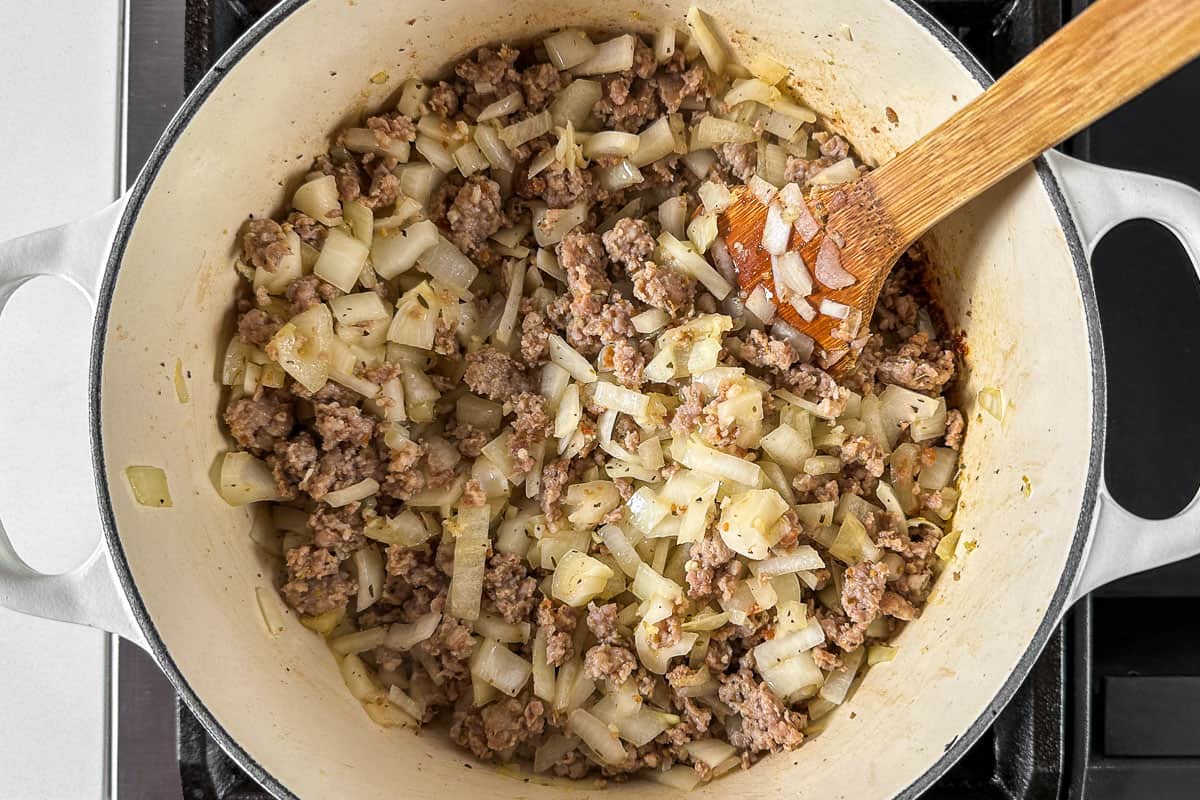 Step 3: When the sausage is partially done, add the onion, garlic, and Italian seasoning. Continue to cook, stirring occasionally until the onion just begins to turn color, 2-3 minutes.
Add a little olive oil if there isn't enough oil from the sausage to cook the onions.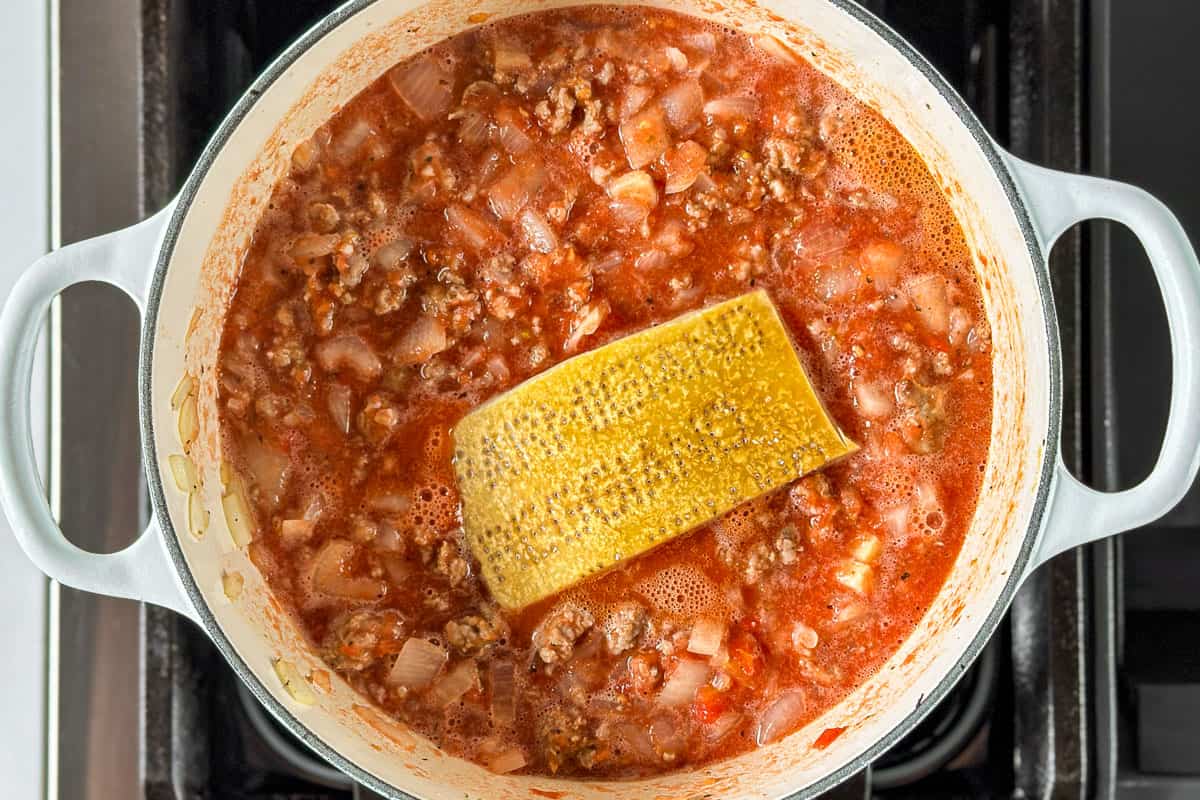 Step 4: While the onion cooks, blend the canned tomatoes into a mostly smooth sauce. Then add it to the cooked onion sausage mixture along with the optional parmesan rind. Push the rind into the sauce to submerge it and bring the sauce to a simmer.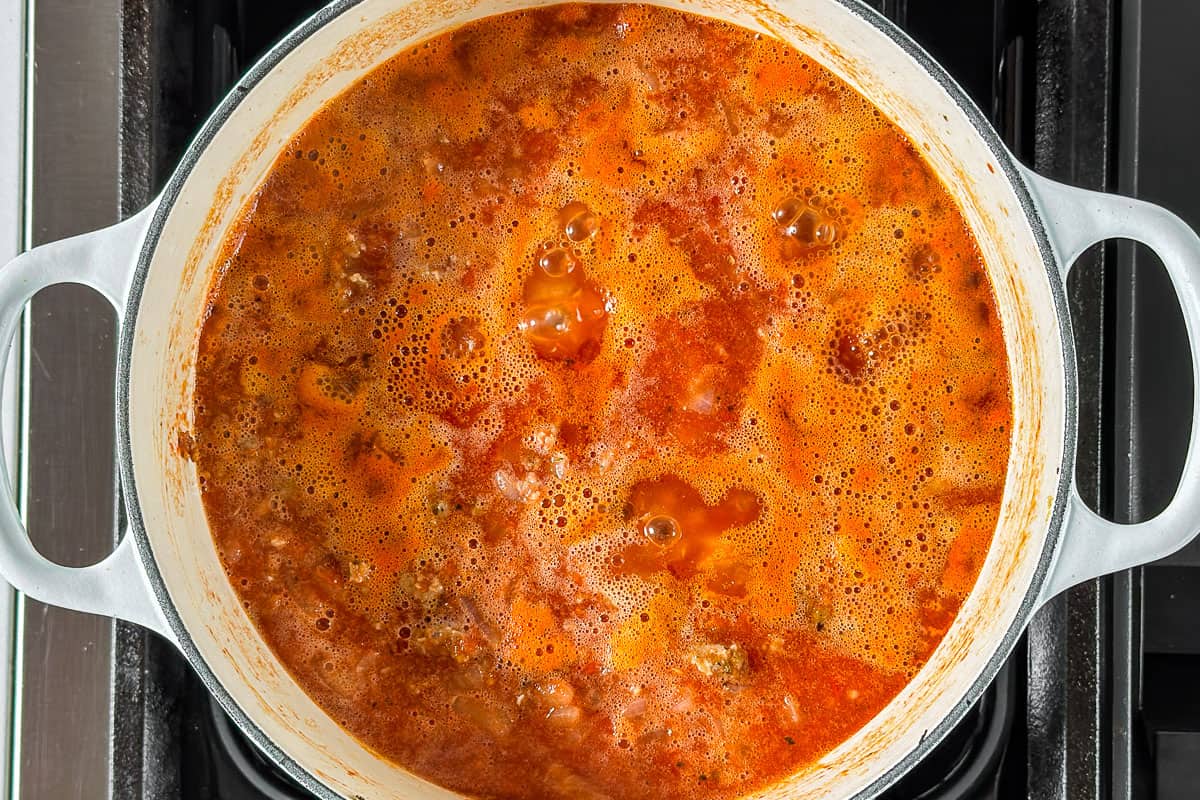 Step 5: Keep the heat very low and simmer the spaghetti sauce until it's lightly thickened and the flavors meld about 20 minutes. Stir only occasionally to make sure it's not sticking.
The best way to keep spaghetti sauce from splattering is to refrain from stirring as much as possible. The thinner liquid will build up on the top which is what prevents the big splatters.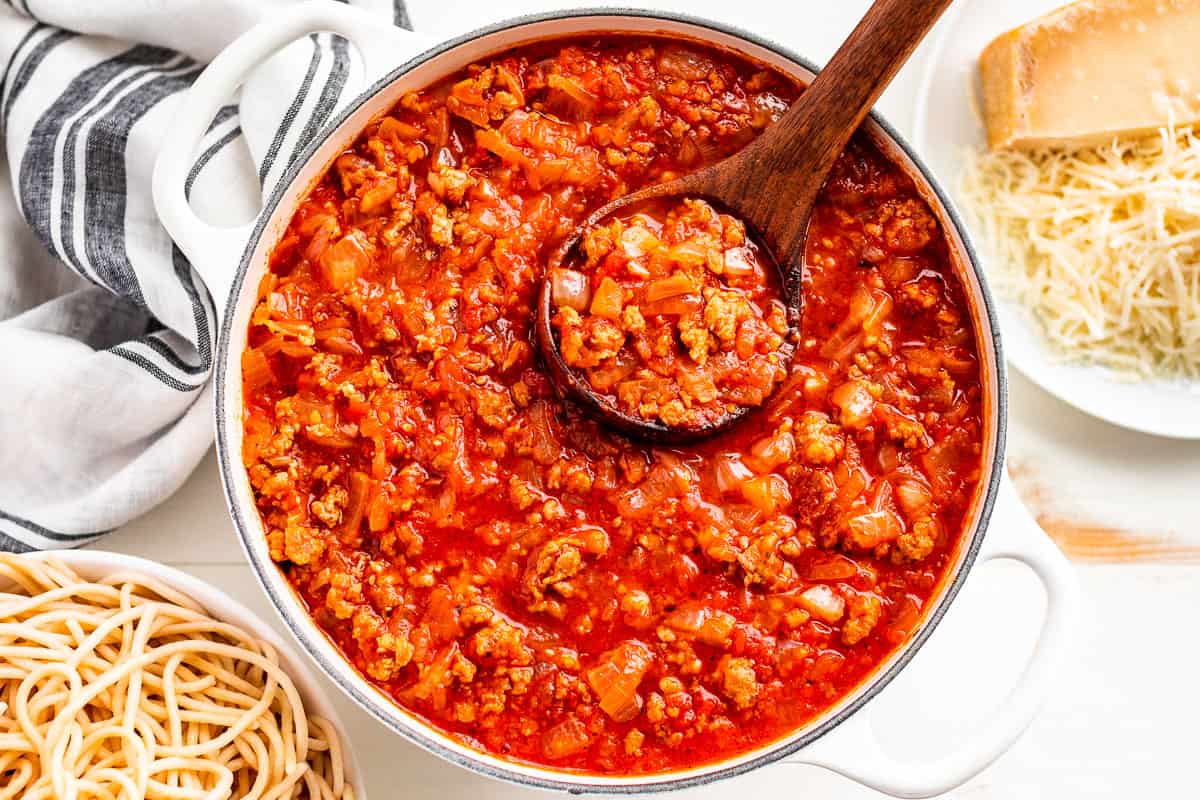 Ways to serve this
Serve this Homemade Spaghetti Sauce the classic way with cooked spaghetti and freshly grated parmesan. Chopped fresh parsley or basil adds nice color and flavor whenever you have them, but it's not necessary.
For a grain-free or paleo option, try this spaghetti sauce over spiralized butternut or sweet potato noodles. Both of those veggies are a touch sweet which goes really well with spaghetti sauce. If you don't have a vegetable spiralizer, try cubing them up and roast at 450ºF until tender, 20-30 minutes.
Add a veggie side dish with my Garlic Roasted Carrots, Roasted Broccoli, Garlic Green Beans, Perfect Asparagus, or Roasted Brussels Sprouts.
Or a side salad with my Easy Green Salad, Caesar Salad w/o the chicken, or my Apple Spinach Salad.
FAQ's
Is it worth it to make your own spaghetti sauce?
Yes, this is one of those things that really is significantly better made from scratch. Luckily it's easy to make your own spaghetti sauce and it's budget-friendly too. Homemade spaghetti sauce tastes more balanced and less sour than any store-bought brand I've tried.
Should pasta be drained and rinsed?
No, just drain the pasta but don't rinse it. This leaves a bit of starch on the pasta which helps it adhere to the pasta sauce. However, there's always an exception! If for some reason your pasta has to sit draining for a little bit before you add it to the sauce, you can rinse it with just enough water to help it unstick. Obviously, this isn't ideal, but kitchen timing doesn't always go right!
Why should you put sugar in spaghetti sauce?
A touch of sugar will help to balance the acidity of the tomatoes. This is unnecessary if you have good-quality canned tomatoes. The cheapest store-brand canned tomatoes do tend towards the sour side in sauce, so add sugar to taste. You can also use a touch of honey or maple syrup to adjust the spaghetti sauce to your taste.
Storing leftovers
To store – keep leftover spaghetti sauce in an airtight container in the fridge for up to 5 days.
Make ahead – spaghetti sauce is perfect to make ahead because the flavors get even better. You can make it 2-3 days ahead and still keep your leftovers for up to 2 days in the refrigerator.
Reheating – heat over medium heat stirring often in a saucepan until heated through. If you toss the spaghetti sauce together with pasta, reheat the same way as previously directed, but add water as necessary to keep the pasta from sticking.
To freeze – spaghetti sauce freezes beautifully, place it in an airtight freezer-safe container and store it in the freezer for up to 3 months.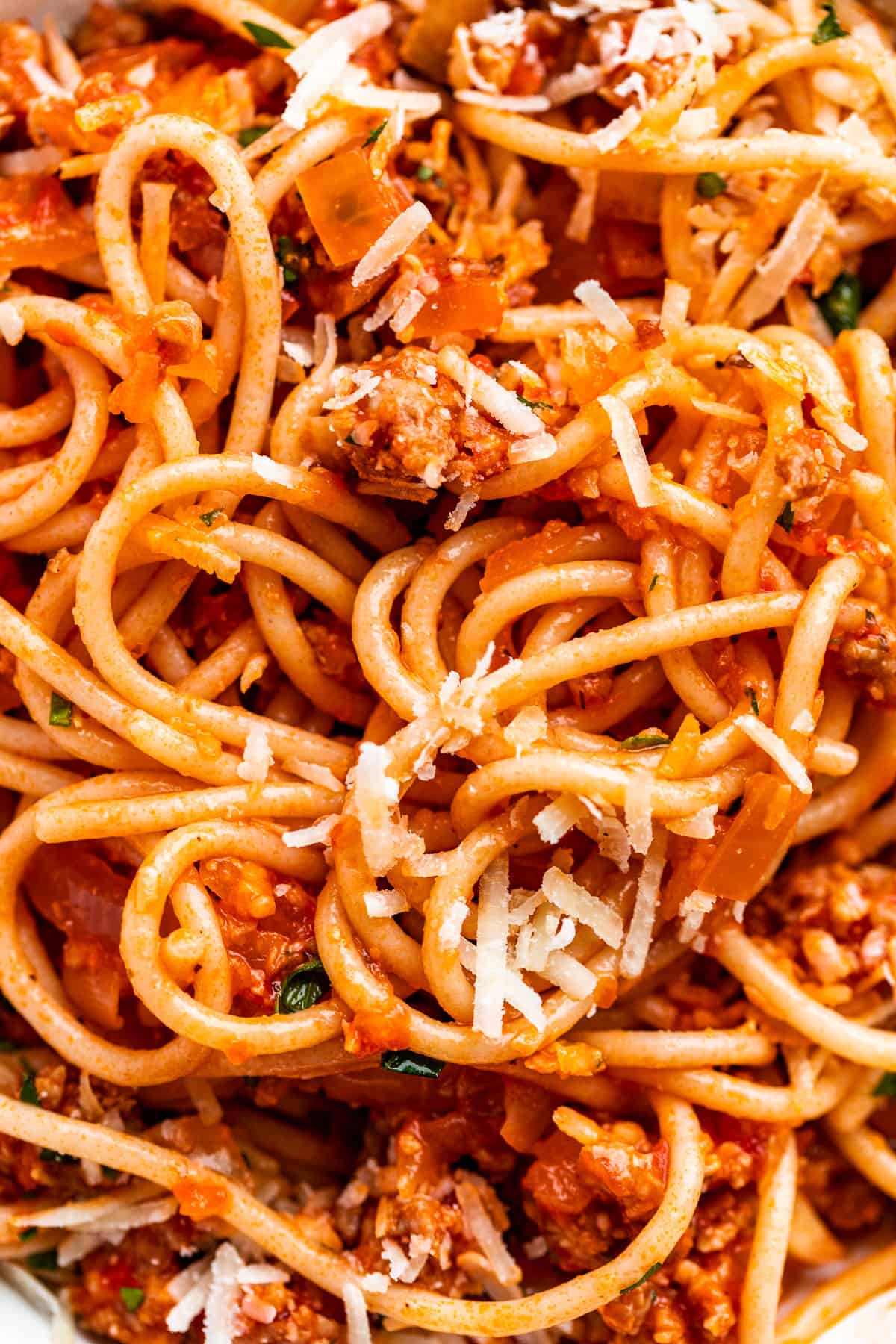 Tips & Tricks
Try all 4 of my flavor tricks! 1) use Italian sausage rather than ground beef 2) try the parmesan rind trick if you're not dairy-free 3) use fire-roasted tomatoes for more depth of flavor 4) don't go too heavy on the dried herbs. We love spaghetti with just enough flavor from the herbs to pique your interest, but they're in balance to let the other flavors shine through too.
For gluten-free pasta, try Jovial 100% brown rice spaghetti, it has an amazing texture. You can also toss spaghetti sauce together with any shape of pasta you like, penne and farfalle (aka bowties) are favorites in our house.
Simmer the pasta together with the sauce for 1-2 minutes so the sauce perfectly coats the pasta, and starts to impart its flavor.
Always use freshly grated parmesan – not from a can or tub of pre-grated cheese, there is a massive difference in flavor.
Dietary Options & Substitutions
Dairy-free – be sure to omit the parmesan cheese and use your favorite dairy-free option instead.
Paleo – omit the parmesan and serve this spaghetti sauce over spiralized butternut or sweet potato noodles. Or roast your favorite root veggies and spoon spaghetti sauce over them. My Baked Sweet Potatoes or Roasted Sweet Potatoes are perfect for this. You can see a photo of what spaghetti sauce over butternut noodles looks like with my Chorizo Spaghetti over Butternut Noodles.
More Classic Recipe Dinner Inspiration
I really hope you enjoy this Homemade Spaghetti Sauce, it's a classic in our house! If you do get a chance to make this recipe, I'd love to hear from you in the comments.
Easy Homemade Spaghetti Sauce
---
INGREDIENTS
1

pound

mild Italian sausage

-

bulk, see notes

1

onion

-

diced 1/4", 3 cups

2

cloves

garlic

-

minced, 1 Tablespoon

1

tsp

Italian seasoning

28

ounce

can fire roasted whole tomatoes

14

ounce

can fire roasted diced tomatoes

-

or tomato sauce

1

piece of parmesan rind

-

2"x4" omit for dairy free and paleo

1

tsp

sea salt

-

or to taste

1/2

tsp

freshly ground black pepper
Optional Extras:
12

ounce

package spaghetti

- cooked al dente, or butternut noodles for paleo

Fresh grated parmesan if desired

Chopped fresh basil
INSTRUCTIONS
Prep all the ingredients before starting to cook the sauce.

When all the ingredients are ready, place a large pot, (about 12" wide x 6" deep) over high heat. Add the sausage, and cook breaking it up into bite sized pieces with a wooden spoon.

When the sausage is almost done, add the diced onion, garlic, & Italian seasoning and cook stirring occasionally for 3-4 minutes.

While the onions are cooking open the cans/jars of whole & diced tomatoes. Add the tomatoes with their juices to a blender and blend until mostly smooth with small chunks.

Add the blended tomatoes to the sausage mixture, and the piece of parmesan rind if you're using it. Submerge the parmesan rind in the sauce.

Bring the sauce to a boil, then lower the heat to maintain a simmer. Stir occasionally as the sauce cooks to prevent sticking. Cook until the sauce thickens and takes on a full bodied flavor, about 20 minutes.

While the sauce finishes, prepare any toppings you're using, and cook either the spaghetti or paleo options along with your side dishes of choice.

When the sauce is done, season to taste with sea salt and pepper. Then simmer the sauce together with your choice of noodles for 1-2 minutes.

Serve the spaghetti immediately with your choice of toppings.
Bonus Step
If you made this recipe, please leave a rating/comment. Ratings really help us continue to bring you high-quality free recipes. Rate This Recipe!
NOTES
If you're gluten-free/dairy free/paleo be sure to read the labels on the sausage you choose to make sure it fits your dietary needs.
The nutrition information was calculated for the sauce only.
nutrition facts
Calories:
464
kcal
|
Carbohydrates:
17
g
|
Protein:
19
g
|
Fat:
36
g
|
Saturated Fat:
13
g
|
Polyunsaturated Fat:
5
g
|
Monounsaturated Fat:
16
g
|
Cholesterol:
86
mg
|
Sodium:
1848
mg
|
Potassium:
716
mg
|
Fiber:
4
g
|
Sugar:
8
g
|
Vitamin A:
640
IU
|
Vitamin C:
25
mg
|
Calcium:
130
mg
|
Iron:
4
mg