This Easy Fall Pumpkin Centerpiece is a super easy DIY you can put together based on what you have in your home!
This fall centerpiece came about by accident really. I bought all these cute mini pumpkins for my Pumpkin Thai Curry recipe photos. Next, they made an appearance in my DIY Pumpkin Spice Whipped Body Butter and several other recipes. After that, I had a bunch of mini pumpkins sitting around!
So I decided to put them together into a centerpiece, and I thought I'd share it with you today. And if you're looking for something to add some pumpkin festivity, this is about as easy as it gets! It's also perfect for a last-minute Thanksgiving centerpiece.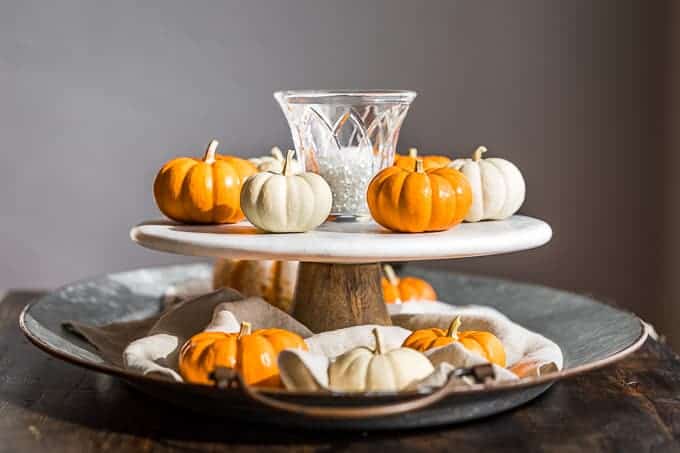 What you'll need for this fall centerpiece:
A large tray – I have a rustic metal one about 2 1/2′ long.
Linen napkin for draping.
Cake stand – mine came from Crate and Barrel a few years ago, it's marble on top with a wooden base.
A candle holder – mine was from Party Light over a decade ago, they were in the centerpieces at our wedding.
And finally some pumpkins – I had 11 on hand.
How to make this Fall Pumpkin Centerpiece
Start by draping your linen napkin on the bottom of the tray.
Next place the cake stand on top, and arrange the napkin attractively so the cake stand isn't tippy.
Add the pumpkins as desired – I did 6 really small ones on the cake stand, then 2 on one side and 3 on the other on the tray.
Finally, add your candle holder to the center of the cake stand.
Sit back and enjoy the 'farmhouse charm'!
I hope you all enjoy your holiday, and you may enjoy my Winter Decor with Vases as your next project.