Is Norway on your destination bucket list? This list of the 20 Best Things to do in Norway will convince you to book your flight sooner rather than later. Norway is incredibly gorgeous, an outdoor paradise, and there's great culture and food to experience as well. And as the locals told us, you're going to want to sit back and let the Norway magic happen!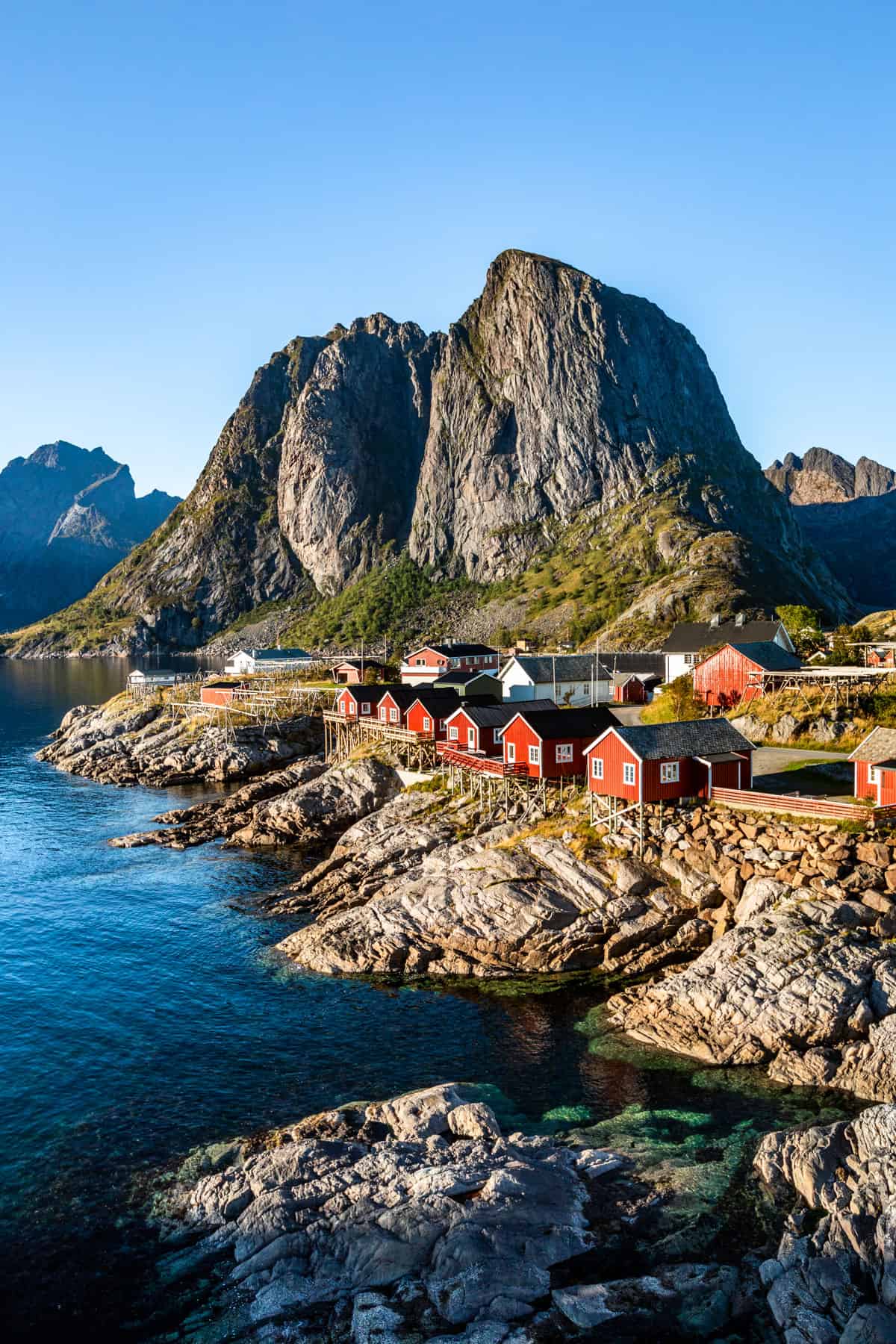 Norway wasn't on our to-see list, but after our trip to Iceland, we started looking into all the other countries in that general area. Pretty soon we realized Norway should be at the top of our list to see! Whether you're crazy about the outdoors or not, there's plenty to do in Norway.
If you want to ride up a gondola with jaw-dropping views to eat dinner in a fancy restaurant, you can. Or if you want to hike all day following a ridge line to eat at the same restaurant before riding down. Well… you can do that too.
Whatever your fitness level is there's something for everyone to enjoy their incredible landscapes. In the cities, there's plenty of culture and absolutely incredible food. All in all, your main problem is going to be how to do everything in a short vacation!
Norway is also home to any number of scenic drives that are truly incredible. We thought this was a bit funny though because everywhere we went in Norway was scenic to us. Although their designated 'scenic drives' are extra scenic if you will.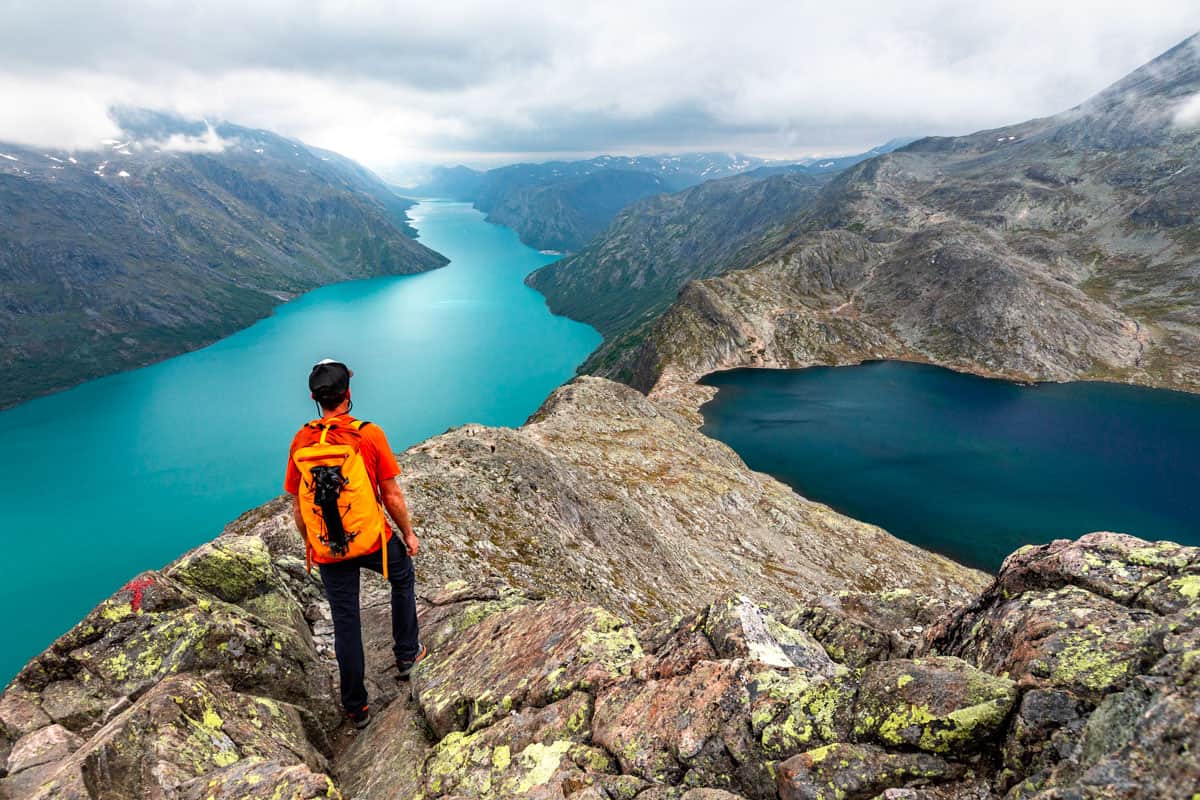 Before we jump right into the 20 Best Things to do in Norway, below is a quick glance at what Norway is known for.
What is Norway known for
Incredible fjords
Scenic drives
Scenic train rides and ferries
World-class hiking with unbeatable scenery
Glaciers
Cultural heritage
Fresh seafood
Northern Lights
Fishing, hiking, skiing, etc., and pretty much anything outdoors
Now let's get started talking about the 20 Best Things to do in Norway!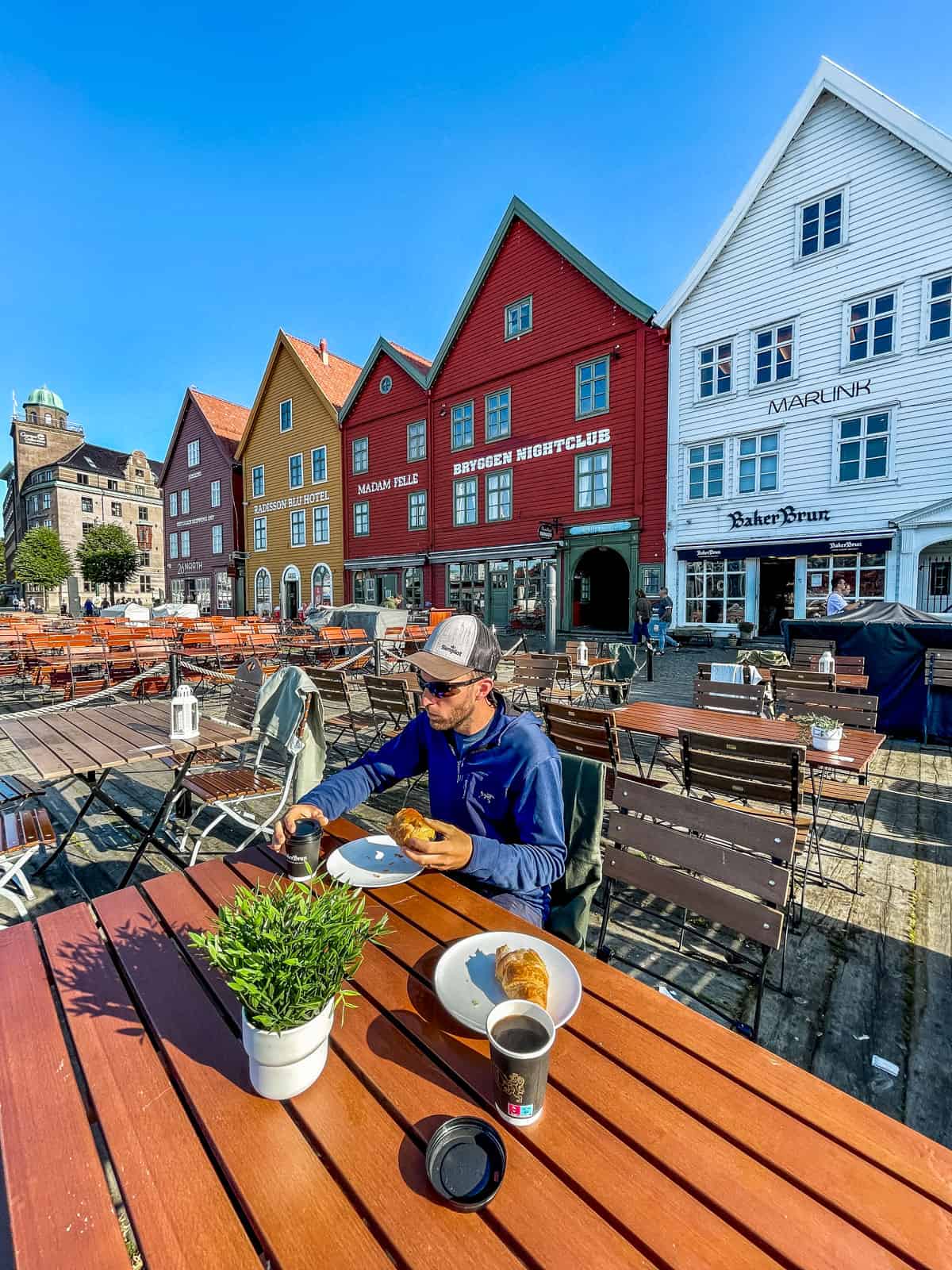 #1 Explore the city of Bergen
Bergen sits right on the coast and it's also home to the famous UNESCO world heritage site called Bryggen, (pictured below). It's a fun place to explore on foot with lots of fun places to eat and often there's live music at night in Bryggen.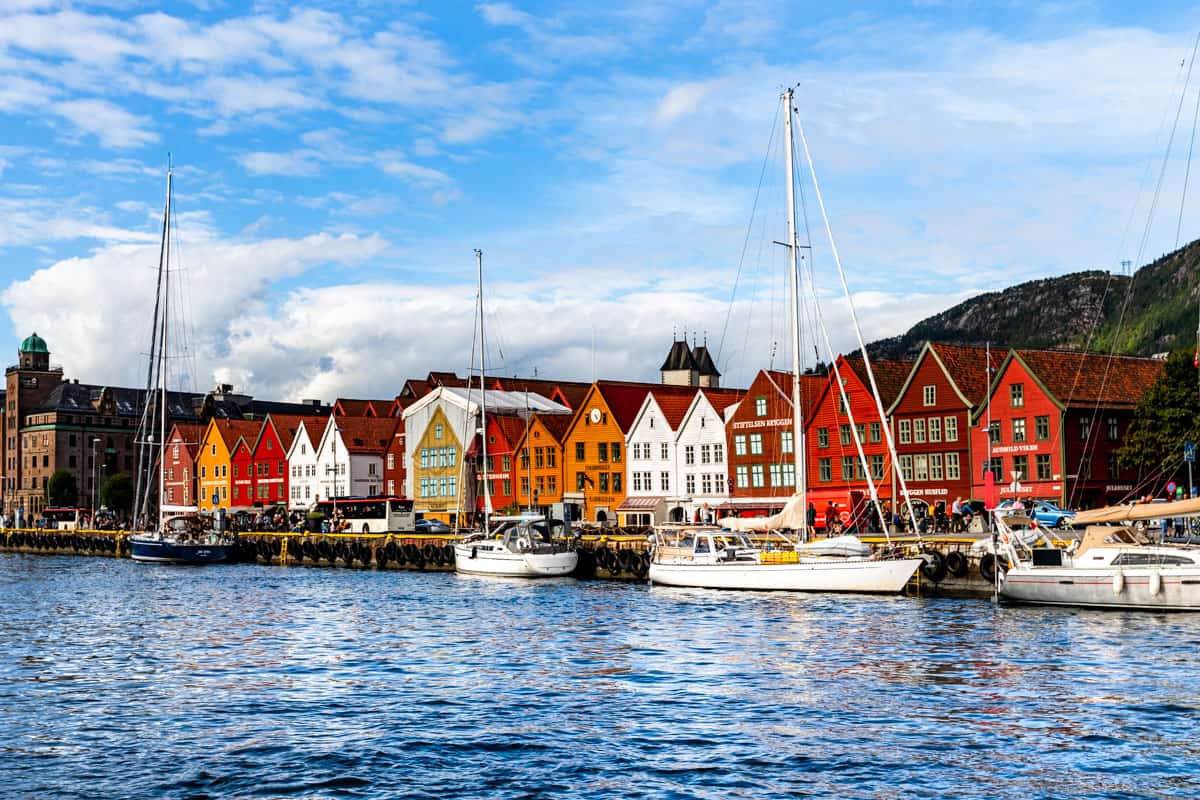 #2 Take the Floyen Funicular and explore Mount Floya
Take the train or hike up Mount Floya to look over the city of Bergen. The trail is very popular as an 'after work' run with the locals. We had a lot of hiking planned so we took it easy with a quick 10-minute train ride to the top. There was a sunset yoga class going on with the most spectacular views along with gift shops and restaurants to eat in.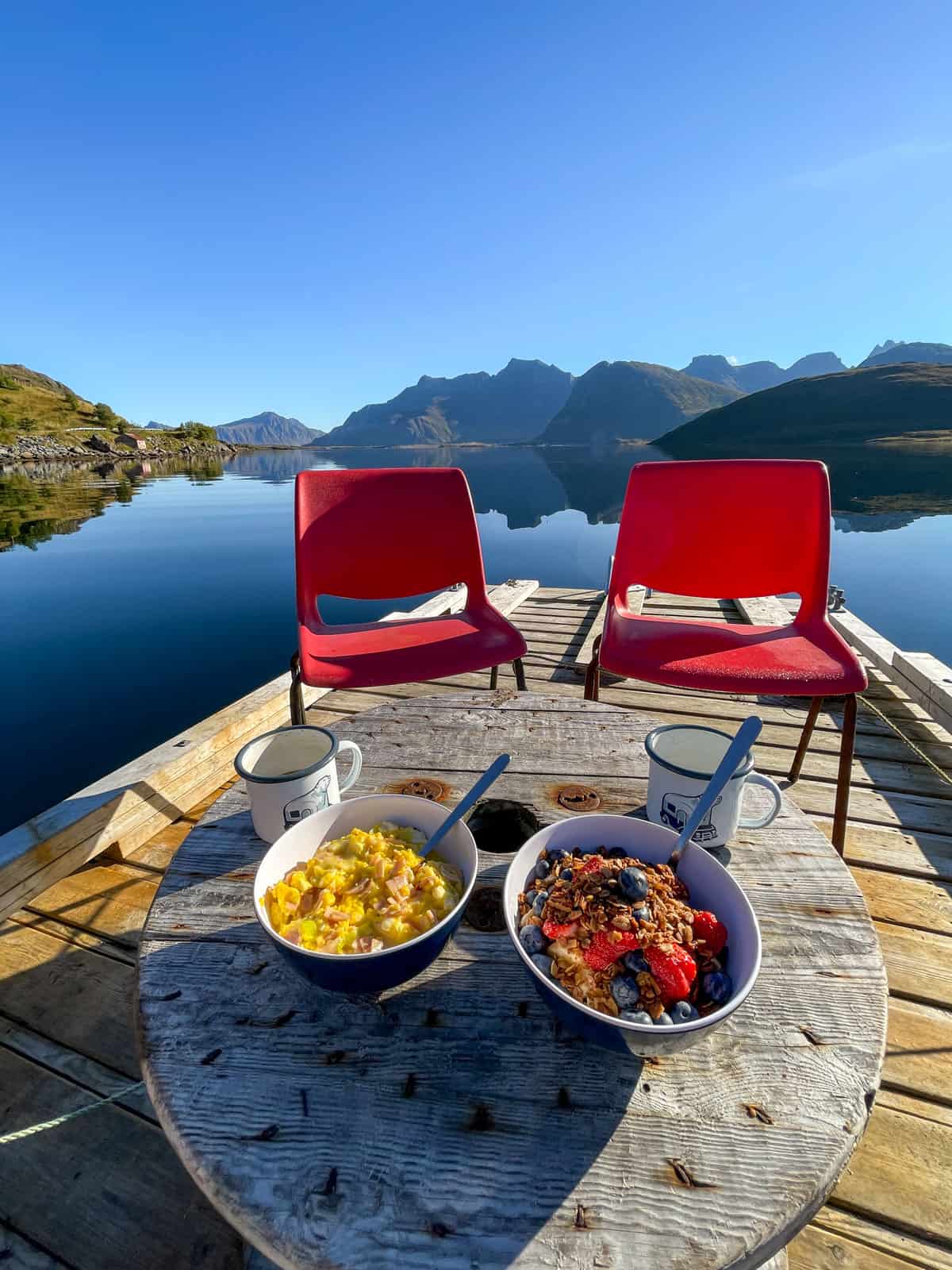 #3 Let the Norway magic happen
This is a tip we heard from the locals and it's great advice. I also think it's my most import of the 20 Best Things to do in Norway! You can do this from anywhere you choose to visit in Norway which is also a bonus. What they mean by this advice is when the rain finally stops and the sun comes out, really take the time to enjoy the scenery and soak it all in.
They advise not to be in a hurry to see too much but to enjoy what you're doing and be in the moment. 'Just let the Norway magic happen!'
We had several magical moments in Norway. But one morning stands out in particular! We had paid to stay overnight in the parking lot for Kvalvika Beach hike because we knew it would be hard to find parking for our van.
So when we work up in the morning we simply paid for more parking to be there for the day and made some coffee. The sun was finally shining after some foggy/rainy weather and we took our coffee down to the little dock they have for this parking lot complete with the little red chairs you see in the above photo.
For some reason, it was a quiet morning in this touristy area and we enjoyed our breakfast and 2 cups of coffee in solitude with the glassy smooth water stretching out before us and the sun shining on our tired faces. It truly was pure magic and we just relaxed into it rather than hurrying off to start our next hike.
Then later after hiking to the beach and the mountain next to it, we got back to the parking lot to make dinner in the dark. Just as we finished dinner, the northern lights broke out and we got an unexcepted show that wasn't predicted on the radar.
You just can't plan for things to go so right, but when they do, simply sit back and enjoy the Norway magic!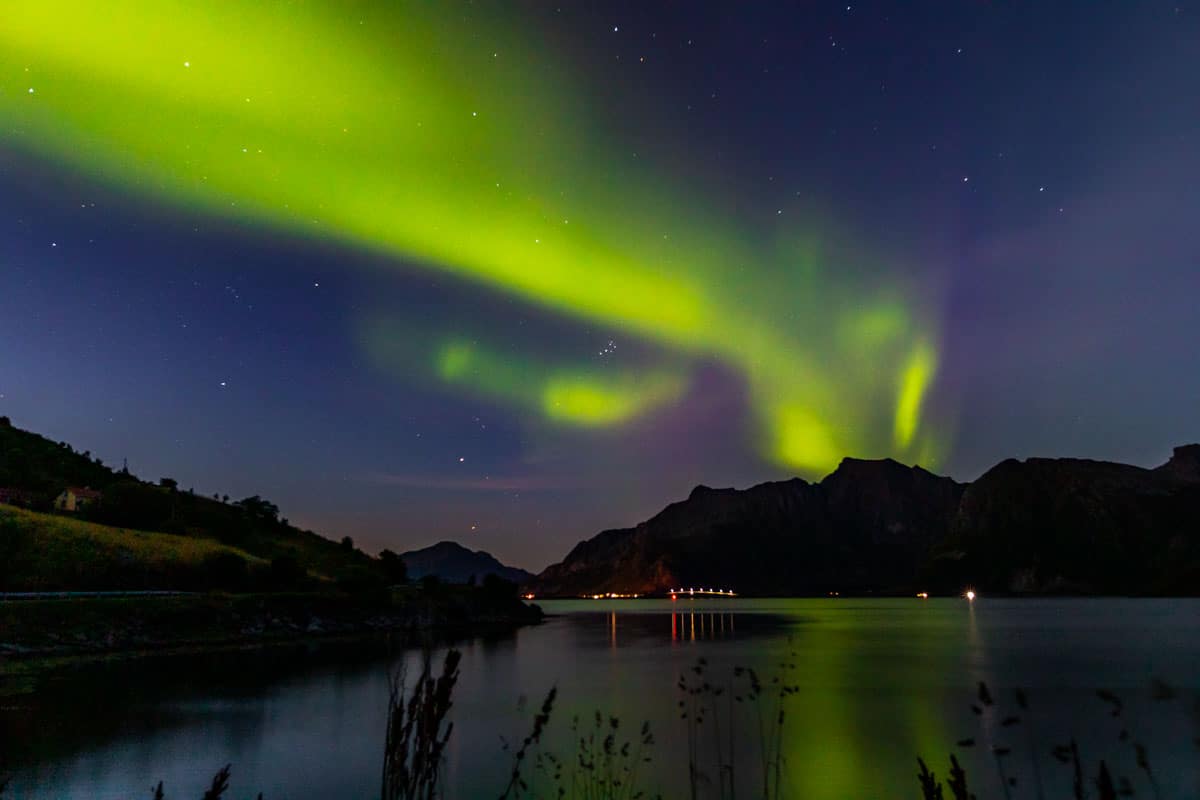 #4 Enjoy the city of Ålesund from the streets and from above
We took the AllTrails route that you 'hike' around the city to show you the different points of interest. It was really fun and we enjoyed 'hiking' in a city environment and exploring that way. It's called 'city walk in Ålesund' on the AllTrails app.
There was even an antique shop along the way where I picked up a couple of things to use in my recipe photos. We also stopped for snacks along the way including fish and chips from the famous family restaurant called Jaffs.
And we went to the Dråpe Ålesund Kaffehus as well and enjoyed the carrot cake they've become famous for. After all, if you're not enjoying something sweet in a coffee house while traveling in Europe – what are you even doing?
From there we also did the 'hike' that climbed up over 400 stairs to overlook the city of Ålesund, called Aksla. It was a beautiful view and I definitely recommend it.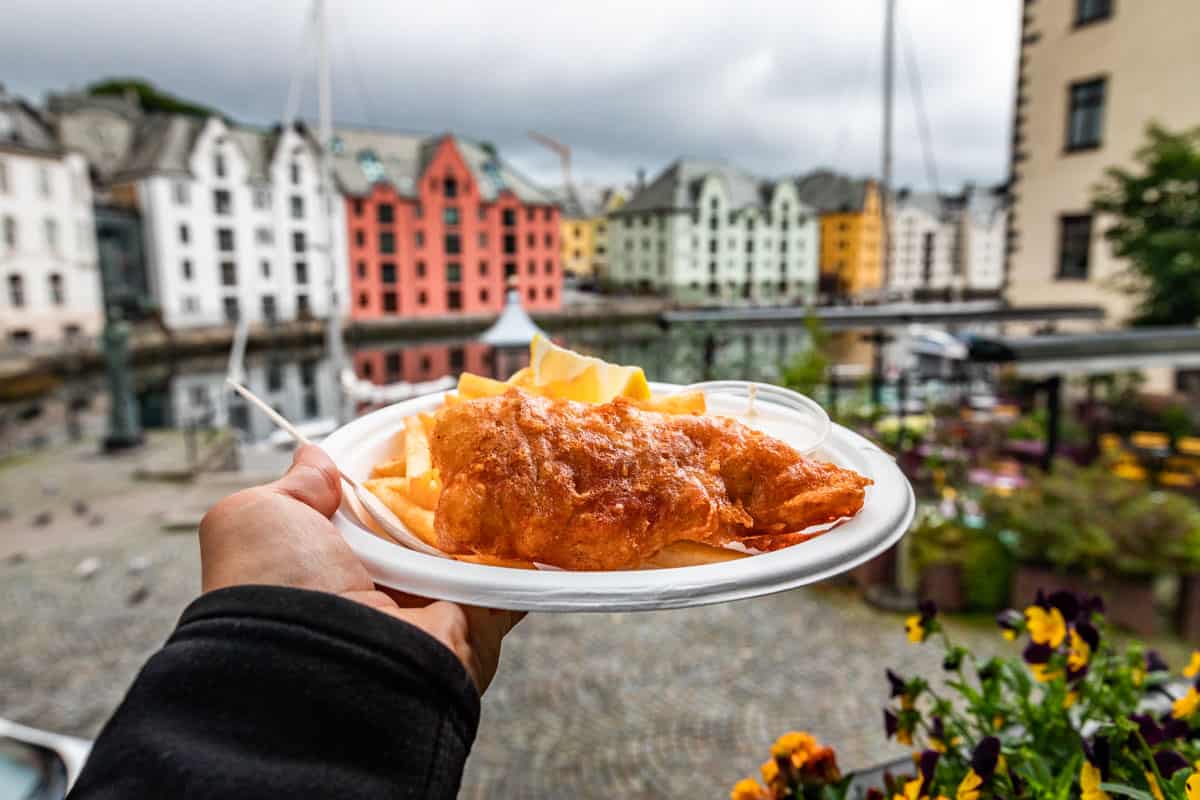 #5 Take a ferry
It's fairly likely this will happen naturally. If you take a quick look at Norway on the map, you'll see how much water comes inland. So if you're road-tripping through Norway, you'll be getting on a ferry reasonably often.
Even so, there are areas where you can get on a ferry to sightsee. They have boats going out from downtown Bergen for tours and the famous Geiranger fjord as well.
If you visit the island of Senja from #6 you'll be taking a ferry out to the island. And there are so many more options beyond these as well. Most of the ferries have some very scenic parts of the journey and are a nice break from driving.
#6 Get your photo on the famous Trolltunga
If you have the ability to hike to the famous Trolltunga, (aka Toll's Tongue) it's definitely worth it for the spectacular views! You can read all the details on my Trolltunga post for how to use the bus system. And tips on how to have a good time in this very busy place.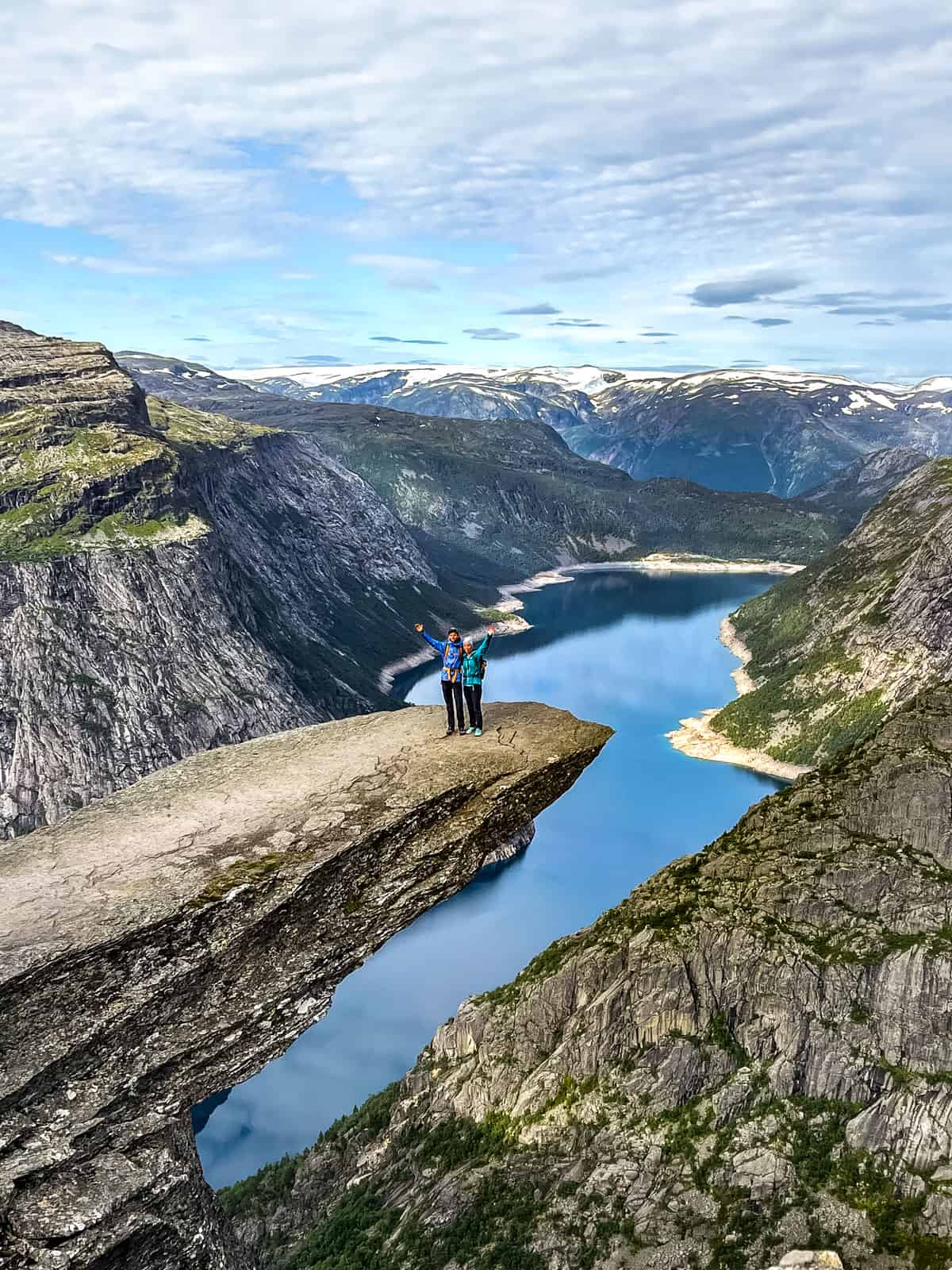 #7 Road trip through Lofoten Islands
I'll have more on this to come because Lofoten is such a gorgeous area. But if you have the time to get that far north, definitely enjoy Lofoten. You may even consider spending your entire time in this stunning area of Norway.
You also don't want to miss the cinnamon buns from the historic bakery in the city of A, called simply The Bakery in A. They're not like American cinnamon buns, they're not nearly as sweet, and are really good with a cup of coffee. There are also plenty of restaurants and museums to enjoy as they're open.
We enjoyed touring the Viking museum called Loftr to see the Viking way of life and the Viking ships. Part of the exhibit is outside as an open-air museum which was a fun change of pace. But we missed quite a few places in Lofoten because they were only open a few hours a day when we were there in September.
That was ok with us because we were mostly there for the hiking. We had a spectacular day hiking to the Munkebu Hut, (see 2 photos below) but not so much for the famous Reinbringen. The weather was good when we started out, but a storm blew in and we missed quite a bit of the view, but it was worth the 1,972 stairs anyways! (See photo below.)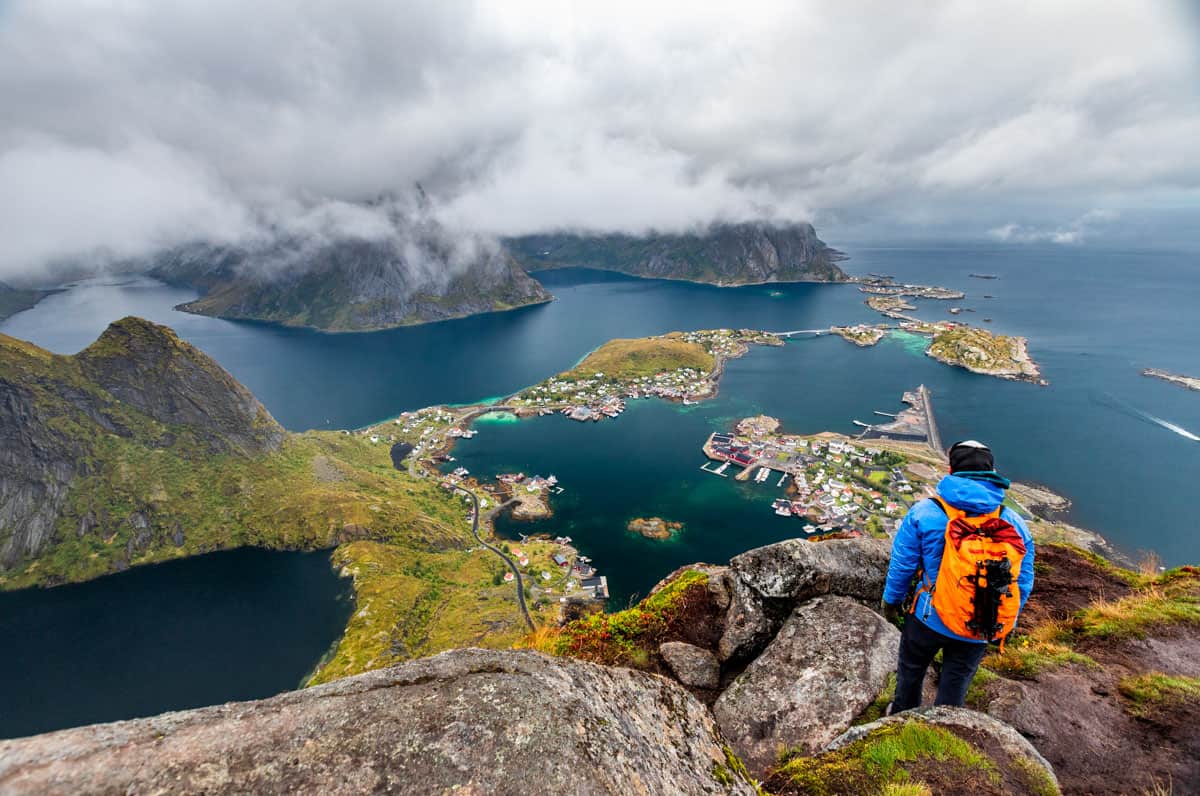 #8 Visit the Arctic Circle city Tromsø
There's plenty to do in Tromso, making it a great place to fly in from southern Norway. From there you can head down towards Lofoten for a road trip. We enjoyed a short stay in Tromso, but we definitely wished we had more time to explore it. You definitely want to see the Arctic Cathedral.
There's also a sauna down by the waterfront you can rent times in. And it's really popular to sit in the sauna, then jump into the icy cold water. But when we were there, it was booked and all the restaurants we wanted to try were closed.
So all in all, we definitely wished we had done a bit more research for Tromso in the off-season. But we still enjoyed exploring the city on foot. We also had some really tasty burgers at Burgr which is a sister restaurant to the seafood restaurant we wanted to go to that was closed.
Contrary to rumor, polar bears don't roam around Norway in this area of the Arctic Circle. You need to go as far north as the island of Svalbard to even have a chance of seeing them.
#9 Explore the island of Senja
Hike up the popular Segla mountain, or hike up the neighboring Hesten for the best view of Segla. (See photo below.) Be sure to check the ferry schedules before heading out to Senja. We lucked out and got on one of the last ferries of the season!
This island is incredibly beautiful for scenic driving as well as hiking and we really enjoyed our time there.
#10 See a glacier
There are several areas where you can see a glacier. Perhaps one of the most popular is Brikdalsbreen. It's the most accessible one to see and you can even get a cart ride to see it. This makes seeing a glacier the perfect family-friendly and accessible thing to do in Norway.
Brikdalsbreen is a small arm of Jostedalsbreen glacier which is the largest glacier in mainland Europe. Pictured 2 photos below is the massive amount of glacier that spreads out before you when you climb one of the peaks next to Briksdalsbreen.
This climb and the incredible view were one of our favorite experiences in Norway! We were very lucky to see anything that day because the fog just wouldn't lift, but we did get 15 stunning minutes at the top. We also happened to be the only climbers to see anything at all that day, so we were beyond lucky.
But you don't need climbing experience to see a glacier, Briksdalsbreen is beautiful and accessible by foot or cart ride. And the meltwater below it is truly stunning. All in all, this area was one of the highlights of our trip.
#11 Enjoy the local cuisine
Norway is known for its fresh and tasty seafood. But they're also known for waffles and for the brown cheese called Gjetost or sometimes Brunost. This very good brown cheese is actually made from the whey that is reduced down to the consistency of a hard spread. Or sometimes it's reduced a bit further and can be sliced thinly.
The funny thing was my sister and I had been making this very same whey cheese from goat's milk on our small farm growing up so I was already familiar with it. We started making it as a way to use up the extra whey after cheese making.
But Tyler had never had it and really enjoyed tasting it. There seems to be a love/hate relationship with this cheese, but the fun of traveling is to try new things!
Even if you're cooking for yourself for some meals as a way to save money, you can still get their fresh seafood from any grocery store. We enjoyed shrimp mac and cheese with spinach and parmesan. And I'm head over heels for their fish cakes which are pre-formed and sold in packages at the grocery store.
They were super simple to cook up and I served them for dinner several times with local potatoes, carrots, and a lemon cream sauce. The brand we bought was naturally gluten-free and made with potatoes as a binder, but be sure to check/translate the labels if you have allergies.
#12 Explore the fjord regions
Of course, there's the famous Geirangerfjord, (pictured below), and the road coming and going from this area is incredibly scenic. We had a few road construction issues that day and arrived just in time to see it in the blue hour. We were a little disappointed we ran out of daylight. But we found out later we had avoided a very overcrowded day filled with cruise ship traffic, which definitely helped ease the disappointment.
This area is incredibly busy and it helps to book ahead with anything you'd like to do. We had originally planned on taking the ferry to see the Seven Sisters Waterfall. But we ran out of time through this trip after it took 5 days to get us and our luggage to Norway!
If you can book ahead in advance, there are kayaking tours here that look incredible. But everything was completely booked by the time we were planning our trip.
Don't worry if Geirangerfjord doesn't work out for you though, the other fjords are incredibly beautiful as well!
#13 Take a train ride
One of the best things to do with limited time in Norway is the classic 'Norway in a Nutshell' tour. Norway in a Nutshell is an excursion that combines a scenic ferry ride on the Naeroyfjord with a scenic train ride called Flam.
Even if you don't end up doing this tour by yourself or guided, you can still take the funicular in Bergen or other areas that have short train rides that end in a view.
#14 Ride in a cable car
There are several areas to do this in Norway. We rode the relatively new cable car down from the Eggen restaurant perched on a mountain top, back down to the city of Andalsnes below.
We started the day at the other end of that mountain ridge, hiked up, and summited small peaks all day before ending up at the restaurant, (the hike is called Romsdalseggen). Having some dinner sounded really nice. So we stopped and had a wonderful dinner as the sun set over the water surrounding Andalsnes 1,000'+ below.
The fog rolled in and we took the cable car down emerging into the city lights below. It was a straight-up magical day and the cable car ride down the mountain was amazing after so many days of hiking.
#15 Hike to Pulpit Rock or Kjeragbolten
These 2 hikes are the 2nd most popular hikes in Norway next to Trolltunga. We missed both of them because they were out of the way on our route, (in Stavanger) and because it took us 5 days to get from the US to Norway.
Pulpit Rock is considered an 'easier' hike in Norway, and it's definitely not as hard as Trolltunga. So it might be a good option if Trolltunga seems like too much. Kjeragbolten is the hike where you can go out and stand on a boulder that's suspended between 2 cliffs over thin air.
They both look like incredible adventures, and since we missed it, we'd better start planning a 2nd trip to Norway!
#16 Do something off the beaten path
The picture above is from the top of a mountain in Lofoten. We saw the incredible pattern in the ocean on an Instagram drone photo, but of course, there was no location. From there we tracked it down using Google Earth and realized we could summit a mountain, (Blekktinden) to overlook this stunning nature form.
We did a triple summit that day with barely any path to follow and tracked ourselves using GPS. If you don't have route-finding skills, this is definitely not advised. But the point still stands to find something, anything away from the typical tourist spots, and enjoy the view.
We saw countless people having picnics in small pull-offs throughout our trip and that's a perfect 'off the beaten path' thing to do. The pull-offs are small, usually only room for 1 vehicle, so you can really enjoy nature without the crowds.
#17 Explore Oslo
If you're flying into Oslo, you definitely want to make sure you book some time to tour around. Oslo is a cultural hub with lots of museums and incredible restaurants to eat in. We flew in and out of Bergen and missed Olso on our trip.
But Olso is chock full of incredible things to do. And it's also a great place to start a road trip in Norway. So if it works out on your trip, enjoy this incredible-looking city.
Top attractions in Oslo include the Vigeland Sculpture Park, Museums in Akershus Fortress, Munch Museum, (museum for the famous artist Edvard Munch) Norway Folk Museum, a tour of the Royal Palace, Olso Opera House, and so much more.
#18 See the yellow fishing houses in Sakrisoy
Both Sakrisoy where the yellow houses are located and Hamnoy with the famous red houses are worth a stop.
Don't miss the seafood burger from Annie's Seafood in Sakrisoy. I got the 'Winnie the Pooh', (pictured 5 photos above) which is a fish burger topped with smoked salmon and shrimp – and it's incredible. It's the perfect 2:1 stop because you can also pick up some seafood from their market if you're cooking for yourself.
Or get their really tasty fish soup to go to reheat for dinner that night. From their parking lot, it's just a short walk back down the road to get a photo of the Sakrisoy yellow houses, (pictured above).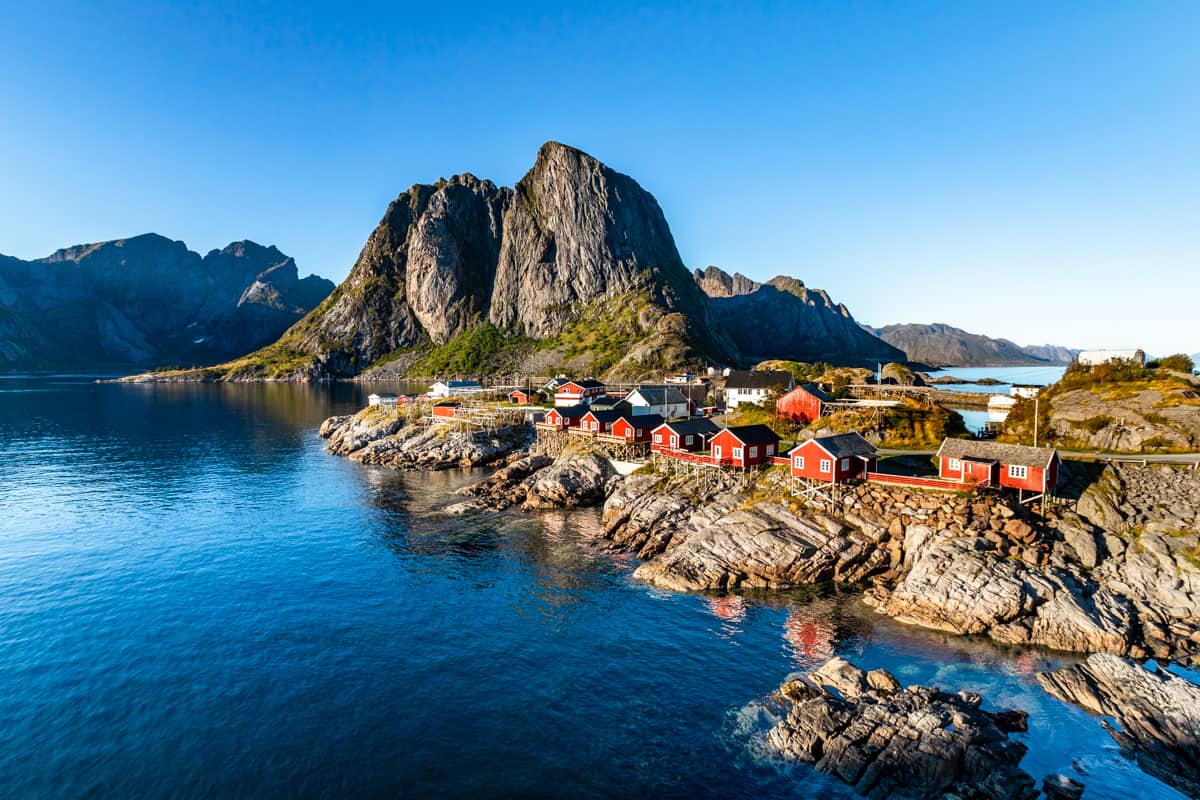 #19 Get the postcard view of Hamnoy
The red houses in Hamnoy near Reine are arguably the most famous view in all of Norway. Maybe with the exception of Trolltunga!
You can see this famous view pictured above. It's sometimes called the 'postcard' view of Norway because you will find it on so many postcards. It's definitely worth a stop, and there's a pull-off right before the bridge.
The bridge has a pedestrian lane to walk out on and get the photo. Please respect the private property in this area!
#20 Drive Trollstigen or Atlantic Ocean Road
This stunning road switchbacks down a mountain into the valley below through incredible scenery. You'll pass the beautiful Stigfossen which is a very large waterfall just inches from the road.
We had an oversized van so we choose to drive through these switchbacks earlier in the morning to avoid traffic. This turned out to be a great idea! There was very little traffic before 9 am in September, but we did have to get over and wait for a large semi truck to pass.
It helps to look ahead for oncoming traffic and pull over in wider areas to allow both vehicles to pass each other safely. Depending on the size of the vehicle you rent this may or may not affect you much.
Since we had a large vehicle in relation to the width of the road, we pulled over a lot during our trip. Nevertheless, this drive is definitely worth it, just come prepared to take your time if your vehicle is oversized.
The famous Atlantic Ocean Road is another scenic drive you don't want to miss if at all possible, but it was out of our route.
FAQs for 20 Best Things to do in Norway
What should you not miss in Norway?
Go for any number of scenic drives, Norway has a lot of them, and they're stunning! Eat the local seafood and brunost cheese. See UNESCO World Heritage sites Geiranger Fjord or Bryggen located in downtown Bergen. Also, any of our 20 best things to do in Norway are not to be missed even though you will end up missing some!
What is the best month to go to Norway?
June, July, and August are the warmest months. The midnight sun is in parts of Norway from mid-May to August. It's 75 days total, and Lofoten / Tromso area is the best spot to be. The tourist season peaks in July and August, so we went at the end of August into the beginning of September which was a sweet spot with the ferries still running at regular enough times.
What month are the Northern Lights in Norway?
The main season for the Northern Lights / Aurora Borealis begins in November and runs through February, but is sometimes seen outside these times. If the solar storms hit right, you'll see the Northern Lights as early as September. We lucked out and saw them in Lofoten, (northern Norway which is the best place to see them) in September, but they may not come much further south in the shoulder season.
Do they speak English in Norway?
Yes, most locals speak English better than I do as an American. Even in small towns, everyone spoke enough English we could easily get by. It's nice to learn please and thank you in Norwegian as a sign of respect for their culture, but no one expects that. In fact, the locals were always surprised when we did our best to say thank you in Norwegian.
How many days is enough for Norway?
A week will give you enough time to see a number of things, but don't try to see too much of this large country without more time. Pick a region like the fjords or Lofoten and plan your trip around that. Otherwise, you may consider taking a longer vacation here to see more of this gorgeous country.
Tips to help with the 20 Best Things to do in Norway
Don't overschedule! There's no possible way you can see everything you'd like to. So pick a few things to do and enjoy them to the maximum.
Try and pick more than 1 thing to do in each area you visit. It can be slow to get from place to place in Norway with most of the highway speeds posted at a max of 80km. There's also a lot of water inland. And you'll need to be driving around or take a ferry through many areas which will slow you down more than you'd expect. We hiked Trolltunga on our 1st day, then drove 5 hours to hike Besseggen on the 2nd day. This is insanity and not our original plan at all. We just ended up with a tight schedule after losing a few days in the airports. Norway is also incredibly beautiful. So it can be hard to drive too much in 1 day without time to stop and see the sights.
Be ready for things to not go right. This applies to anywhere you're traveling, especially if you're road-tripping. There were several times we ended up sitting on the highway for 1-2 hours waiting for construction to be over in 1 of the many tunnels. Or even taking a very long detour. At one point Google Maps took us to a tunnel entrance where we sat for a really long time at a red light with other cars. Finally, a construction worker in a truck drove up to each of us to let us know the tunnel wouldn't open for another month! We definitely got a laugh out of that one and took the recommended detour. Another time a portion of a national park road was closed until 8 am for movie filming and we almost missed our pre-paid ferry to do the Besseggen hike. You just never know what is going to happen, and it helps to have a 'roll with the punches' vibe going.
English is very helpful pretty much anywhere you go. Any time we needed to buy a ticket etc. the kiosk machines all had an English option. It was a hit or miss for other languages, but English was always available. Also, you'll find most Norwegians speak English very well. We tried to say please and thank you in Norwegian when we could. And every local did their best not to laugh at how bad we sounded, but I think they appreciated our effort.
Always bring layers and a rain jacket. Norway is the rainiest country in Europe, and even a sunny day might have a shower or 2 in it. We took our raincoats everywhere from hiking to our city travel and used them often. I think umbrellas might be a bit useless as it always seemed to be windy anytime it was raining.
Most national parks don't have an entrance fee or anything like that. Instead, there's a parking fee when you get to where you're going. We found it very easy to pay at the kiosks or even with their PaytoPark app. We found many people were complaining about the parking fee. But there are nice facilities everywhere in the national parks, and your parking fee helps to pay for that.
Cash is optional when traveling in Norway. There wasn't a single time in 23 days that we needed cash to pay for anything in Norway. All the machines we used accepted our American credit cards, (we have Chase) without a pin number. We did wish we would have had some small amounts of cash when we were in the country areas for the farm stands. There were so many little wooden huts with berries and things for sale by the honor system. We were bummed we didn't have any way to pay because we would've rather bought our berries directly from the farmers. But you live and learn.
More Travel Inspiration
Best Hikes in Norway, (coming soon)
I really hope you enjoyed these 20 Best Things to do in Norway. And that it will help you plan your own incredible bucket list journey to Norway!