Get ready for all the best Things to do in Capitol Reef National Park! This park is part of Utah's 'mighty 5' national parks and it doesn't disappoint. It's much quieter than other parks like Zion, but you won't lack for stunning hikes, yummy food, and fantastic camping.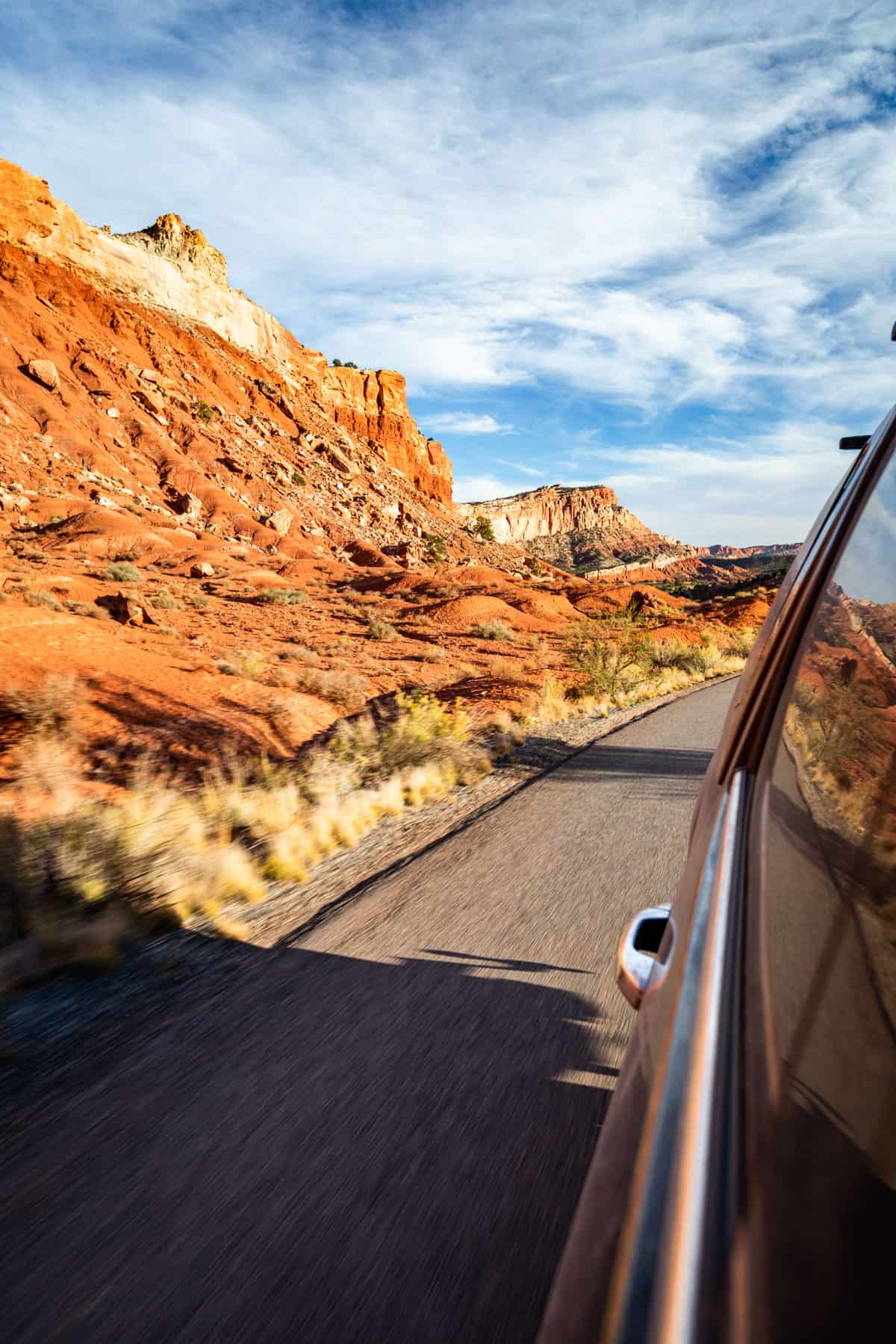 We were surprised by how much we loved Capitol Reef National Park. And we spent our 3 days there jam-packed with all sorts of fun things from hiking to the local cuisine. You'll find the bare outline at the end of this post, plus everything we've written about Utah's 'mighty 5' to help you plan your trip.
To keep things super simple, I've listed out all 15 things to do below for a quick glance. Then after that, I break down all the details with tips, so you can have the best time possible. They're not listed in order of importance or awesomeness, so read through and pick the ones that sound fun to you.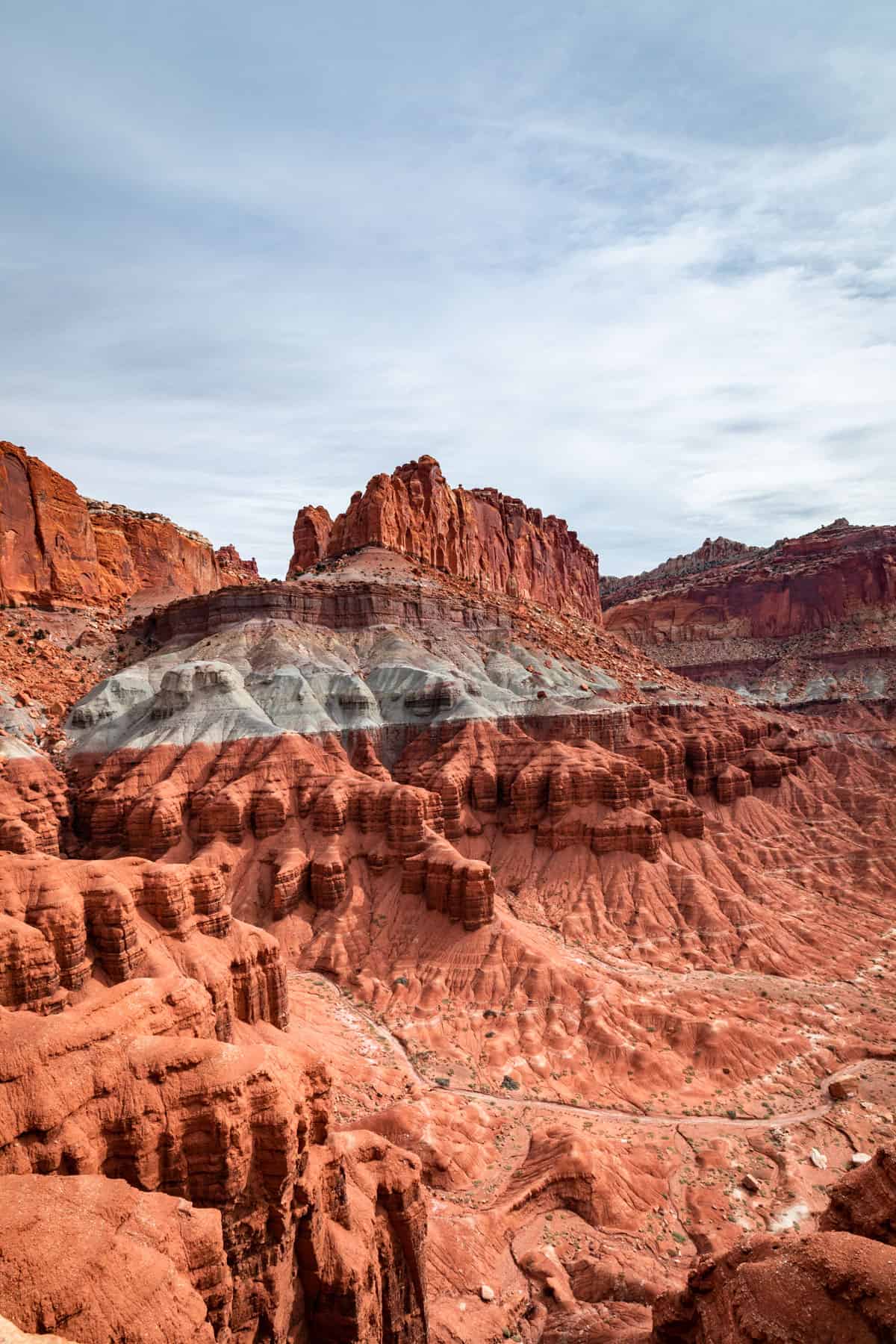 Top 15 Best Things to Do in Capitol Reef National Park
Explore the Fruita District
Go to Gifford Homestead for pie or a souvenir.
Picnic in the park across from Gifford House
Capitol Gorge Road
Capitol Reef Scenic Drive
Hike Cassidy Arch
Hike Hickman Bridge
Burr Trail Switchbacks
Hike Navajo Knobs
Loop the Fold backcountry drive
Surprise & Headquarters canyons
Hike Cohab Canyon
Eat at Capitol Burger food truck or Chak Balam Mexican restaurant on the edge of Capitol Reef.
Hike Chimney Rock
Sunrise or sunset at Gooseneck Point, Panorama Point, or Sunset Point.
(Bonus) Drive Hwy 24 a scenic highway that runs through Capitol Reef.
We missed out on the other scenic backcountry drive called Cathedral Valley Loop to see the Temple of the Sun and Moon because we had blown out part of our suspension on Hole in the Rock Road during our time in Escalante. But if you have a high-clearance vehicle, that would be an awesome addition to your itinerary!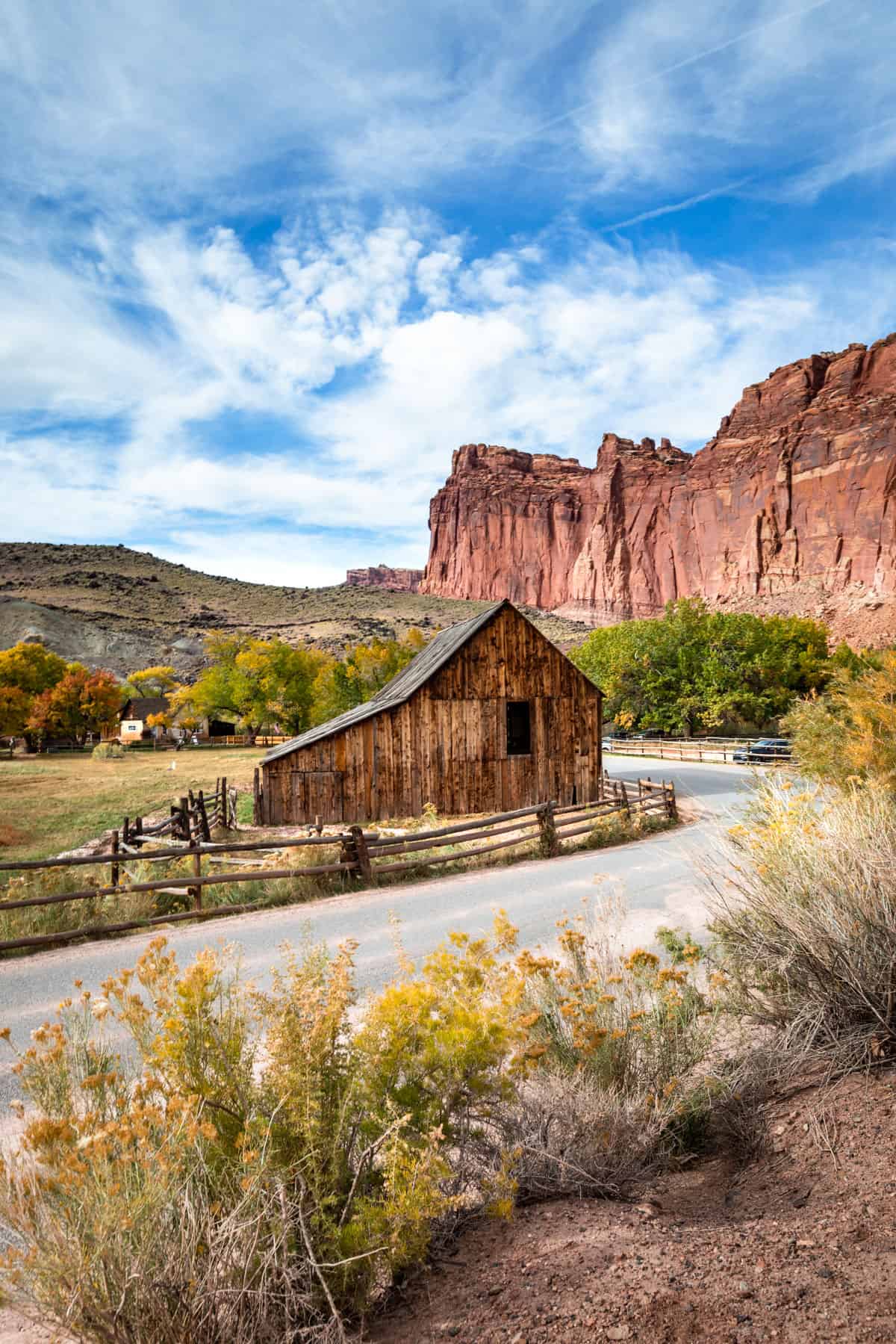 Historic Fruita District
The historic Fruita District in Capitol Reef was built by Mormon settlers. And there are lots of old west things to see like the above-pictured barn, the Fruita schoolhouse, etc. Of course, there's also the Gifford Homestead which we'll talk about below. This whole area runs along the Fremont River and the trees are lush and gorgeous.
There are also countless fruit trees in orchards that supply the pie-making at Gifford Homestead. And if you come here in the right season you can even pick your own fruit and pay by the pound. There's everything from cherries to peaches, apricots, pears, and apples.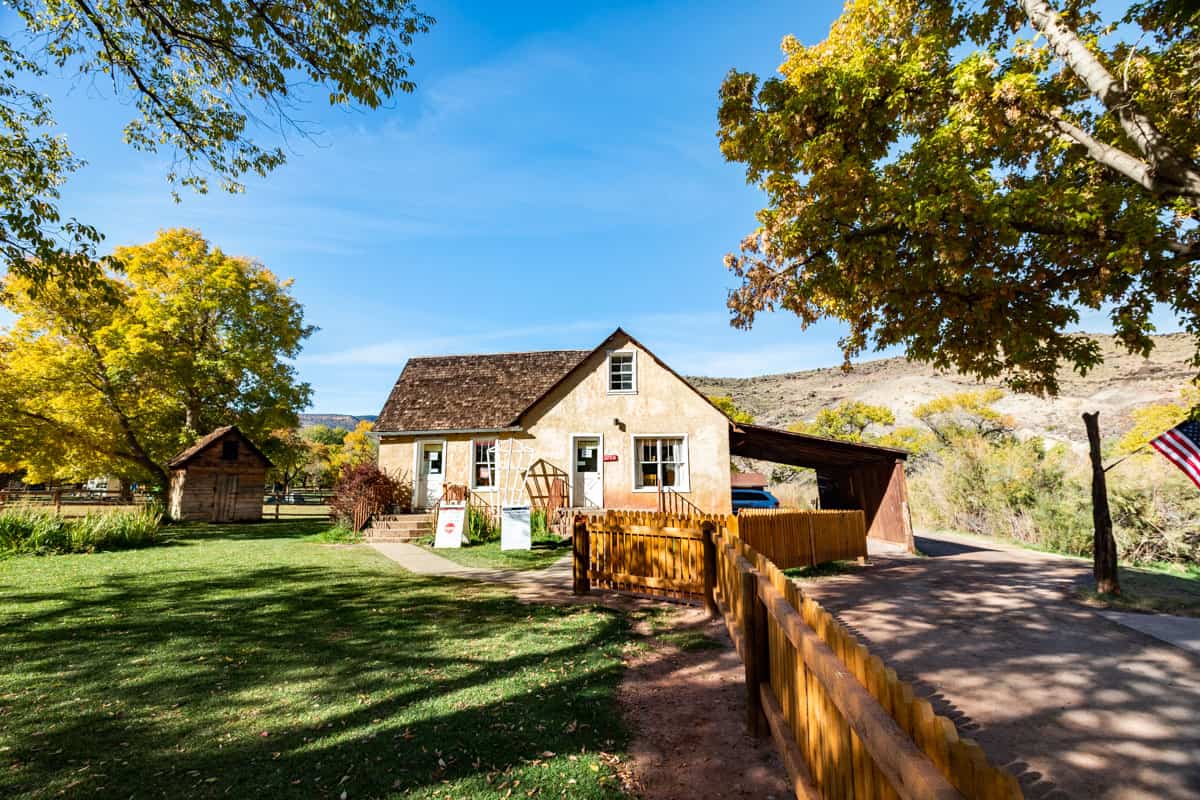 Pie at Gifford Homestead
The Gifford House is part of a homestead that includes the old barn pictured above. The original home was built in 1908 but has since been refurbished. They now sell homemade pies here, and the proceeds go to help fund the park.
I'm a huge skeptic when it comes to store-bought pie because I was spoiled with incredible homemade pie growing up. But I couldn't visit without tasting their famous pie, and I can truly say it's famous for a reason.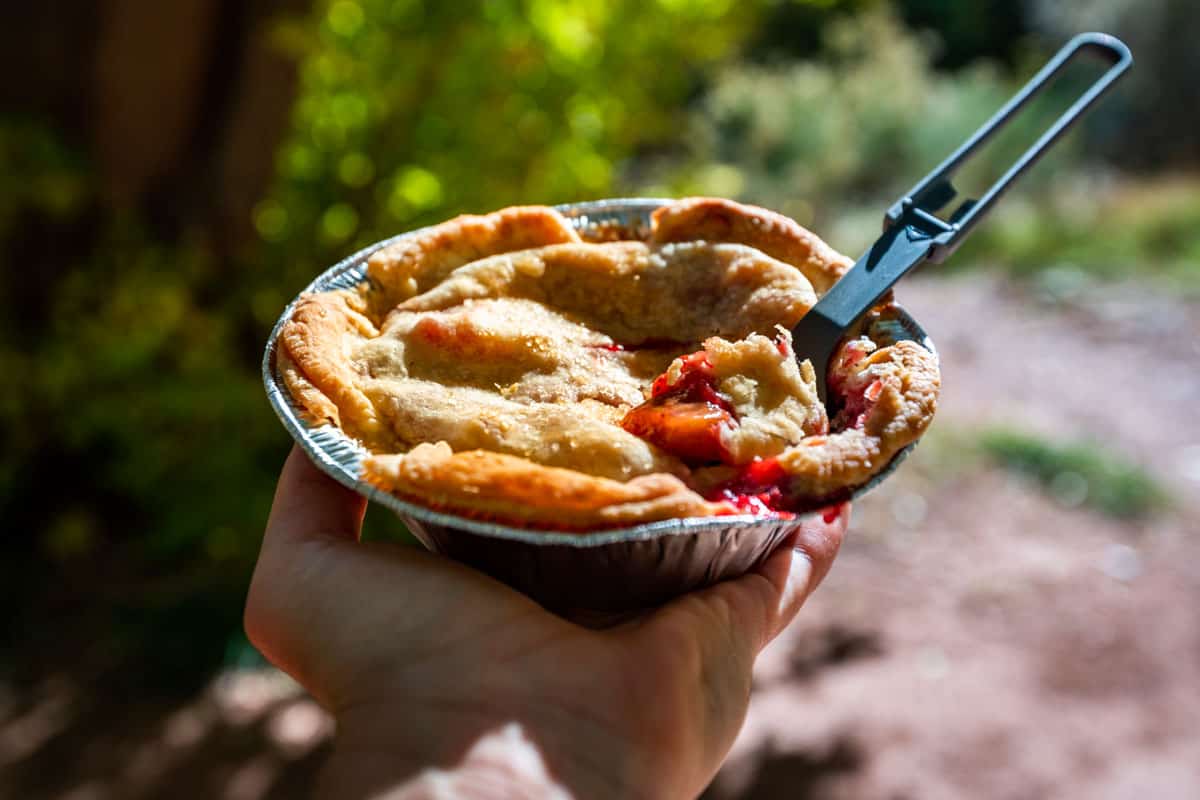 Their pie is just as good as homemade, and we enjoyed all the flavors we tried. The Dutch apple with a crumb topping was so tasty, but the strawberry rhubarb was the overall favorite with mixed berry coming in 2nd.
We had our pies across the street in the park which has lots of picnic tables. So we set up our camp stove and made fresh coffee to go with our bounty of pie!
Important Note: The Gifford House is open daily from 8am-5pm from March 15 – October 31st, but they sometimes sell out later in the day. These hours also change slightly with the seasons. They're open more hours in the summer, but when we were there in October we found out the hard way they closed at 4pm despite what the sign on the door said!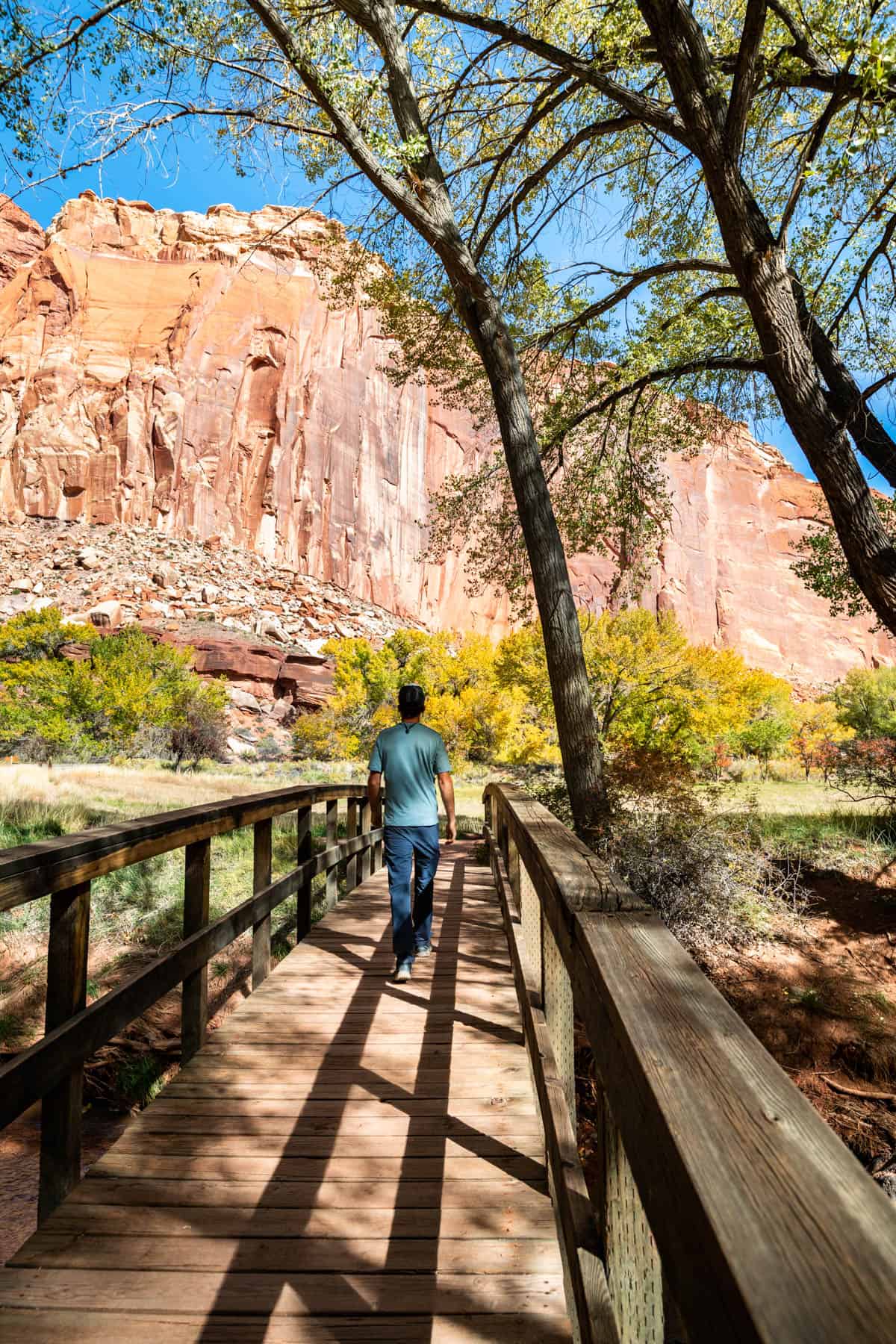 Picnic in the park across from the Gifford Homestead
We saw several tours come through and they all stopped for a picnic lunch in the scenic park across from Gifford Homestead. The park is nicely shaded thanks to the large leafy trees everywhere. And in certain parts, you can hear the water from the Fremont River burbling along as well.
It makes the perfect place to have a mid-afternoon rest if the temperatures aren't too hot. And you could set up hammocks or chairs if you have them along which seems to be very popular. We saw people napping, reading, picnicking, and even painting, so the sky is the limit!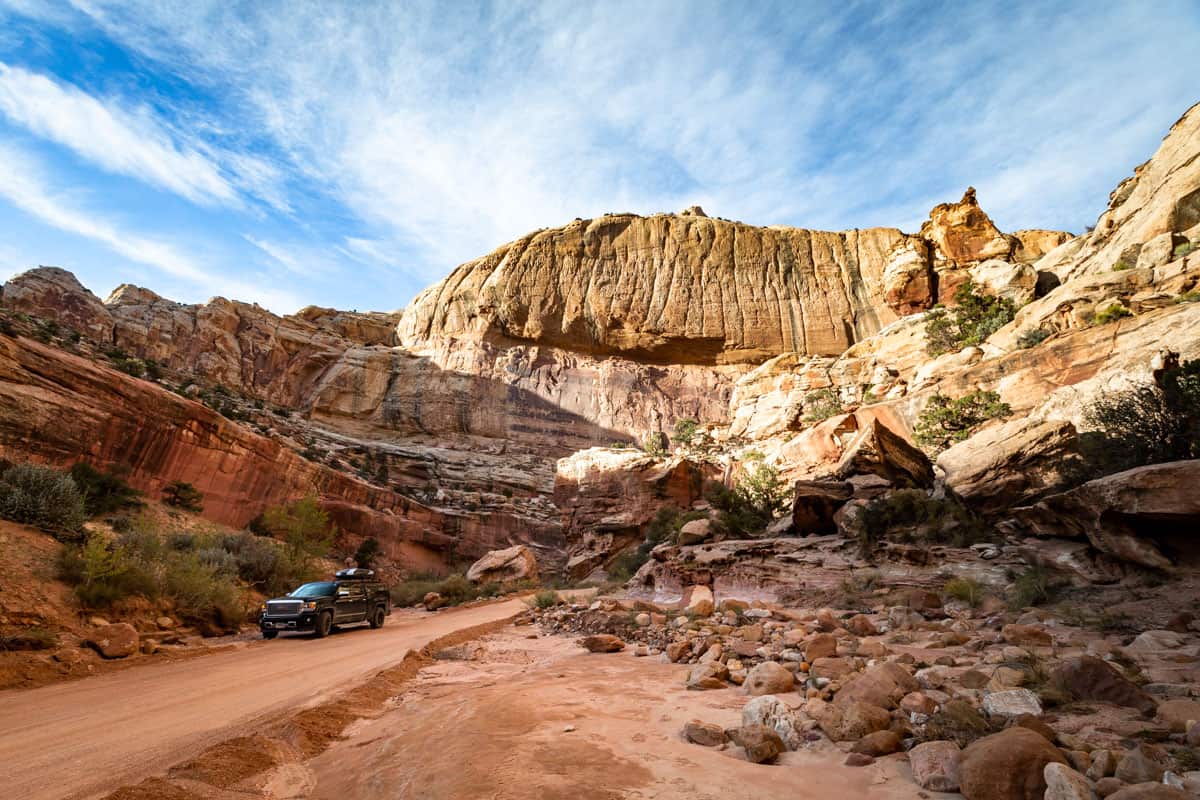 Capitol Gorge Road
Is the dirt road part of the Scenic Drive in Capitol Reef. It's suitable for all types of passenger vehicles from cars to trucks. Just check the limits if you're an oversized vehicle. And the other thing to be aware of is if there's any rain in the forecast. This drive enters into a canyon and you don't want to ever enter a canyon with rain coming because of the powerful flash floods.
This drive is incredibly scenic and ends at the Capitol Gorge Trail which is fairly short and you get to see the pioneer register. We missed out on that hike, but we heard others enjoyed it quite a bit. The parking lot is fairly small with one picnic table, so if it's high on your list be aware parking can be a problem.
Capitol Reef Scenic Drive
The Scenic Drive in Capitol Reef National Park is a paved 7.9 miles one way and you'll want 1 – 1.5 hours to drive this if you add Grand Wash and Capitol Gorge, (these branches are both dirt roads) with stops along the way for photos. It does require an entrance fee or park pass during certain hours of the day.
The scenery is amazing and it's a great thing to do if it's hot out, and all you want to do is blast the air conditioner for a bit. It's also a good way to rest in between other more active things to do in Capitol Reef.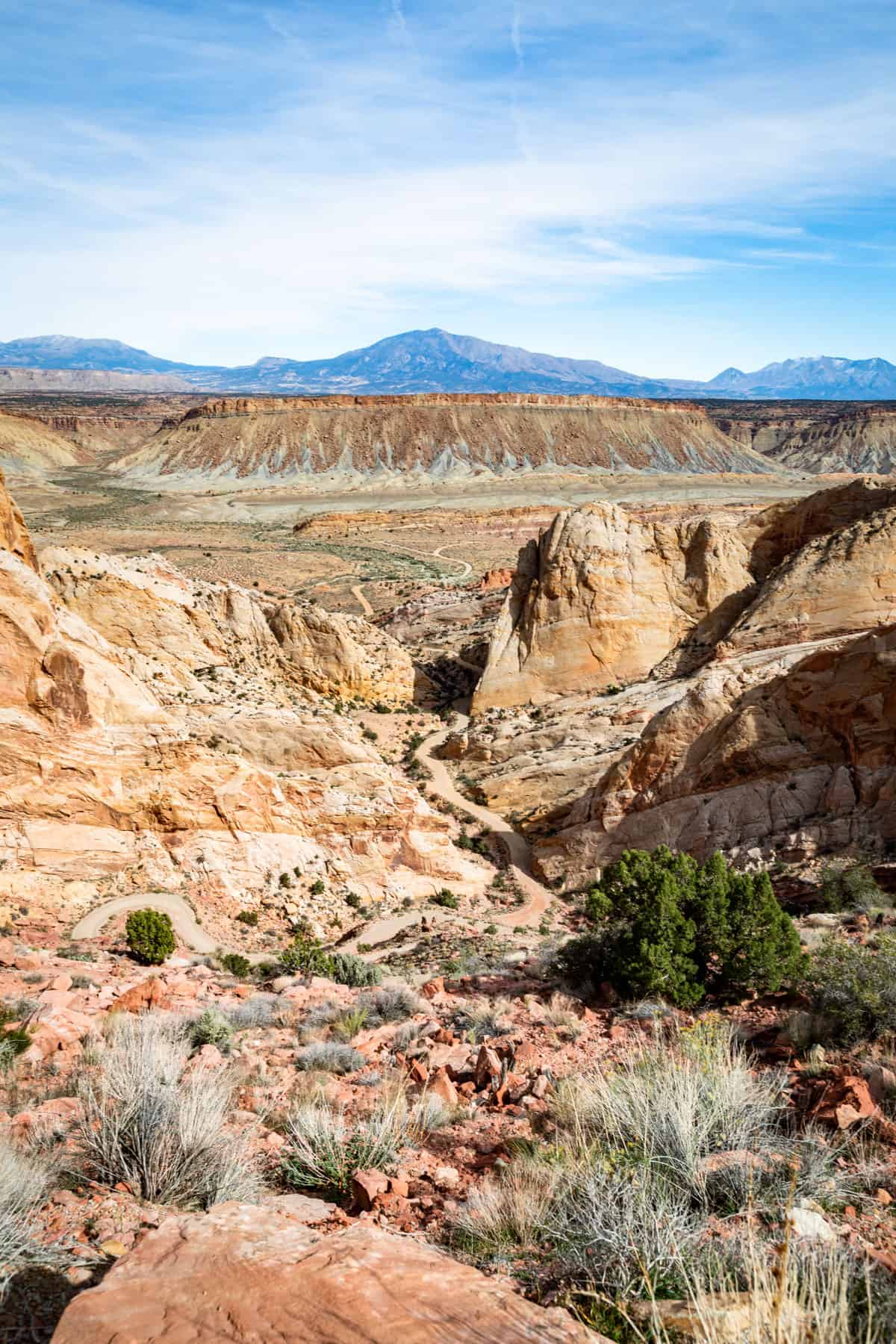 Loop the Fold
Loop the Fold Scenic Drive is one of the stunning backcountry scenic drives in Capitol Reef National Park full of interesting geology. It takes a full day to drive and enjoy it thoroughly. We started around 10:30 am and it wasn't quite enough time with all the times we stopped for photos and short hikes.
We ended up coming out the last little bit in the dark which was a bummer. There's a backcountry campground called Cedar Mesa we had hoped to camp in, but it was full so we had to finish the drive at dusk and missed the last section in complete darkness.
As a side note, the campground is a one-way road, so if you pull your trailer in there and can't find a place to park, you have to back all the way out and the road is rough! There is a pit toilet at the campground which is the only bathroom you'll encounter all day.
Loop the Fold takes you along Burr Trail & Notom-Bullfrog Road through a portion of the water pocket fold of Capitol Reef. The views are incredible and I can't recommend it enough!
You also don't have to make this a loop, we started in Escalante and drove to Boulder, then turned onto Burr Trail Road, then to Notom-Bullfrog where you'll continue on to the main portion of Capitol Reef when you get back to Hwy 24.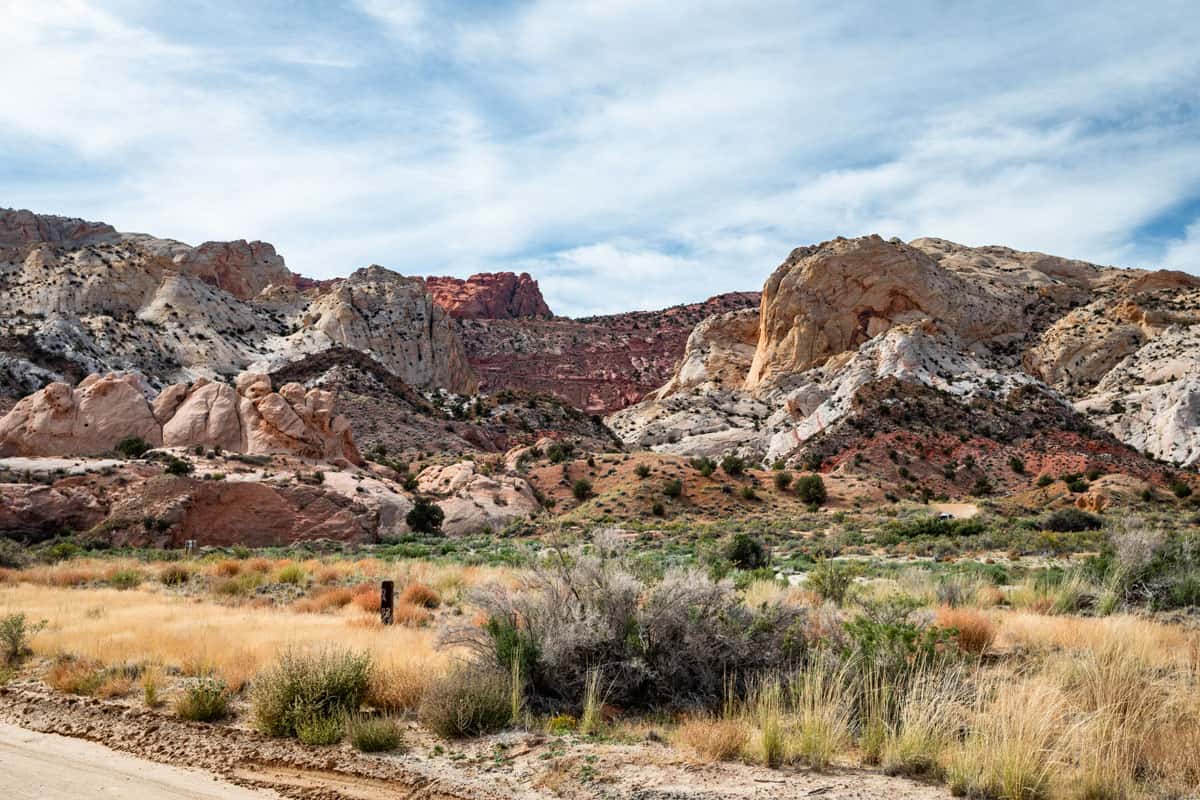 Burr Trail Switchbacks
Loop the Fold Drive is famous for the Burr Trail Switchbacks on Burr Trail Road which are about 1/2 way through the scenic drive. Many people choose to drive from the main portion of Capitol Reef to the switchbacks and back without completing the drive. If you look closely at the above photo, you'll see the switchbacks carving their way up the mountain in the center.
The road is narrow without guardrails and the drop may make some people nervous. From what we observed there's an unofficial traffic flow here but no one had any problems. If there's someone in the switchbacks, it's best just to patiently wait your turn.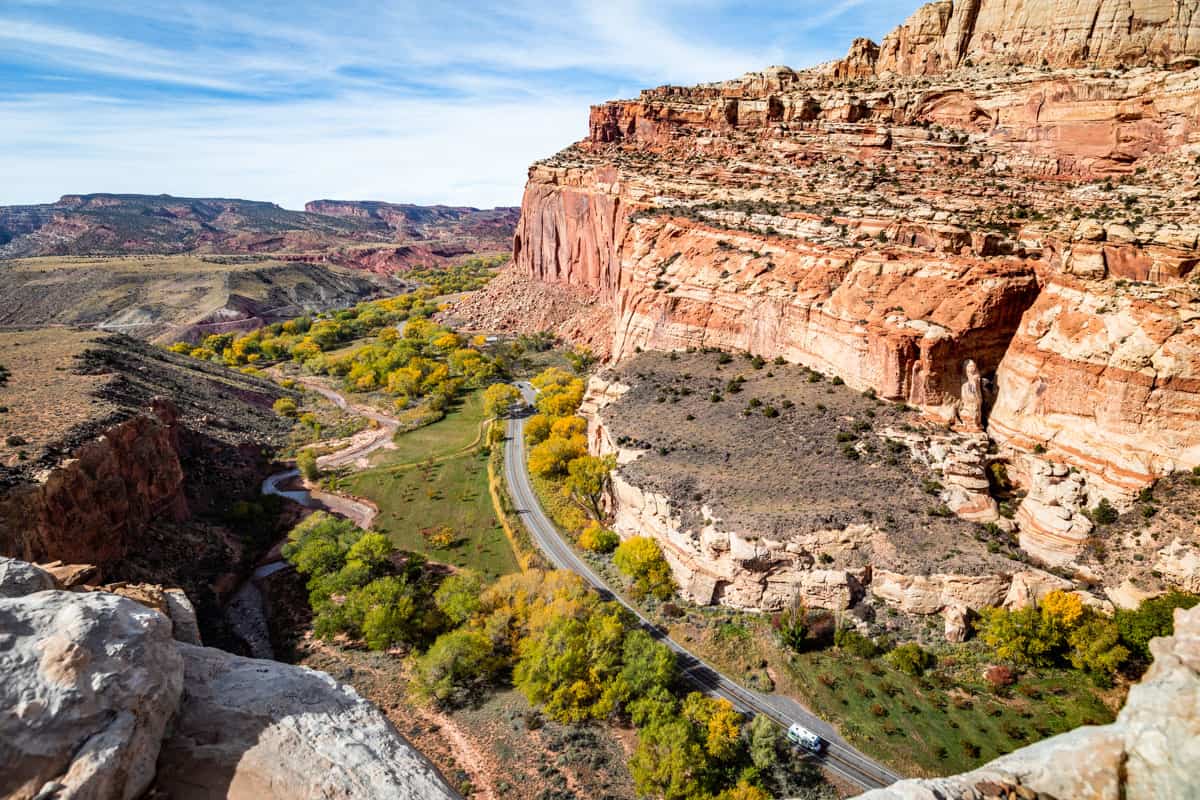 Go for any number of stunning hikes
There are a number of super scenic hiking trails in the park. The Cohab Canyon hike was an afterthought for us as a way to fill the afternoon, but we were blown away by this hike. It's very scenic along the way and the canyon portions are beautiful. But then there are 2 overlooks to visit that look down on the Fruita District with Hwy 24 running through.
Cohab Canyon hike is a one-way hike according to all the info starting at the trailhead across from Hickman Bridge and running through to the parking lot across from the historic barn.
However, to cut down on elevation gain we hiked the most scenic part starting at the large parking lot across from the historic barn near Gifford Homestead. You walk near the road a few feet, then the trail heads up steeply for a bit. After you gain most of your elevation the canyon begins, then you head for the lookouts and come back the way you came in.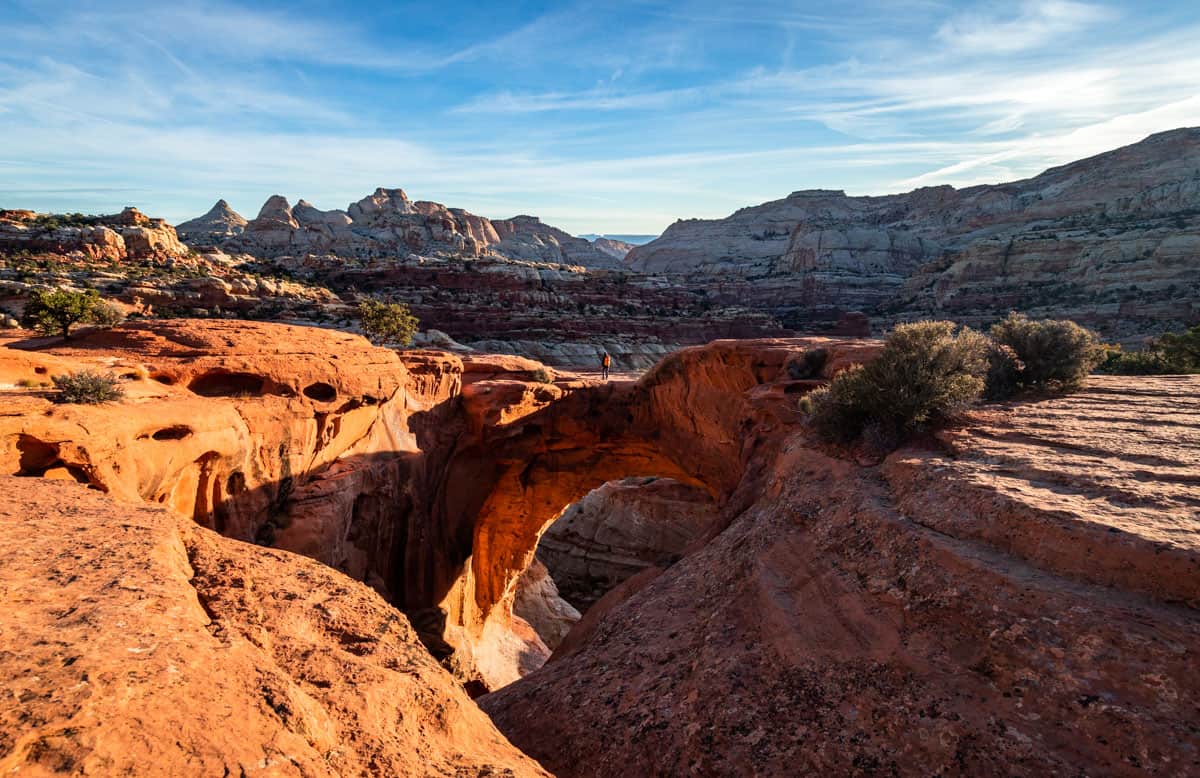 Cassidy Arch Trail
This hike is a 'must do' in Capitol Reef! It's incredibly scenic, and it's one of the few places in the parks where you can stand on the arch. This arch also has a climbing route, so you might get lucky and see climbers repelling down.
This trail begins in combination with the Grand Wash Trail, then quickly branches off and heads up to the arch. Funnily enough, this arch was named after the infamous Butch Cassidy.
You can read more about Cassidy Arch Trail in this post.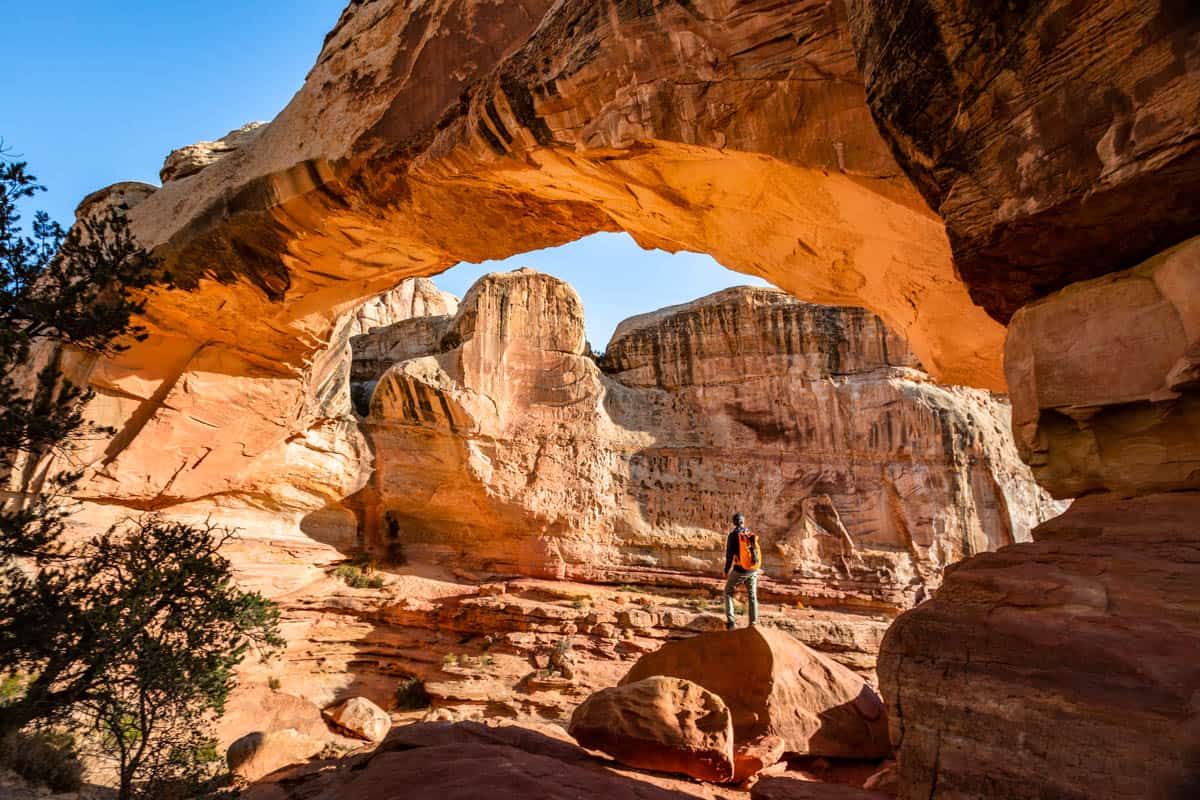 Hickman Bridge
This is another classic 'must do' hike, and it's also on the shorter side. Hickman Bridge is very popular and can get crowded, but it's very beautiful, especially at sunrise and sunset. Just be aware that parking can be tricky during peak hours for this hike.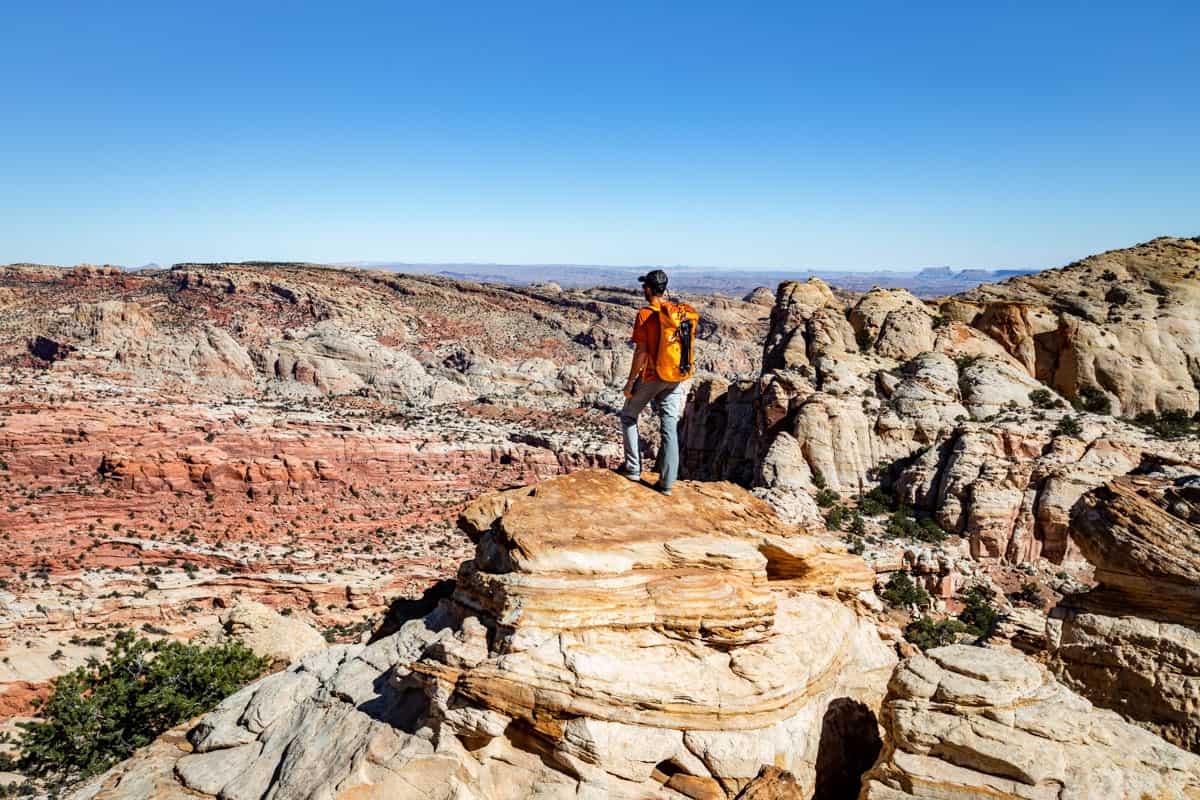 Rim Overlook & Navajo Knobs
The trail for Rim Overlook & Navajo Knobs shares the first section with Hickman Bridge. If you hike Hickman Bridge, you'll need to backtrack a bit then take the turn for Rim Overlook.
Both of these hikes are incredible options, but if you have the ability, go all the way to Navajo Knobs. It's a slight scramble for the last few feet to the top of the 'knobs'. You can see one of the 'knobs' in the above picture where Tyler is standing on the flat top. It gives you a stunning viewpoint over most of the park.
The scramble isn't at all dangerous if the right route is chosen, so take your time and look for what's safe. We sat at the top for over an hour having lunch and enjoying the view. We ended up helping a few people who weren't experienced reach the top safely when they headed into unsafe areas.
Just remember, it shouldn't be dangerous, there's a nice path through the rocks to the top without any climbing involved. Navajo Knobs is considered a very hard hike, and it could be depending on the circumstances.
We found it moderate mostly because the temperatures were moderate. Desert hiking changes a lot in difficulty depending on the heat alone! Be prepared to start very early if you're coming in the summer. And be very mindful to get back out before the heat of the day, plus pack plenty of water and salty snacks along with electrolytes.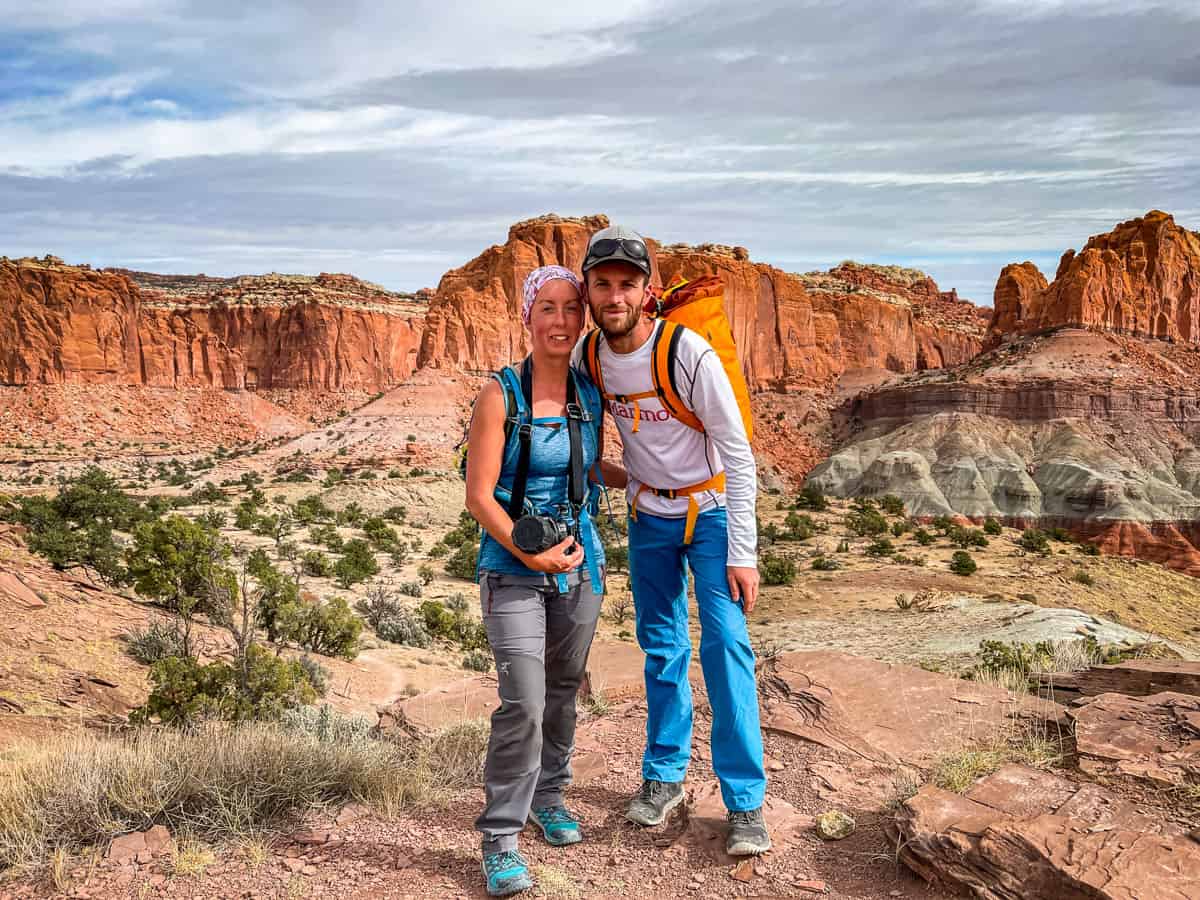 Chimney Rock Loop Trail
This hike is considered moderately hard mostly because you gain your elevation right away. But after the elevation gain the trail becomes more meandering and moderate.
We hadn't done any research on this hike and weren't sure what to expect, but we loved the incredible views. Also since this is a loop, the views are different and stunning every step of the way.
Like most of the other hikes mentioned, this hike is all in the open and exposed to the sun. So if you're visiting in the summer months, be aware of the heat. This hike was pretty easy for us because the temperatures were on the cooler side, and we felt like we really lucked out!
Goosenecks Overlook – Sunset Point – Panorama Point
All three of these points are great places to get gorgeous views of Capitol Reef. And as you might expect they're good places to view the sunrise or the sunset.
In fact, it's quite popular so be sure to get there early if you really want a certain spot for photography. We saw lots of people showing up with chairs and cold drinks to enjoy the evening.
Surprise Canyon & Headquarters Canyons
If you drive the Loop the Fold or up to the Burr Trail Switchbacks, you'll be near both of these canyons. They're relatively easy hikes, and you can go as far as you can or cut it short if you're wanting to head back. In fact, we weren't sure where the endpoint was, but the canyons do make it clear eventually!
You'll come to areas where you would need to do hands-on climbing to get any further which is the natural turnaround point. We both thought Headquarters Canyon was a bit more scenic, but Surprise Canyon was worth it as well because they're pretty short. We were able to hike both in just over 1 hour with lots of stops for photos.
Trail Head – 37.8347113, -110.981266 (coordinates from utah.com) At the Burr Trail Junction stay on Burr Trail Road heading away from the Burr Trail Switchbacks. After about 2.3 miles you'll see the parking area for Headquarters on your left. Even though you are way in the backcountry, we found the signs easy to follow.
The parking for Headquarters Canyon is close to Surprise Canyon, about 0.5 miles back towards where you came from, and you'll see the sign on your left on the way back out, with room for about 3 cars.
Length – 2.15 miles roundtrip (for Headquarters)
Difficulty – Easy
Enjoy the local cuisine
I guess this isn't 'technically' in Capitol Reef National Park, but it's the perfect way to end your days exploring the park. Just a few minutes outside of the park, you'll come to the small town of Torrey where you can find just about anything you need to stock up.
You'll also find 2 awesome options for dinner! First up there's Capitol Burger food truck which definitely lives up to all the hype. We had the mac and cheese with green chilis burger and the classic. We were only bummed we couldn't come back and eat there again because we were out of time.
There's also another restaurant called Chak Balam which is a 3rd generation family-owned and operated Mexican restaurant with absolutely incredible food. It was so good in fact that after downing 3 good-sized tacos, I ordered another one for 'dessert'! The online reviews talk about how unassuming the outside is, but don't let these reviews stop you, it's incredible.
Drive Scenic Highway 24 & the Petroglyphs
Highway 24 is incredibly scenic and you don't need a 4WD and emergency supplies to do it. I've included this one as a bonus because you'll probably find yourself driving at least parts of it already if you're in this area!
One more bonus activity is to see the petroglyphs which are a short walk on a boardwalk trail. It's located near the visitor center, and can be combined with a trip for pie and a picnic in the park.
Our Itinerary for 3 Awesome Days in Capitol Reef National Park
Day 1:
Starting the afternoon before we drove from Escalante on the Loop the Fold route backcountry route, and camped in dispersed camping outside Capitol Reef.
We got up in the dark and hiked into Hickman Bridge for sunrise, then backtracked a bit and took the side trail to the Rim Overlook and on to the Navajo Knobs. From there we set up a time-lapse at Sunset Point and sat around for a bit because we were exhausted!
Day 2:
Sunrise at Cassidy Arch with freshly brewed coffee in a thermos.
Pie at the Gifford Pie House.
Hiking Cohab Canyon in a sugar coma mid-afternoon, (it wasn't too hot).
Scenic Drive & Grand Wash Scenic Drive
Burgers at Capitol Burger food truck
Day 3:
Drove some of scenic Hwy 9
Hiked to Chimney Rock
Tacos at Chak Balam – so good!
Drove towards Salt Lake City heading home
Important note – the above itinerary is very 'ambitious' and might not even be possible at all during the hot summer months. Be aware that the weather makes everything a question mark on desert trips.
Lots of hikes aren't safe if there's rain in the forecast. And the backcountry drives can leave you stuck in the middle of nowhere for a couple of days while the roads dry out and become passable again.
FAQ's
Is Capitol Reef National Park worth seeing?
We would say 100% yes! It's a smaller park but no less scenic, and we found ourselves enjoying this park maybe even more than any of the other Utah National Parks.
What can you not miss in Capitol Reef National Park?
Take the Capitol Reef Scenic Drive, eat pie at the Gifford Homestead, and go for at least 1 hike! You can't go wrong with any of the hikes, but Cassidy Arch and Hickman Bridge are both more moderate and absolutely stunning. There are lots more to do, but that's what I would do with just 1 day in Capitol Reef.
How many days do I need in Capitol Reef National Park?
On average 1-3 days will cover quite a bit in this small park. However, you can easily spend 5-7 days here if you want to do the backcountry 4WD roads and the hikes that accompany them.
Everything I've written about Utah's Mighty 5 Parks to help you plan your trip
Arches National Park – haven't written about this but Double O Arch and Delicate are worth the hike.
Canyonlands National Park – only have 1 written, but definitely try Syncline Loop if you're up for a challenge, or Upheaval Dome. Mesa Arch is incredible but very crowded.
Zion National Park – lots of inspiration here.
Bryce Canyon National Park – you can't go wrong here and we've also done Fairyland Loop which was great.
Capitol Reef National Park – Cassidy Arch is the 1st one I've written, but I can vouch for all the hikes we listed above. If you have time for just a few, Cassidy Arch, Navajo Knobs, and Hickman Bridge are all great.
I sure hope this helps if you're planning to visit Capitol Reef National Park. And finally, if you're traveling in this area of Utah, don't forget about the whole wonderful area around Moab like Corona Arch!