Hiking the Gunsight Lake Trail will give you varied mountain landscapes, glacier views, and a glacially colored lake at the end. It's a quieter hike in Glacier National Park often overlooked for the more popular trails. However, this hike is no slouch in the spectacular views!
We hiked to Gunsight Lake in the fall and really enjoyed the beautifully colored foliage and the extra vibrant lake. I've been to Gunsight Lake twice and it really varies in color during the season. If you happen to get here right after a snow/rain, it will be extra glacially colored.
In the height of summer, it's still beautiful but the water is much clearer and more inviting for a swim. This hike has its share of bad reviews, but we really loved it. The main complaint seems to be that you have a mile to hike up to get back to the parking lot. That seems like a small price to pay for such lovely scenery!
However, if you have a short amount of time in Glacier National Park, I might recommend going with some of the classics like the Highline Trail and Grinnell Glacier. Iceberg Lake, Avalanche Lake, and Hidden Lake Overlook will probably fill up your time in Glacier from there.
But if you're looking to get away from the crowds, this hike doesn't disappoint in our opinion anyways!
Everything you need to know to hike Gunsight Lake Trail
Distance – 12.6 miles out and back.
Elevation gain – 1,500′
Rating – moderate
Trailhead – Jackson Glacier Overlook
Trail – dirt with rocky and rubbly sections throughout. Also, you lose elevation for the 1st mile of the trail which is everyone's complaint on the way back out!
Bathrooms – pit toilets are located just one stop down from Jackson Glacier Overlook.
When to hike – July – September, possibly early October if the weather permits, and Going to the Sun Road is open.
FAQ's
What can you do at Gunsight Pass?
Gunsight Pass is located above Gunsight Lake and can be reached from the Gunsight Lake Trail or from the Sperry Chalet side. You can hike down into Gunsight Lake or hike to Lake Ellen Wilson and out through Sperry Chalet depending on what direction you're hiking from. You can also climb several peaks in this area.
Is Gunsight Lake worth hiking?
In our experience, we would say 100% yes, and I'll let the photos speak for themselves! However, if you have a short amount of time in Glacier National Park you might consider hiking the super popular hikes I mention above like the Highline Trail and Grinnell Glacier. This hike is perfect if you love great views but also value a quieter trail. The popular trails are a bit more scenic, but they're also a lot more crowded.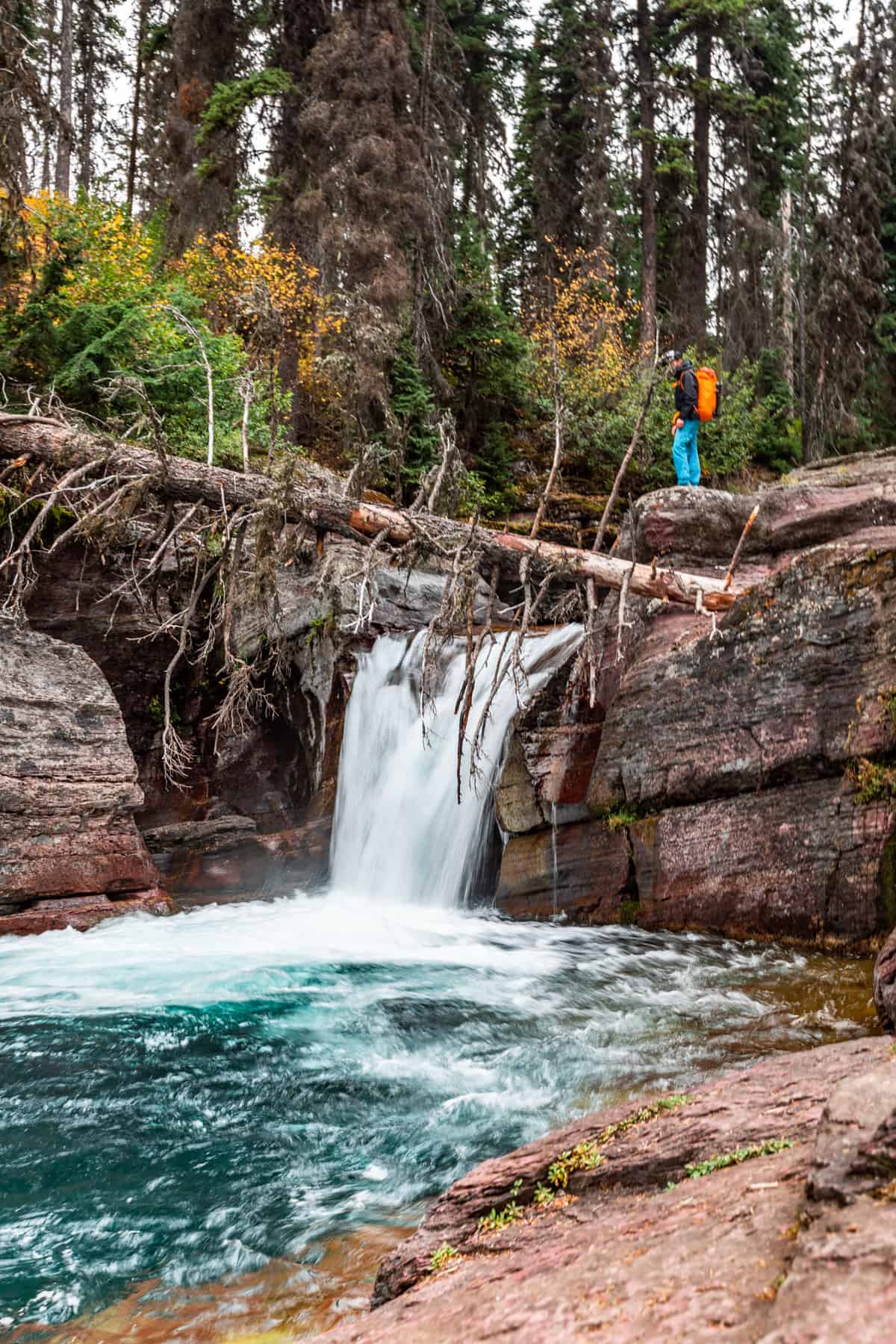 Tips for hiking Gunsight Lake
Be sure to pack a nice lunch or a very large snack to enjoy at the lake. The lake is so scenic, it's nice to spend some time there.
Take some time for a backcountry swim either in the lake or in the creek on the way back. The water is cold of course, but so inviting on a summer's day. It was very cold and windy at the lake the day we visited, and there was fresh snow melt in the lake! So we had a nice swim in the creek on the way back where the sunshine was warm again.
As you hike, you'll see Reynolds Creek running alongside the trail, and make sure to stop at Deadwood Falls, pictured above.
After the falls the water will be on your left and there are some open areas that are perfect for spotting a moose. We didn't see one, but several groups ahead of us saw a very large bull moose.
Story of our day hiking Gunsight Lake Trail
We started the day off with breakfast in the Jackson Glacier Overlook parking lot. We had pre-cooked bacon from home along with my Fruit and Yogurt Parfaits. We've really gotten into those yogurt bowls for hiking, so yummy.
From there we loaded up and headed out on the trail. The day didn't seem very promising which dark overcast skies, but we really lucked out as the day wore on.
As we headed down we enjoyed the views of Reynold's Creek and stopped for some photos at Deadwood Falls. The color of the water is absolutely unreal.
From there the fall foliage really started getting good. It was incredibly vibrant and really made for an extra good hike. If you come earlier in the season you'll be treated with wildflowers instead.
It seemed like no time and we were at the lake which was a deep and vibrant aqua on this particular day. The color varies from a glacial blue to the deep aqua here depending on moisture.
We hiked this right after a September snow and the lake was nothing short of incredible! But you won't be disappointed in the summer either, it will just look different. (Hiking in Glacier in the fall is a bit of a risk because often things are shut down.)
We stayed at the lake for as long as we could handle the cold wind off the water. I packed my Homemade Lunchables and Almond Flour Chocolate Chip Cookies for our lunch.
It was crazy how cold it ended up being at the lake because we had been so hot on the way in. Then just a few minutes back on the trail away from the lake, we were hot again.
So we skipped swimming in the lake with the cold, snow, and crazy wind! We'd definitely love to come back, but we did enjoy diving into a deep pool in the creek on the way back. The glacially colored creek is incredibly cold and so beautiful, perfect for a cool down partway through your hike.
From there we headed back out to the parking lot and headed home stopping for sunset photos at Logan's Pass. A 10 out of 10 kind of day all around!
I hope you enjoyed this peak into the Gunsight Lake Trail! If you're looking to plan a trip to Glacier National Park, check out my Glacier category for everything we've ever written.
You might find my Top 10 Tips for Visiting Glacier National Park helpful as well as my 25 Best Hikes in Glacier National Park. Be sure to check out, Going to the Sun Road Guide for how to navigate the ticket system. And finally, I love to hear from you in the comments below!