Where do you even begin to start when you're planning a trip? For us, we like to start with brainstorming, which is always the fun part, where everything seems possible on your grand upcoming adventure. But from there you really need to start putting together the logistics. So I hope today's post on our tips for traveling in Iceland will help you if you're planning a trip there, but also for any trip you might take.
My first tip is to start with inspiration, but then narrow it down and get practical. I always start a new Pinterest board with any trip we take. Then as I see things while searching through the Internet, I can pin them to the board to keep track of ideas. However it's really easy to get caught up pinning cool things to do, so it's best to have some constraints. For instance, how many days do you have on your trip? Traveling in Iceland is only overwhelming because there are endless amazing sights to see.
A lot of the main attractions are in the region between Reykjavik and Vik. So if you only have a week, you'll probably want to constrain your itinerary to that area. I read lots of articles online before our trip about how to do the whole ring road in Iceland in just 7 days. But here's the thing, while that's technically possible, you're going to be driving… a lot, most of the time really!
So that lead us to part 2 of figuring out how much we could do in our 2 weeks which is to use google maps. You can get directions between one place and the next, which will help you understand how much driving is going to be involved versus sight seeing. Also, there are only so many hours in a day, so having to pick just a few things to see each day was hard but worth it.
And if you've read my posts chronicling each day, you'll quickly see we didn't sleep much for most of the trip. It's really hard not to just go non-stop, although that may just apply to us since we love taking photos day and night. We spent most of our night hours either driving to the next place so we'd be in place for the sunrise. Or we were up and about taking Aurora photos instead of sleeping.
We also had the liberty of staying right in our rental van which meant we didn't need to be at our place to sleep by a certain time. This is important because Iceland runs on what might be considered more normal hours. So if you get to your place to stay too late, you're not going to be let in. It can be a bit of a shock that so many businesses close down what we might consider early, (coming from the States where things are so often open around the clock).
One of my friend's brothers visited Iceland shortly after us, and he ended up having to sleep in his car one night outside of the hotel because he got in after the 10 pm check-in time. All in all, figuring out your time constraints from where you're going to be staying, to how far you need to drive to each location, as well as considering how many days you have really helps put into perspective how much you can see.
I've also gotten lots of questions about going to Iceland for a 3-4 day weekend. And I'd have to say that while that's doable, you're barely going to scratch the surface of this amazing country. But you can plan a great itinerary staying in Reykjavik, visiting the popular Golden Circle and the Blue Lagoon – boom… weekend planned!
My second tip is related to the first and it's to figure out what type of rental vehicle you'll be getting. First up there's the smaller cars that have great fuel economy. Not only are they really affordable to rent, but they're also much cheaper to drive around Iceland because as you might expect of an island, gas/diesel is very expensive, (compared to what we're used to). In fact, everything in Iceland is very expensive, (double to triple) what we're used to for prices.
So figuring out your rental vehicle will help with your budget. If you're renting a car, then you'll need lodging and food as well. You can also rent camper vans that you can sleep and cook in. If you do this, please be extra respectful of the nature you park in. Iceland is overrun with camper vans and it's creating huge problems as people leave behind every kind of waste you can imagine. For camper van rentals you'll want to reserve as soon as possible because they book up fast.
We tried reserving a van 10 weeks in advance during the off-season, and we really struggled to find anything. This is because we were set on driving into the Highlands which requires 4x4s to access. And only a certain, (very limited number) of rental companies offer these kinds of vehicles. So we ended up getting one of the only vehicles left, and let me tell you it wasn't the best… to say the least. It wasn't well equipped, squeaked and groaned until we thought we were losing it, and barely had enough power to make it up the hills on the main roads.
But here's the thing… it got us into the Highlands, (the previous 2 photos, and the one below) and that was all we were after. So we were willing to put up with a beaten-up van. Also, I should say we originally rented a Toyota truck with a rooftop tent, which would have been perfection for what we were trying to do. But the day before we arrived, someone else wrecked the truck, and we ended up with the van instead. All in all, it did the job and didn't break down, so we considered it to be a win. The moral of this tip is to book in advance if you have specific requirements!
Another question we got a lot was, 'How did you charge your gear on the go?'. And that brings me to my third point which is you'll need adapters to charge things since Iceland is part of Europe. So if you're coming from the States, be prepared! If you're not traveling/sleeping in a van, you can just charge your stuff wherever you're sleeping each night. But if you're on the go, you have 2 options as far as we found.
First, you can either stop at cafes to eat and charge your stuff whenever that's available. Or you can figure out how to charge on the go. We bought an inverter that had what amounts to tiny jumper cables to charge my laptop. I have an Apple which will not charge based on the kind of charger you can put into the cigarette lighter. But since we need my laptop to take photos from our SD cards onto an external hard drive, we had to figure out how to charge from the van.
Before we left for Iceland we did lots of testing to figure out how to get the inverter to work. Even though it said it could be plugged in on the inside of the vehicle, after blowing most of the fuses in both our trucks, we figured out this was definitely not the case.
So we used the jumper cable attachments to hook the inverter up directly to the battery and run the cable inside the vehicle to plug in the laptop. This worked like a charm, but I should mention you have to have the vehicle running for this to work. Otherwise, you'll find yourself with a dead battery on the side of the road, or worse yet in the middle of nowhere!
We saw lots of photographers sitting with their gear plugged into a cafe wall during our trip, and we were so glad not to have to stop just to charge the laptop. As far as everything else goes, we just used the cigarette lighter charger attached to a small extension cord with multiple outlets for charging. That way any time we were driving, we were charging everything possible, from the cooler to our camera batteries, etc.
You can refer to the photo below to see the mass of cords and such in the middle seat of the van for everything charging, with me enjoying a cup of coffee on the backside of the Vestrahorn mountains, uploading photos from the previous night's sunset and aurora.
The next tip is to be prepared for water, and lots of it. (See the waterfall photo below as well as the first one in this post, where we both came away soaked on the outside, but toasty and dry inside our rain gear). Apparently, it rains a lot in Iceland, although we had the best luck ever with 11 out of 15 days of sunshine!
In fact, we pretty much lived in our head-to-toe Gortex for the entire trip. We had Gortex shoes, rain pants, rain jackets with hoods, and most importantly we had Sea to Summit bags to put over our camera gear. We saw so many people either soak their cameras, (lots of complaints about wrecked electronics) or people who didn't do what they were wanting to do because they didn't want to get wet and cold.
And I do have to say the days when it did rain, it rained with vehemence. I'm talking sideways rain pelting so hard into my face it hurt at times. And I was so grateful to be warm and dry in my Gortex clothes. We heard nothing but complaints about how cold everyone was. But we were toasty most of the time, with the exception of our first night in the Highlands.
We knew it was going to be below freezing, so we got prepared by wearing our hats, down coats, and raincoats along with wool socks and the like, but we really should have worn our rain pants to bed as well. As I mentioned above the van wasn't well equipped, and we knew after looking over what we had been supplied with that the blankets were completely inadequate for the backcountry. But what can you do?
In the end, it was all ok because we spent most of that night driving into the Highlands, and then soaking in the hot river in Landmannalaugar. By the time we went to bed, we only had maybe 90 minutes to sleep before we got up to go hiking. But in just 90 minutes we both woke up with no feeling in our feet, it was just that cold.
We have lots of experience with cold climates and camping in the backcountry, but normally we have our own gear with us. So we both knew not to sleep very long so we didn't get frostbite with the thin blankets we had. Every single night after that we slept with every layer we had with us including hats and gloves. Once we were out of the backcountry, our clothes kept us warm enough even though the blankets didn't do much. And that brings me back to point #2, definitely reserve way in advance so you get a decent vehicle from a decent company, because they're much better equipped.
(No one would venture near the waterfall below because the mist was drenching. But with our great Gortex gear, we had no such hesitation. And everyone was extra happy to get a shot of Tyler modeling in their shot without having to get wet themselves.)
Tip number 5 is all about money, it's always good to consider how are you going to pay for things on your trip? This is especially important to think about when you consider many places aren't open past 5 pm in Iceland. So when you pull up to a gas station, you can't go inside to pay if it's after hours, and if your credit card is having problems… again… well you see my point! Someone had given us the tip to be sure and purchase a gas card just in case, and that was really helpful to us.
Especially because we soon found out our credit cards wouldn't work at the gas stations. They worked just fine to buy groceries and such, but they wouldn't work at the gas stations. So in the end we lost a little money because there was still some left on our prepaid gas card when we left. But we never had to spend the night in the gas station parking lot waiting for them to open!
It also bears mentioning that you should check with your credit card company before you go to see if you're going to be charged foreign transaction fees, which can be hefty on some cards when you're out of the country. And finally, it's good to have some cash on hand for things like campgrounds and bathrooms, which sometimes take credit cards, and other times it's only cash.
The next tip is to buy local as much as you can! For souvenirs, we decided we wanted something with Icelandic wool to take back since that is one main industry. So we each ended up getting a set of hats and gloves, and we wear them all the time, (see above photo)!
Groceries can be hard to buy locally because a lot of produce is imported. But they had a lot of local beef, lamb, and eggs as well as some greenhouse-grown veggies. Buying local is always one of the best ways to support the country.
And another thing we wished we'd had on our trip was water bottles. We thought we'd just buy some reusable bottles for drinking out of when we got there, but we didn't find any. Then the trip just started flying by, and we never ended up getting any.
This was mostly a problem because our rental van didn't have any water jugs with it. So at our first gas station stop, we loaded up with 8 – 2 liter plastic water bottles to stock up for the backcountry, as well as some 16-ounce bottles to fit in our backpacks.
A local lady behind me in line kindly told me 'you don't need to buy bottled water in Iceland because even the tap water is almost always drinkable', (it's labeled when it's not). I told her thank you, but I needed to buy the bottled water for the bottles, and that our camping van didn't have any water supply jugs. We just needed the bottles to refill for the rest of the trip, but so many people we met didn't know you could just drink tap water.
In fact, we did a lot of research before we left about drinking right out of the rivers. And if you know how to fill up in the right places it's supposed to be safe to drink. They've only had 2 reported cases where it was a problem in 20 years. We refilled our bottles out of streams, rivers, and glaciers all over Iceland for 15 days without any problems at all. I guess this is just a long way of saying, support the locals in any way you can, and don't buy bottled water in Iceland if at all possible because there's nowhere really for the waste to go!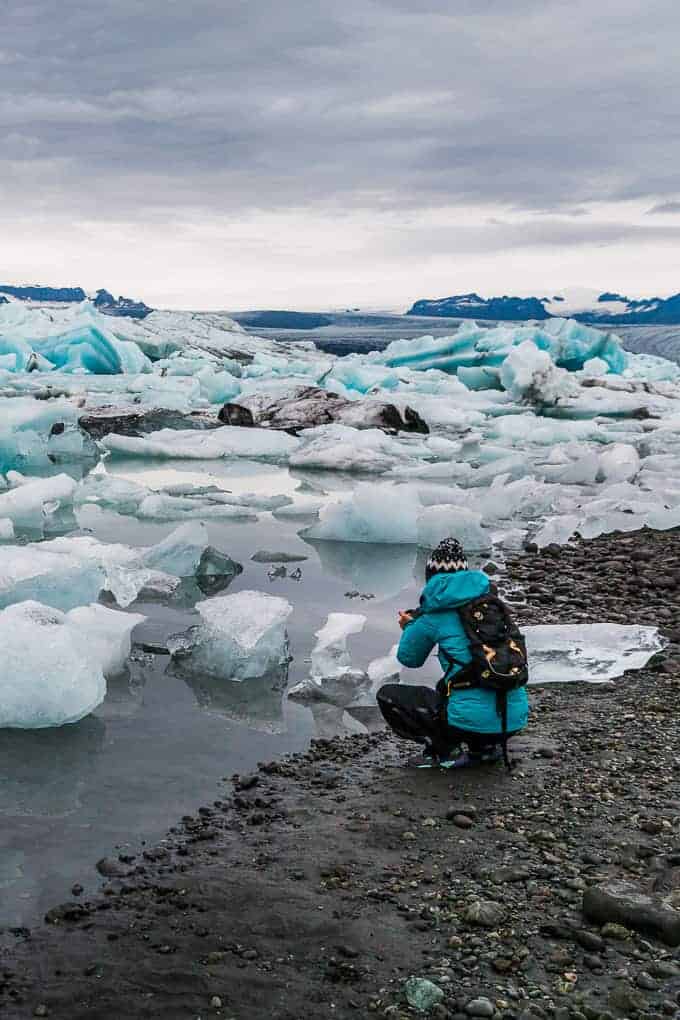 And having said that, I'm going to contradict myself a little and tell you there were a couple of times I bought bottled water even though I didn't need it. This brings me to point #7 which is bathrooms in Iceland. Whenever we were at a tourist attraction where there was a cafe, you need to be a paying customer to use the bathroom.
And since we never had a good coffee out in Iceland, a couple of times we bought a bottle of water or juice just to use the bathroom. Then there were some places you weren't allowed to use the bathroom, even if you were a paying customer.
At one gas station/grocery store combo, we bought around $200 worth of diesel and groceries, and then we were told we couldn't use the bathroom. We were both desperate at this point and asked where we might find a bathroom, and the really nice clerk sent us to the center of the town to a public bathroom where we then had to wait in a lineup.
You'll also find the cash to be handy when it comes to bathrooms because it's not uncommon to have to pay to use the bathrooms at many of the different attractions. There are also bathrooms here and there around the ring road, but we found once we left the main area between Reykjavik and Vik, finding a bathroom became more and more problematic.
That leads me to point eight which is to bring every ounce of patience you possess, (this applies to most things in traveling really). Whether you're having to wait 20 minutes in line to pay to use the bathroom, only to find out you don't have exactly the right coins for the machine. Then to have to return to the van, and of course start all over again at the back of the line.
Or you're being pushed around with the sheer number of people at some of these main attractions, you're going to need patience and a good attitude to have a good time. I can't even tell you the number of times we almost let it ruin our day, but we just ignored the rudeness and tried to remember that patience really is the answer!
After all, there were a lot of really over-the-top amazing moments which far outweighed the tough moments! (See the 2 photos above, well really any photo we took from Iceland!)
Tip #9 is to consider what kind of insurance you're going to be needing. Some credit cards offer quite a bit of trip-related insurance, so first up you'll need to see what your card offers. But then there are out-of-country health insurance policies, camera gear insurance, and rental car insurance to consider.
Despite our best efforts to be ultra-careful, we had a close call with a herd of sheep in the middle of the road one night. Tyler had to break so hard we laid a lot of rubber on the road and even started to skid a bit. But we missed the sheep, (which came out of nowhere, much like the abundant deer and elk we have in Montana) and all was well.
Another time we were parked in the parking lot of the popular waterfall Seljalandsfoss having Icelandic yogurt and my Maple Cinnamon Granola. We were utterly exhausted from being up around the clock, and just trying to enjoy a moment's peace over our breakfast. However the parking lot was filling up fast, and someone pulled into the tiny space right next to us.
As he opened his car door the wind jerked it out of his hand, and the whole van rocked as his door slammed into the side of us. So we jumped out to assess the damage along with the guy who hit us. It was all made a little easier because he spoke enough English that we could easily communicate, so that was a bonus. And after we all worked on it for a bit, we had the paint from his door buffed out of the van with no visible dent at all!
Obviously, that couldn't have worked out any better, but it's a great example of why you need to be covered with proper insurance because you just never know what's going to happen.
It also bears mentioning that the way the insurance for the Highlands was explained to us is as follows. It's definitely not what you would be used to with full coverage in the States where pretty much everything is covered.
So if you tip your vehicle over in a river, or take out something in the undercarriage going over a large rock, break and axle on the terrible roads, etc. you're going to have to pay for that out of your own pocket. It's not like our normal insurance which would cover that, so I thought that was good info to know! We were super careful in all our driving in the Highlands because we didn't want to damage the vehicle in any way, shape, or form.
Also this is a bit of a tangent, but so many people think you can off-road anywhere in Iceland. This is not the case and the fines are hefty, and you simply want to respect the environment as well. When you see something advertised as 'off-road' it means you'll be on what they call F-roads where sometimes the 'road' is barely visible. It also means there are no bridges over the rivers, and a good amount of backcountry knowledge is recommended so you don't get into a dangerous situation!
And finally tip #10 which is last but certainly not least – be determined to have a great time no matter what! I can't even tell you how many things went wrong or not 'according to plan' on this trip. There were so many times the mounting frustration was getting to us, especially with the difficulties we were experiencing with our vehicle and lack of proper camping supplies. (Mind you the company advertised it a 'fully equipped' which it most certainly was not!)
And it's funny how sometimes the little things can just get to you. For instance the windshield wipers squeaked loudly with every swipe. On our first night driving into the Highlands, it was kind of funny, and I even sent my mom a video of the terrible squeaking with a joke that we basically rented the same quality of vehicle as my first truck, (which was nicknamed 'Old Squeak'!
But I'll tell you what, that squeaking/squealing sound really gets to you after hours and hours of it constantly while driving in the rain. I can't even tell you how gratifying it was at the end of the trip when the owner of the van drove us to the airport, and he totally lost it after just 10 minutes of squeaking!
It's just things like that where you can end up losing your cool and ruining full days of vacation. So every time we felt ourselves drifting that direction, we just focused on how amazing everything else was, and whatever was going wrong didn't seem like such a big deal anymore!
So I hope this post was helpful to you, whether you're planning a trip to Iceland or somewhere else. We had the time of our lives, and I just wanted to pass on everything we learned!
You may also enjoy reading Iceland the Viking Village and Vestrahorn in Stokksnes & Iceland Diamond Beach and Jokulsarlon.