This 10 Minute Soft Serve Mango Ice Cream is fruit based making it a 'nice cream'. It's banana free, easy to make, and a kid friendly healthy dessert.
Fruit based ice creams, or 'nice creams' as they're sometimes known, as are nothing short of revolutionary! They're like a cross between actual ice cream and a sorbet. Another major bonus is they're so fast to make, you can have ice cream in your bowl in just 10 minutes start to finish – it's hard to beat that!
I make this whenever I have a sweets craving that I just can't seem to get rid of. It's a healthy way to indulge, and full of nutrition from all the mangoes you're eating. Mangoes are high in Vitamin A and Vitamin C, so it's basically health food ice cream! Ok… ok… I might over exaggerating a bit with the health food claim, but there's not too many desserts out there that are this decadent and still healthy.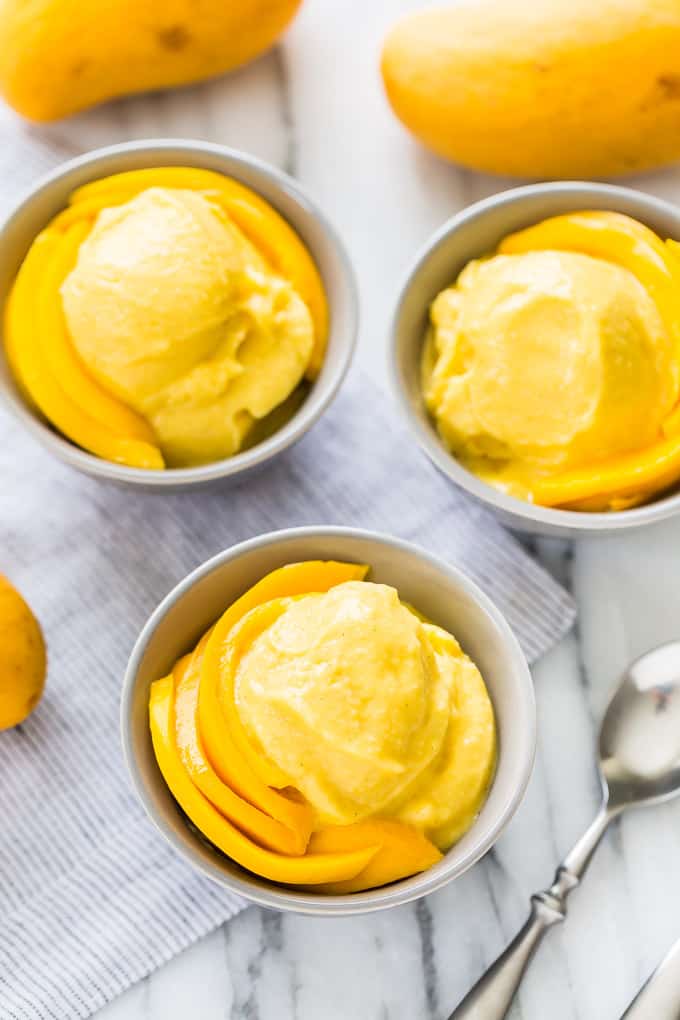 Part of what makes this ice cream so good is the vanilla bean, but feel free to add some vanilla extract instead. Whenever I use the seeds from a vanilla bean, I save the pod to blend into other things like my Orange Creamsicle Smoothie. That way you really get the most out of your vanilla bean.
Tips for making this 10 Minute Soft Serve Mango Ice Cream:
When you make this in the food processor, it will stick several times in the first few minutes of processing. Simply stop the machine and break up and big chunks before continuing. I know lots of people blend frozen fruit into ice cream in their high powered blenders, but since mine is out of warranty now, it makes me nervous to blend it.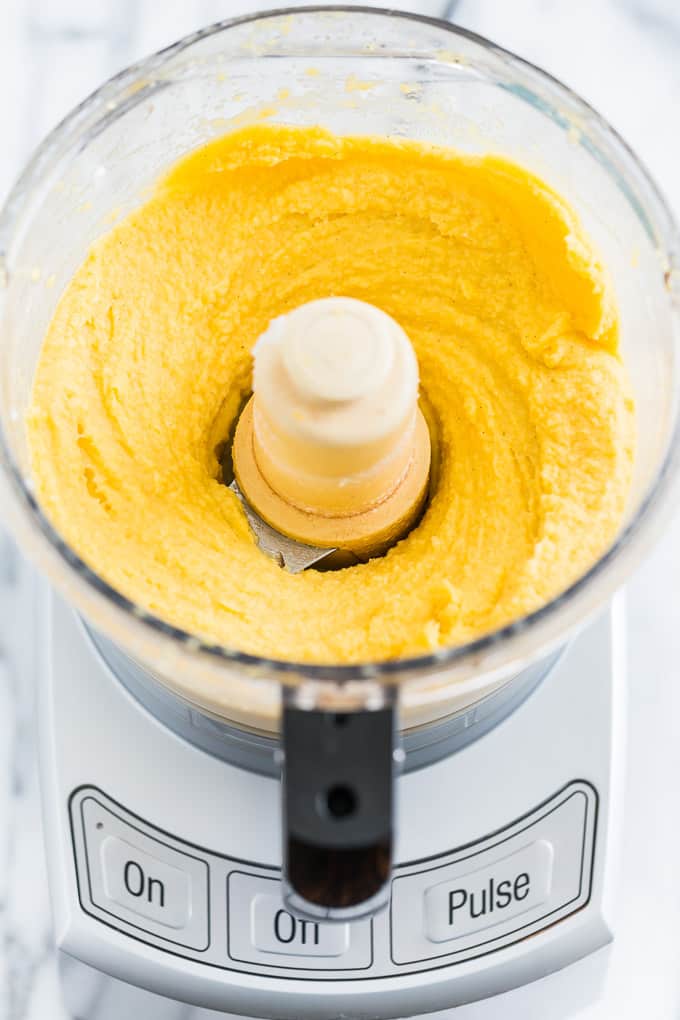 It is easier to blend nice creams because you can use the tamper to keep the mixture moving, however you also run the risk of smoking your motor if you push it too far. So all in all I stick to the food processor for now because it's much cheaper to replace than my blender. On a side note, I use the 6-quart Cuisinart and it's been fantastic, taking on all sorts of tough jobs over the last 5 years!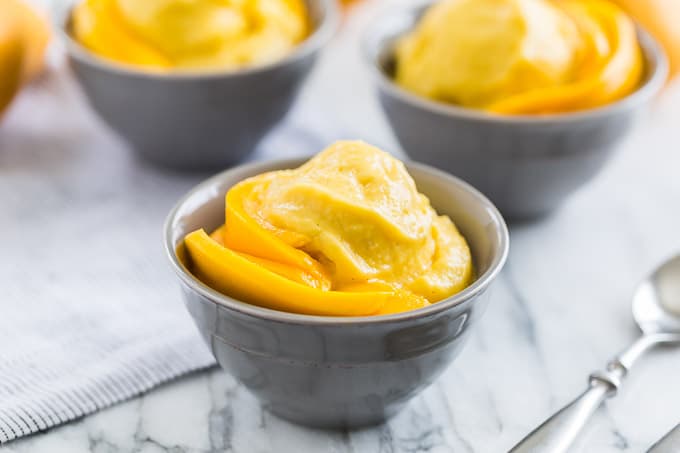 More Nice Cream Inspiration: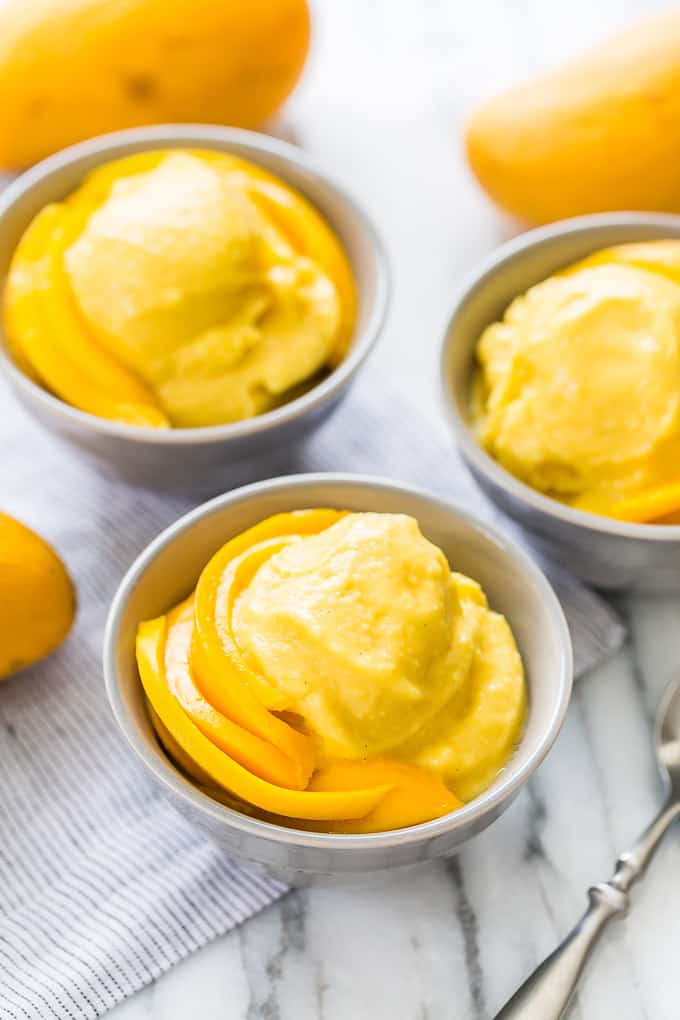 For more another kid friendly nice cream option be sure and check out my Healthy Chunky Monkey Ice Cream. Or for even more, I have several fruit based nice creams in my Inspired Ice Creams E-Book.
Print
10 Minute Soft Serve Mango Ice Cream
---
Description
This mango soft serve is a super flavorful, easy to make, healthy treat that everyone loves!
---
6 cups

frozen mango chunks, 1 1/12 pounds

1

vanilla bean, split in half or

1 Tablespoon

vanilla extract

1/2 cup

coconut cream, see notes

3

–

6

Tablespoons maple syrup, I use Grade A amber
---
Instructions
Place the frozen mango chunks in a 6-quart food processor. Scrape the seeds from each vanilla bean half into the food processor, or add the vanilla extract.
Secure the lid and begin processing. Stop the machine each time the fruit sticks, and break apart the big chunks before processing again. This will happen several times in the first few minutes, but once the fruit begins to break down it will process on it's own.
Process until the mango is completely smooth like ice cream, about 5-6 minutes. Then add the coconut cream, and a small amount of maple syrup. Process again until smooth, and taste to see if you need to add more syrup. The sweetness of mango really varies, so your amount of sweetener will change with each batch.
Serve immediately, or freeze for another 2-3 hours for a firmer texture.
Notes
You can buy small cans of coconut cream, or simply scrape off the hardened coconut cream that rises to the top of a can of coconut milk, and reserve the rest for another recipe.
Prep Time:

10 mins

Category:

Dessert

Method:

Food Processor

Cuisine:

American
Keywords: Healthy Mango Soft Serve Ice Cream Recipe, Mango Ice Cream, Nice Cream without Bananas, Mango Coconut Nice Cream, Paleo Mango Ice Cream