I'm a huge fan of easy dinners, and if they come together in just 1 pan/pot that's all the better for the dishwasher, (aka… me). Sheet pan dinners are relatively new in our house, but it only took the first meal to know that this concept of baking everything on a cookie sheet is going to be happening a lot!
I've been craving everything fall right now, so the first recipe I have actually written down for you is packed with butternut squash. There's also some broccolini in there because it's the much more delicious cousin of broccoli, and I can buy it in nice pre-washed packages at Costco. A little convenience is always welcome with weeknight dinners for sure.
And speaking of convenience, if you want to make this recipe even easier by grabbing a package or pre-cut veggies. I happened to have a couple of butternut squash ends leftover to use from making butternut noodles with my spiralizer. So I cut them up for this recipe.
Planning 2 meals together like that can really save money as well. You only use the top part of the butternut without seeds for butternut noodles which leaves you with the bulb shaped end. I like to use those leftovers for recipes like this one or my Roasted Veggie Bowls with Pomegranate Feta Guacamole.
The squash and onions get a few minutes of roasting first because they take longer a little longer to cook. Once the squash is almost tender, you add the chicken breasts and broccolini to the pan, and drizzle with rosemary balsamic sauce. Finally it's baked until the chicken is done but still juicy, and the broccolini is tender.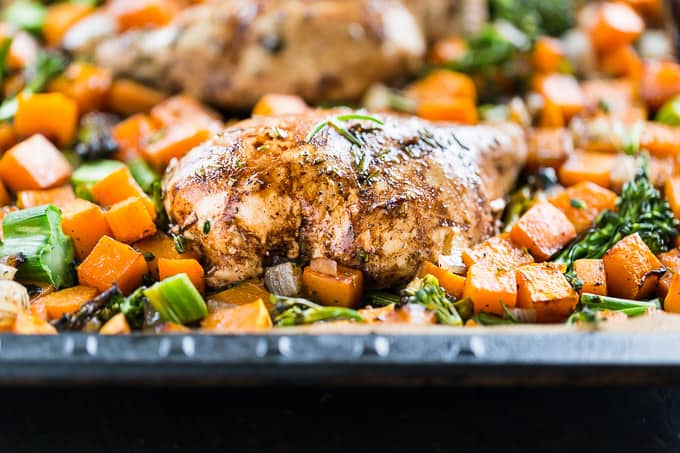 Let's just take a quick pause to just look at all this fall deliciousness!
This definitely is a meal unto itself, but you could also add a side of Cheesy Mashed Cauliflower as well. I really like having a simple dinner that's on the lighter sometimes, especially in between big holiday meals. Or when I know there's something decadent for dessert like my Deep Dish Peanut Butter Cheesecake Brownies.
Print
Balsamic Roasted Chicken and Veggie Sheet Pan Dinner
---
1

small butternut squash, 2 pounds

1

medium onion, 1 pound

1 Tablespoon

olive oil

6

–

8

stems of broccolini, 1/2 pound

2

boneless skinless chicken breasts, 1 pound
Rosemary Balsamic Sauce:
1 Tablespoon

olive oil

1/4 cup

balsamic vinegar

1 Tablespoon

maple syrup

1

large clove garlic, minced

2 Tablespoons

chopped fresh rosemary

2 Teaspoons

sea salt, or to your taste

1/2 Teaspoon

freshly ground black pepper
---
Instructions
Preheat the oven to 425ºF and line a baking sheet with parchment paper.
Cut both the ends off the squash, peel, and cut it into 1/2″-3/4″ cubes, removing the seeds when you get to the bulb shaped end. Place the squash cubes on the lined baking sheet.
Cut both the ends off the onion and peel away the tough outer layer. Then cut the onion into 1/2″ dice and add it to the pan with the squash. Toss the squash and onion together with 1 Tablespoon of olive oil, and roast it in the oven for 20 minutes, or until barely tender with some browned edges.
While the squash bakes, make the rosemary balsamic sauce by placing all of the ingredients into a mason jar, secure the lid, and shake the sauce together. It will separate as it sits, so shake it back together just before you add it to the pan with the veggies.
When the squash is done, make room in the middle of the pan to add the chicken breasts, and arrange the broccolini around the edges. Shake the balsamic sauce again, and drizzle it over the veggies and chicken as evenly as you can.
Return the pan to the oven and bake until the chicken is just done, but still juicy, and the broccolini is tender, about 15-20 minutes.
Serve immediately.
Prep Time:

20 mins

Cook Time:

40 mins