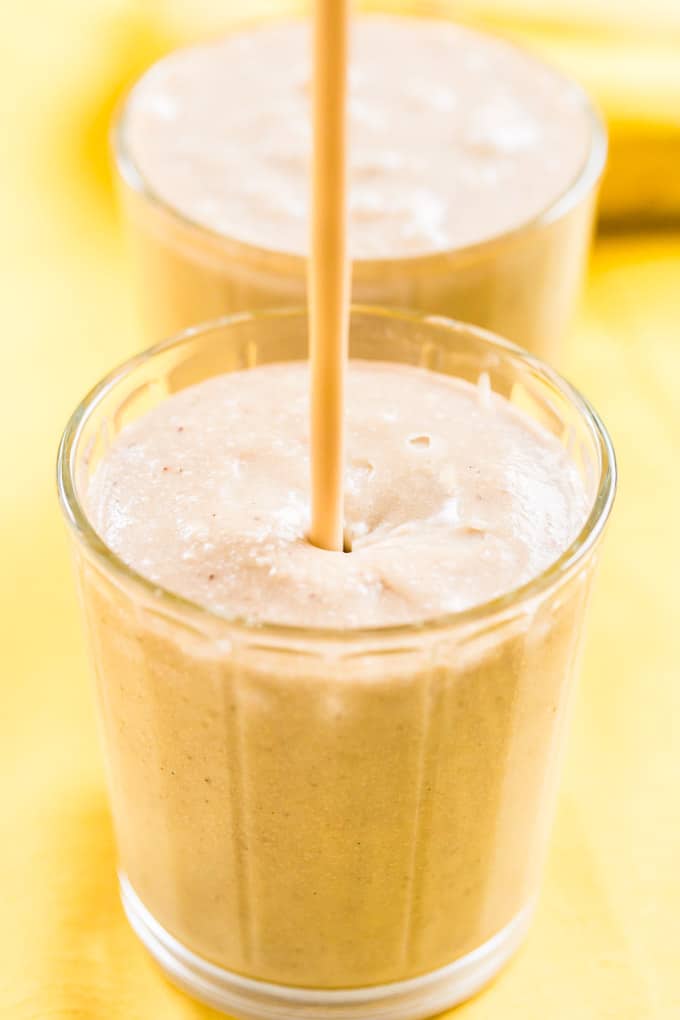 Ummm… Yum! That's it – that's all the words coming to mind at the moment!
Sometimes I feel the need to break out of the green smoothie world and make something decadent – like this dessert in a glass! Banana cream pie is one of my favorite pies, (who can pick anyways, all pie flavors are good) but I don't often make a whole pie anymore unless we have company to help with the leftovers. 2 people + 8 slices of pie = well you do the math, it's not that healthy of an equation!
(Since I first wrote this recipe, I've come up with a healthier version of Banana Cream Pie as well!)
The secret to the deep flavor of this smoothie is the vanilla bean that's actually ground right up into oblivion, and it creates an authentic pie flavor that took me by surprise! You see… I have these ideas, (like this smoothie) but an idea doesn't always translate to reality. I tend to be a bit dubious about whether or not my idea will be everything it's supposed to be.
For instance, will the smoothie taste a bit health foodie, or will it actually taste like pie? So, I was surprised to say the least when it really did pull through in the dessert department. And the first thing my husband said when he tasted it was – 'tastes like banana cream pie' so it's a win!
It's best to cut the vanilla bean into pieces to help with the blending. You'll need a high powered blender to properly grind up a vanilla bean – with any other kind of blender there will be bits of vanilla bean. If you've never tried using the whole bean before (most recipes call for only the seeds) I think you'll be pleasantly surprised by the awesome flavor!
Money saving vanilla tips:
1. When a recipe calls for the seeds of a vanilla bean, keep the leftover pod in an airtight container to use in your next smoothie. That way, you're really getting the most out of these expensive little pods!
2. Look for vanilla beans at your local health food store because they're usually quite a bit cheaper than a regular grocery store!
P.S. If you're anything like me, you almost always have bananas just past their prime sitting on the counter – and now you have a quick and easy recipe for just that occasion!
Print
Banana Cream Pie Smoothie
---
3

ripe bananas

1 cup

canned coconut milk

1 cup

coconut water

1/2

vanilla bean, cut into

1

" pieces

1

(10 ounce) Ginger Gold apple, cored and cut into quarters

1

–

2

cups ice cubes
---
Instructions
Place all the ingredients in a high powered blender and blend until completely smooth.
Enjoy right away, or refrigerate up to 6 hours.
Notes
If you can't find a Ginger Gold apple, try a golden delicious or another mild flavored apple. If all else fails a Granny Smith will work as well.
A high powered blender is essential to a smooth texture in this smoothie.