Our local Flathead cherries are in season right now, and they're making their way into everything from breakfast to dessert. Every year I buy at least 10 pounds just for eating, but after I've gotten my fill, I start creating recipes to capitalize on the sweetest cherries I've ever tasted.
And… since my love of smoothie breakfast bowls hasn't slowed down in the least, it follows from simple logic there would be a cherry version. I promised myself I wouldn't hit you with another smoothie bowl so soon after my Green Smoothie Bowl, but the combination of sweet dark cherries paired with Chocolate Coconut Granola was just too good not to share immediately!
I must not be the only one who is completely crazy for this concept, because this year at our Farmer's Market there's a brand new food vendor, and you'll never guess what their specialty is. Ok… that was an easy one, of course they're all about Acai Bowls! We can be a little behind the times here in Montana so it made me smile to see the Acai craze has even hit hard here – now I know I'm not crazy!
For smoothie bowls, you want to have all your fruit and toppings ready to go before you blend your smoothie – that way the smoothie base stays nice and frosty.
For the smoothie base, I always put the frozen acai on top because it works better in the blender. I also like to break it up into chunks while it's still in the packaging for a less messy approach.
Once your smoothie base is made, simply pour it into bowls and top with at least as much toppings as smoothie (or that's how we like it anyways)!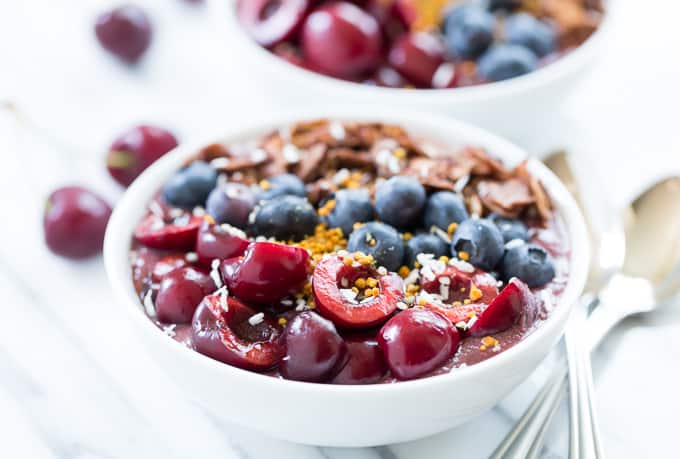 I don't know if my smoothie bowl addiction will last straight through the winter, but I can't think of a more perfect breakfast (or snack) for the blazing hot temperatures we've been having lately! I think I've only turned on our stove twice in the last 2 months – everything we've been eating has either been grilled or fresh (which just so happens to be my favorite kind of meals).
Print
Cherry Berry Acai Bowls
---
Fresh Fruit:
1/2

pound pitted sweet cherries, 1 1/2 cups

1 cup

fresh blueberries, washed
Toppings:
1

–

2

Tablespoons unsweetened finely shredded coconut

1 cup

Chocolate Almond Granola, or your favorite granola

1

–

2

Tablespoons bee pollen

1/4 cup

shelled hemp seeds, also called hemp hearts
Smoothie Base:
1/2

pound pitted sweet cherries, 1 1/2 cups

1

ripe banana, peeled

2 Tablespoons

coconut butter, also called mana

1 Teaspoon

vanilla extract

1

packet frozen acai purée, 100 grams or

3.5 ounces
---
Instructions
Prepare/assemble your fruit and toppings before making the smoothie base.
For the smoothie base place the pitted cherries, banana, coconut butter, and vanilla extract into a blender. Secure the lid and blend until smooth, using the tamper if needed to keep the mixture moving.
Break up the frozen acai packet, add it to the blender, and blend again until completely smooth.
Pour the smoothie base into 4 bowls, and top with the fresh fruit and the toppings.
Serve immediately.
Notes
I've kept the smoothie base refrigerated overnight with the toppings separate and it's almost as good as fresh.
It's important to note that bee pollen isn't Vegan, you can adjust the recipe by adding chia seeds or another favorite seed.