It's no secret that I'm a completely addicted to Acai Bowls, so it's only natural that the progression of this addiction would lead me towards smoothie bowls of all sorts of flavors. We drink green smoothies almost everyday, so it's nice to change it up a bit by putting the smoothie in a bowl, and adding loads of delicious toppings. And while you wouldn't think of this as guy food, my husband always devours his in record time!
I'm giving you an exact recipe today, but feel free to mix and match according to the seasons and what you have on hand. Any combination of fruits you enjoy, and any smoothie recipe that's your current favorite will work, as long as you load on the toppings.
I try to keep my smoothie bowls as simple as possible so that we can enjoy them on week day mornings without much fuss. If you're not a morning person (ahem… me) it really helps to have everything pre-prepped. I cut up a pineapple at the beginning of each week, and have it ready to go in the fridge. The kale is easy enough to wash right before you place it in the blender because there's no need to spin it dry like you would for a salad.
One thing I really like to do with any kind of green smoothie or green smoothie bowl, is to add avocado. A little avocado provides you with great fuel for the day as well as healthy fats which helps you to absorb the nutrients in your food.
We've come up with a bit of a system for keeping ripe avocados in the house at all times. It always seems like you're waiting for days for them to ripen, finally they're perfect, and then the next day they're going bad. So… each week I buy an average of 6 avocados and bring them home to ripen. Once they're barely starting to soften, I place them immediately in the fridge where they last for about 1 week. Then you just take them out as needed and you never have them going bad on the counter. Since avocados come rock hard here, I always buy 1 week in advance, that way I'm using the ripe avocados from the previous week while the next batch is ripening for the following week.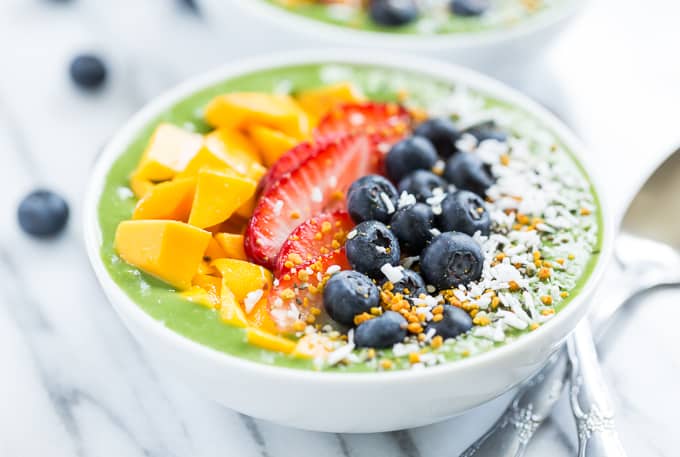 We're still getting some great Champagne mangos here, but when they run out, peaches are a great option with green smoothies. This Ginger Peach Green Smoothie is probably my all time favorite green smoothie, and I absolutely can't wait for peaches to come into season to make some green smoothie bowls!
Print
Green Smoothie Breakfast Bowls
---
2 cups

of fresh pineapple chunks

2

ripe bananas, peeled

3

small leaves of Tuscan kale (lacinato), stems removed, 1 ounce

1/2

ripe avocado, peeled and pitted (optional)
Toppings:
1

Champagne mango, 8 ounces

6

strawberries

1/2 cup

blueberries
Things to Sprinkle:
Shredded unsweetened coconut
Bee pollen
Hemp hearts (shelled hemp seeds)
Chia seeds
Chopped nuts, macadamia nuts are nice
---
Instructions
Place the pineapple chunks, bananas, kale, and avocado to a high powered blender.
Secure the lid and blend starting on low and work up to high speed, blend until the smoothie is completely smooth.
Pour the smoothie into 2 bowls.
Prepare the toppings by peeling the mango and cubing it into bite sized pieces. Wash and hull the strawberries before slicing or quartering them. Wash and drain the blueberries.
Evenly divide the toppings between the 2 bowls and top with your choice of the sprinklings.
Serve immediately for the best flavor!
Notes
I never measure exactly how much of the things I sprinkle over the bowls, but around 1 teaspoon for each of the seeds/bee pollen, and around 1 tablespoon for chopped nuts.
The avocado is optional but highly recommended for a well rounded smoothie bowl. I use the other half of the avocado to cube up over a salad for lunch.