One of my friends messaged me a few weeks back asking if I happened to have a recipe for shrimp tacos. I make fish tacos at home all the time, but up until now I've never made shrimp tacos at home. Maybe it's because I almost always eat seafood tacos when I'm out that I've never put together a recipe before, but these are simple enough that you're going to want to make them often.
I topped these tacos with a tomato avocado salsa, but a fresh mango salsa is also outrageous! I love pretty much any salsa flavor imaginable when combined with the smoky spice of chipotle – that combination simply never get old. One thing I love to do with tacos to speed up the preparation is to use lettuce for wraps instead of homemade shells. I've used everything from homemade corn tortillas to paleo crepes for wrapping up this taco filling, but if you have some time on your hands I can't recommend fresh corn tortillas enough (once you've had them fresh of the griddle there's really no going back).
Whenever I'm preparing Mexican food, I always prep all the ingredients I'll need for each part of the recipe. For instance I like to look ahead and see how much chopped cilantro I'll need in each part of the recipe, and then just chop it all at once. This may seem like common sense, but I thought I'd mention it in case you're like me and follow things from the top to the bottom. This really comes in handy anytime you're making both salsa and homemade guacamole because they use almost the same ingredients – if you chop everything at once you'll save a lot of time.
For me with any seafood or fish taco, the ingredients have to be of the best quality or you're really going to notice the lack of flavor in the simple preparation. The cilantro lime crema is really the key to tying all these wonderful flavors together, and it's the perfect counterpart to the light spice of the chipotle. If you're dairy free, I have an avocado crema in my Fish Taco Lettuce Wraps recipe that you could sub in for the crema in this recipe.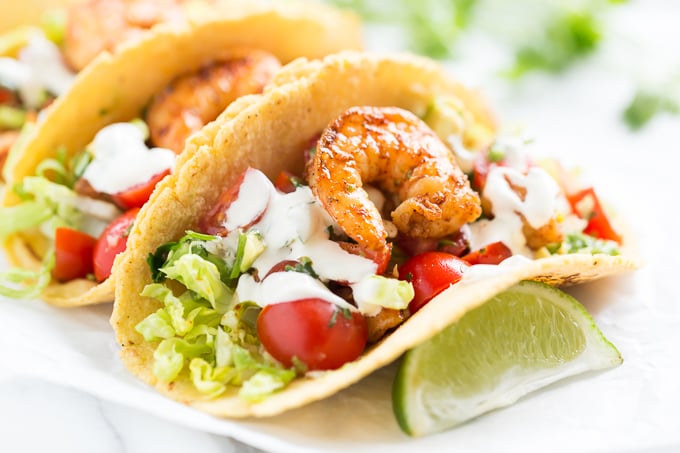 I pretty much love all things Mexican cuisine, (no way to pick a favorite) and I'm working on a Paleo Burrito Bowl this weekend, but I was wondering if there was any dish you'd like to see a recipe for?
Print
Chipotle Rubbed Shrimp Tacos
---
Chipotle Shrimp:
1

pound fresh shrimp, peeled

2 Teaspoons

ancho chile powder

1 Teaspoon

ground cumin

1 Teaspoon

chipotle powder

1 1/2 Teaspoons

sea salt

1 Tablespoon

avocado oil, for sautéing
Tomato Avocado Pico (Salsa):
3 cups

chopped fresh tomatoes, weighing 1 pound

1

ripe avocado, peeled, pitted, and cubed

1/4 cup

minced onion

1/4 cup

chopped fresh cilantro

1 Tablespoon

lime juice, freshly squeezed

1/2 Teaspoon

sea salt

2 Teaspoons

minced jalapeno
Cilantro Lime Crema:
1 cup

sour cream, 8 ounces

1 Tablespoon

lime juice, freshly squeezed

2 Tablespoon

chopped fresh cilantro
Tacos:
12

–

6

" shells of your choice for an average of 3 tacos per person

1

head of romaine lettuce
---
Instructions
Start by combining the shrimp with the seasonings, and let it 'marinate' in the refrigerator while you prepare the rest of the recipe.
Mix together all the ingredients for the Tomato Avocado Pico, and set it aside to let the flavors develop.
Mix together the sour cream, lime juice, and cilantro until thoroughly combined. Set the crema aside in the refrigerator until you're ready to serve.
Slice the romaine lettuce very thinly to create a shredded texture. Wash and dry the lettuce, I use a salad spinner which makes this much easier.
Prepare your choice of shells and set them aside to keep warm (unless you're doing lettuce wraps).
Heat a large skillet over medium high heat until it's hot but not smoking. Add the avocado oil to the hot pan along with the marinated shrimp. Sauté for 1-2 minutes per side, or until the shrimp turns opaque in the center. The cooking time for the shrimp will vary depending on the size you use. I like to use small shrimp because they're bite sized, fitting into the tacos well, and they're cheaper.
As soon as the shrimp are cooked, remove them from the pan into a serving dish so they don't overcook.
Serve the chipotle shrimp with the tomato avocado pico, cilantro lime crema, and the shredded lettuce in your choice of shells.
Notes
For Paleo tacos be sure to use these Paleo Crepes or lettuce for your shells.
For a dairy free crema I love using this Avocado Crema.
Prep Time:

30 mins

Cook Time:

5 mins