This no bake Healthy Chocolate Tart is my most requested recipe because it's so decadent with deep chocolate flavor. It's also super easy to make and naturally gluten free, dairy free, vegan, and paleo! This simple dessert is easily made ahead which makes it perfect for dinner parties, birthdays, and holidays.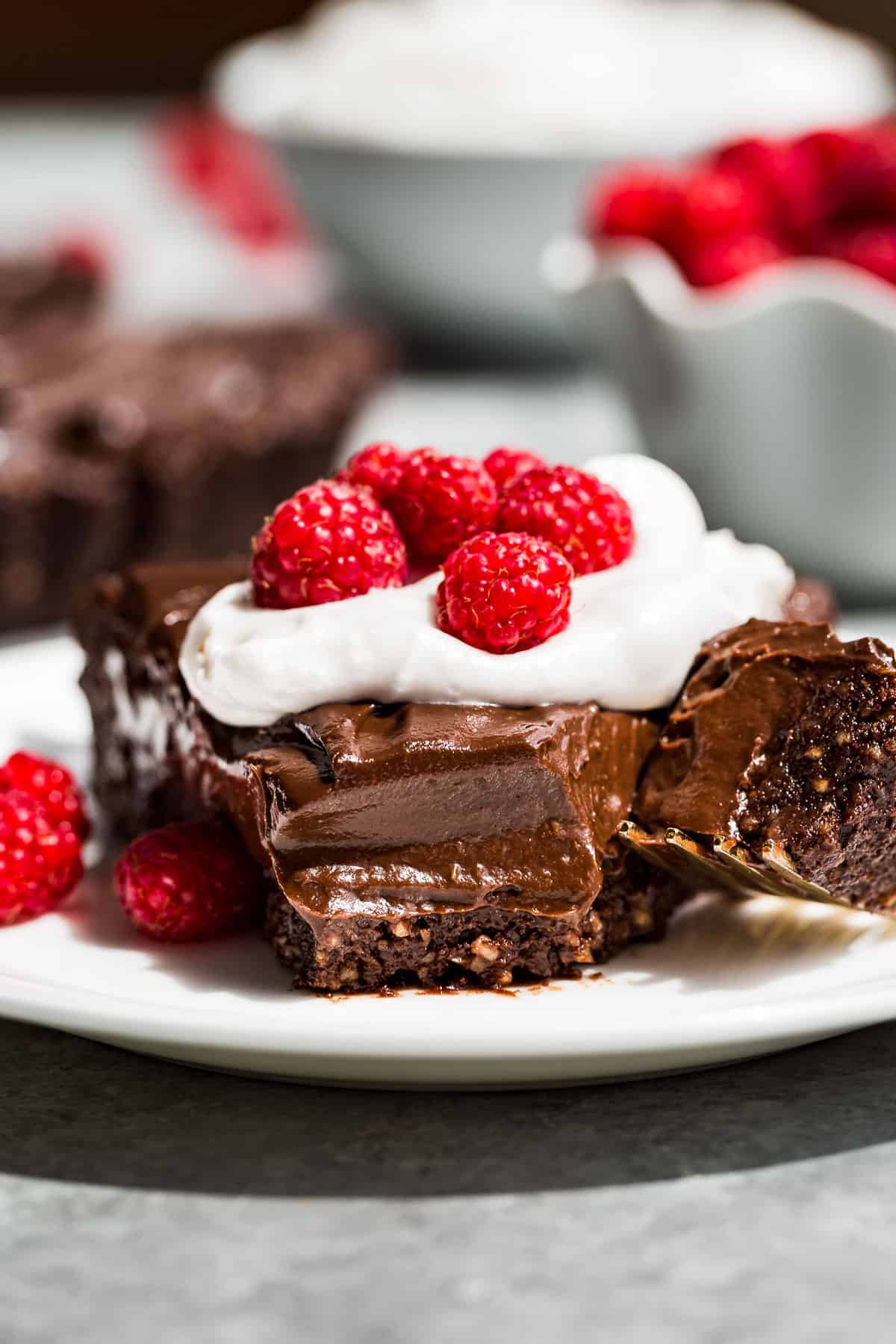 Envision a sticky, chocolate cookie dough crust with a satin smooth chocolate filling.  This no-bake wonder of a tart has been a long-time favorite in our house and one of our oldest recipes ever published.
It's back again with new photos and all the tips and tricks I've learned in 10 years of making this recipe. So if you haven't made this one yet, add it to your 'must-make' list right away.
And I mean… just look at that filling. It looks amazingly fudge-y, and it's everything you might think. Ultra smooth mousse-like deliciousness. The word luscious comes to mind.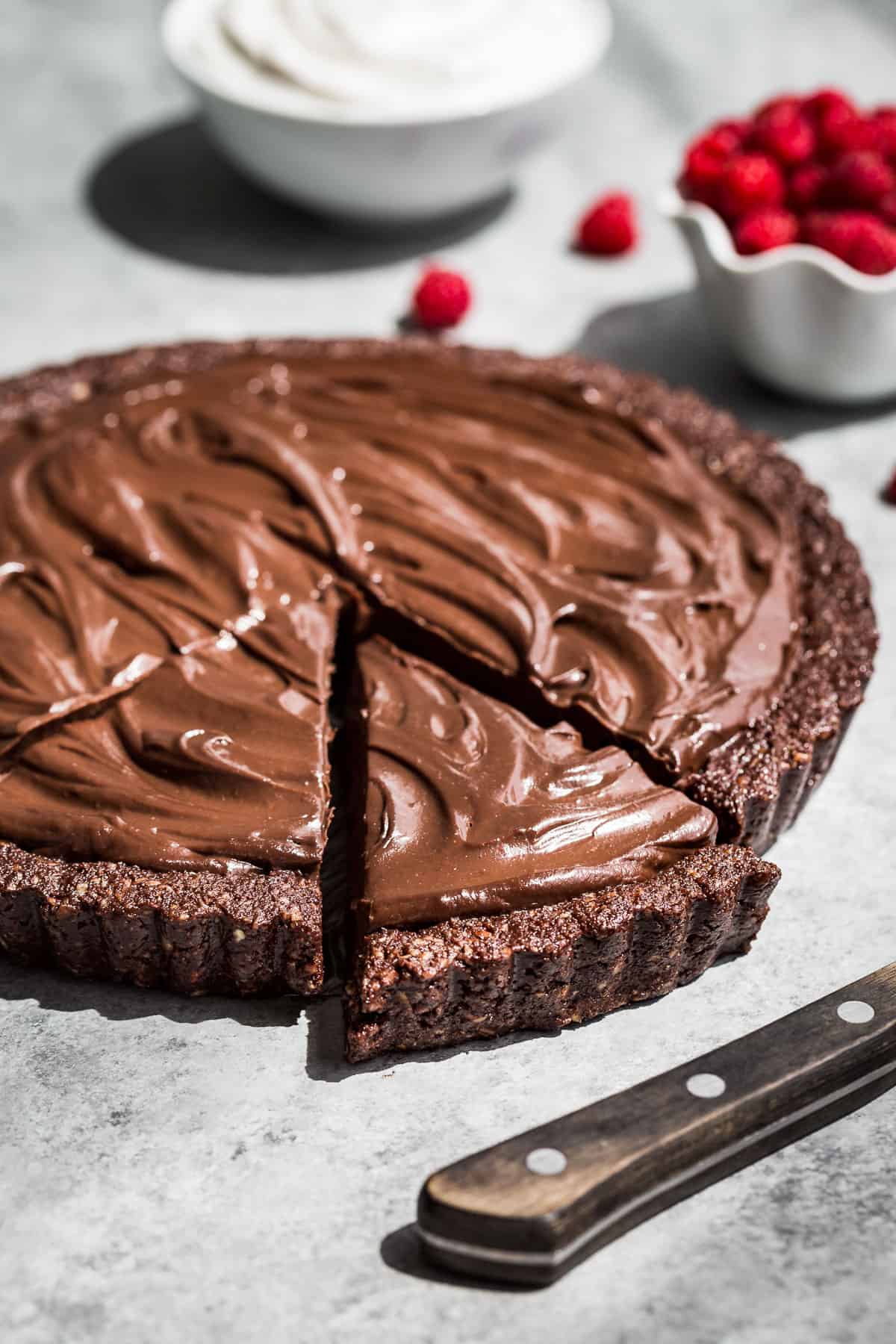 Ingredients & Substitutions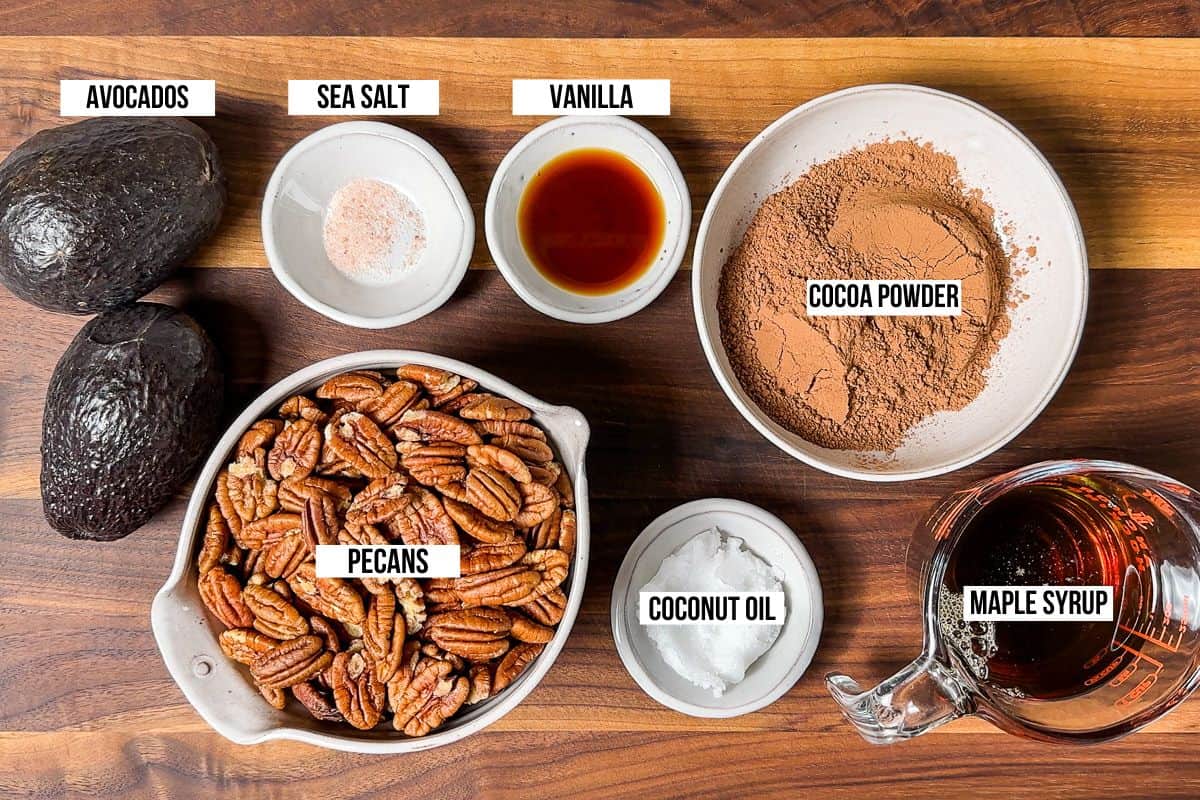 Pecans – I use pecans specifically because they're a great flavor pairing with chocolate. But you can use cashews in place of this or try unsweetened coconut flakes instead. I've also had readers write in to say they've had success with sunflower seeds as well. I've tried this recipe with walnuts, but they tend to be too oily.
Cocoa Powder – this is what brings all the deep chocolate flavor! I've been using Nativas and Dagoba which both have great flavor.
Maple Syrup – I love using Grade A amber pure maple syrup because it has a lighter maple syrup flavor which is perfect in this chocolate tart.
Avocado – This is what makes up the base of the chocolate tart filling. And don't worry about 'avocado flavor' in the final product. I've fed this tart to avocado haters and they've never known there was avocado in this!
Vanilla Extract – I add vanilla to the crust and the filling because it enhances the chocolate flavor.
Coconut Oil – This is essential to the silky texture of the filling, and it adds to the flavor of the filling perfectly.
How to make this Healthy Chocolate Tart recipe step by step
Step 1: Start by adding all the ingredients for the chocolate filling to a food processor and blend until completely smooth.
Scrape the filling out into a medium-sized bowl and return the food processor bowl to the base to make the crust. (No need to wash the food processor in between the filling and the crust.)
Tip: for an extra chocolatey filling, melt 1/4 cup chocolate chips and add it to the food processor with the filling.
Step 2: refit the bowl back on the base and process the nuts and cocoa for the crust.  Check out the above photo for the texture you want to see before adding maple syrup to the crust.
Step 3: Lin the tart pan with plastic wrap and pat the chocolate crust mixture evenly into the 9-inch tart pan.
Step 4: Finally, spread the filling over the crust, and voila, chocolate decadence.  Refrigerate until thoroughly chilled, 4-6 hours or overnight.
Tip: This tart really is better after it's been refrigerated, it needs the time to chill to bring out the chocolate flavors.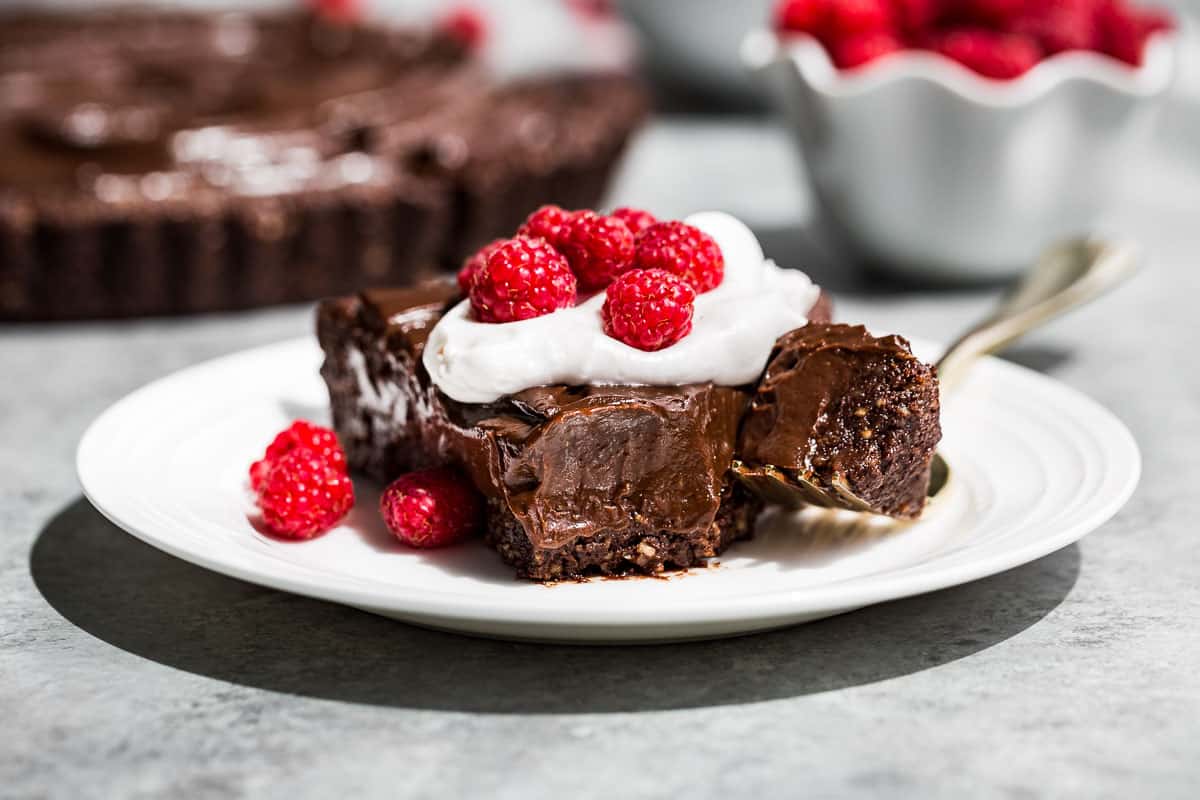 Ways to serve this
Topped with Homemade Whipped Cream or Coconut Whipped Cream.
Add berries when they're in season. Fresh raspberries are our favorite, but strawberries, blueberries, and blackberries are really good as well as pitted fresh cherries.
When berries aren't in season, try my Berry Sauce recipe instead which is made from frozen berries.
FAQ's
What's the difference between a pie and a tart?
One main difference is a tart is shorter in depth than a pie at around 1 – 1.5 inches deep where most pies are 2.5 – 3 inches. Also, a tart only has a bottom crust which is much thicker than a pie crust.
How long does chocolate tart last in the fridge?
This chocolate tart will last 4-5 days in an airtight container in the fridge.
Can I use dates in place of maple syrup?
I recommend using dates in place of maple syrup only in the crust because they're not smooth enough for the filling. 10-12 Medjool dates are usually enough to sweeten the crust.
Tips & Tricks
If you want to cut down the sweetener in this tart, cut back in the crust. If the crust isn't coming together with less sweetener, add just a touch of water until it is like cookie dough.
You can sub in dates for the syrup in the crust. I've used Medjool dates for the crust sweetener with great results. And dates really are a great variation because they add a caramel-like flavor to the crust.
I wouldn't cut back the sweetener in the filling because you really don't want to taste the avocado – just the sweet chocolatey-ness!
Flavor Tip: for an extra chocolatey filling, melt 1/4 cup of chocolate chips and add it to the food processor with the filling.
I really hope you enjoy this Healthy Chocolate Tart. It's become a family classic over the last 10 years, and I know it will be a hit for you too! If you do make this tart, I hope you'll leave me a comment/rating below. I always love hearing from you here.
INGREDIENTS
Chocolate Filling:
2

avocados

-

not over-ripe, at room temperature

1/2

cup

cocoa powder

3/4

cup

maple syrup

1

tbsp

vanilla extract

pinch

sea salt

2

tbsp

coconut oil

-

room temperature
Toppings:
fresh berries

Whipped Cream or Coconut Whipped Cream
INSTRUCTIONS
Line a 9" removable bottom tart pan with plastic wrap.

Place the ingredients for chocolate filling in a food processor fitted with chopping blade and process until smooth. Scrape the filling into a bowl and set it aside.

Fit the bowl and blade back onto the food processor (no need to clean the bowl in between). Place all ingredients for tart crust except maple syrup into food processor.

Process until fine textured with small bits of pecans. Measure out a 1/4 cup of the crumbs and sprinkle them across the bottom of the tart pan.

Add the maple syrup to the remaining crumbs and process 1-2 minutes until the tart crust becomes as thick as cookie dough. Pat crust into tart pan.

Spread the chocolate filling over the crust. Cover and refrigerate overnight.

Serve with your choice of fresh berries and whipped cream.
Bonus Step
If you made this recipe, please leave a rating/comment. Ratings really help us continue to bring you high-quality free recipes. Rate This Recipe!
NOTES
This tart is very rich, so 8 servings, (as you would cut a pie) would be on the very generous side and it would serve up to 16 after a meal. I cut my tart into 12 slices and the nutritional information is calculated for that.
For dessert recipes I use Grade A amber maple syrup, it has a much lighter maple flavor. Regular pancake kind of syrup is Grade B and is darker and richer in maple flavor.
nutrition facts
Calories:
414
kcal
|
Carbohydrates:
34
g
|
Protein:
5
g
|
Fat:
32
g
|
Saturated Fat:
5
g
|
Polyunsaturated Fat:
8
g
|
Monounsaturated Fat:
17
g
|
Sodium:
56
mg
|
Potassium:
485
mg
|
Fiber:
8
g
|
Sugar:
22
g
|
Vitamin A:
67
IU
|
Vitamin C:
4
mg
|
Calcium:
73
mg
|
Iron:
2
mg
This recipe was originally published in 2013 but has been updated with new photos, tips, and information in 2023.