This homemade Coconut Whipped Cream is the perfect dairy free and vegan option for traditional whipped cream. It's easy to make and great paired with all your favorite desserts, and especially with anything baked. Keep cans of coconut milk or unsweetened coconut cream in your fridge so you're always 5 minutes away from some dairy free whipped cream. And don't miss all my tips for how to make perfect coconut whipped cream every time.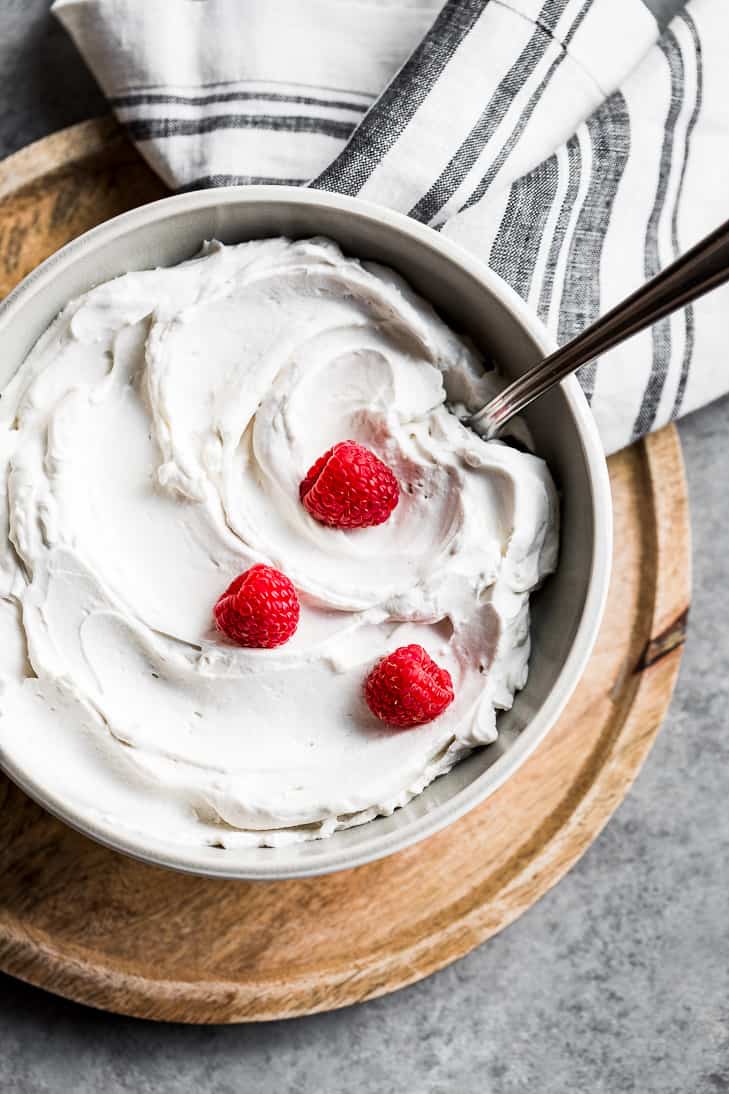 I've been making this Homemade Coconut Whipped Cream for just over 7 years now. And so I knew it was time for an update with all the different tips I've learned along the way. So if you're looking for a super tasty dairy-free whipped cream, this recipe is the answer!
I use this recipe for whipped cream to go with so many other desserts, and it's always a hit. So be sure and check out my favorite dessert recipes below to pair with this whipped cream. It's simple to make, but with a few tips and tricks, you'll be on your way to perfect coconut whipped cream every time!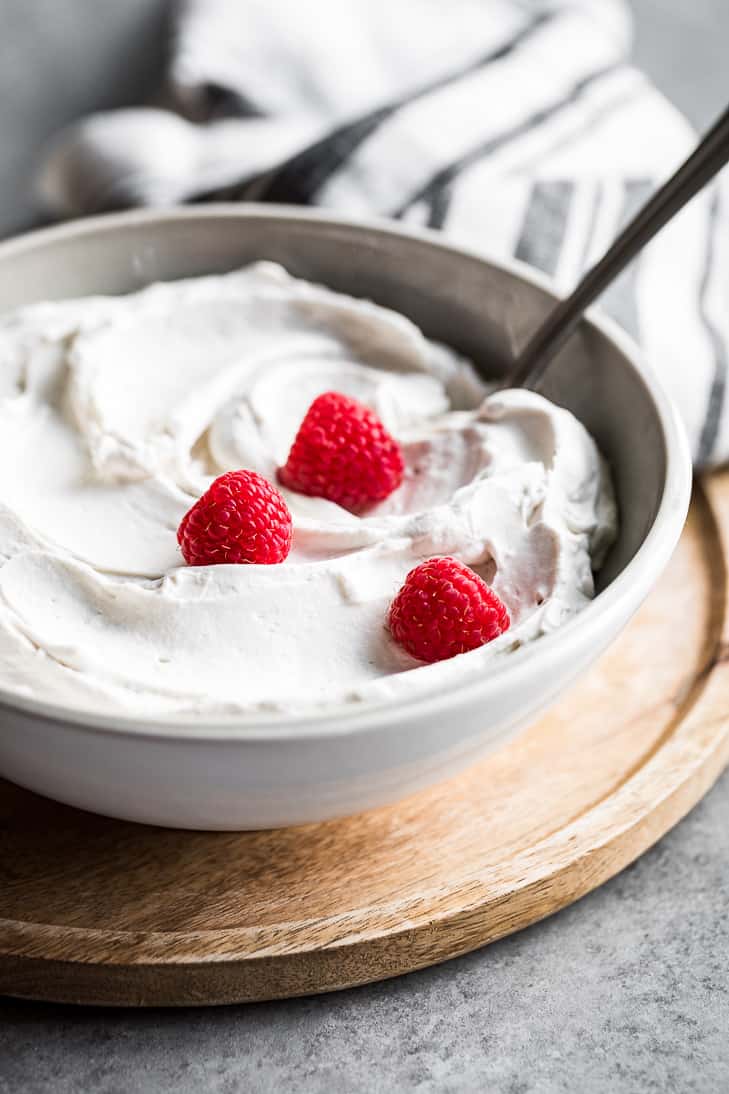 So first of all what is coconut whipped cream
It's a dairy-free and vegan version of whipped cream, and yes it does taste like coconut! Surprisingly though, it pairs really well with so many desserts. You make it by refrigerating a can of coconut milk or you can also use a can of coconut cream (unsweetened). This causes the 'cream' to harden and come to the surface. From there you whip this cream, and it gets fluffy like regular whipped cream.
Now make this Coconut Whipped Cream recipe step by step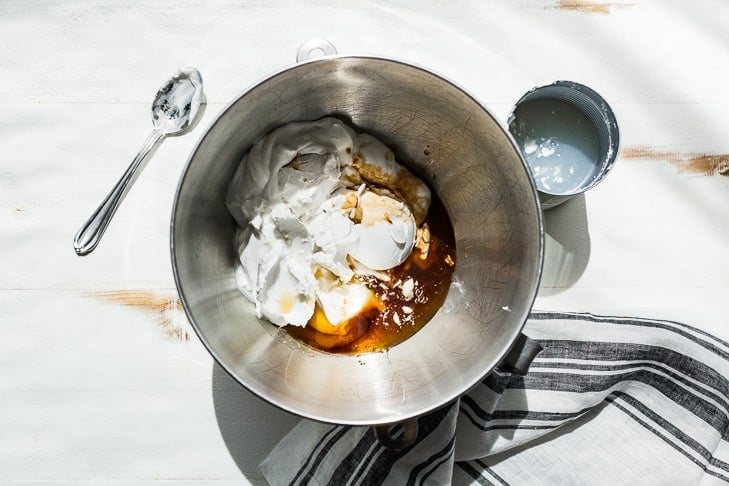 The first step is to refrigerate the coconut milk. This is essential to help the cream separate from the coconut water. Then add the hardened cream to a mixing bowl. To play it extra safe, just whip the hardened cream before adding the sweetener.
I've found that I have really good luck with the Native Forest brand of organic coconut milk, and I just add the sweetener in right away. (You can see this in the above photo.)
However, it doesn't hurt to just whip the hardened cream first in a stand mixer with the whisk attachment. That way if it's on the soft side, you can use powdered sugar to thicken it up rather than the maple syrup which will make it even softer.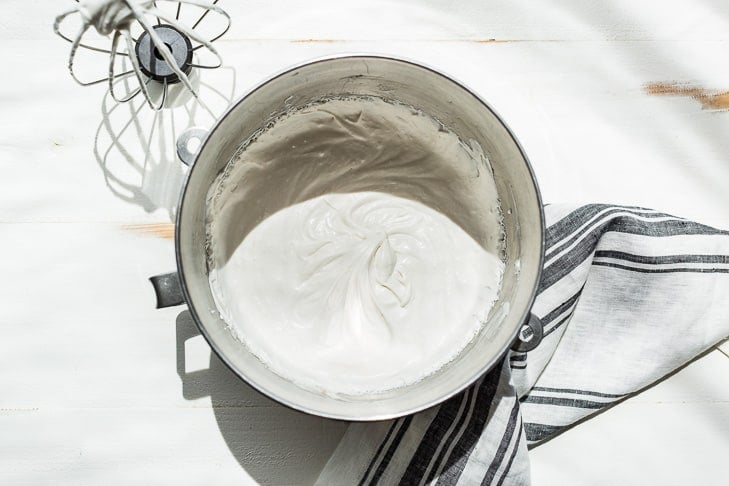 This method makes a thick whipped cream very similar in texture to regular whipped cream with stiff peaks.
How to make softer coconut whipped cream
After you've whipped the coconut cream and added the sweetener, add a touch of the leftover coconut water until the texture becomes softer. This type of whipped cream is really perfect in any sort of trifle like my Death by Chocolate recipe. What you're looking for is 'droopy' peaks rather than a 'stiff' peak whipped cream.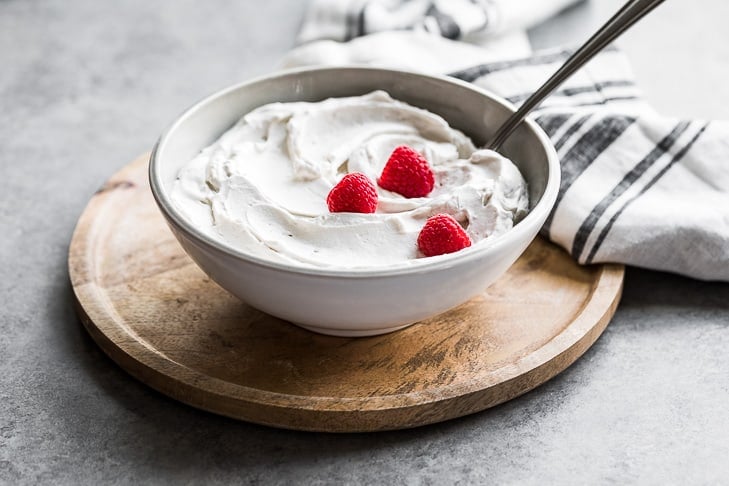 If you've made coconut whipped cream before, you know it doesn't always turn out! So I've put together my tips below to give you the best chance it will turn out perfectly every single time.
There are a few reasons it doesn't work out sometimes, and believe me I've definitely learned these the hard way over the last 7 years. Also if you have lots of experience with dairy-free whipped cream, let me know your tips down below in the comments!
Tips & Tricks for Perfect Coconut Whipped Cream
Use full-fat coconut milk. Any kind of lite coconut milk, or boxed coconut milk absolutely will not work. I've had really great success with the Native Forest brand, both their simple and their classic canned coconut milk. I've also had ok luck with Thai Kitchen, although sometimes the cream doesn't want to separate. Any other brand we have here locally has been hit or miss for me. I've heard great things about the 365 brand, but we don't have that one available to try out. And while I haven't personally used Trader Joe's, I've gotten a bit of feedback that it produces a grainy result.
Chill the coconut milk for at least 1 day, and even 2 days to allow the cream to separate. This is especially true if the coconut milk you're using has any kind of thickener like guar gum in it. I've found chilling the cans of coconut milk in the door of my refrigerator to produce the best results. I chilled them on the top shelf towards the back once and ended up getting some lumps in it. So it would seem if you can chill it in the 'warmest' places in your fridge it whips better.
Chill the mixing bowl just like you would for normal whipped cream. If coconut whipped cream gets too warm at any point it goes grainy. So if you want to make it ahead, just be sure to keep it refrigerated until you're ready to serve it. I just made a batch of this for Thanksgiving, and it sat at the table for over an hour. I threw it out because it got too warm and the texture turned grainy.
Make it 1 day ahead! In case something still doesn't turn out right, this gives you a bit of time to chill more coconut milk and make another batch. You can do your best to make sure everything goes right, but ingredients do vary. Since I started using Native Forest I can't remember the last time my coconut whipped cream didn't turn out right. But before when I used whatever brand I had on hand, things didn't always work out!
Add the sweetener at the end. This is just to control the texture of your whipped cream. Adding powdered sugar will thicken it, and adding maple syrup will make it looser. I personally steer clear of honey now because it wants to clump when it's added to cold ingredients.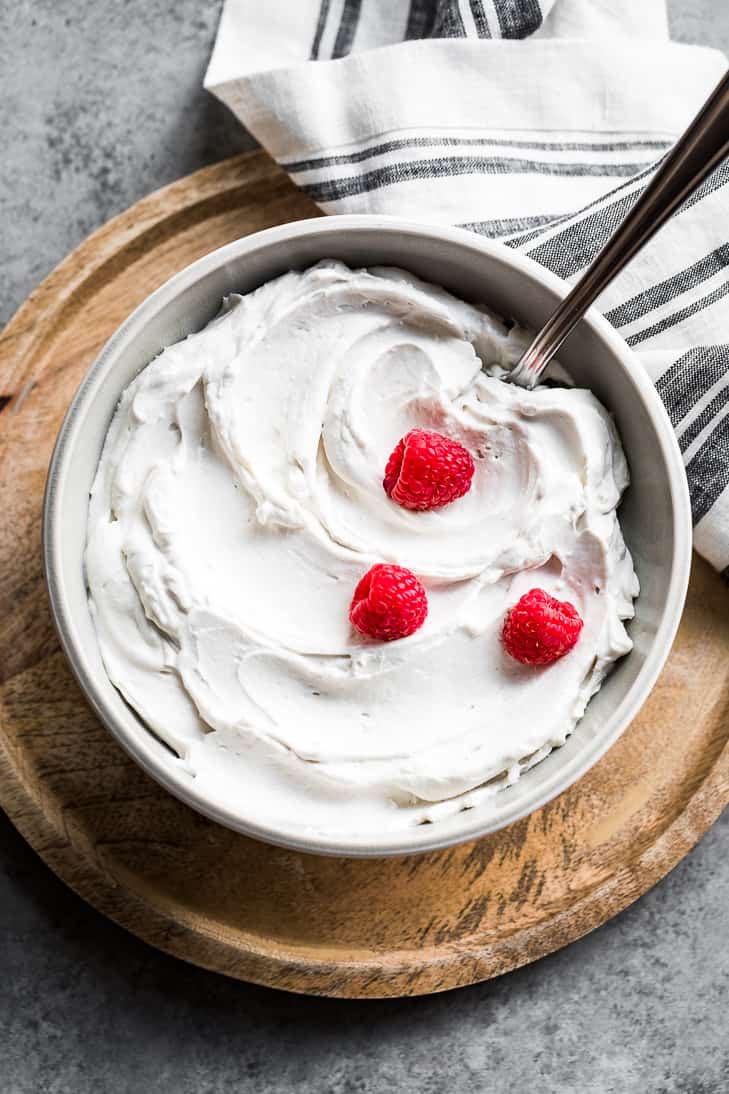 Ways to serve this
Serve this coconut whipped cream with any dessert you'd like. Head on over to our Dessert Recipe Category for lots and lots of recipe options. You'll also find 5 of our favorite desserts with this whipped cream below.
I especially love this whipped creamy with fresh strawberries, raspberries, or blueberries. It's also wonderful paired with juicy peaches when fresh fruit is at its peak season.
Use this coconut whipped cream as a topping for cozy drinks like my Homemade Hot Chocolate or Pumpkin Chai Latte.
Serve this coconut whipped cream with these recipes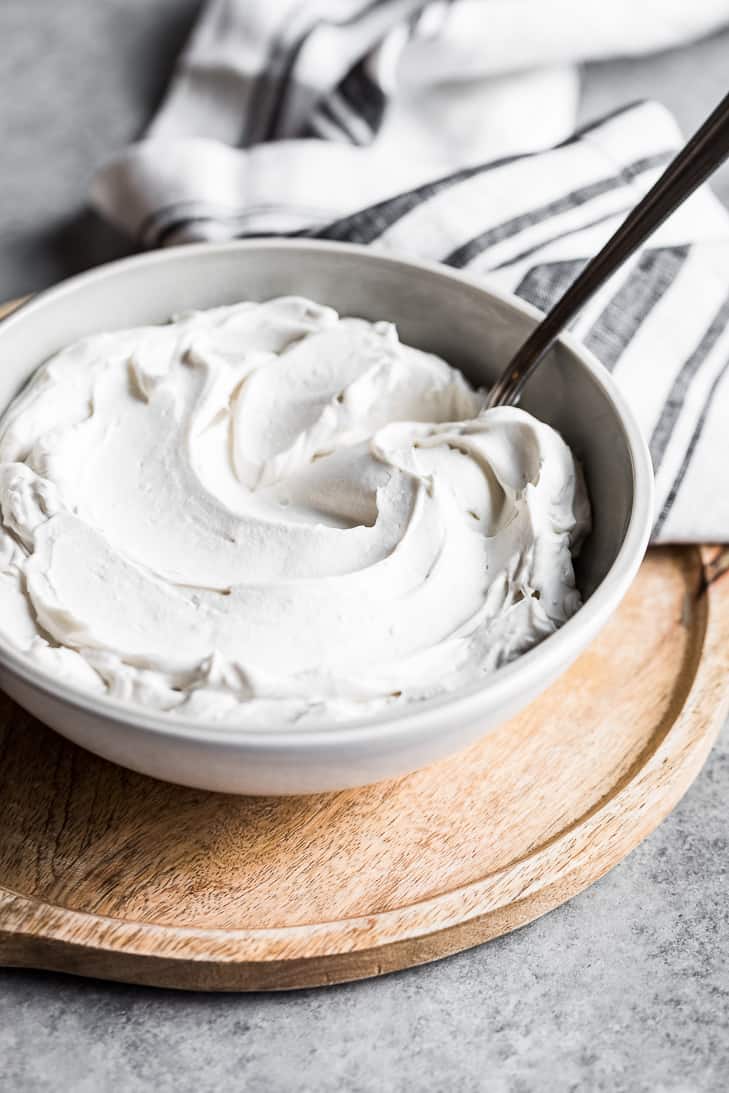 Or… serve this whipped cream with a pan of these flourless chocolate brownies still warm from the oven! I sure hope you get a chance to make this dairy-free coconut whipped cream recipe soon, and if you do, I hope you'll leave me a comment/rating below. I always love hearing from you here in the comments.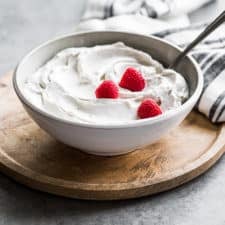 Homemade Coconut Whipped Cream
---
Yield:
12
about 3 cups whipped cream
INGREDIENTS
Firmer Whipped Cream:
2

cups

unsweetened coconut cream

-

refrigerated, or 2 cans full-fat coconut milk, see notes

2

tbsp

Grade A maple syrup

-

or powdered sugar to taste

1

tsp

vanilla extract
Softer Whipped Cream:
Add the leftover liquid 1 tablespoon at a time until loose peaks form.
INSTRUCTIONS
Refrigerate your mixing bowl or place it in the freezer until chilled before starting.

Scoop the hardened cream from the top, and place it into the chilled bowl. Reserve the liquid until the end in case you need a bit, but most of it will be leftover and is great in a smoothie.

Place the chilled bowl into a stand, or using a hand mixer beat the coconut cream until it's fluffy and soft peaks form about 1-2 minutes.

Scrape down the sides of the bowl. Then add the sweetener to taste, and vanilla, and beat again just to combine. You can also mix it in by hand.

Serve the whipped cream immediately, or refrigerate and use within 1 day or so. After 1 day the whipped cream will sometimes separate. I've had good luck stirring it back together or whipping it again for a few seconds before serving it.

To make the softer whipped cream, add 1 tablespoon of the reserved liquid from the coconut milk at a time until loose peaks form.
Bonus Step
If you made this recipe, please leave a rating/comment. Ratings really help us continue to bring you high-quality free recipes. Rate This Recipe!
NOTES
You should have about 2 cups of hardened coconut cream from the 2 cans of full-fat coconut milk. Or you can buy cans of unsweetened coconut cream. You can make this recipe using just 1 can of coconut milk if you use a hand mixer. The stand mixers have such large bowls that it's hard to make a smaller batch of coconut whipped cream.
nutrition facts
Calories:
142
kcal
|
Carbohydrates:
5
g
|
Protein:
1
g
|
Fat:
14
g
|
Saturated Fat:
12
g
|
Polyunsaturated Fat:
0.2
g
|
Monounsaturated Fat:
1
g
|
Sodium:
2
mg
|
Potassium:
138
mg
|
Fiber:
1
g
|
Sugar:
2
g
|
Vitamin C:
1
mg
|
Calcium:
8
mg
|
Iron:
1
mg